The COVID-19 pandemic was a strong catalyst for the exponential growth of online groceries across the developing world. Initially driven by a response to the lockdowns and supply chain disruptions, the market has since evolved to cater to consumer habits, convenience and local drivers. As a result, various business models have emerged successfully to occupy market segments and serve consumer needs. Further, the pandemic has accelerated the shift towards eGrocery. This trend will likely continue even after the pandemic subsides as consumers have become accustomed to the convenience and safety of online grocery shopping.   
Here we offer an insight into how the eGrocery growth played out across developing markets like India, MENA, and Indonesia and how players can position themselves for the opportunities ahead.
1. COVID-19 was epochal for online groceries across regions, with adoption continuing to climb post-pandemic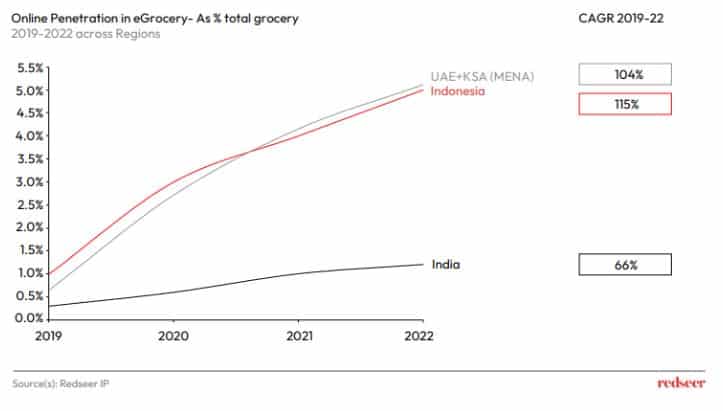 eGrocery, which remained a minuscule fraction of the total grocery sales across regions until 2019, experienced a surge in demand due to the pandemic lockdowns. As a result, while the online penetration in eGrocery was steadily increasing in the Indian market, Indonesia and MENA witnessed skyrocketing trends in adoption. Fast forward two years and the trends remained upward, with MENA and Indonesian regions experiencing over 100% CAGR from 2019 to 2022, while India witnessed a 66% CAGR.
2. Indian eGrocery market growth was driven by increased adoption of quick commerce over 2019-22
The Indian eGrocery market has been primarily dominated by slotted delivery, offering a convenient way for people to purchase and receive groceries online. However, the significant growth in the market between 2019 and 2022 can be attributed to the adoption of quick commerce in cities. The expansion of eGrocery is expected to continue in Tier 2+ markets, driven by dominant players. In CY2023, the market is expected to witness growth in Tier 2 regions, with horizontal players leading the way, while the adoption of quick commerce is expected to remain steady.
3. Whereas the Indonesian eGrocery market has been driven by inventory-led horizontals and super apps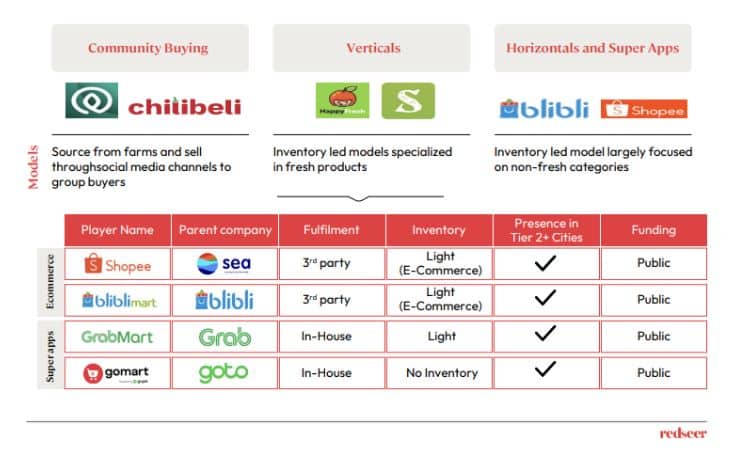 The different consumer dynamics of the Indonesian markets favoured inventory-led horizontals and marketplace-led super apps. Ecommerce players such as Shopee, sea, and blibli, for instance, have had a strong presence even in Tier 2+ cities across both the fresh and non-fresh categories. Super app players such as Grab, gomart and goto also have a presence across the horizontal along with the e-commerce incumbents while working with a light to the no-inventory model.
4. UAE and KSA regions are dominated by the omnichannel eGrocery fulfilment model and have a different story from the rest of the world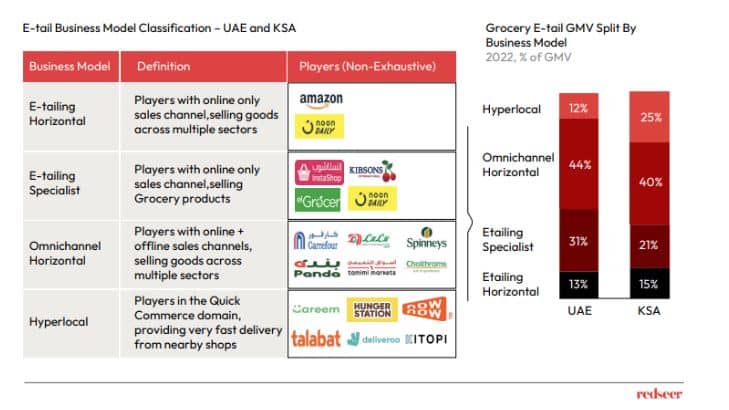 The MENA region has witnessed a different scenario in the eGrocery space, with the omnichannel seizing the opportunity during the pandemic and capturing a significant market share. This trend is particularly noticeable in the UAE, where players such as Carrefour and Lulu have leveraged their strong offline footprint to provide an enhanced delivery experience.
5. Led by different models, the room for eGrocery growth is massive across regions; an approach to tackle critical principles will add to the player's advantage.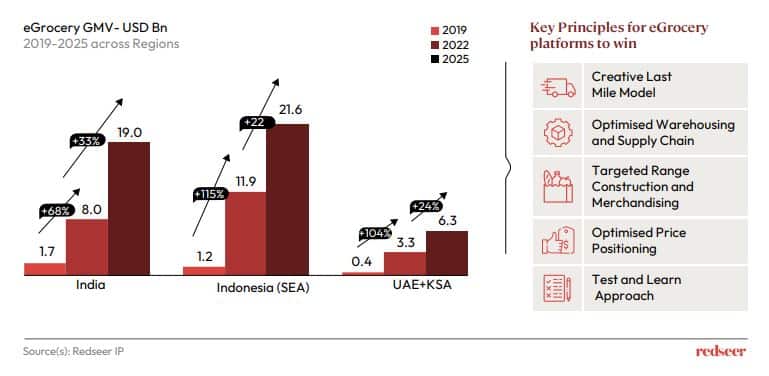 Consumer preferences driven by multiple factors such as convenience and habit leave much room for unlocking value in the eGrocery space. Trends in developed markets from our partner OC&C indicate a number of key levers to win in the space as the regional markets across MENA, India, and SEA mature. Players in the eGrocery space need to work on key principles to unlock values, such as a creative last-mile model, optimised warehousing and supply chain, targeted range construction and merchandising, optimised price positioning, and test and learn approach.
Our learnings from this study suggest that this space in the developed markets is driven by several unique models which imbibe the above-mentioned principles to align with consumer habits and circumstances. Moreover, with regional context, these models can be an improvised value-add to existing working models.