In this interesting article, we share highlights from our consumer survey conducted in late Jan 2023. The survey assessed consumers' views on the macro-outlook, as well as their spending preferences for key online product and services.
In the first part, we cover some macro perspectives. We will share consumers' views on key digital sectors and categories in the second part.
1. Consumer spending across digital economy sectors is not expected to go down significantly despite tough macro-economic conditions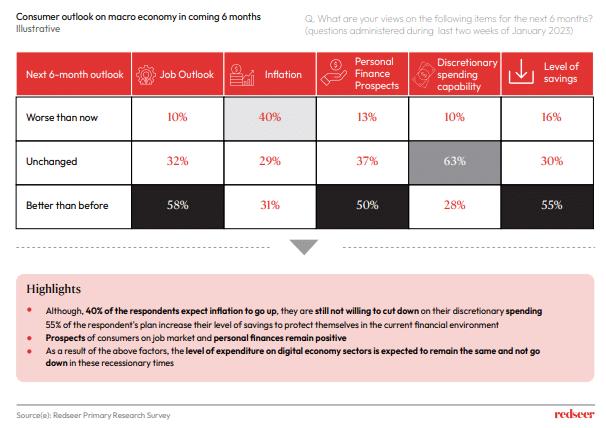 Most respondents expect the macro-economic outlook to be stable or better in the next 6 months. While inflation is expected to rise, most expect their job position to improve. Hence, they expect to be financially better off and have higher savings six months out. Over 50% of the respondents expect their spending levels to remain unchanged, which in turn bodes well for the digital economy sectors.
2. Bank of Indonesia consumer survey also points towards improving consumer confidence towards macro environment in the coming quarters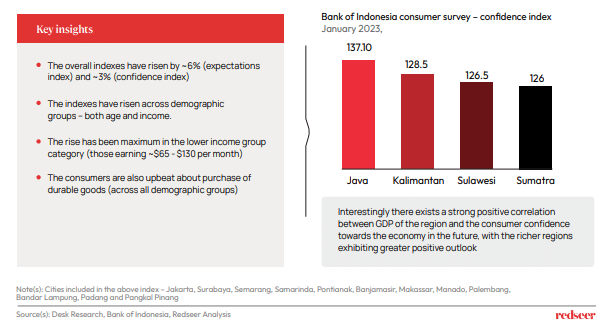 The consumer confidence index as per the survey undertaken by the Bank of Indonesia has shown continuous rise in the past 6 months affirming the confidence that the consumers have towards the economic prospects in the country in the coming times. In terms of regions, Jakarta has shown the highest confidence amongst all the provinces in the country.
3. Fuel prices, having risen by almost 30% in last 6 months has been one of the major driving forces of food, transport and consumer utilities inflation in the country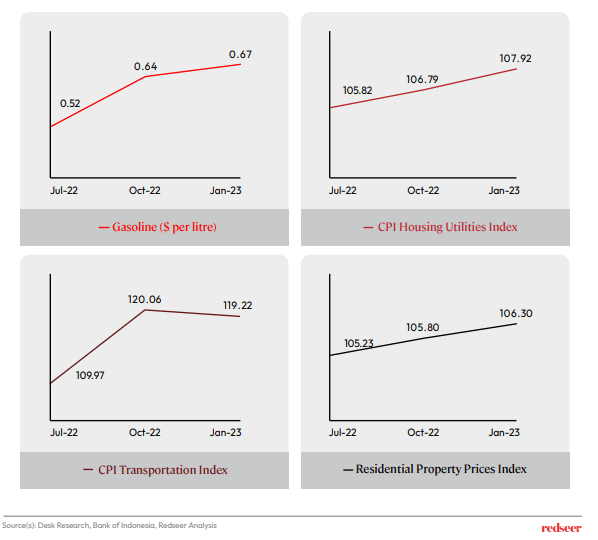 The consumers are feeling maximum pinch to their pockets due to higher fuel prices followed by transportation costs (a derivative of fuel). Prices for housing utilities and residential property have risen by ~1-2% in last 6 months.
4. However, on a positive side, inflation trajectory for Indonesia is downward, easing pain for both the consumers and companies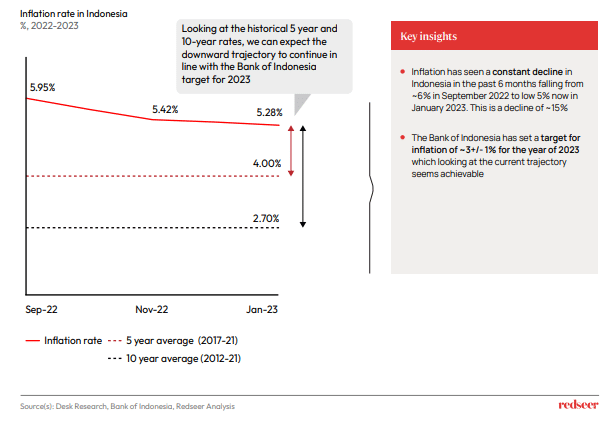 Despite falling inflation rates, the consumer sentiments on back of the historically high rates are slightly negative than the actual situation on the ground. With reduction in inflation rates, the consumers will experience a positive unanticipated surprise leading to greater spendings and increase in disposable income wallet share.
5. Recent quarterly results from listed entities suggest resilient topline outlook and disciplined cost measures as key priorities for 2023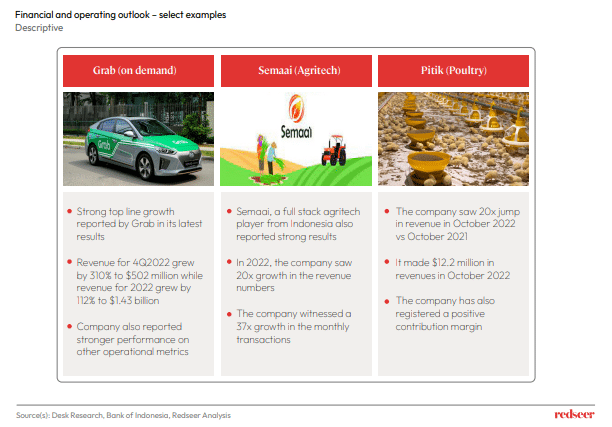 Latest results from companies suggest that consumer spending has remained resilient. Encouragingly, key players have an optimistic revenue outlook for 2023. Together with their ongoing cost-control measures, these companies are hopeful for a faster-than-expected turnaround in their profitability metrics.