In this article, we share consumers' views on key consumer internet sectors in Indonesia. This story builds on our earlier update on consumer sentiments on the macro-outlook, Consumer Survey – Part 1.
We share our findings on e-commerce, on-demand and FinTech. Further, we share consumer insights on digitally native/ D2C brands and electric vehicles (EVs).
1. First-wave sectors of e-commerce, live commerce and foodtech are showing the highest NPS from respondents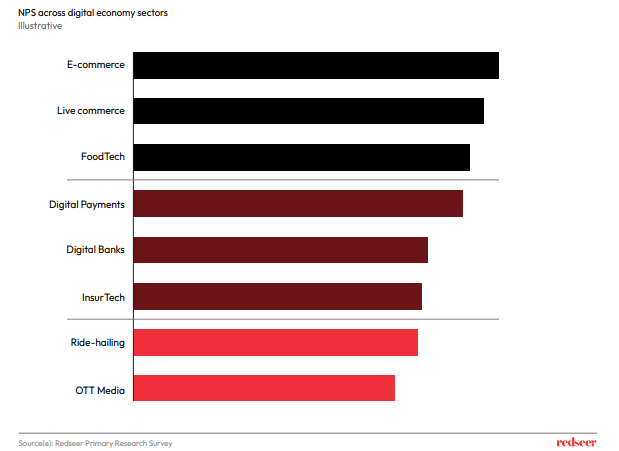 Most of the first wave sectors are scoring very high NPS on account of legacy issues being resolved by players over the years. E-commerce players have been successful in plugging issues around counterfeit products. Reduction in delivery fees in foodtech has helped boost consumer sentiments compared to our earlier survey findings. FinTech is another area performing well due to the high level of convenience offered by various sub-segments within the sector. OTT as a theme remains on the bottom mainly due to high subscription prices that are pinching consumer pockets and the extremely high level of competition in the segment. OTT players can evaluate advertising-based models as an alternative offering to alleviate some concerns of price-sensitive Indonesian consumers.
2. A look at the factors impacting NPS across first wave and second-wave sectors and some of the learnings/ takeaway from the consumer survey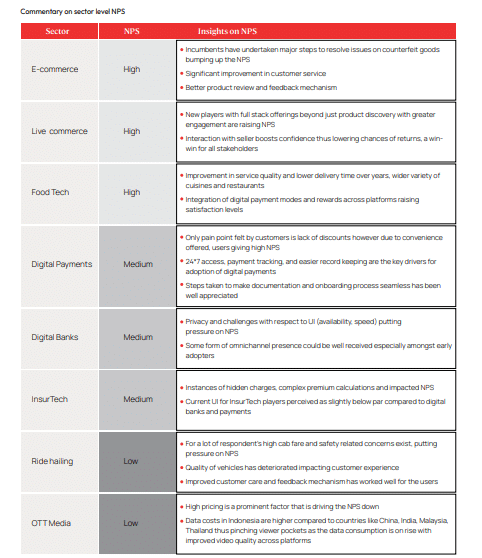 The NPS for sectors can be further improved if players are able to address some basic pain points expressed by respondents in the consumer survey. These are low-hanging opportunities for players to further improve customer satisfaction levels. Across first-wave sectors of e-commerce, live commerce and even food delivery, to some extent, high delivery charges are a pain point. In the FinTech space, players can work on their UI, privacy policies, discount offers and user communication to boost their scores. In ride-hailing, cleaner cars, trained drivers, and rationalization of fares can help.
3. To improve the NPS and redefine consumer experience, players can work upon the following wish list of respondents without putting adverse pressure on their unit economics/ path to profitability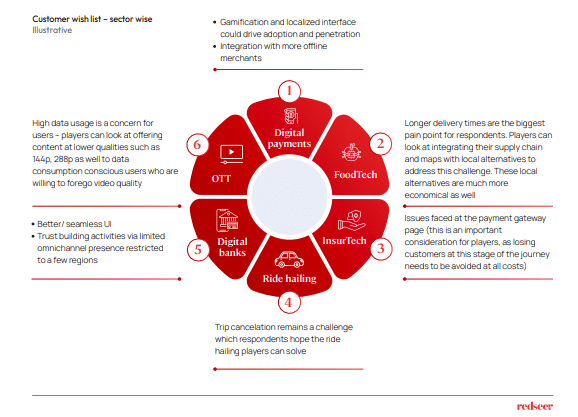 From the consumer survey, we observed that most of the current pain points and wish lists of the respondents are low-hanging fruits that players can address immediately to reap benefits. These pain points can be addressed without impacting the unit economics of the player and are also palatable under the current economic environment.
4. ~80-90% of the respondents said that their experience with the new-age brands was better compared to the incumbent players giving a strong vote of confidence to the new-age brands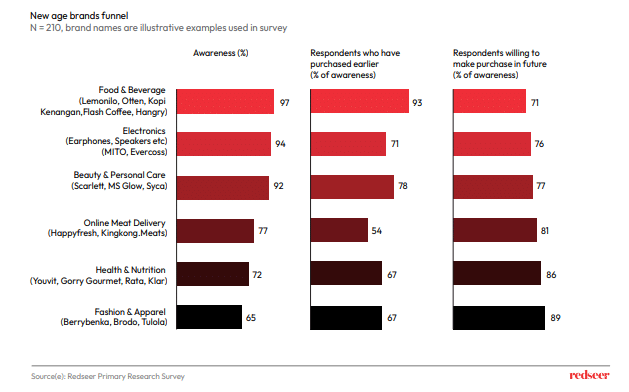 Health, nutrition, and fashion brands have shown the highest interest levels amongst the respondents in terms of future purchase wish lists. F&B has shown the highest awareness levels but has scored low in terms of customer stickiness as we see a sharp decline in future buying prospects of the respondents in that category segment.
~85% of the respondents had a much better experience with the new age brands in the fashion category compared to incumbents, the highest amongst all the other categories while F&B scored the lowest at ~78% (compared to other categories).
5. Adoption of EVs happens across multiple phases, with Indonesia currently being present in the initial phase; across each phase, the motivating factor in purchasing an EV differs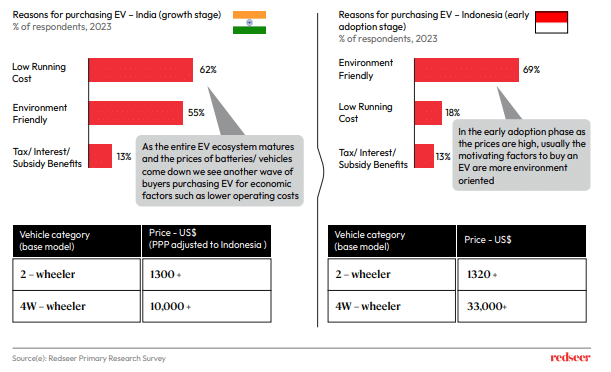 Consumers are extremely positive towards EVs in the country, with over 90% of the respondents expressing a wish to use it sometime in the future.
In Indonesia, the adoption of 4W EV would be trickier compared to 2W EV due to the inherent limitations related to charging and operating costs that are present in the 4W segment. Most use cases for 2W are short distance travel related and hence lack of range is not a major concern for a vast proportion of the population contrary to the popular notion and hence further boosting the use case for this offering.