At the heart of educational institutions, corporate offices, hospitals, and various other institutions across the country are managed cafeterias. The demand for managed cafeterias in India is witnessing remarkable growth, as the market has started to formalize over the last few years. As working professionals, students, and employees seek convenient and nutritious meal options, these cafeterias have become an indispensable part of their daily routines.
In this article, we give a quick overview of the institutional cafeteria market in India.
Educational institutions and Business & Industry are the mainstay for managed cafeterias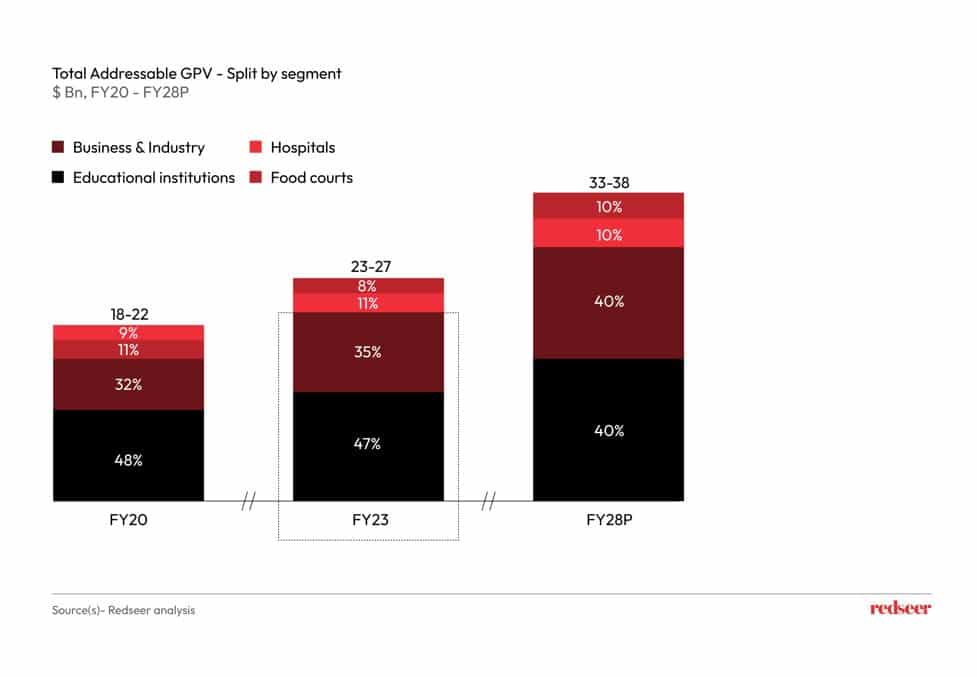 Educational institutions have over 150k cafeterias primarily located in residential K12 and Higher Educational Institutions. The traditional 'mess' culture still plays a strong role in driving the GFV in addition to modern day cafeterias where on-demand meals are served to students and faculty. Beyond Education, Business and Industry (B&I), which includes enterprises working out of Techparks, standalone buildings, co-working spaces etc. also contributes significantly to the mix. These enterprises collectively house ~120k cafeterias and a market opportunity of ~$10 Bn.
While international players have dominated the segment, Indian players have also started making a name for themselves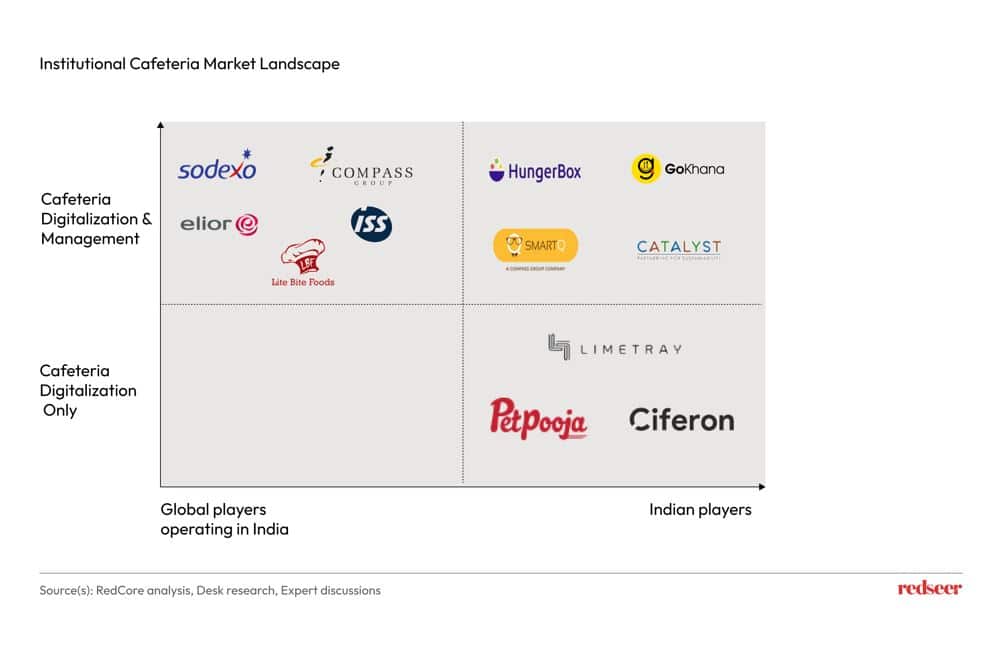 Traditionally, cafeterias were run through vendor contracts and left to small scale caterers that operated out of basic kitchens with almost no technological assistance . Today, however, most players focus on end-to-end solutions with offerings going beyond cafeteria digitization and extending to cafeteria management which includes food sourcing, preparation, menu planning etc. These players deploy a mix of technology and streamlined operations to provide full scale cafeteria management services.
While these represent the organized segment of the market, a large portion of the market is still unorganized and includes small, local, and independent food service providers or vendors that operate within educational institutions, offices, and other organizations.
While the market is on the rise, new entrants encounter substantial challenges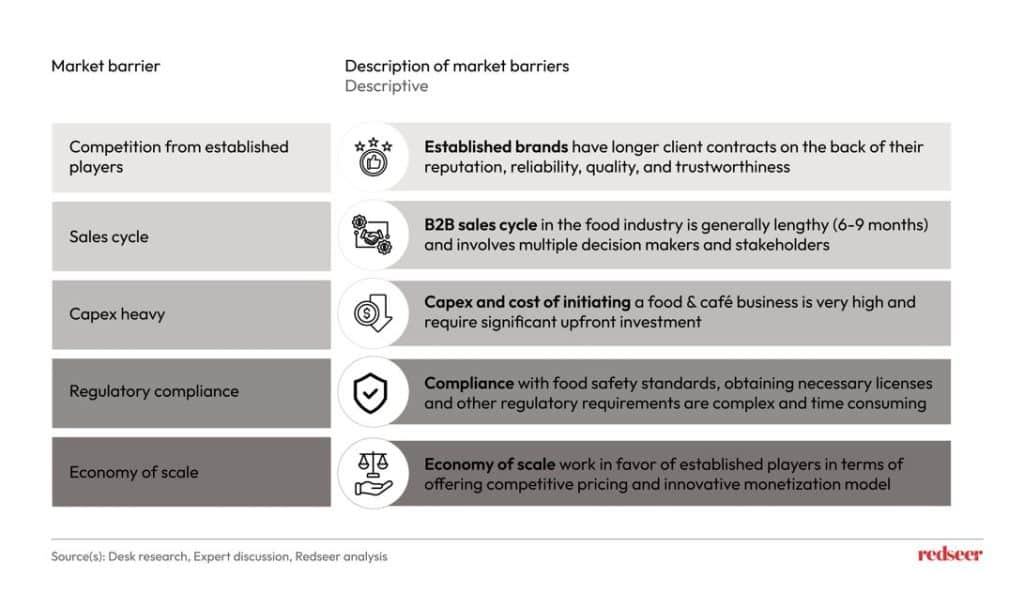 The institutional cafeteria market has long been dominated by established set of players that have the wherewithal to invest in the procurement and management operations of food services. Most new age players have entered the market on the back of technological offerings that further augment the services offered by large established players. Given the capital-intensive nature of the business, new players need to have deep pockets in order to carve out a share of the overall pie.
New entrants should contemplate crafting threat management strategies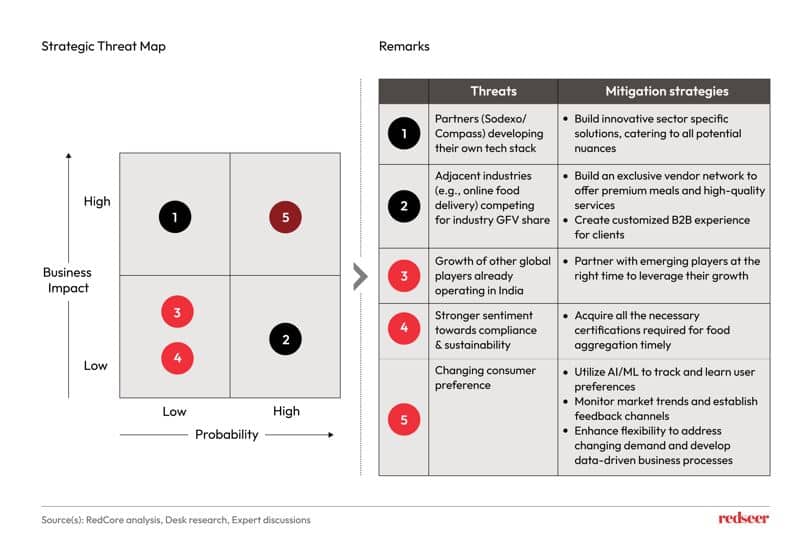 In addition to facing strong competition from large established players, new entrants must also be able to quickly respond to customer needs that are ever changing. Competition from leading food delivery platforms that excel in hyperlocal delivery of customers' favorite meals should be accounted for and customer retention strategies should be developed.
Additionally, as established players slowly progress toward their own tech offerings, new entrants with tech-based solutions should also consider offering boutique, purpose-built solutions for institutions with exceptional customer experience.
In conclusion, the evolution in dining preferences underscores the critical role that institutional cafeterias play in ensuring the well-being and productivity of individuals across various sectors. Stricter food quality protocols and progressive government standards will also prompt the need for professionally managed cafeterias, and hence service providers have a large headroom to grow.