1. Food aggregators have already generated value for the broader ecosystem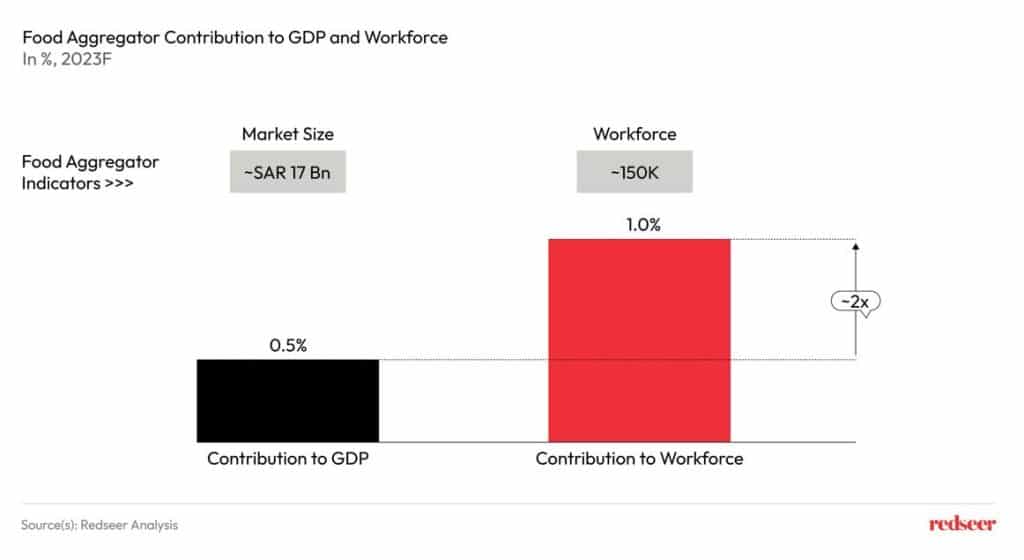 Currently, food aggregator market accounts for ~16% of the total food service market and has created roughly 150,000 jobs, equivalent to 1% of the total workforce in KSA. Furthermore, recent relaxation in labor regulations has made it easier to acquire delivery riders. Given the continued rise in preference for food delivery, we anticipate the market will create an additional 100,000+ new jobs in the next 7 years.
2. The market is expected to grow at a healthy 13% CAGR in the coming years, reaching ~SAR 40 Bn by 2030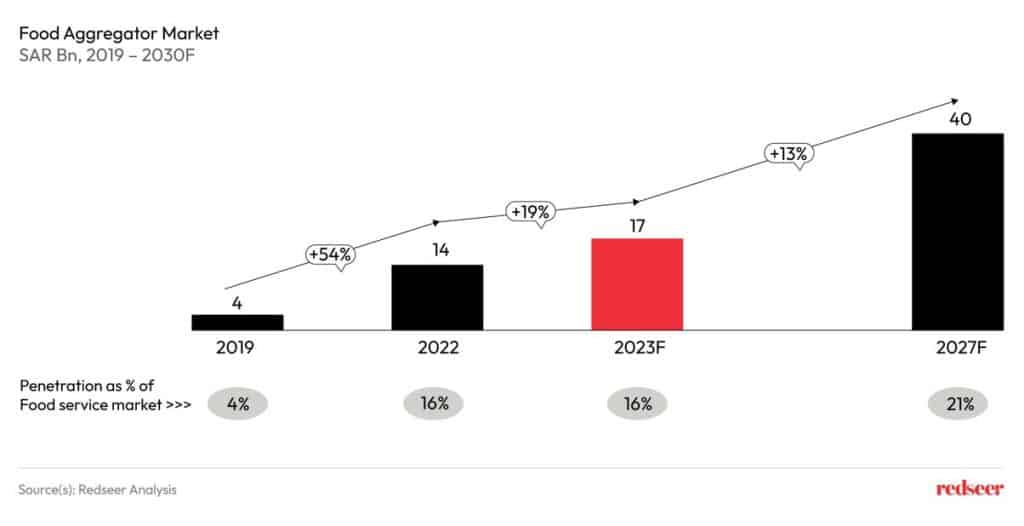 Until 2019, the market remained nascent and highly concentrated, primarily confined to Riyadh. However, in 2020-21, the market experienced rapid growth, driven by the pandemic, which significantly reshaped consumer behavior. A shift occurred from a focus on value to an emphasis on convenience. During this period, the supply ecosystem transitioned from a single-player market to a dual-player market, witnessing the rapid ascent of a local player, Jahez, which began competing with the Delivery Hero-backed player, Hungerstation. Moving forward, we expect that growth will be driven by higher spending, as an increasing number of consumers adopt the habit of ordering online. This trend is poised to push the food aggregator market beyond the 20% penetration mark by 2030, resulting in a value of ~SAR 40 Bn.
Redseer Middle East Exclusive Interview with Heni, CFO of Jahez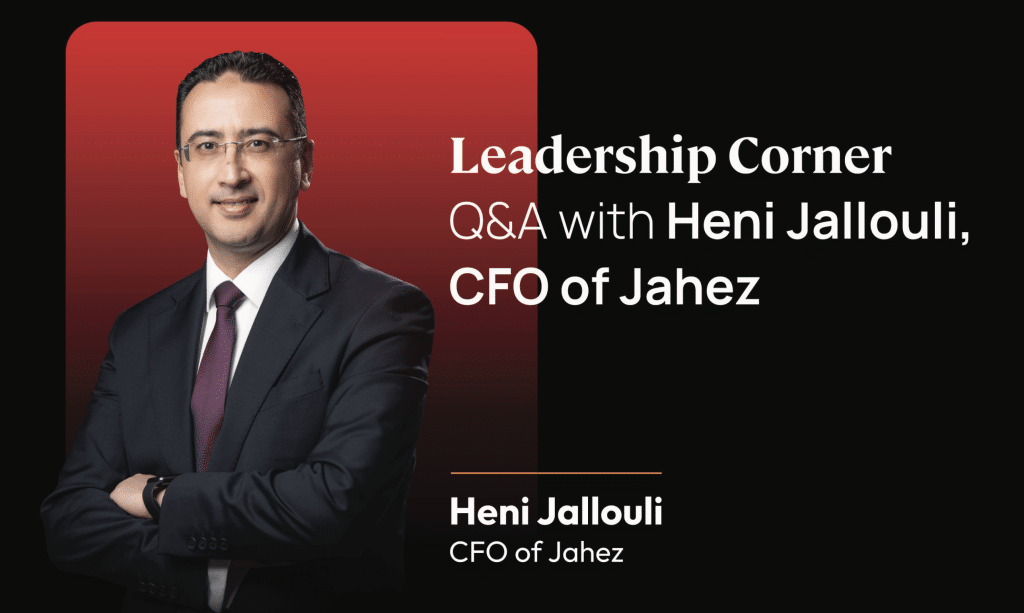 Sandeep Ganediwalla, Partner at Redseer Middle East, recently had the opportunity to engage in an exclusive one-on-one discussion with Heni, CFO of Jahez, a leading local digital champion that is making significant strides in the Middle East food delivery market. Jahez is already a household name for anyone craving convenience, deliciousness, and a side of tech-savviness. In this exclusive conversation, we got Heni to spill the beans on navigating the evolving landscape of food delivery in Saudi Arabia & on how Jahez keeps the hunger for growth alive while serving up profitability.
Read on to gain valuable insights from one of the leading digital champions in the region.
Sandeep: Welcome, Heni. Thank you for making the time today. To kick off our discussion, I'd like to address a significant topic. We've been hearing about the challenging macroeconomic situation in Saudi Arabia, particularly concerning inflation. Could you provide your insights into the current macroeconomic environment in Saudi Arabia and how it's affecting consumers?
Heni: Alright, I'll address this from two angles. First, there's inflation in the food and beverage sector, which is the industry we operate in. Second, there's the overall demand and consumer sentiment.
Regarding inflation, we haven't seen a significant impact on food prices. This is likely due to the high level of competition in the market. Despite restaurants facing inflationary pressure, they're absorbing the impact to remain competitive.
As for consumer demand and financial pressures, it's true that consumers are taking on more loans, including buy-now-pay-later options, and often spending more than they earn. This trend is becoming increasingly evident across various segments, and it will undoubtedly have an impact on their spending behavior. However, essential sectors like food and beverage are likely to remain relatively stable. People consider these expenditures necessary for convenience rather than discretionary choices.
Sandeep: So, what I'm gathering from your insights is that while there is inflation in Saudi Arabia, it's not as severe as in other parts of the world, especially in the food sector due to high competition. Let's delve deeper into the food aggregator market. Can you provide insights into the current state of growth in this sector and the drivers behind it? It experienced significant growth during COVID, and even last year saw double-digit growth. How do you see this market evolving?
Heni: Certainly. We're witnessing growth in both user adoption and user frequency within the food aggregator market. User adoption is on the rise, and this can be attributed to the demographic characteristics of Saudi Arabia. We have a young population, with 70% of people below the age of 40, contributing significantly to the workforce. Moreover, there's a rise in disposable income, primarily due to an increasing number of women entering the workforce.
From an adoption perspective, Saudi Arabia boasts high internet adoption rates, but food delivery penetration remains relatively low compared to more developed markets. However, it's growing faster than in many other parts of the world. In some markets, we've seen a decline in demand post-COVID, but in Saudi Arabia, the momentum for growth continues.
User frequency is also on the rise, with people increasingly opting to order through food aggregators rather than dining out.
Sandeep: Can you provide specific figures on the increase in frequency? Are there particular segments where frequency is notably increasing?
Heni: Over the past two years, we've seen significant frequency increases. For instance, on our platform, more than 50% of orders come from users who place more than 10 orders per month. This trend is consistent and even on the rise due to factors like user cohorts. As users spend more time on the platform, they tend to order more frequently. They become accustomed to the service, including accepting delivery fees, and it becomes a reflex.
We've introduced a subscription model where users pay for delivery for one month and then enjoy free delivery for selected restaurants for the rest of the month. With this model, we've observed that more than half of the orders from subscribers come from those select restaurants.
We're also expanding into other categories like groceries, sports-related items, and non-food items through quick commerce, providing users with more ordering opportunities.
In the past year, we reached an average of 5 orders per month per user, which is one of the highest figures not only among competitors but also internationally. In the most penetrated markets, the average is between 6 to 7 orders per month across different categories.
Sandeep: Jahez has experienced remarkable growth in a relatively short period of time, particularly in Saudi Arabia. Could you elaborate on the areas where you are currently witnessing the most significant growth?
Heni: Absolutely, we're experiencing growth primarily in regions that are less penetrated. We anticipate substantial growth coming from these areas. Furthermore, we see great potential in non-food categories, particularly those with high-frequency orders. Our national expansion remains a growth driver as we continue to extend our reach across the country.
Sandeep: You have already established a presence in Kuwait and Bahrain. Can you provide an update on how these operations are performing, and do you have any plans for further expansion into other markets?
Heni: Indeed, our focus has expanded to include the GCC region. We started with Bahrain as our initial foray into international operations. Bahrain served as a pilot project, allowing us to test our processes, manage remote teams, and gather valuable experience. Subsequently, we expanded into Kuwait earlier this year.
Our operations in Bahrain are progressing well. We are now the second-largest player in the market by our estimates, and our discussions with merchants indicate rapid market share gains. In Kuwait, we have achieved accelerated growth by starting with a substantial number of restaurants and ensuring good availability of drivers across all regions.
Looking ahead, we are considering the GCC region as a whole. These markets are on our radar, and we are continuously assessing opportunities for expansion.
Sandeep: Jahez has been successful in Saudi Arabia, where profitability in the food delivery market seems higher compared to other regions. How does Jahez balance its rapid growth with maintaining profitability, especially as competition intensifies?
Heni: Maintaining a balance between growth and profitability has always been part of our DNA since the inception of Jahez. To achieve this, we have chosen to focus on the more affluent segment of customers who place a higher value on our services.
Our strategy involves concentrating on the premium segment, which tends to be less cost-sensitive and generates higher basket sizes and order frequencies.
We maintain a consistent pricing methodology to strike a balance between growth and profitability. We believe this approach is more sustainable in the long run, especially when compared to heavily investing in the mass user segment, which tends to be discount-driven and less loyal. We prioritize delivering value to our shareholders by preserving a balance between growth and profitability.
Sandeep: Achieving profitability while sustaining growth is indeed a delicate balance, and your approach to targeting higher-value customer segments is notable. Lastly, what do you think it will take for the Saudi market to reach the maturity level seen in Kuwait, where food delivery is more deeply ingrained in the culture?
Heni: Achieving a level of maturity in the Saudi market similar to that in Kuwait will involve a combination of historical factors and natural progression. Saudi Arabia, with its larger population and market potential, is on a trajectory toward maturity.
Saudi consumers are increasingly adopting food delivery as a convenient option, driven by factors like high disposable incomes, changes in demographics, and a focus on convenience. It's a matter of time and market dynamics aligning with historical factors.
Sandeep: Heni, I've been observing Jahez closely, and it's evident that you're one of the digital champions in the region. It's truly exciting. Is there anything else you'd like to share with our readers that we might not have covered yet?
Heni: Certainly, Sandeep. I'd like to highlight our focus on growth avenues beyond just end-users. We're dedicating a lot of time and investment into serving restaurants better and extracting more value from our relationship with them. One notable area is our cloud kitchen business, where we're building a network of cloud kitchens not only in Saudi but also expanding into Bahrain and Kuwait.
We're helping restaurants create networks and facilitating their expansion. For instance, we're supporting Saudi restaurants in entering other GCC countries and vice versa, bringing Kuwaiti and Bahraini restaurants to Saudi Arabia. This expansion is seen as a significant opportunity for restaurants, and we're their partners in this growth journey.
We've also ventured into the Point of Sale (POS) sector with our acquisition of Marn. This aligns with our strategy of adding value to our partners. Our goal is to serve both end-users and merchants across food and beverage and other sectors, assisting them in digitizing their businesses and enabling better digital management of their operations.
Sandeep: That's indeed impressive, Heni. Your comprehensive approach to supporting restaurants and merchants demonstrates a commitment to holistic growth and sustainability. Thank you for sharing these insights, and best wishes to you and Jahez. I look forward to continuing our dialogue in the future.