With the recent change in economic dynamic, many companies have begun reconfiguring their manufacturing footprints for greater reliability and resilience, setting up more locations, so they don't have to depend on just a few geographies. In manufacturing, India is gradually shifting to more automated and process-driven manufacturing, increasing demand for high-end equipment and machinery. The manufacturing sector is prominent in the Indian economy, accounting for 17% of the country's GDP. But, as India is now well positioned to take advantage of China's deteriorating competitiveness, can it become a worldwide manufacturing hub?
Here's a report that decodes the growth formula for India's manufacturing industry.
1. As we all know India has extremely competitive wages, utility, and real estate costs across the globe
India's competitive-wage edge over other countries, including the US, the UK and Germany, can help the 'Make in India' policy succeed. The wages of Indian workers have come out as one of the best in terms of value compared to their counterparts in other relevant countries. As a result, the country is also poised to reach a development 'sweet spot' – with millions of young talents pouring into contributing to the economy by attracting global investors.
The development of an inexpensive and young labour pool in India will have profound implications for global manufacturing over the next few years. Additionally, the emergence of middle-class consumers is anticipated to coincide with the Indian wage dynamic.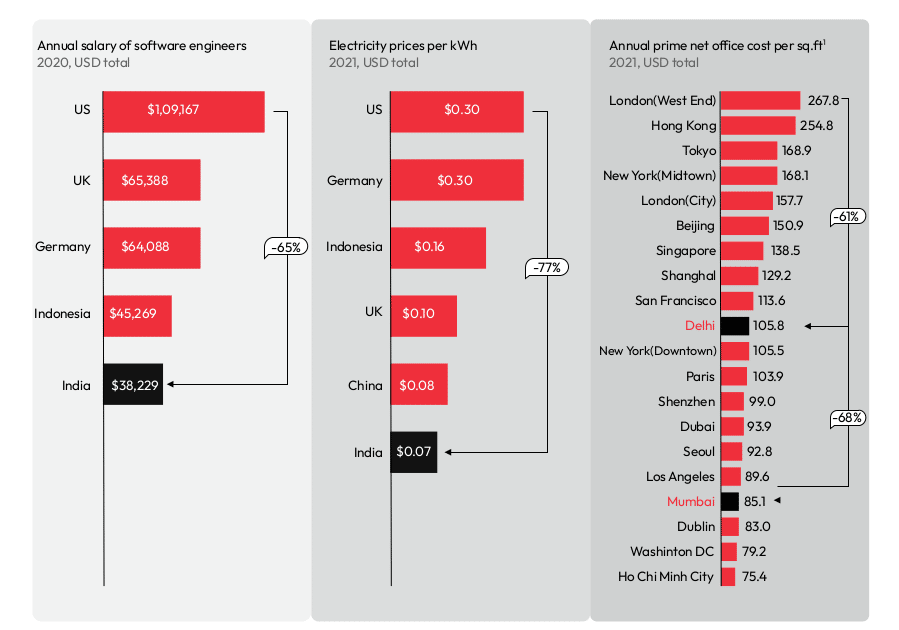 Along with this, some of the key initiatives of the Indian government like UPI, Aadhar, Jan Dhan Yojana, Make in India and PLI schemes, has powered the overall industry, including and not limited to the manufacturing sectors.
2. Government initiatives enabling digitisation of delivery system
With innovation and committed focus, UPI technology has made it a defining force and enshrined itself as India's family jewel of payment systems. In FY 2022, cumulative UPI transaction value surpassed USD1tn. While Aadhaar envisions empowering India's people with a digital platform and a unique identity, which can be easily authenticated anytime, anywhere.
Speaking of Jan Dhan Yojana, the scheme's main objective is to help citizens receive banking services such as credit, pension and insurance at a reasonable cost. While, Make in India is a national programme designed to facilitate investment, foster innovation, enhance skill development, protect intellectual property and build best-in-class manufacturing infrastructure in the country.
3. India stands out as the second potential manufacturing powerhouse among Asian peers
India is a potential manufacturing powerhouse and could become an engine for economic growth and jobs. Moreover, due to factors like power growth, long-term employment prospects, and skill routes for millions of people, India has a significant potential to engage in global markets.
Among its Asian peers, India has been the second-best performing country in terms of manufacturing value added. India is only second to Bangladesh which had a higher CAGR due to a low base. As stated earlier, government interventions specifically Make in India and the Production-Linked Incentives scheme have augmented Indian manufacturing. The PLI scheme helped manufacturing activity surge by 22% in 2021 compared to 2020.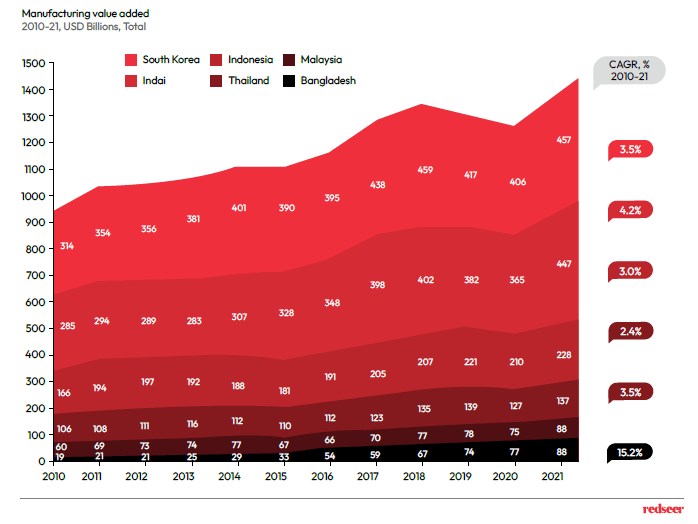 4. India's exports set record in 2021
India is an attractive hub for foreign investments in the manufacturing sector. Chemicals, mineral products, industrial machinery, and textiles (among others) are expected to propel manufacturing
exports.
Well, a Central government report stated, India's goods exports crossed a record high $400 billion mark in 2021-'22, nine days ahead of schedule, said the Union Ministry of Commerce & Industry on March 23, 2022. This is far higher than the previous record of USD 330 billion achieved in 2018-19. The exports, which touched $374.05 billion by February, had registered a 45.8% jump in April 2021-February 2022 compared to the same period last year and it was 28.16% higher than the same period in the fiscal year 2019-'20.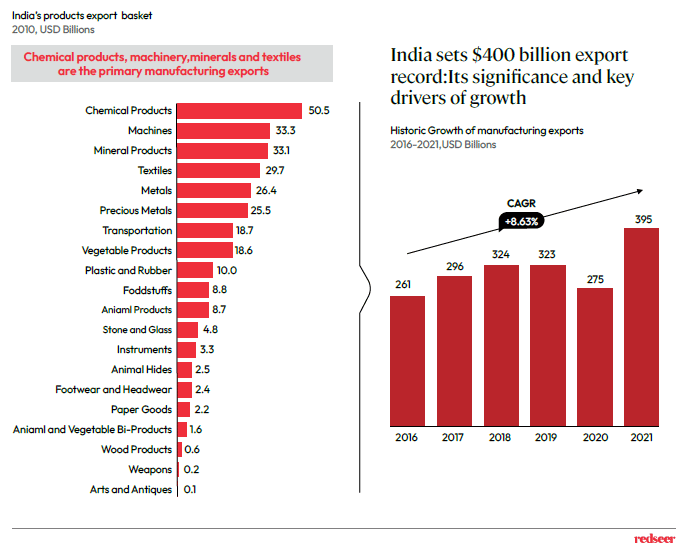 As noted earlier, factors like favourable government policies, low-wage labour, and quality talent will fuel India's manufacturing sector. Definitely, India holds the potential to become the next manufacturing hub in the world. Speaking precisely on the digitalisation, we had covered this development in detail in our previous newsletter here