1. Healthcare industry is supported by a complex supply chain with multiple providers, providing out-patient & in-patient care to consumers
Healthcare has a complex supply chain, involving multiple stakeholders, primarily suppliers, healthcare providers, consumers and medical insurers.
Suppliers include pharmaceutical companies (i.e. drug manufacturers) and equipment manufacturing companies.
Providers are broadly segmented into:
a)Outpatient care providers, which include pharmacies, doctors (for consultation) and diagnostic centers.
b)Inpatient care providers, which are basically hospitals that provide all the services in-house.
Consumers are the end-users of healthcare, who mostly avail services as a household. Lastly, medical insurers provide financial coverage to consumers and help them avail healthcare services.
---
2. eHealth is aimed at providing out-patient care services focused on pharmacy, consultation and diagnostic services through digital platforms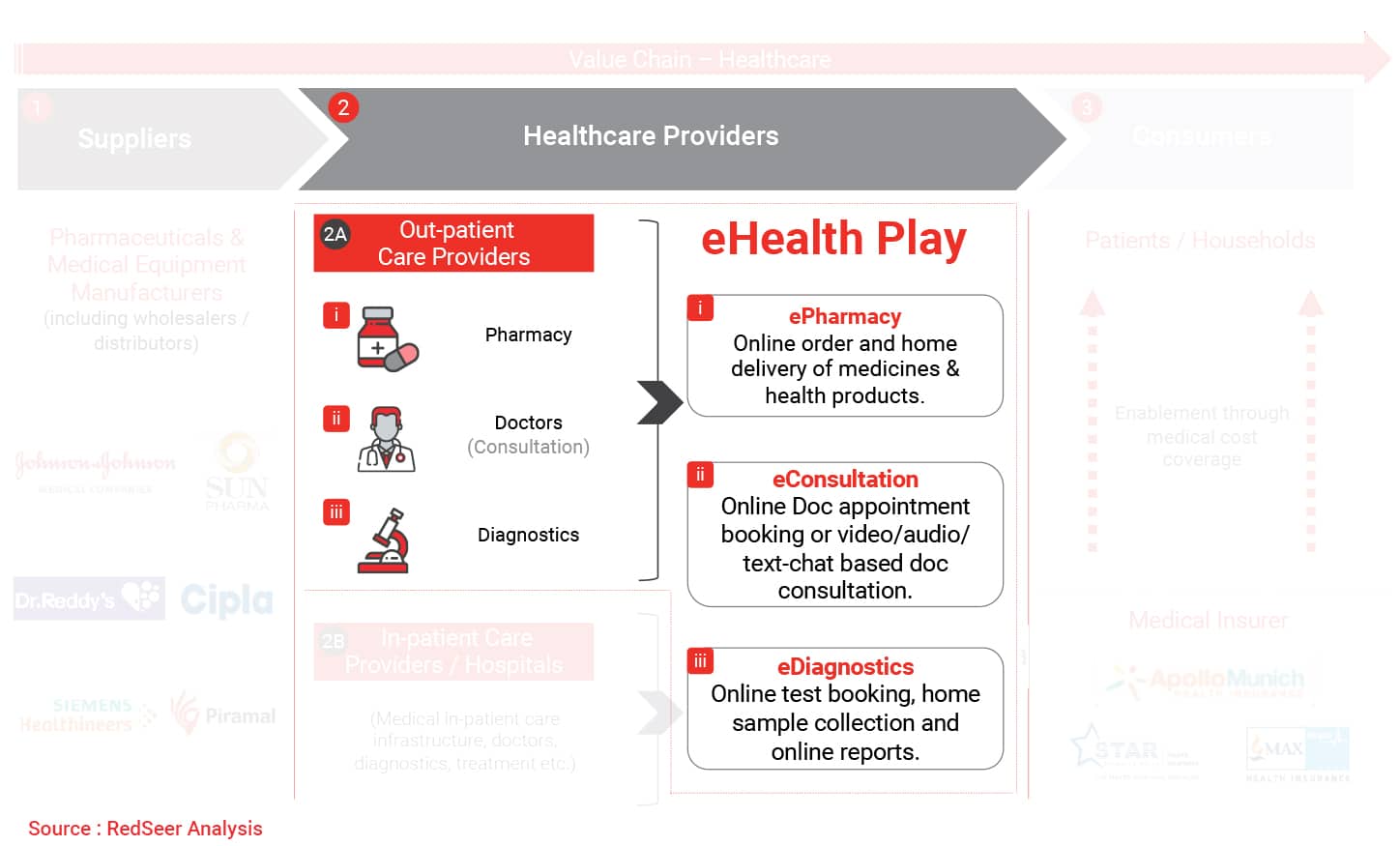 eHealth sector in India is focused on digitizing the interaction between consumers & outpatient care providers. These platforms provide consumers with a convenient healthcare experience by offering pharmacy, consultation and diagnostics services online.
---
3. eHealth providers resolve the complexities / pain-points consumers face through their traditional out-patient care journey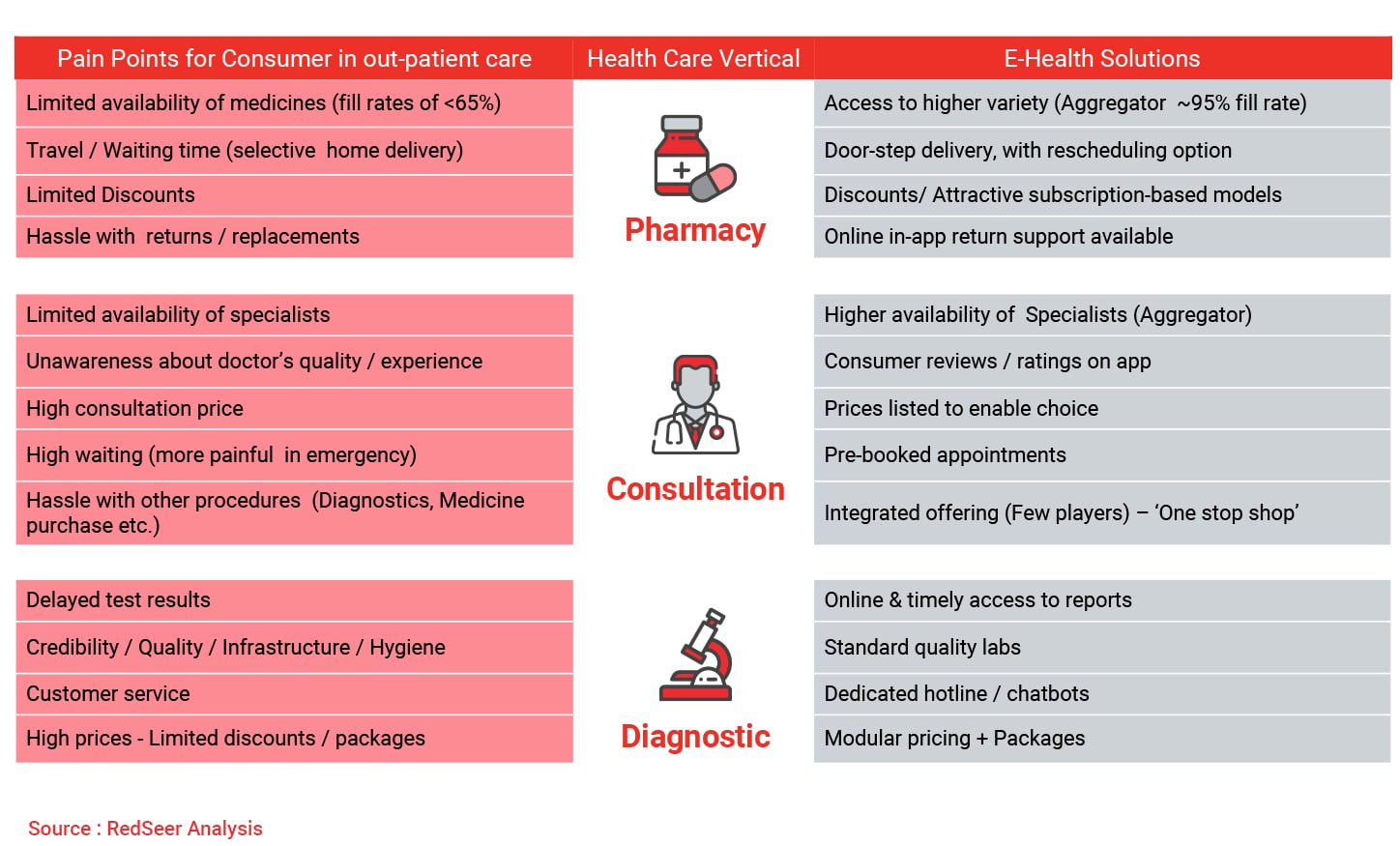 Consumers face multiple challenges driven by inefficient processes, higher costs and poor quality of services, as part of their traditional outpatient care journey across pharmacies, doctors (for consultation) and diagnostics centers.
However, with eHealth coming into play, it has significantly taken care of the problems associated with traditional outpatient care journey by focusing on 1) increased access 2) standardization of services 3) Improved convenience and customer service 4) transparent pricing and review mechanisms.
---
4. Strong value prop for eHealth providers and strong supply side initiatives will enable sector to reach ~$16 Bn GMV (45% of TAM) by FY 25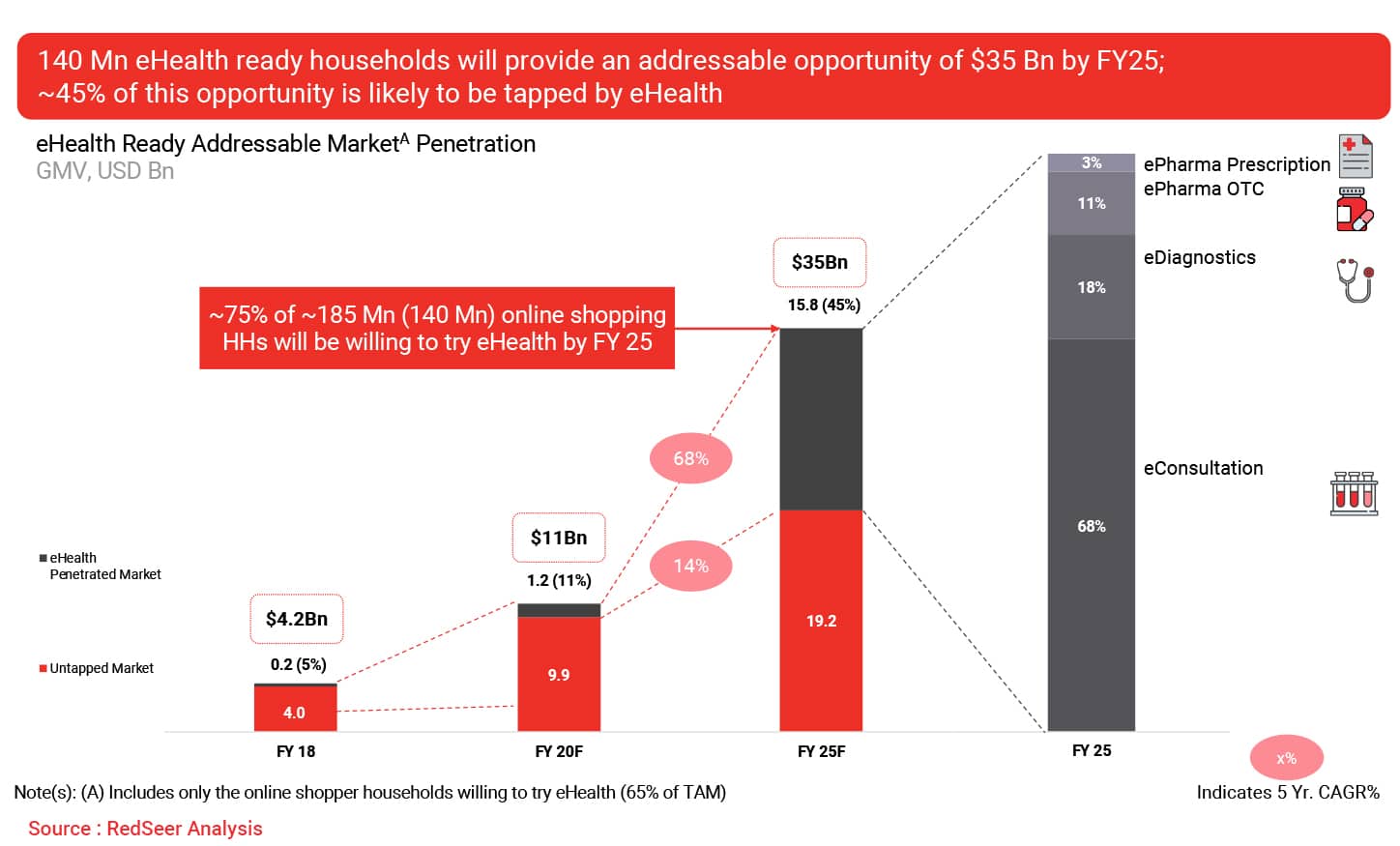 e-Health market is expected to grow at a CAGR of 68% to reach $ 16 Bn by 2025
The promising growth in the Indian eHealth sector is driven by positive receptiveness towards eHealth by both consumers & providers, along with supportive Govt. regulations and investments.
RedSeer estimated that number of household willing to adopt e-Health platforms will increase to 140 Mn in 2025 from 60 Mn in 2020
E-Pharma prescription and OTC will constitute the bulk share of the e-Health market followed by e-Diagnostic and e-Consultation.
---
5. Driven by the growth potential, multiple eHealth models have launched in the market today which can be classified into 3 broad categories
Driven by the significant potential as elaborated earlier, last few years witnessed launch of variety of business models in the eHealth market.
Most of these models brought in vertical specialization, driven by the specialized and regulated nature of the healthcare market. Thereby, while most of the players operate as verticals, horizontals such as Amazon have been confined to OTC category which does not require much specialization or regulatory approvals.
Within eHealth vertical players, there are players who focus on standalone categories such as e-Pharmacy or e-Diagnostics or e-Consultation, while many players have realized the benefits of acting as a 'One Stop Shop' and being an integrated outpatient healthcare services provider.