1. Niche food brands are gaining traction among the educated urban and semi-urban youth in India
Published on: Oct 2019
The niche packaged food industry is pegged to grow at ~16.5% to reach USD 59 Bn by 2022 from USD 37 Bn at present. Unlike the previous decade, this time these niche brands, or 'challengers' as they are called, are expected to take up a considerable slice of the pie in the growth story.
With the inclination towards themes such as healthy, Keto (low-carb), high protein, 100% natural, conveniently available with low shelf life, the brands are piggybacking on the consumers' demand shift in favour of a health-conscious lifestyle and their willingness to pay a premium for such products.
2. The consumer food market saw an initial surge in the entry of niche food start-ups between 2014 and 2017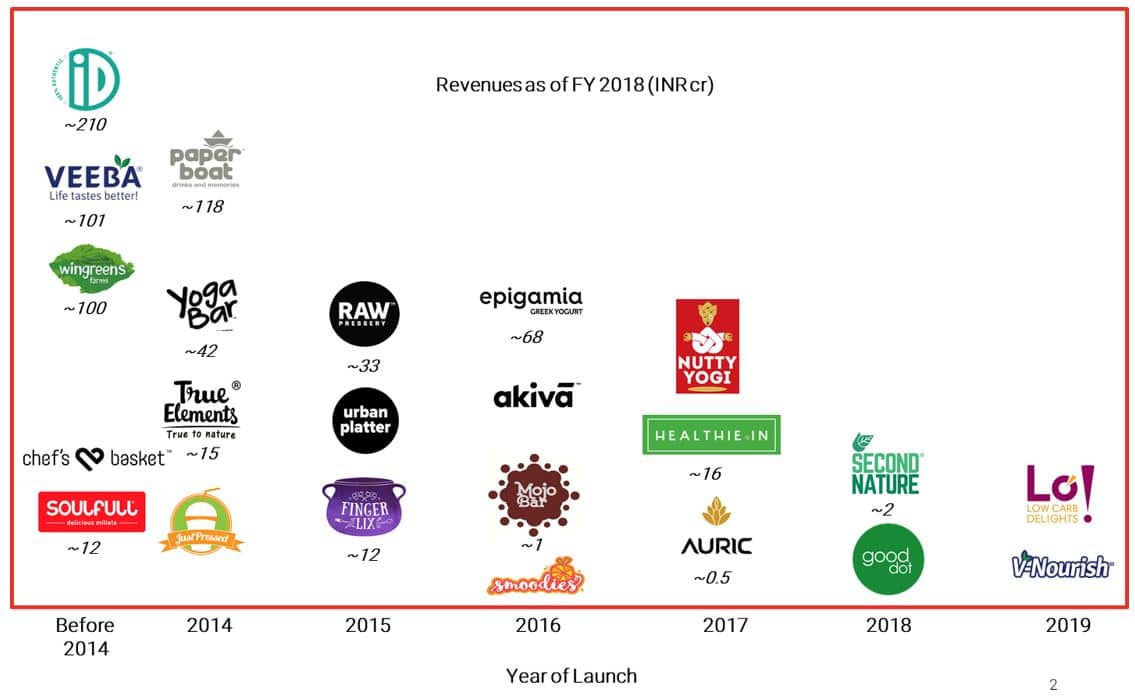 Unlike traditional packaged food brands which are either expanded as family businesses or are an arm of large consumer goods MNCs, the Niche food start-ups have been receiving hefty funding from PE and VC funds. This helps them raise large sums of money in one go, which they then use in creating in-house production units to take control of the production of their unique products. In the case of brands like iD foods, even the packaging of the products is developed in-house. Since the marketing spends are relatively low, the funds are ploughed into the expansion of the distribution network. As such, one common trend has been fast revenue growth within a few years of launch. Some brands have been seeing consistent revenue growth of over 100% and have outperformed the industry growth. Brands like Paperboat and Veeba have taken 5-6 years in reaching the INR 100 cr revenue mark. Similar performance can be expected from brands like Epigamia and RAW Pressery.
3. The marketing activities of the niche brands are dominated by the presence in online platforms and social media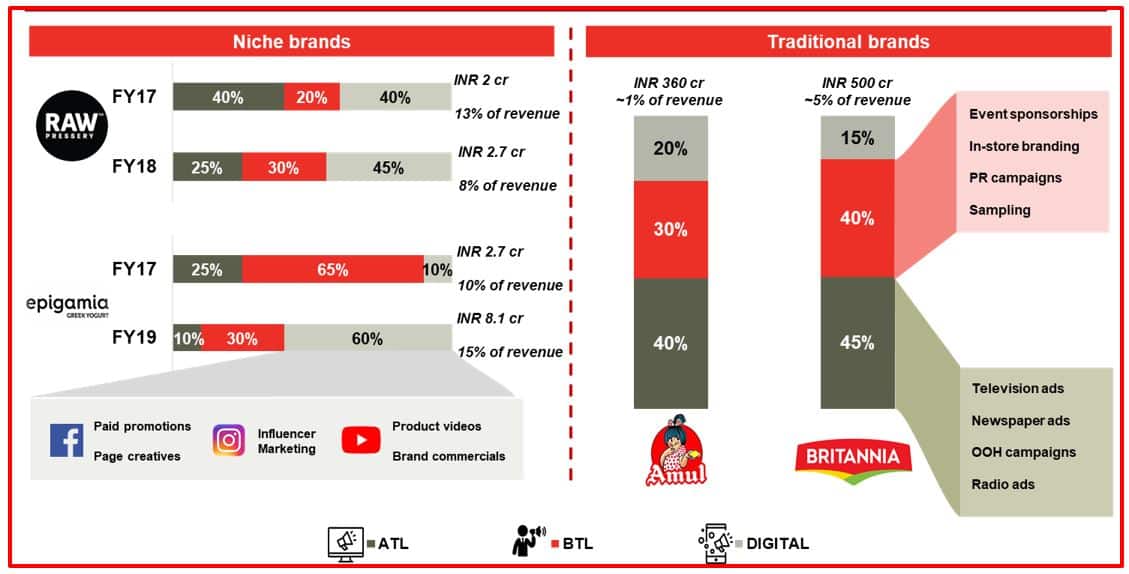 Another aspect that is unique among the niche brands is the inclination towards digital marketing and the limited focus ATL activities. Unlike the traditional consumer food industry norm, they do not invest in traditional ATL activities such as TV advertising since the costs are high and the target audience is very specific. Moreover, since the target market largely comprises of educated urban youth, most of who use smartphones, the spend on digital marketing stands to be effective and less expensive. Even within digital marketing, the spends have been going towards new forms such as influencer marketing on Instagram and Facebook. Other than that, YouTube videos and Facebook creatives are also considered in media planning. In the initial years, some brands do focus on BTL activities – especially sampling – to gain traction among the audience and to understand their preferences. Some brands have also on-boarded celebrities associated with fitness as brand ambassadors and even investors.
4. The online channel has provided an efficient channel for growth of niche brands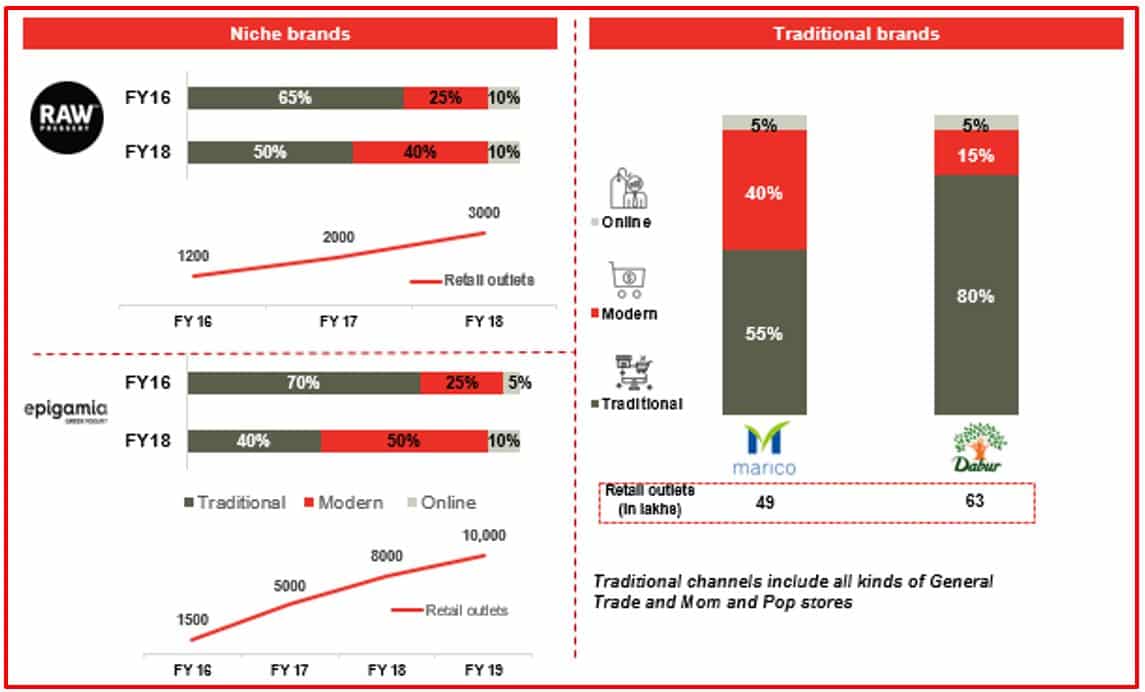 The sales channel depends on the product type. A majority of the niche brands have products which either require cold storage while stocking or only attract the customers who go to modern trade (MT) channels like supermarkets. As such, the share of MT channels remains high. That said, their market is also concentrated in urban areas. However, brands such as PaperBoat are making a deliberate attempt to increase the share of general trade (GT) channels in order to penetrate the tier 2 and tier 3 markets. Their retail reach is far lower compared to that of the established brands but is increasing rapidly. Apart from that, these brands also try to focus on online channels to boost revenues with lesser costs. This stands in quite a contrast with established brands whose revenues are driven by traditional sales channel.