Through its brief yet eventful run, TikTok surprised the nation with its unprecedented success as a social media platform in a) democratizing the content creation process to Tier-2+ cities, b) breaking down language barriers, c) making the best use of India's digitization movement. It was only natural for the sudden ban of this highly engaging and remunerative platform to greatly impact both brands and the nation's content creation community.
It was also during the same period that the ecosystem saw the rise of homegrown Short Form Video (SFV) platforms which have now amassed a formidable following of 250 million. Top-notch regional language content created by local talent and bolstered by evolving recommendation engines has propelled average Net Promoter Scores to an extremely favorable 55%.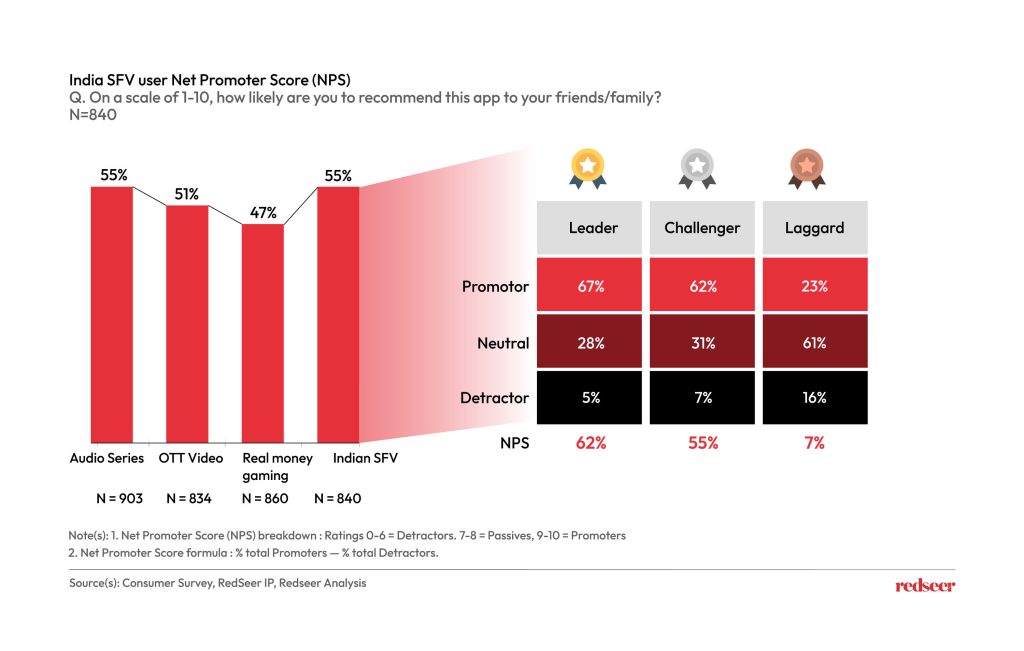 Indian SFV platforms hold the key to Bharat. 65%-70% of users hail from Tier-2 cities, semi urban and rural centres, and are from mid to high-income backgrounds
The user-base of SFV apps is dominated by individuals located in Tier-2 cities and are mostly within the 25-year age bracket. The rise of bite-sized entertainment in non-metro and semi-urban areas following the TikTok ban can be credited as one of the catalysts for the widespread popularity of these platforms. Of this demographic, ~45% of the users are seen to interact with a diverse set of internet platforms ranging from gaming to eCommerce. About 60% of them are from mid to high-income backgrounds, making monetization a strong possibility.
~40% of the users conduct online transactions across SFV platforms with online gaming, ecommerce and OTT platforms emerging as favorites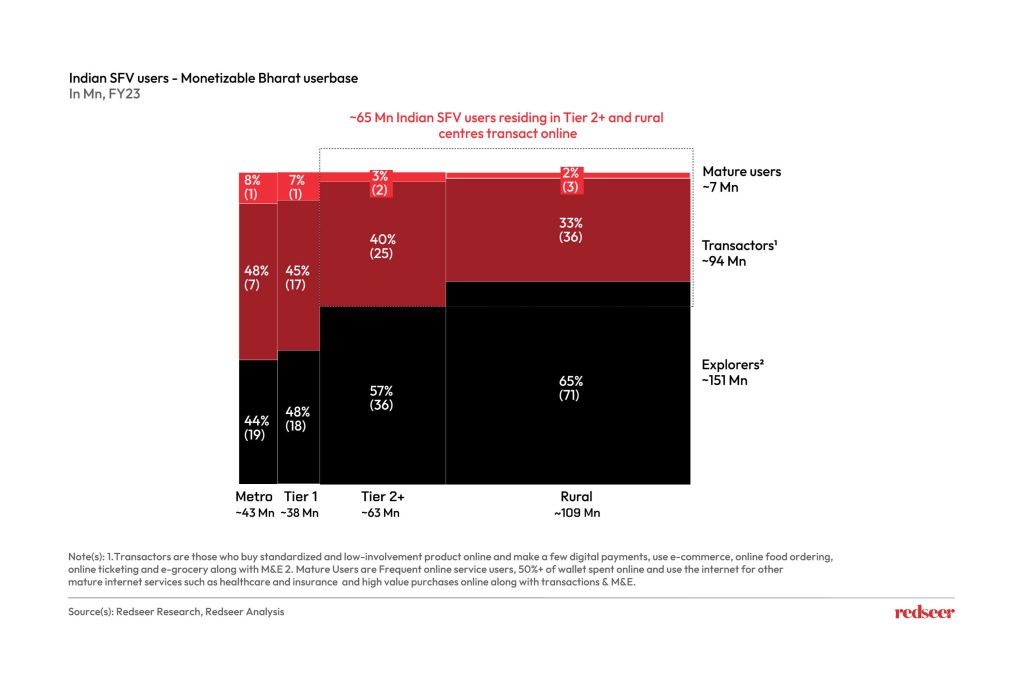 Over 60% of the SFV user base currently dedicates more than 10% of their income towards discretionary spending and devotes an average of ~1.2 hours per day on these platforms. A significant part of this demographic is already allocating finances towards Fashion, Beauty and Personal Care products (BPC) as well as grocery-related spends. New age models such as live commerce and live gifting can raise the bar for monetization as we know it.
Original and Relevant content grows to 99% in 2023, effectively reaching appropriate audiences with a ~70% relevance rate
SFV platforms boast of higher engagement rates mostly owing to their strong emphasis on original and relevant content. The platforms' investment in content moderation protocols ensures that inflammatory material takes up less than 0.5% of the total content shared. The ~70% content relevance rate is buttressed by provisions to prevent repetition thereby giving users access to fresh content. Recommendation engines tap into a library of rich and diverse content that entertain and educate users.
SFV Platforms receive overwhelmingly positive ratings across multiple user experience parameters, boosting average NPS scores to 55%
Users were made to rate their in-platform experience across parameters including Content Quality, UI/UX, Data Privacy, Loading Time and Quality of Influencer on an 8.6-point scale. The market leader is seen to have outperformed its competitors in 7 out of 8 key parameters, earning points in the 8.2-8.6 range. SFV platforms by themselves are seen to have earned a heightened overall net positive sentiment among users in comparison to real money gaming, OTT video, and audio series.
The current market leader has scored an impressive 62% in average NPS. The recommendation engine and the continuously improving NLP/ML algorithms are two elements critical to the accurate tagging of content on the platform.
SFV platforms, by means of their content-first and data-led approaches, are undoubtedly emerging as a tool to watch out for. Brands in the Fashion and BPC spaces have already made inroads into this ecosystem, and many more are expected to join the bandwagon.