Recently, we witnessed the remarkable success of D2C brands in India, as evidenced by their top rankings on Redseer's Digital Disruptor list. Among the featured categories, electronics and appliances was one where we saw some good brands stealing the show. In Indonesia, this category is captivating a significant share of the e-commerce market, amounting to nearly 25% of the total Gross Merchandise Value (GMV). This newsletter explores the potential for D2C brands in the Indonesian electronics market, highlighting the driving factors behind their adoption over established incumbents.
Could this present a golden opportunity for Indian brands to expand to Indonesia? Let's find out as we delve into the insights and findings.
1. The pandemic did it for Indonesia too. Drove the adoption of online electronic models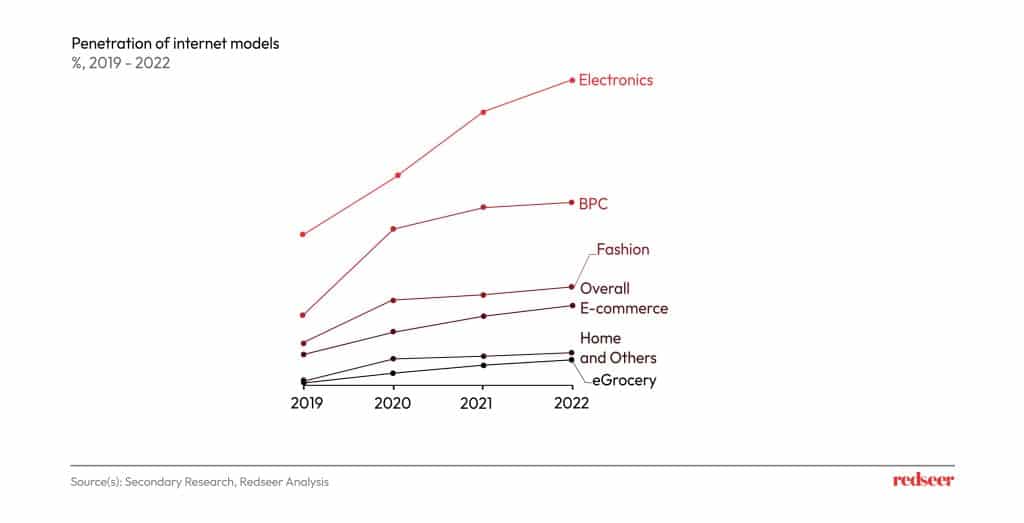 Increased disposable income and lifestyle changes brought on by the pandemic have led to a rise in spending on electronics products in the region. Retail-fintech partnerships have played a crucial role in making electronics devices more affordable for a broader segment of society, thus fueling demand. In addition, the emergence of new players in the market has also contributed to improving accessibility to these products. Consumers are turning to online channels for wider selection and lower prices. This shift has resulted in strong customer loyalty to e-commerce companies, as shoppers report higher levels of satisfaction when shopping online compared to in-store.
2. D2C companies are redefining consumer expectations through competitive pricing and innovative products making it hard for traditional brands to compete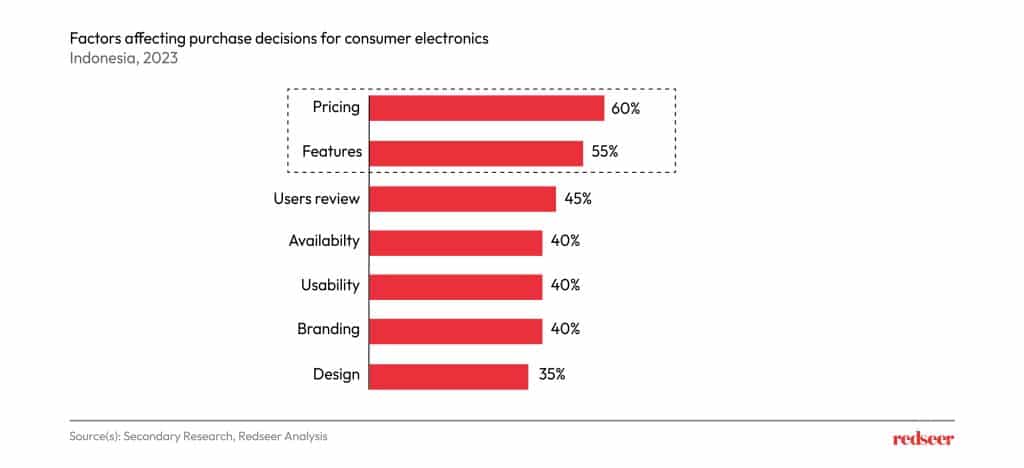 D2C electronics companies have the potential to disrupt the retail industry in Indonesia. With consumers increasingly prioritizing pricing and features over brand name, D2C companies can offer high-quality products at lower prices, making them more accessible to a wider audience. By utilizing tactical messaging and limited-time offers, these companies can create a sense of urgency among consumers. Additionally, offering extended warranties, product reviews, and ratings can build trust and confidence in the customer's purchase, leading to increased customer loyalty and recommendations to others.
3. Indonesia's electronics market is adopting omnichannel platforms and D2C brands; Success of Prism+ in Singapore and BoAt in India can be replicated in this ripe market.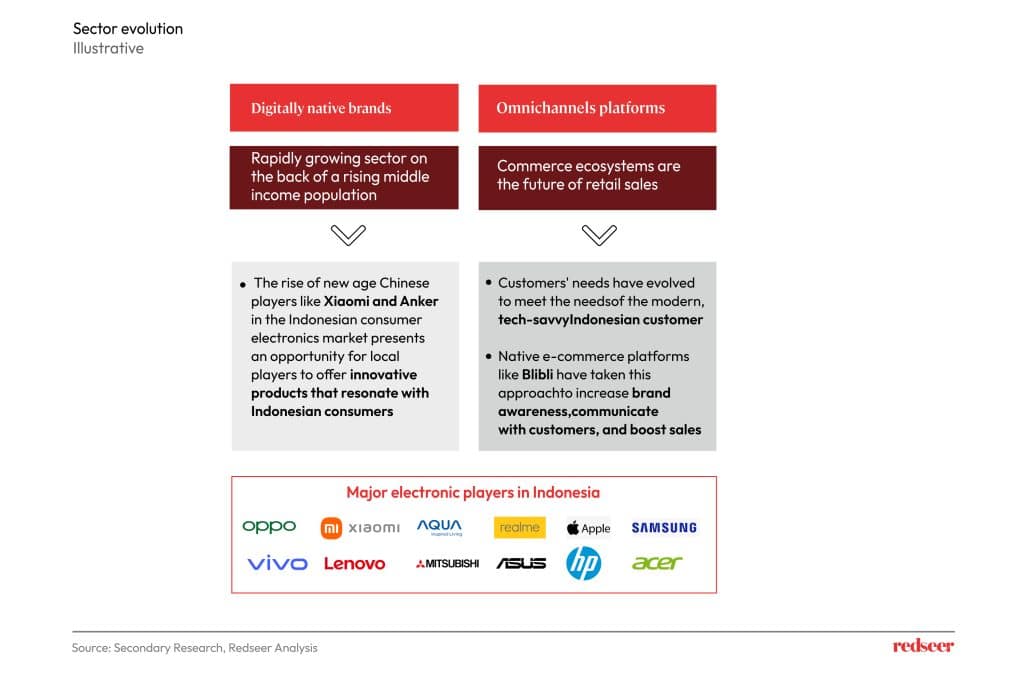 DNBs (Digitally Native Brands) stand out from traditional brands as they are marketing-focused organizations that have optimized their entire marketing approach for the online ecosystem, while large retail brands have less agility and view online sales as only a small part of their overall business. As seen by the success of new age players in other markets, such as Prism+ in Singapore, BoAt in India, and Xiaomi in China, there is significant potential for similar growth in Indonesia's consumer electronics market.
4. By 2026, the electronics retail market in Indonesia will represent a ~$70-75 Bn opportunity at an attractive 11% CAGR growth.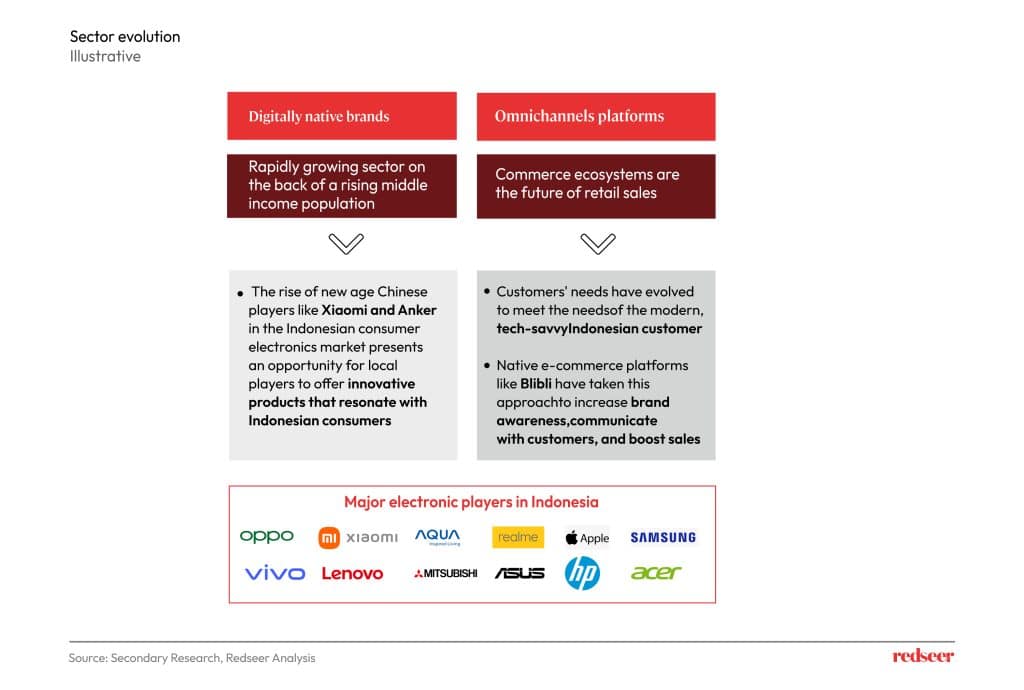 The consumer electronics market in Indonesia is growing at ~6% CAGR from 21-26 but the online market is expected to grow at a much higher rate of ~11%. Consumers are increasingly embracing omnichannel options, combining online and offline channels for a seamless shopping experience. E-commerce players with a strong omnichannel presence are seeing higher customer retention due to their ability to offer convenience and flexibility across channels.
Looking ahead, the Indonesian electronics market is expected to grow steadily, providing a promising landscape for both local and international D2C brands. In this dynamic environment, agility, innovation, and a deep understanding of consumer preferences will be key to unlocking success in the Indonesian electronics market. By embracing D2C strategies, brands can establish stronger connections with consumers, drive customer loyalty, and position themselves as disruptors in the industry.