1. Indonesia is home to USD 377 Bn retail market; FMCG forms the bulk of the market, 77% of which is unorganized
Private consumption in Indonesia stands at ~60% of GDP out of which retail accounts for 59% of the spend (~35% of GDP). Adoption of online B2C channel, expanding middle class population and rising investment in infrastructure are driving growth of the retail market.
FMCG accounts for 55% of the retail market and 77% of the market is unorganized. Organized penetration is higher than India because of vast network of minimarts in Indonesia. Categories other than electronics (which has high online B2C penetration) are largely driven by unorganized channel.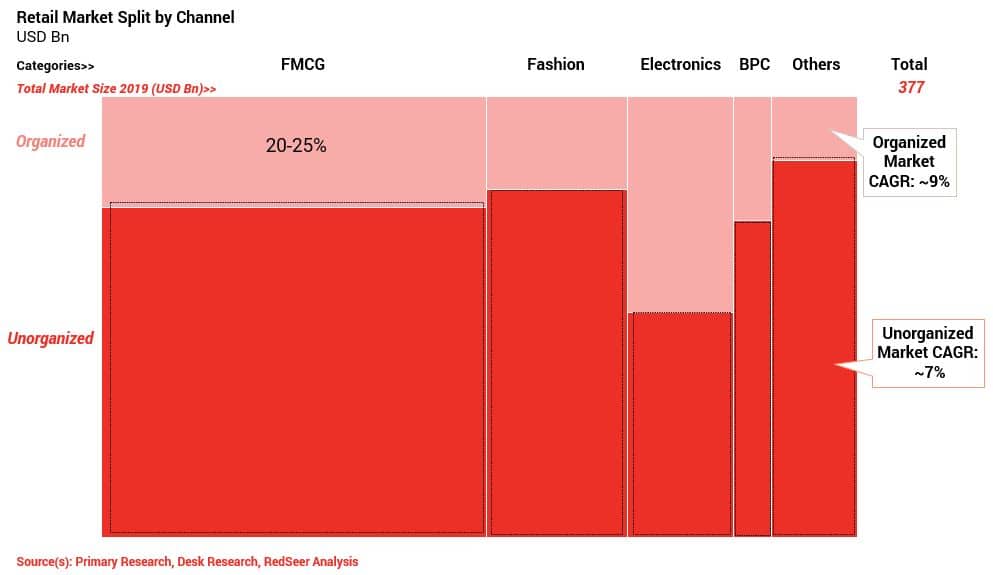 ---
2. 3.5 Mn "Warungs" (local mom and pop stores) selling FMCG (and other allied categories) are core to this market and are distributed evenly across the country
"Warungs" are local mom and pop stores. ~70% of the sales of warungs come from FMCG category (without fresh). Within FMCG, cigarettes account for >50% of the sales. Generally, warung sales are driven by low ATV impulse purchases of "on the go" items like RTD beverages, instant snacks and cigarettes.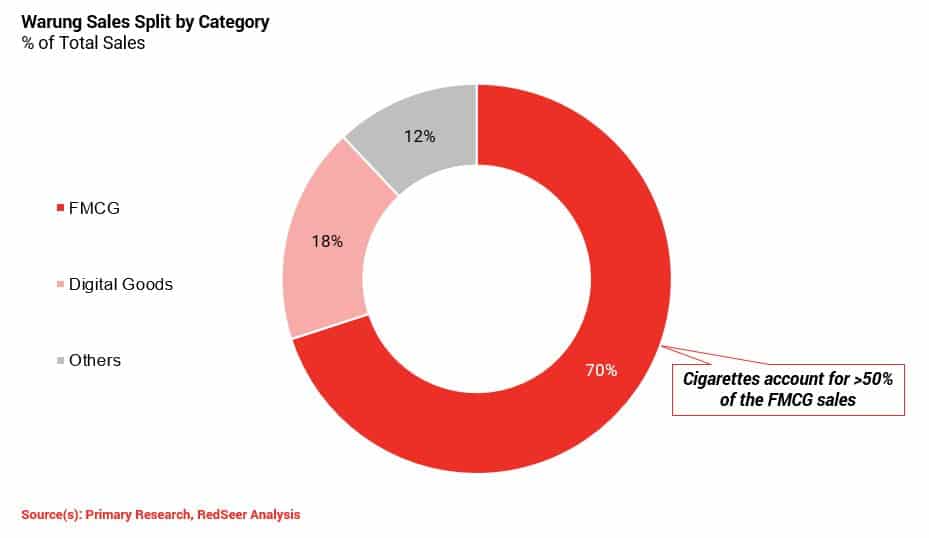 There is a higher concentration of warungs in Jabo area (~17% warungs for ~10% population). Small warungs with sales <IDR 1 Mn are the most common across all the regions.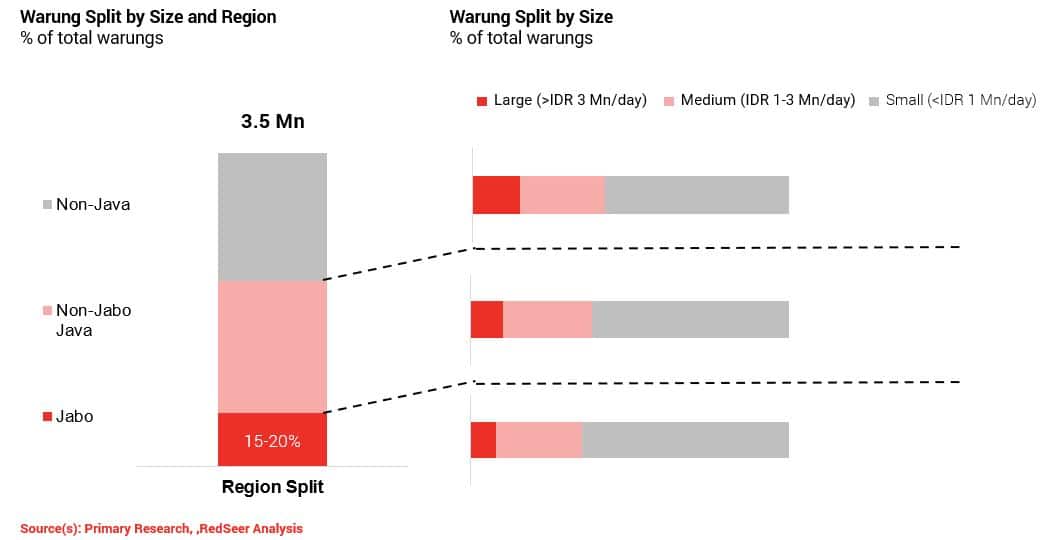 ---
3. Value chain for unorganized channel has multiple intermediaries which leads to numerous inefficiencies – for both brands and retailers
FMCG and Fashion have the highest number of 3rd party intermediaries involved in the value chain for unorganized channel. Cigarettes and Electronics have a higher level of control from brands.

On the brand side, intensity of challenges faced is the highest for FMCG brands owing to the complexity and the volumes involved in distribution. Brands have visibility of only distributor level sales and often the campaigns directed towards retailers are not passed on to them.
Warungs often have to depend on as high as ~10 different sourcing channels for procurement. Furthermore, there is high degree of variation in price and limited credit facilities (only provided to large warungs).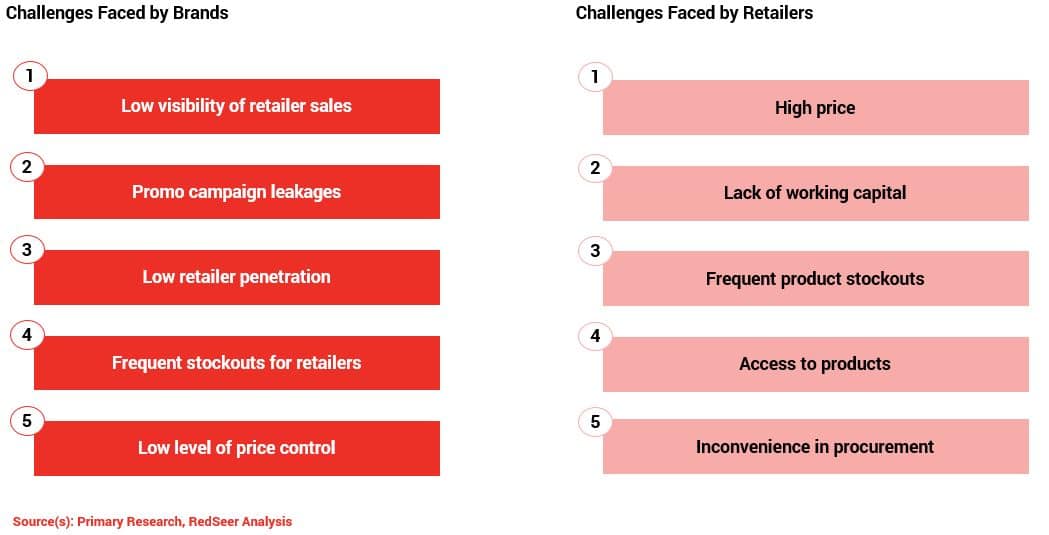 ---
4. FMCG has seen the entry of a number of players targeting multiple segments of the value chain; however it is yet to strike the right cord with retailers and brands
eTailing giants like Bukalapak and Tokopedia have entered the eB2B space. Grab has also entered the space by acquiring one of the earliest entrants in the space, Kudo.
Leading FMCG and cigarette brands have also launched their own eB2B platforms.

Players have been experimenting with sourcing channels and operating models. Inventory led players source from both brands and distributors. Marketplace models typically have listings from wholesalers.
Players have been selling to both retailers and wholesalers.

Credit availability, price and product stockouts are the biggest pain points from offline channel, however, eB2B has not been able to effectively address these problems. Credit penetration is still 5-7% and retailers face frequent stockouts on eB2B because of limited supply from brands currently.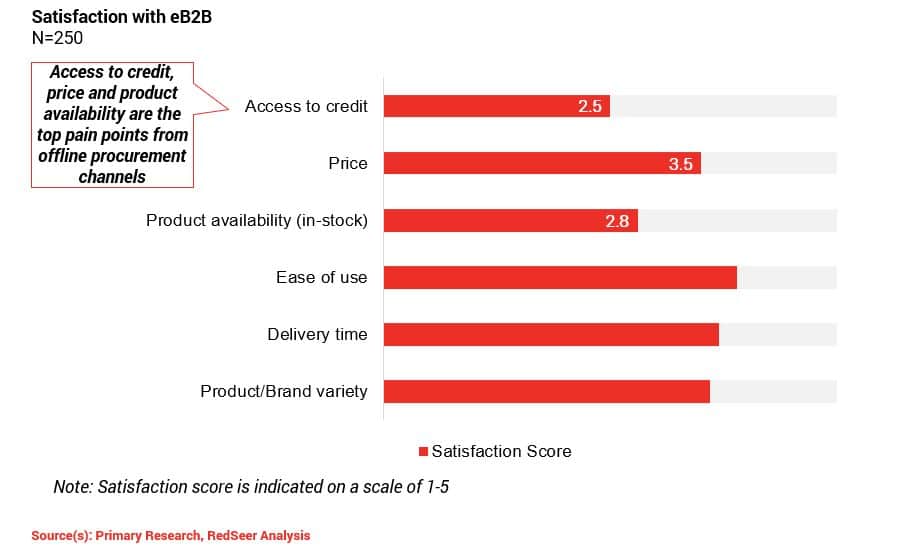 Brands have also reported low satisfaction till now due to challenges faced and limited impact seen partly owing to low scale of operations when compared to offline distributors.