Over the years, e-commerce in Indonesia has experienced significant growth, driven by factors such as increasing internet penetration, smartphone adoption, and a growing middle class. The category mix of e-commerce platforms has evolved to cater to the diverse needs and preferences of Indonesian consumers. It is further expected to undergo changes as the demographics and socio – economic models evolve in the country.
In the article, we talk about the e-commerce landscape in Indonesia and the outlook for the sector and players operating in the space.
1. In the past 5 years, Indonesia's internet landscape has evolved rapidly setting a tone for strong growth of consumer internet economy in the country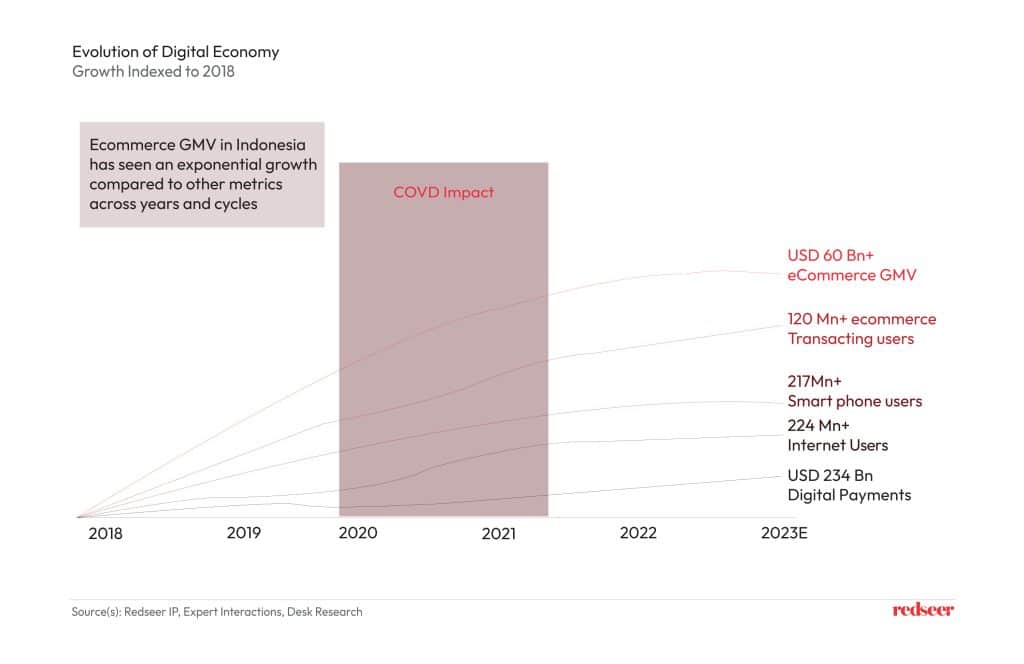 The structural levers in Indonesia remain strong that will act as strong enablers and catalyst for widespread adoption of ecommerce in the country especially beyond tier 1 locations as infrastructure quality and spending capabilities of public improve. Further, rising GDP per capita and improvement in income distribution will act as the most significant tailwinds in the rise of retail market and consumption spending in Indonesia. Also, changing demographics and the accompanying behavioural patterns will act as key differentiators.
Some key trends to be observed in future include:
Increase in purchase frequency.
Normalization in AOV
Doubling of contribution margins as players seek profitability.
2. 2023 eCommerce Outlook: GMV growth sluggish owing to macroeconomy, TikTok emerges as a challenger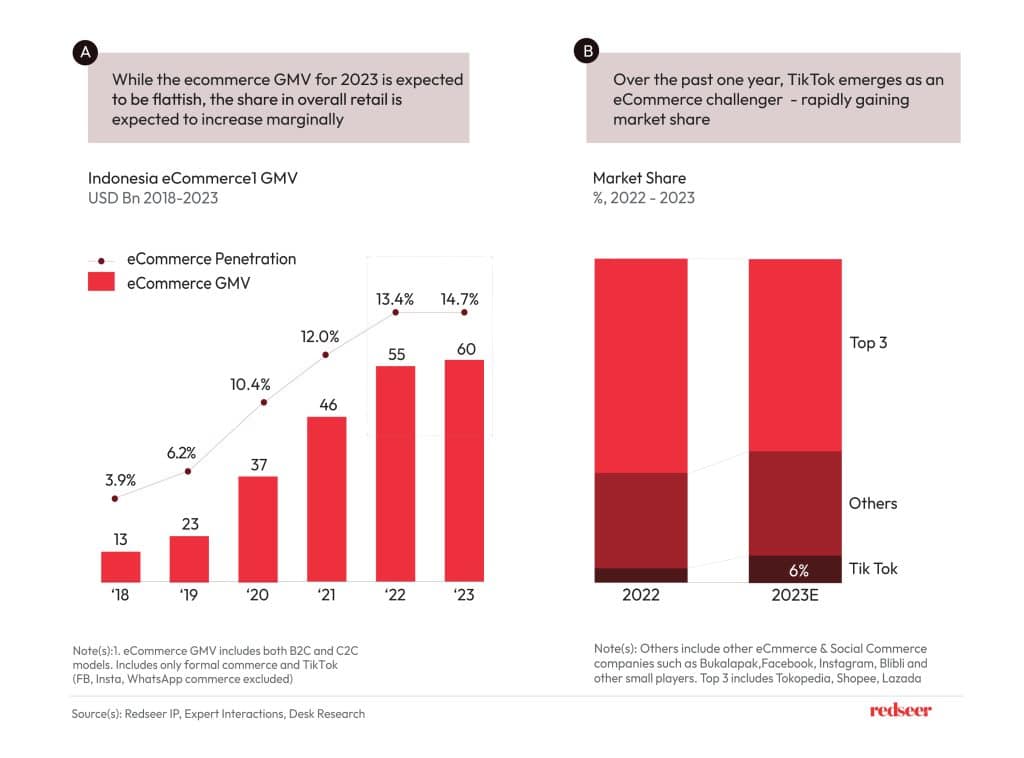 Indonesia ecommerce has matured over time and currently stands at 77 Bn+ GMV with some of the larger players already public or on path to IPO. Fundamentals, show that ecommerce sector has been expanding in all the right directions with ample headroom to grow.
The GMV share is being driven primarily dominated by Shopee and Tokopedia however Lazada is also being seen making some sort of comeback with better seller and buyer incentives and brand partnerships.
TikTok is an interesting player that is growing aggressively and needs to be watched out for in coming quarters. Before 2021, share of TikTok in GMV was ~0%.
3. eCommerce spending sentiment is positive overall and across all categories especially grocery, fashion, and BPC
The consumer survey findings are in line with our thesis that as the Indonesia ecommerce market matures more users would start buying fashion, BPC and grocery offerings online and the demand for electronics will stagnate as the penetration rates for electronics are already high.
Fashion, BPC and grocery would be the future growth drivers as evidenced by the consumer survey findings.
4. Backed by its aggressive promotions & seller incentives – TikTok has been growing aggressively – Fashion & FMCG key categories contributing ~80% of GMV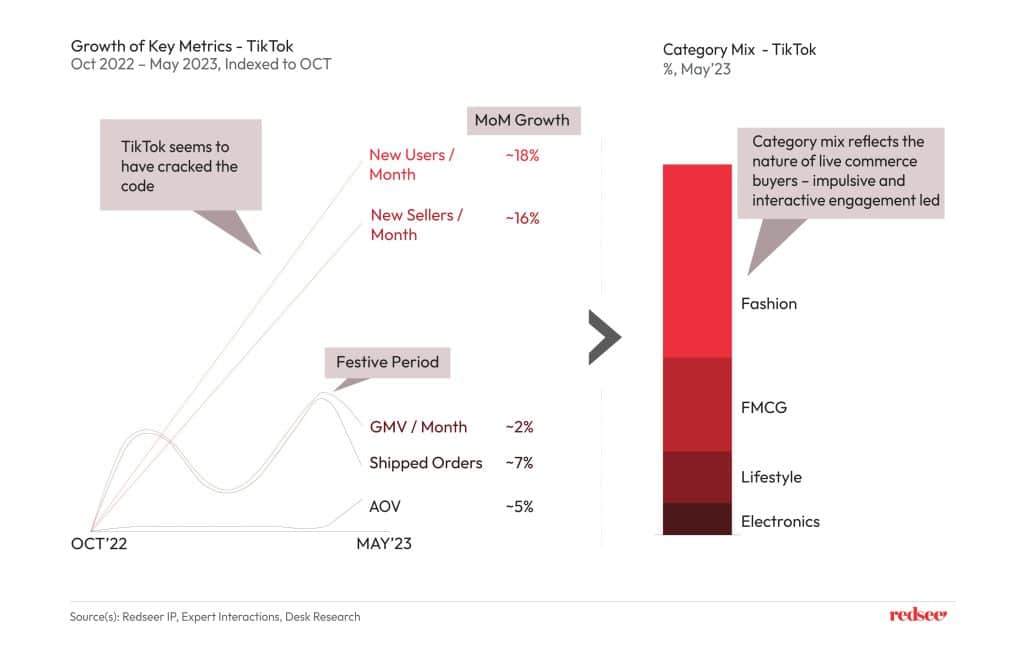 TikTok is seeing an aggressive growth in the live commerce space in Indonesia on account of various metrics and is emerging immensely successful and popular among users. The following factors have worked well in favor of TikTok's growth:
Greater level of engagement and full stack offerings not available with other live commerce players
Wider reach and highly interactive content
Aggressive promos and seller incentives along with reduced friction enabling easier adoption.
5. The consumer survey findings show that TikTok is already part of the top 3 eCommerce apps in Indonesia by usage frequency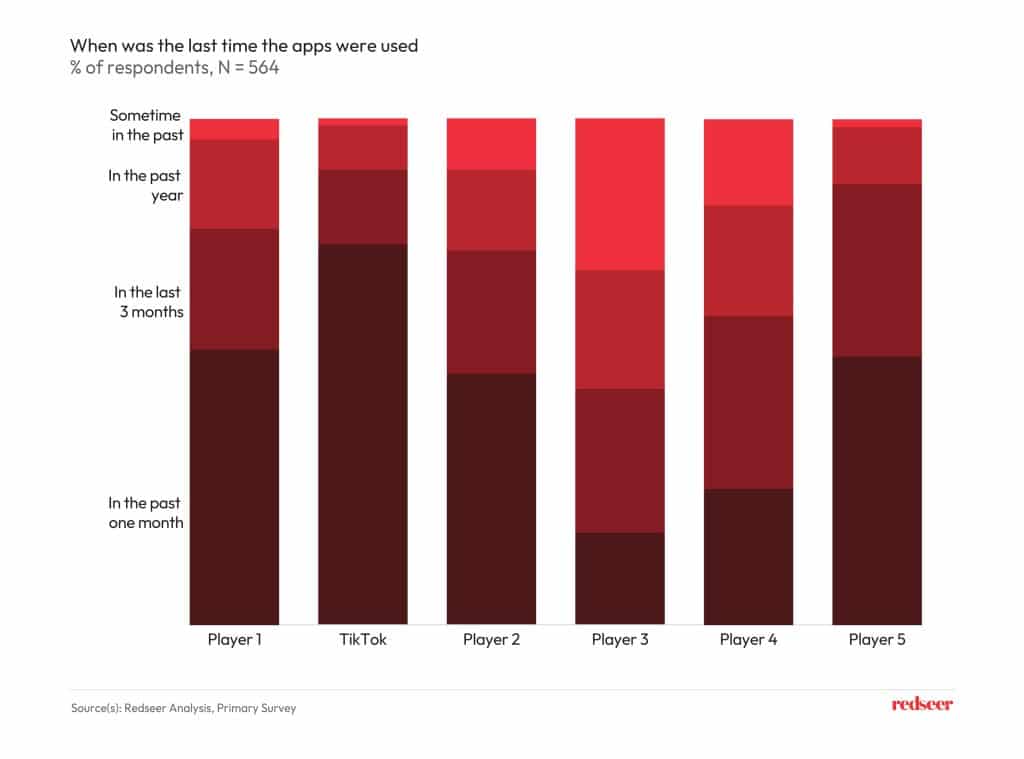 Within a short span of time TikTok is already making an impact. Interactive and highly engaging user journey especially towards product discovery is leading to impulsive purchases for gen Z and millennials the core user base for TikTok. High discounts and other attractive promos are the other driving factors leading to greater purchase frequency on TikTok for respondents