1. Indonesia healthcare faces severe shortage of resources, with the lowest density of medical practitioners and pharmacists in the region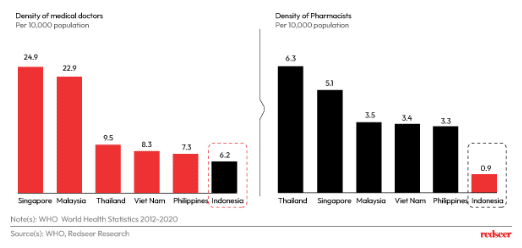 Current capacity of Indonesia's Healthcare system highlights its inadequacy to deal with the demands of growing population especially post pandemic.
It has the lowest density of doctors and pharmacists among ASEAN countries; and given the vast geographical expanse of the archipelago, it poses a severe threat to the nation's health.
2. In 2022, healthcare to account for >9% of the total budget, with a larger share of regular healthcare over COVID-19 expenses; this should help in bridging the existing healthcare sector gaps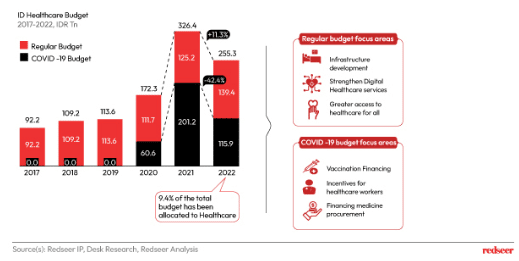 The government realizes the need to boost spending on the Healthcare segment, especially post pandemic and this has manifested in the form of a higher regular budget which is expected to be allocated to focus on ensuring wider reach of hospitals and doctors, availability of basic medical resource, and support digital healthcare offerings.
3. Many of these challenges can be overcome by the Digital healthcare segment – it helps increase coverage, access and efficient utilization of the existing resources which is why it gained traction, and increased funding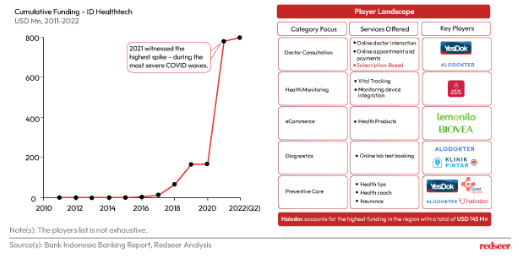 The  pandemic  crippled  offline  services primarily in  the healthcare segment due to the fear surrounding spread of COVID-19 rapidly in hospitals and this solidified the need for teleconsultation and telemedicine services.
Health monitoring and health coaching allowed for better tracking of health and excellent follow-ups while  insurtech  in healthcare ensured affordability through online platforms along with convenience that makes for a convincingly lucrative deal.
4. E-health players have delivered convenience, quality and competitive pricing to users but given the nature of the demand there are several pain points to be resolved…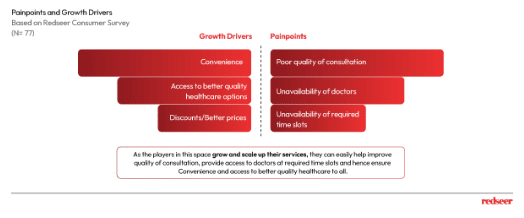 Our proprietary consumer survey indicates that eHealth users in Indonesia value Convenience, Quality and Offers while using these platforms over offline channels.
But poor quality of consultation, unavailability of doctors and required time slots tends to drive them away since healthcare requirements are mostly time sensitive and would require on-demand availability at times.
5. In order to improve user experience, many players and traditional channels have started setting up offline/online channels to meet rising consumer demands highlighting higher preference for Omnichannel services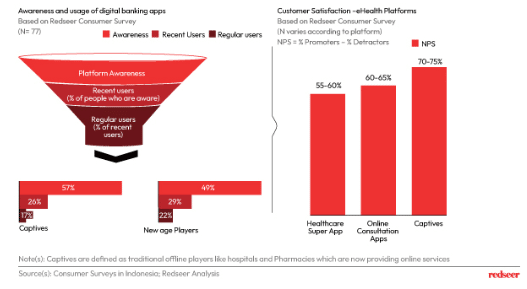 Awareness for captives is higher than that of new age companies. With that being said, the new and recent users are also getting acquainted with new age companies. Captives are well-known among general public due to their already well-established customer base while new age companies need to step up their advertising game or introduce innovations.
6. Financing healthcare is a key challenge when it comes to accessing good quality healthcare services in developing countries like Indonesia
Indonesia is one of the fastest growing economies of the world and has given a great response to digital services like Fintech, eCommerce, On-Demand, eHealth etc.
It shows great potential for further development of Healthcare platforms –by integrating financial services/offerings within the platform to help users save and borrow money as and when needed.