With more than 70% population holding a smartphone in their hand, gaming has become more accessible to people across socio-economic groups in Indonesia. Thanks to In-App Purchases (IAP) gaining more traction, the country is set to be one of the largest mobile gaming markets in the world. In this newsletter, we highlight the mobile game types that are winning in the country. Indonesian younger generations, i.e., Gen-Z and Millennials, are expected to determine the mobile gaming growth trajectory. The popular games among those generations have proven to win the current market and are predicted to stay on the top chart within the next five years.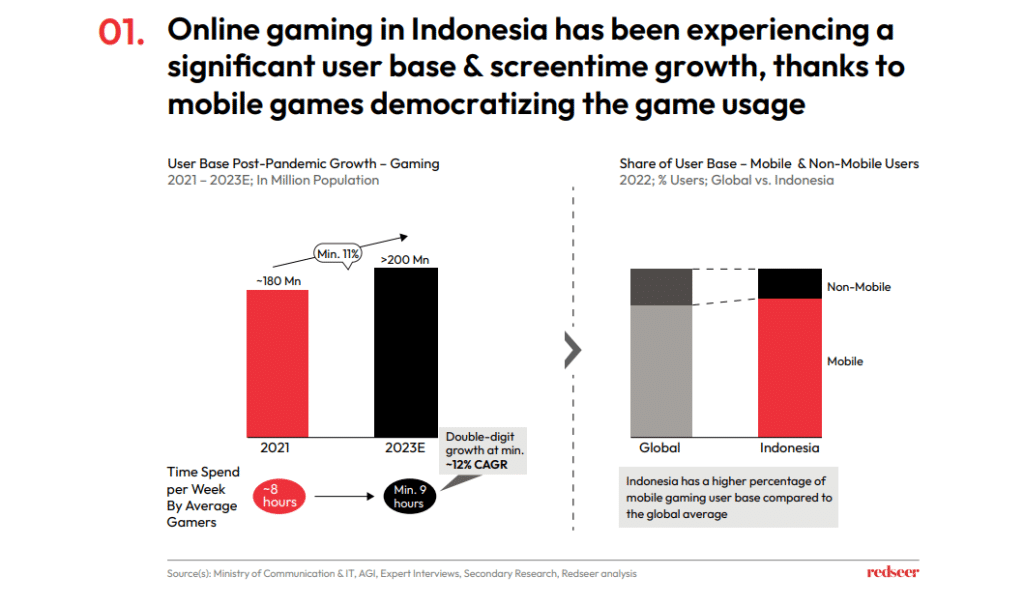 After the Pandemic, gaming user base in Indonesia and its gamers' screentime have been experiencing a double-digit growth. In 2023, more than 70% population in Indonesia were exposed to games provided in various devices (e.g., smartphone, console, PC). This trend has been mainly driven by the adoption of mobile gaming across different consumer segments, thanks to the burgeoning freemium model and better internet infrastructure.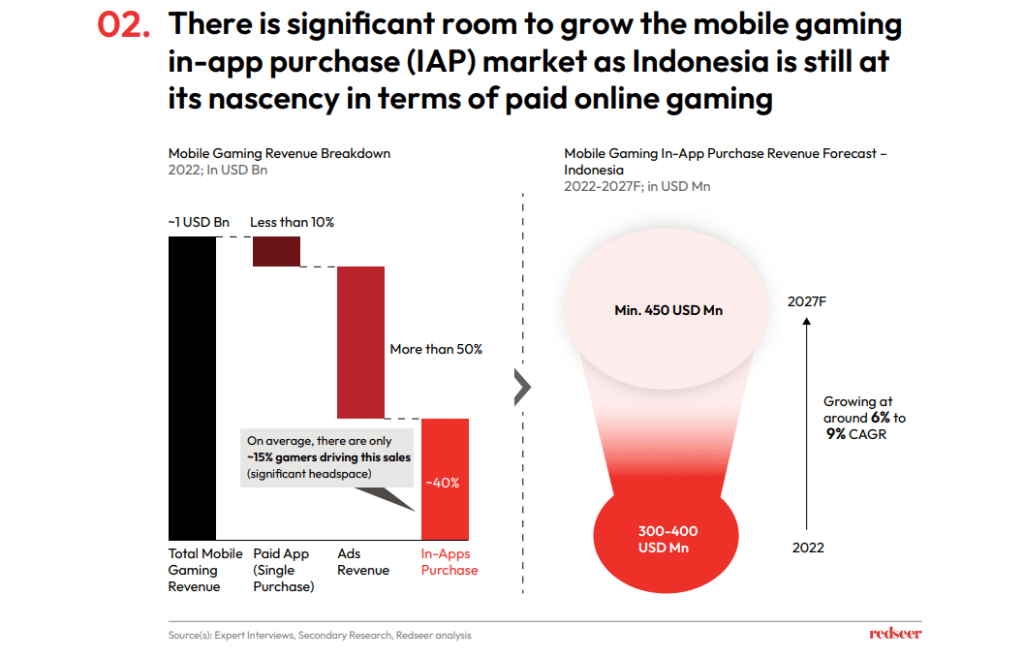 As the freemium model dominates the mobile gaming market, Advertisement becomes the most dominant revenue source in the industry. However, we detected a future prospect in IAP. IAP is forecasted to be healthily growing by the next five years. Here are the main reasons:
Enhanced social side of the features, e.g., live communication, co-op plays, collectibles as virtual social status.
Seamless & omnichannel payment process: one-stop online shop (e.g., Codashop) and offline merchants selling vouchers (e.g., warung, minimarkets).
KOL and E-Sport-driven campaigns and retention strategy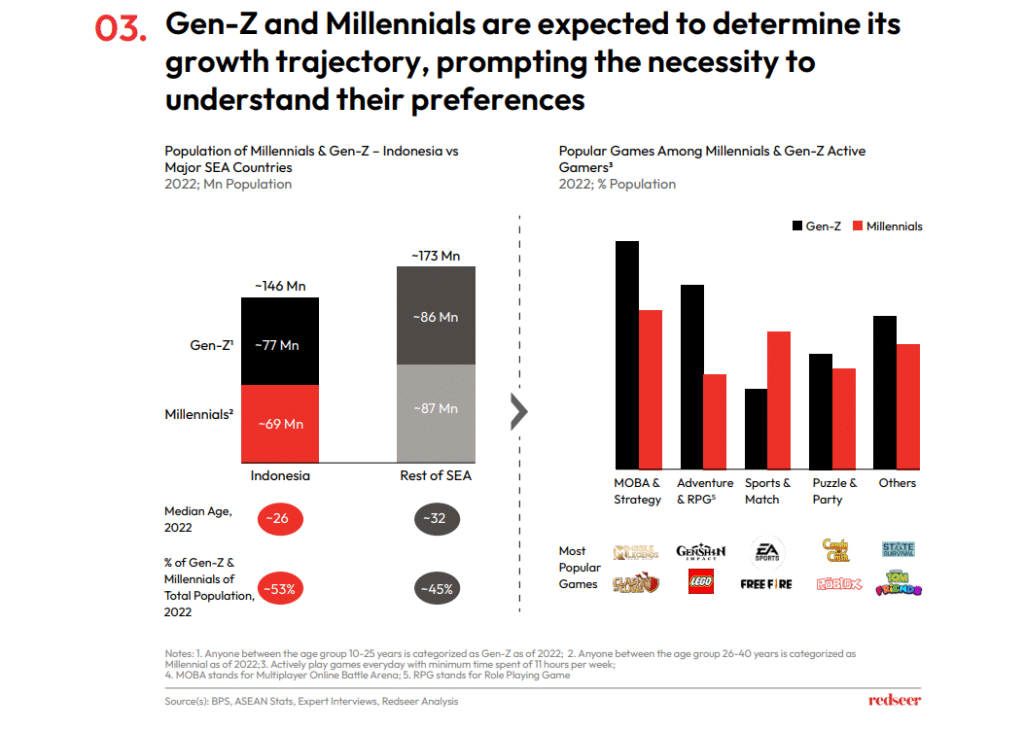 Millennials and Gen-Z are significant contributors to the Indonesian gaming user base. They make up more than 45% of the total SEA's Millennials & Gen-Z. They share a common interest in mobile gaming, which is MOBA & Strategy games. Whereas for the runners-up, Adventure & RPG and sports & Match games receive a different appetite from the two generations.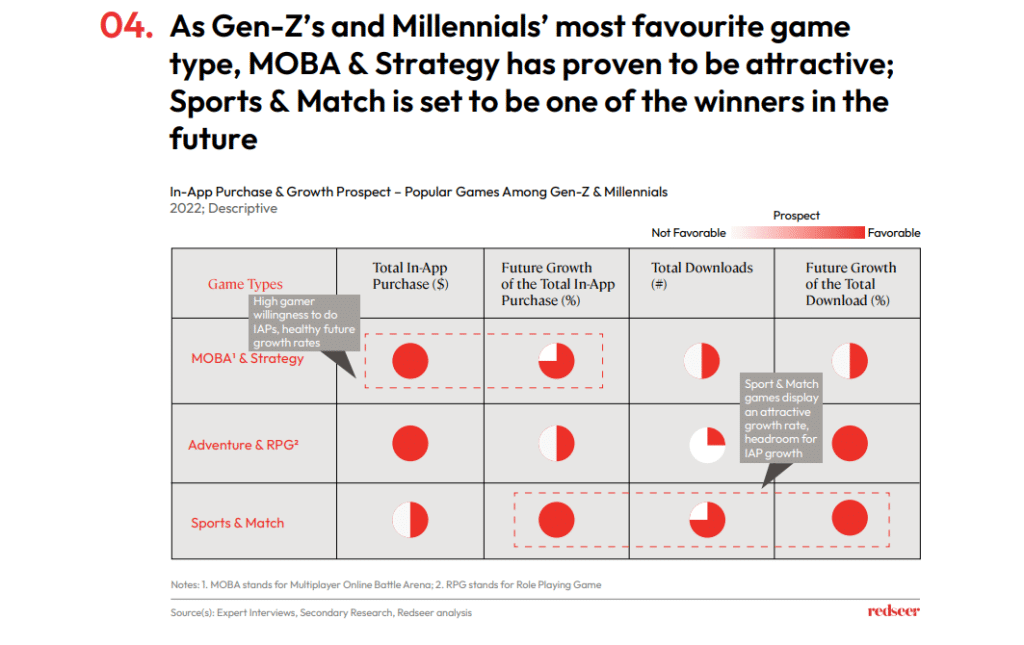 MOBA & Strategy and RPG & Adventure games have been recording the highest in-app purchase GMV among other game types. Mobile Legends, Clash of Clans, and Genshin Impact are the leading games within these two cohorts. On the other hand, as Sports & Match games have secured a large user base (indicated by the Total Downloads), they are on track to reaping the monetary value and even larger additional users in the future, thanks to the extent of the gamer data pool in their possession. Soccer games, e.g., FIFA & PES, have been leading the pack.