Internet and Smartphone use in India has witnessed a phenomenal proliferation in the last few years to reach 780 Mn users nationwide. Consuming and creating content has always been challenging for the masses opening up new marketing avenues for brands and internet platforms. In the wake of all the User Generated Content – UGC, a new kind of online celebrity type called 'Influencers' have emerged on the internet who have the capacity to help brands connect to the right audience. However, the influencer marketing ecosystem is turbulent, with brands having a tough time reaching the right influencers.
In this article, we elaborate on Influencer Marketplace, a growing & effective solution to support influencer marketing in India. Further, offer a quick glimpse of how it is solving the prevalent challenges of the influencer marketplace.
1. Expanding internet funnel and sky-high online engagement is fuelling digital ad spend surge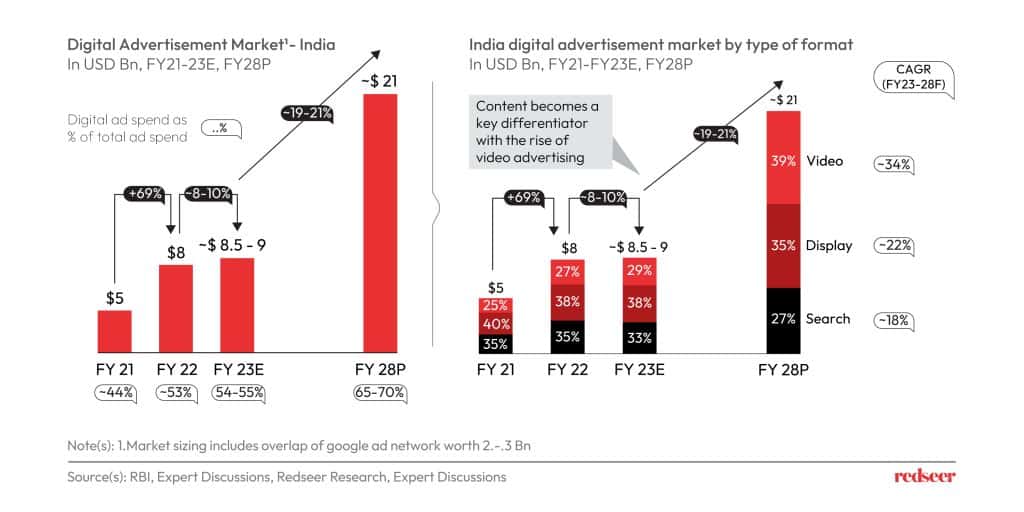 Spending on digital ads has been the consequence of more eyeballs on digital devices and increased engagement on platforms. Shifting consumer preference to video content has also prompted brands to leverage channels like OTT videos & CTV to attract more viewers. Precise user targeting on formats such as videos, displays, and search enables personalization and high ROI.
2. However, the emergence of Influencers has disrupted digital advertisement planning and delivery
User Generated Content (UGC) is emerging as the favorite content format generating 2X as much engagement as Platform Generated Content (PGC). Influencers create authentic UGC consumed by thousands of followers, prompting brands to adopt influencer-led marketing. The credibility of influencers factors into the purchase decisions of followers, translating into a higher ROI for the brands on influencer marketing. Spending on influencer marketing, currently at 5% of digital spending, is expected to go as high as 13% by 2027.
3. The prevalent landscape of influencer marketing is a complex ecosystem involving intermediaries with inefficient operation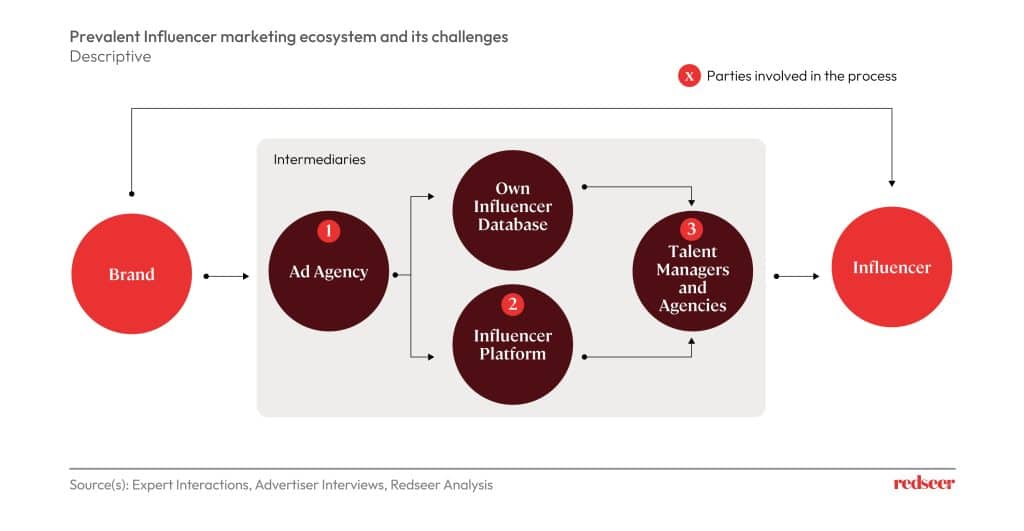 Currently, there are 4 models supporting influencer marketing in India. The first three are influencer marketing agencies, platforms, and influencer talent management agencies. These models operating in compartmentalized networks have challenges in terms of influencer matching, price transparency, real-time communication, and real-time ad performance metrics acquisition. Brands looking to engage with micro and macro influencers have a tough time discovering the right influencer, avoiding influencer fraud and establishing transparent pricing.
4. The Influencer Marketplace is a game-changing tech solution to bridge brands and influencers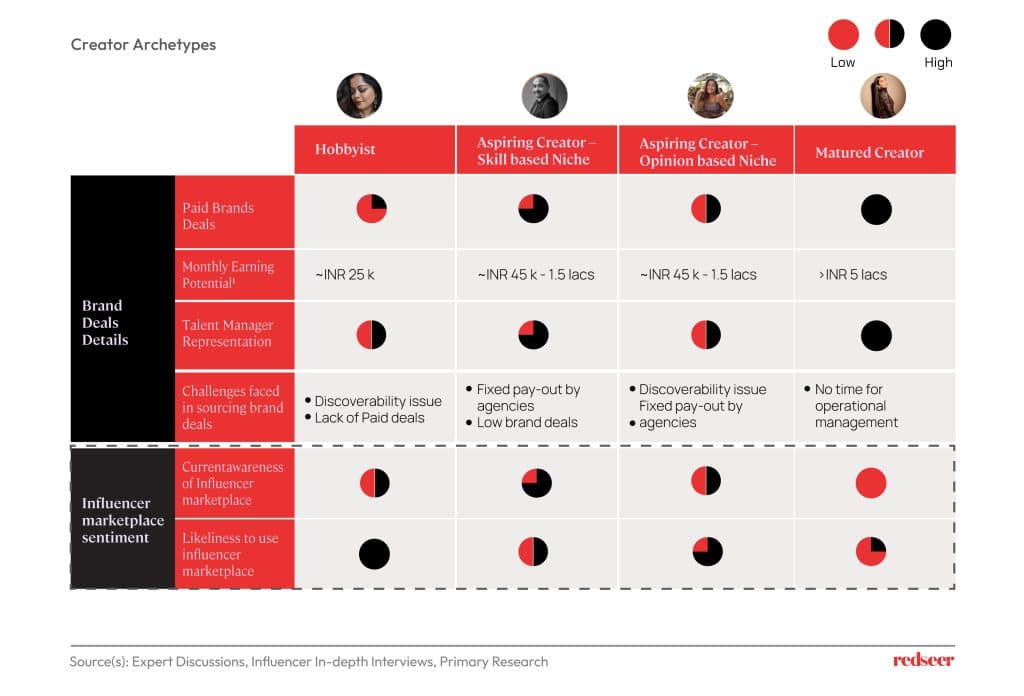 The influencer marketplace is a ground-breaking tech solution that uses AI/ML for influencer discovery and filtering fraud. It also removes intermediaries to offer better transparency in pricing, enabling flexibility in budgeting for brands and fairness in payouts for the influencers. Moreover, influencers in the nano and micro categories (the hobbyists) are more willing to adopt the influencer marketplace to solve existing challenges with discoverability, lack of paid deals and transparent pay.
5. A significant opportunity for Influencer Marketplace is waiting to be unlocked in India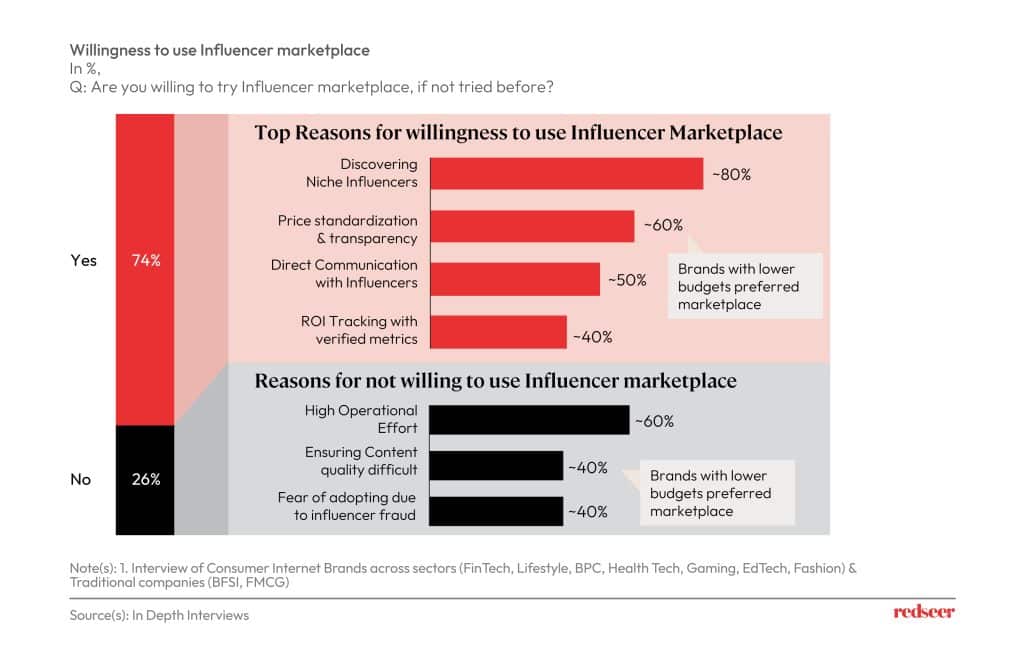 In our survey, 74% of brands responded positively to their willingness to use influencer marketplace. Reluctance to use the solution is also a challenge that TikTok — the pioneer of the creator marketplace faced as well. It overcame the challenges by implementing solutions such as account managers for large clients to reduce the operational workload and is now working to boost their influencer response rate, which is currently around 8-10% for better campaign execution.
The way forward is educating influencers and brands to unlock the potential of the marketplace and ensure indemnity on both sides. This way, the ecosystem can solve existing challenges in the influencer marketing landscape.