Food and beverages have always been central to sports entertainment, be it at-home or stadium viewing experience. During the growth phase of the online food delivery (OFD) business from 2017 to 2020, OFD players experienced heightened sales on IPL game days. Orders often flew off the restaurant shelves during the matches as friends and families gathered for a thrilling evening together, enjoying the game and their favourite foods to go with it.
However, the situation has changed for the OFD players with profitability gaining a larger focus. In this article, we share our perspective on OFD business in the recent IPL season.
1. In their continued stride towards profitability, online food delivery giants resorted to muted campaigns in IPL-2023.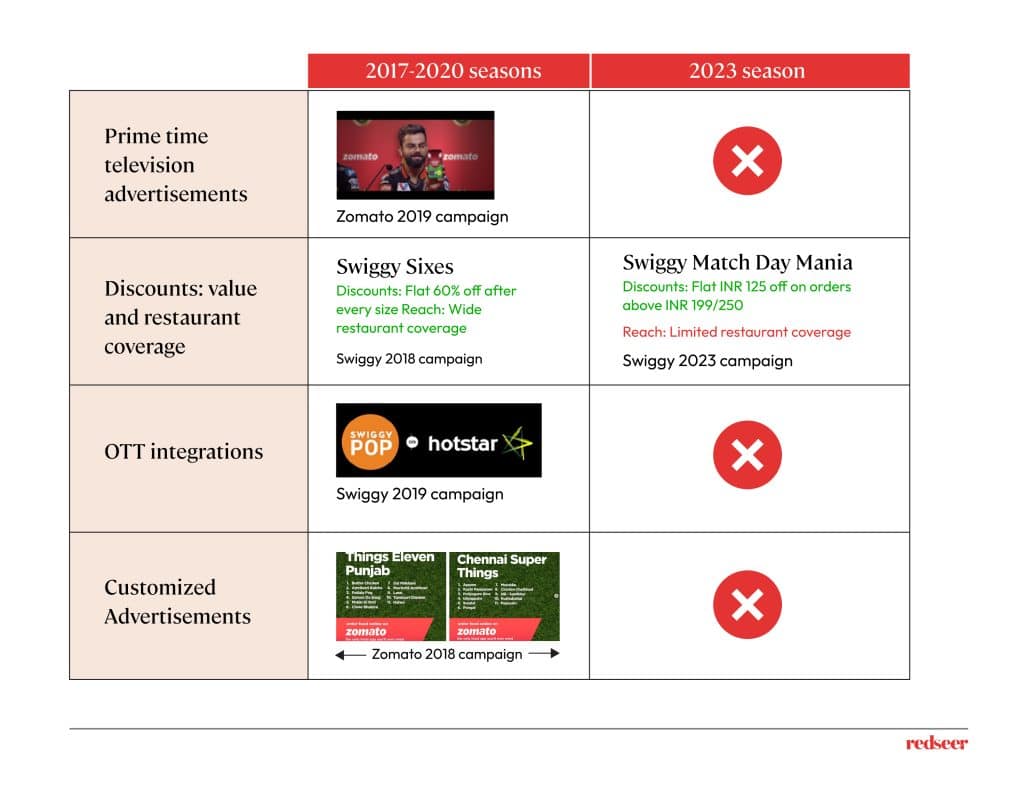 Continuing their focus on profitability, OFD players adopted lighter campaigns in IPL 2023, largely limiting to in-app promotions. This was unlike the IPL seasons 2017-2020, wherein platforms made a significant presence on Prime-time television through their advertisements. They enticed viewers with attractive discounts ranging from 50% to 60% at a wide array of restaurants. Additionally, they integrated their offerings with OTT platforms and created customized advertisements for maximum impact.
2. This resulted in a nominal 7% spike in OFD business this IPL season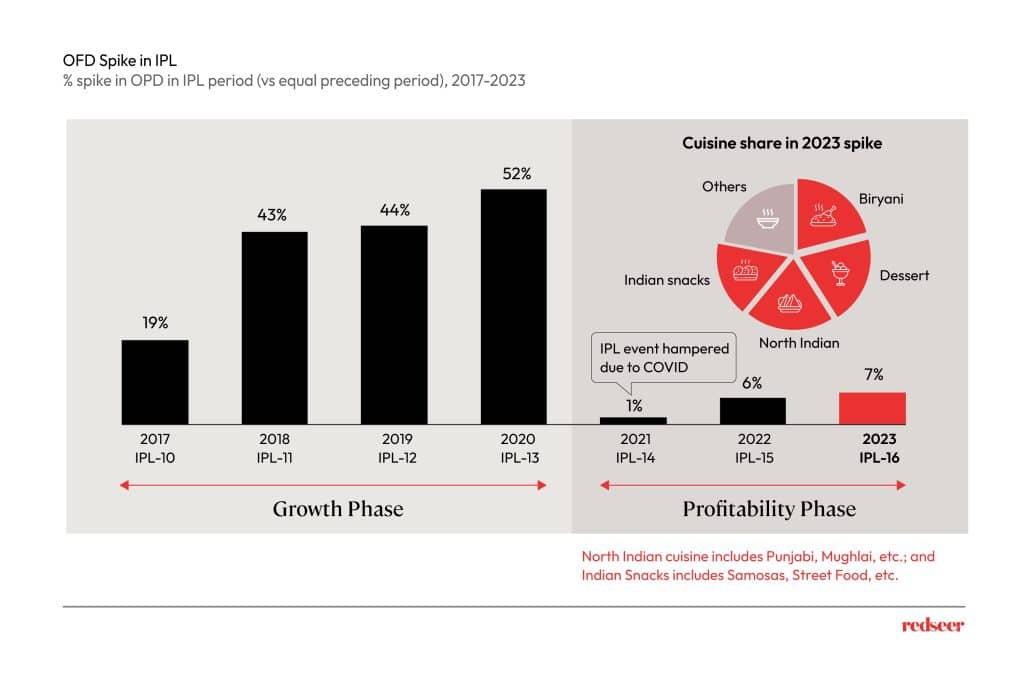 The cut-back had a modest positive impact, resulting in a 7% increase in online food delivery orders during the IPL matches (compared to 50%+ increase in the IPL-2020 season). The spike was primarily concentrated among 4 key cuisines: biryani, desserts, north Indian and snacks. This demonstrated a slight shift in the maturity of consumers, who preferred ordering side dishes (such as dessert and snacks) instead of complete meals (e.g. pizzas) during the IPL matches.
3. IPL continues to be relevant for online food delivery in tier 2+ markets.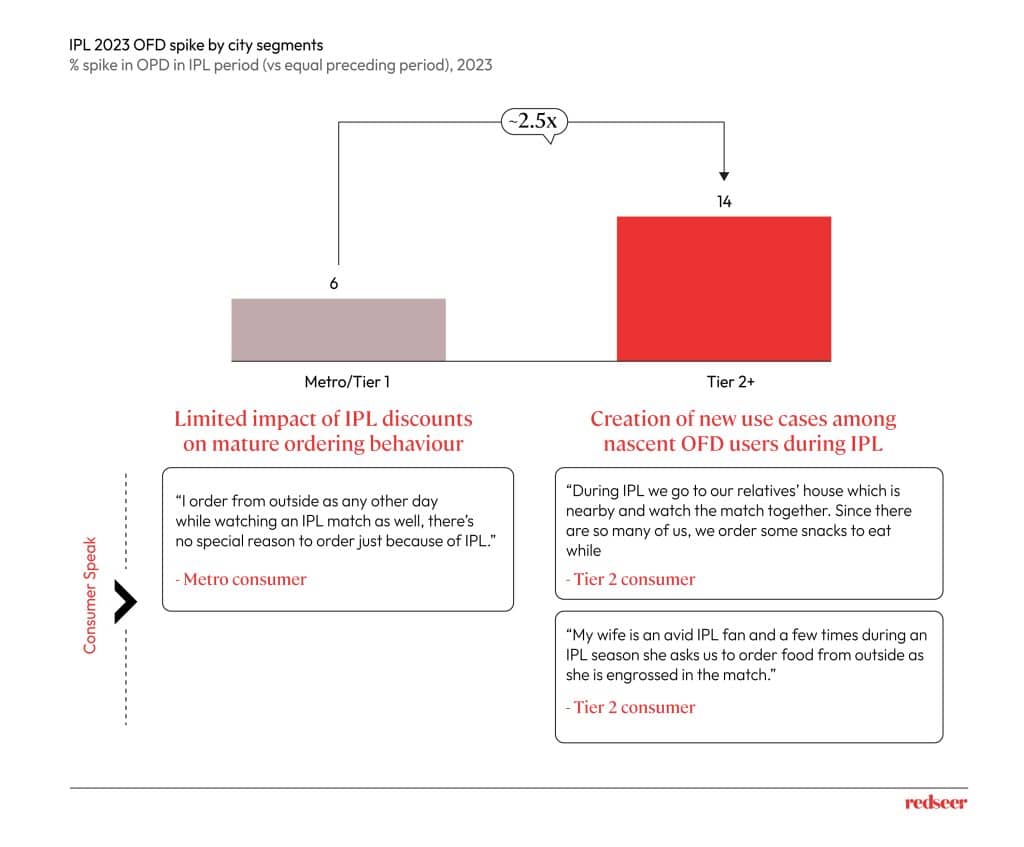 Albeit reduced advertising, Tier 2+ users displayed a significant increase in online food orders during the IPL season. These users enjoyed the game with their loved ones and also indulged in ordering snacks online. In contrast, metro / tier 1 consumers, who are mature OFD users, did not view the IPL as an incremental occasion to order food, which is evident in the relatively modest rise in their online food delivery orders.
4. Going forward, spike event campaigns can continue to drive habit formation among the tier-2+ consumers
There are multiple ways through which spike event campaigns can be better targeted towards the tier 2+ audience. Firstly, the campaigns can be more family-centric, potentially targeting the females in the household and depicting family setups. Secondly, including bulk-order discounts in the campaign can be a key success lever, given the tendency of group ordering among these users. And lastly, developing campaigns focused on complimentary cuisines (e.g. desserts, fast-food, Indian snacks etc.) will be essential, supported by the right restaurant partners.
Thus, spike events have stronger relevance among the not-so-mature consumer cohorts and offer a sizeable potential in the foodtech space. Redseer has developed a proprietary tool-kit to help food brands and platforms, to maximize the spike event opportunity.