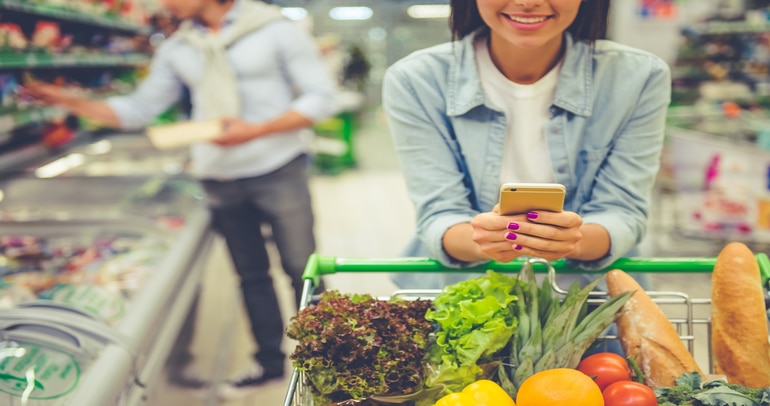 Online Grocery is creating a sticky customer base and expected to grow at 60% CAGR
Published on: Sep 2019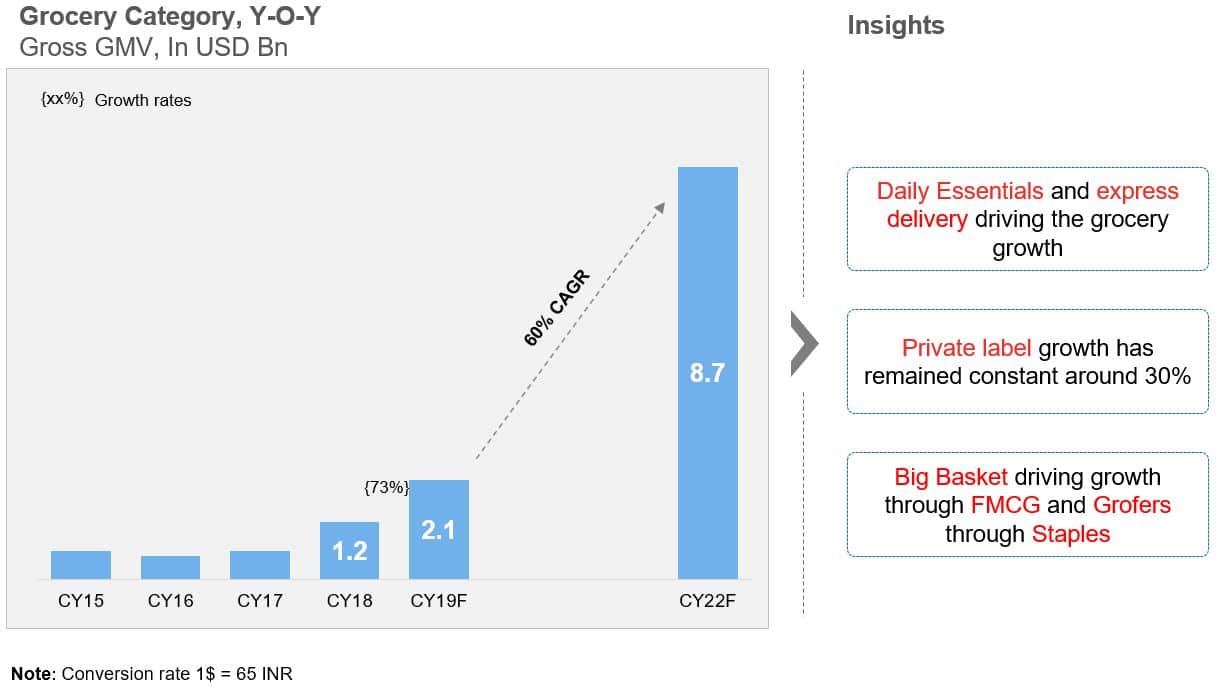 ---
Hyperlocal e-grocery- Market growing at triple digits, with sector specialists continuing leadership
Published on: Sep 2019
Despite aggressive moves by horizontals, their hyperlocal grocery businesses have made a limited dent in the market
As verticals continue to thrive basis their core value proposition of large assortment, express delivery, and subscriptions (which enables Higher AOV and order frequency)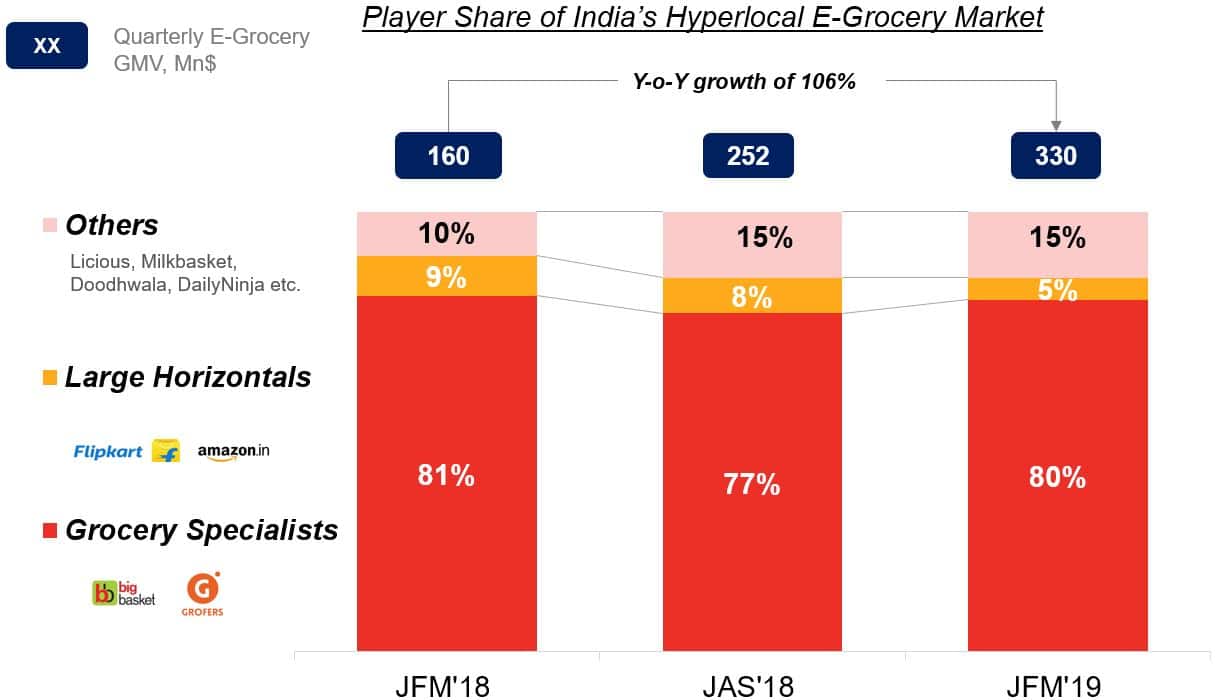 ---
Daily Essentials category has grown rapidly within the online grocery market- accounting fo ~40% of all transactions
Published on: Jul 2019
The daily essentials category has been a breakout one over the last year or so and has seen a flurry of action from both players and investors. As the chart below shows, the reason for this is clear- daily essentials category now accounts for the largest chunk of the online grocery market in transactions terms. Primarily driven by very high usage frequencies and scheduled doorstep deliveries of milk and non-milk products.
Given how much share of customer doorstep the daily essentials players are able to delivery, it is not surprising to see the massive investor interest and M&As in the space.
India's hyperlocal e-grocery market is growing at triple-digit rates, with sector specialists continuing to lead the market
Published on: Jun 2019
In a year when online retailing has been through ups and downs, the hyperlocal e-grocery market continues its rapid growth spree with 106% y-o-y growth recorded in Q1'19. Verticals continue to drive growth in the market, primarily using convenience-based levers like assortment, express delivery, and subscriptions.
Unlike categories like fashion, where Bharat was a key lever of the growth strategy, here the majority of the market is still focused on larger cities. Where players have shown strong success in moving away from the purely discounting led model and taking big steps on the path to profitability.
---
Online grocery verticals have been able to shift one third of their user base to subscription programs
Published on: May 2019
Online grocery verticals have taken the lead in terms of monetizing their convenience seeking consumers, by converting ~30-40% to the total consumer base to their subscription programs.
Key drivers of rapid subscription adoption are affordable pricing and a variety of benefits ranging from price savings via cashbacks and price discounts, along with (limited) free/priority delivery. Armed with this strong value prop, the platforms were able to drive subscription adoption rapidly in less than 15 months of launch on an average.
---
Super verticals are playing a key role in habituating consumers to online meat purchases
Published on: May 2019
India's USD 44 Bn meat market (FY18) has been till date dominated by unorganized retail and issues around price transparency and product quality. To take advantage of this large opportunity and riding on the back of the digitization trends in Indian consumers, online meat delivery companies are targeting to disrupt this market.

In a short span of its existence, the online meat delivery space has grown to multiple players strong and worth USD 40 Mn in size. The sector is dominated by super verticals like Licious and Zappfresh, which have been at the forefront of creating this market. These super verticals are changing consumer behavior from offline to online by way of three approaches- 1) Value prop of fresh meat 2) Fast delivery and 3) Discounts.

On the back of these behavioral change levers and given the size of the opportunity, we expect the market to grow rapidly to reach between USD 140-430 Mn in size over the next two years, making this one of the most attractive growth opportunities in Indian consumer internet space.
---
Size and structure of India's online grocery space
Published on: Mar 2019
India's online grocery space has gone through a significant evolution in last few years- from explosive growth and funding in CY15 to growth challenges and funding winter in CY16 and then kickstart and accelerated growth 2018 onwards. In this stop-start journey, many new business models have evolved, and many themes have been proven and disproven.
Inspite of all these disruptions and changes, one thing that did not change was the massive potential for online grocery- as indicated by India's USD 500+ Bn grocery market out of which a mere 0.2% is online (~USD 1.2 bn overall and ~USD 1 Bn considering only hyperlocal grocery). Given this massive potential, we expect the online market to continue chugging along at 50% growth rate for the next few years, which will be served by various models, including category specialists and narrow and wide supermarkets.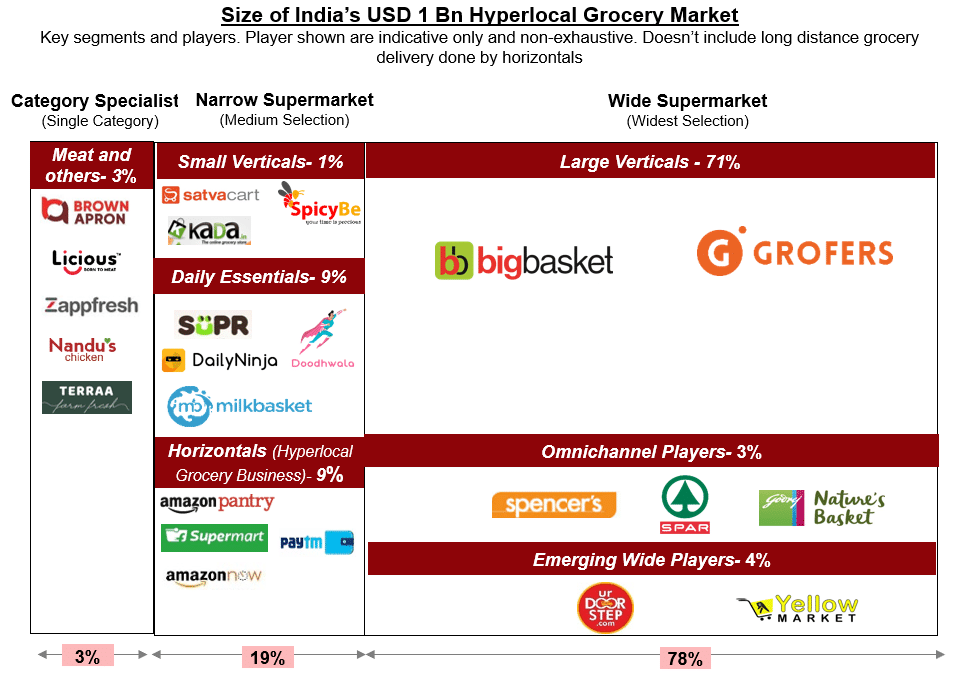 Some key observations from the above chart:
Market is very top heavy, challenging for new entrants – The likes of Grofers and Bigbasket have an outsize share of the market, while the omnichannel players and smaller verticals have a long way to go to gain scale. This also points to the challenges like Swiggy may face in making a dent in the market
Meat players have grown rapidly but their share remains small. Horizontals are trying out multiple players (e.g. Amazon Pantry and Now) but their scale remains small.
How are players positioned in online grocery in terms of their front and back-end?
As India's online grocery space has growth exponentially recently, it has become harder to keep track of the various players in the space. As a result, we decided to publish who are the players and how are they positioned. The key success metrics for any grocery player are typically selection width, delivery speed and quality. To map these three metrics for various players, we have taken the below proxies –
# Categories sold for selection width
% Scheduled vs Express Orders for delivery speed
% Inventory model share for quality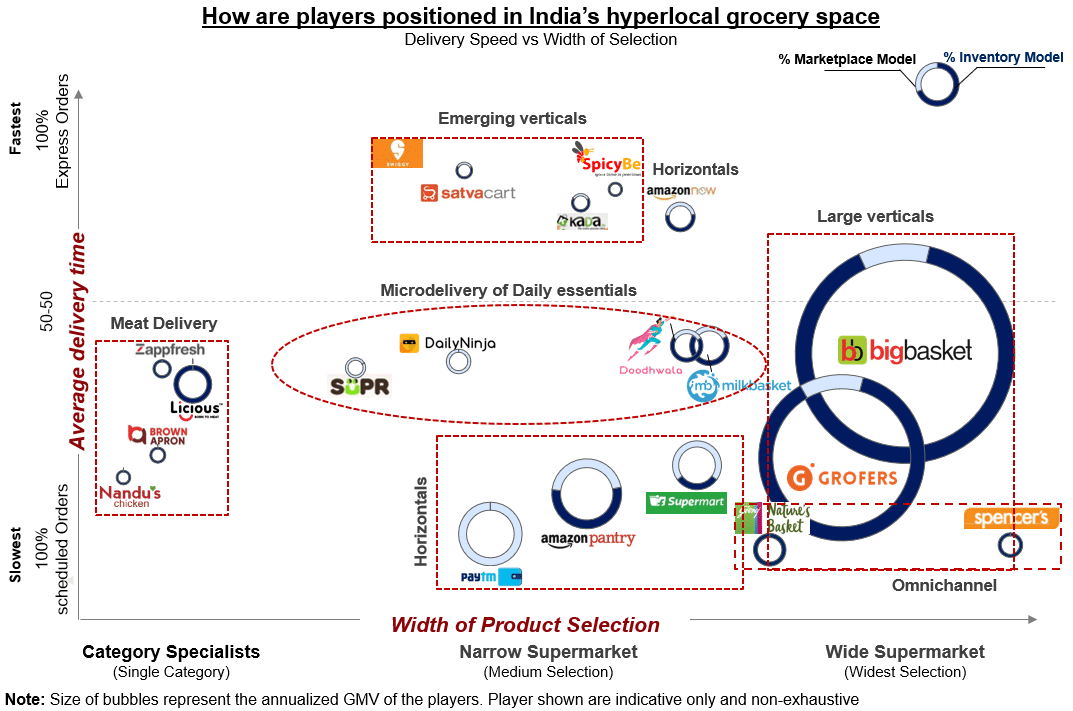 From the chart above, we get a clearer idea of the positioning of the players in India's online grocery space. Below are some of the salient observations from this chart:
Many players have pivoted to a hybrid of scheduled and express orders-Likely to enable a better balance of width and speed. Players like Grofers are a clear example of this pivot, having shifted to this hybrid model from being largely 100% express in its original avatar in 2015
Differentiation of the emerging vertical players is unclear – Players like Satvacart operate in the medium selection, express delivery market but the clear differentiation vs the horizontals and larger verticals is missing
Considering Swiggy's entry into the space, it will be interesting to see how they carve out a large opportunity for themselves given the above market structure. Swiggy certainly has the right consumer satisfaction to bank on for building their business, as our last month's report and this week's featured story on the FLI (Foodtech Leadership Index) shows.
---
Over two-third consumers across platforms tend to buy online grocery once or twice a month
Published on: Jun 2018
The online grocery market is picking up fast. But over two-third of the online grocery consumers use these services just once or twice a month. This means there a huge headroom of online grocery growth within the current consumer base. The players need to focus more on the 'Fresh' category as it is an anchor category for the consumers and it is the only category which will increase the frequency of usage.
---
Delhi-NCR and Bangalore are the key markets for online grocery
Published on: May 2018
The online grocery industry is largely dominated by Big Basket and Grofers. While Big Basket leads in Bangalore and Hyderabad, Grofer has a stronghold in Delhi-NCR. Changing consumer landscape and consumer becoming more accustomed to online shopping have been the key drivers for growth of online grocery in these markets.
The online grocery market is largely dominated by FMCG & others category but Fresh is the anchor category for consumers
Published on: May 2018
The online grocery market is largely dominated by 'FMCG & others' category. But the key reason for which consumers rely on the online grocery business model is 'fresh' category. The players are thus investing heavily in warehousing and delivery capabilities to ensure that good quality fresh products get delivered to the consumers on time.
The online grocery market is expected to grow at 71% CAGR to become USD 5 billion by 2020
Published on: May 2018
The online grocery market size is expected to become USD 5 bn by 2020 driven by favourable demographics and adoption. The rising infrastructure investment is done by the vertical players in expanding their warehouses and delivery infrastructure is helping them serve customers better. Increasing smartphone penetration and the comfort of shopping online is also playing a key role in increasing adoption. The online grocery market share is hence expected to see tremendous growth in the years to come.
Online Grocery is expected to be one of the fastest growing category reaching ~4 Bn in 2020
Published on: May 2018
Online grocery and FMCG is the next key category of focus for all the large e-tailers. Online grocery habituates the consumer with the frequent purchase thus ensuring the consumers are more accustomed to shopping from the e-tailers. The e-tailers are hence focussing big time on this category. The large verticals, on the other hand, are growing at a rapid pace. Hence, we expect the online grocery market share to reach $4 bn by 2020.
Indian market is on track to reach USD 1 Bn in sales in CY17- driven by strong growth in transactions and steady AOV increase
Published on: Jan 2018
After a challenging 2016 year, 2017 is on track to be a robust year for E-FMCG/Grocery market with 60% y-o-y growth likely. The online grocery business model sales have been driven largely by volume growth- which points to growing acceptance and penetration of online grocery amongst consumers. Additionally, AOV growth has also been significant, driven by an increased share of cosmetics and other premium products in the shopping basket.
Poised to grow 4x in 4 years?
Indian Online Grocery market size grew to reach USD 0.6 Bn in 2016: After a tumultuous last few years which saw significant experimentation with business models along with consolidation and shutdowns, the industry has held steady and grown to reach its current level. Yet the vast potential of this market has barely been scratched: Barely 0.1% of all sales in FMCG/Grocery is derived from online channels in India, compared to >4% in China and 7% in the UK. Considering that the prize is so huge, it is no wonder that players in India are willing to experiment and invest in online grocery growth. We believe that the market is on the cusp of an extended growth cycle to potentially reach USD 2-3 bn by 2020, driven by both supply and demand side drivers: On the supply side, players are offering multiple business models (express delivery vs slotted delivery, on-demand vs subscription based models) and continuously growing the ease of shopping (driven by large selection and convenience of app-based shopping). On the demand side, growing awareness and comfort with online grocery shopping are likely to drive the growth by ~50% y-o-y over 2016-2020.
Kiranas- The lifeline of ~$1Tn Indian Retail  Buy Full Report
Indian Grocery – A $1 Tn Market (2025) Undergoing Digital Disruption  Buy Full Report