Globally, it has not been an easy ride for the industry in the post-COVID period due to several key challenges such as logistics and profitability. We connected with Vincent Tjendra, CEO at Astro to discuss what players could do differently in the upcoming period. In this article, we take a deeper look at the Quick Commerce Business in Southeast Asia.
1. Profitability needs to be a key part of strategy for quick commerce players as the sector is capital-intensive
Vincent notes the importance of achieving profitability early on and localization when entering quick commerce business: "For Astro, profitability has always been at the forefront. Since our inception, we have always been challenged on unit economics and profitability. With this new era, we just have to continue and accelerate our focus on profitability"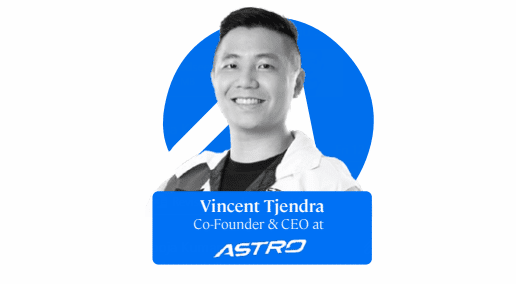 2. Logistical pressure and challenges can be severe if the product is not localized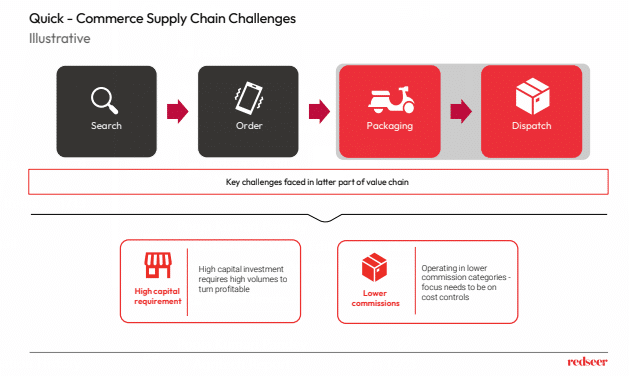 While the key value prop of quick commerce is ultra-convenience, it also rates strongly on strong assortment and pricing as well.
However, Q-Commerce has faced several challenges relating to logistical issues as the industry is capital-intensive and requires efficient logistics to operate. Most of the QCommerce players globally have faced severe logistical challenges. Players had to keep their delivery fees at competitive levels among high competition, leading to inefficient logistics.
3. SEA markets have higher population density than other regions which can help boost order volumes and drive profitability

SEA has different dynamics with significantly higher population density and higher concentration of online savvy consumers in major cities. This can help drive order volumes per store in the region.
Vincent also noted the importance of having a broader range of offering: "Fundamentally it comes down to what the customer needs, and naturally they will need a broader range from pantry staples, vegetables and various types of snacks. "
However, players need to be careful about rapid expansion, whether across countries or within a country. "As you scale your business, be mindful of what can truly scale and what needs further localization", noted Vincent on the topic.
4. Players can take advantage of few key revenue and cost levers to lift profitability and expand service lines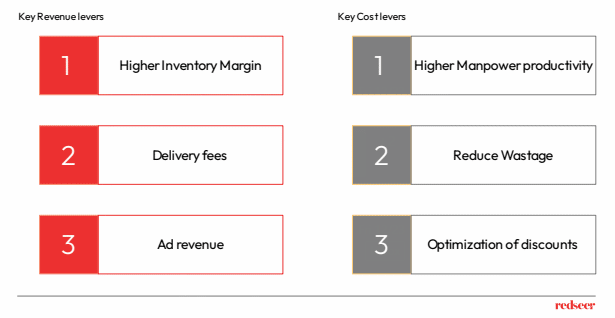 Vincent highlighted the importance of driving key revenue and cost levers. "Players can improve profitability by exploiting some key profitability levers in the coming months. Similar to retailers, inventory margin is key for quick-commerce players" By catering to customers of different price points and preferences, margin inventory margin can be boosted quickly. Delivery fees and Ad revenue also need to be focused upon by the players.
Vincent also highlights the potential improvements on the cost side, "improving productivity and reducing wastage would be two of the key levers to exploit." To drive these, higher order volumes and shorter turnover period for inventory will be key.
5. Players globally are working towards several measures to counter the challenges including streamlining and diversifying operations and consolidation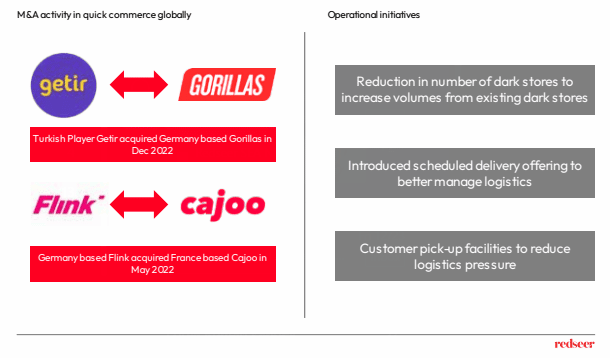 Globally players have started consolidating to streamline operations. They are adding additional offerings to their portfolio such as pick-up facilities and scheduled delivery to manage the logistical challenges arising and to control costs. Players are also optimizing their dark stores by increasing the coverage area to boost volumes.
Vincent noted that players are open to partnerships with offline retailers. "Generally, we are open for partnerships. We need to identify whether the partnership is win-win scenario for both parties on the bottom line, ideally both generating higher revenue and lower costs optimization"
We hope you found these insights useful. For a more detailed discussion, feel free to reach out to us at roshan.b@redseerconsulting.com