1. Ramadan is critical for retail in MENA region
Ramadan is not a festival but life for many retailers operating in MENA region. The ~10-week of Ramadan period can be divided across three phases

We connected with customers in Feb-Mar this year (pre Covid-19 onset in MENA) to understand their excitement for different retail festivals across year. Ramadan stands out to be the most popular. Almost all the customers connected in two countries showed excitement to engage in retail activity in Ramadan. Fashion, Beauty and Personal Care emerged as the most exciting with ~80% excitement. ~50% customers also showed interest in travel during the Ramadan and Eid period.
Dubai shopping festival (Dec-Jan); Summer Sale (Jun-Jul) and White Friday/ Yellow Friday sale (Nov) were other popular sale period identified by the customers in UAE. In KSA, Yearend sale run by most of the retailers (Nov – Dec) and White Friday/ Yellow Friday sale (November) were the other exciting sale events.
E-tailers generate ~25% of their annual GMV during Ramadan time, which when compared with White/Yellow Friday sale, stands at ~5%. Brands also realize the importance of Ramadan where many engage in activities such as launch of new products, new services, bundling of offers. A third of their annual marketing budget is spend in promotion of the same.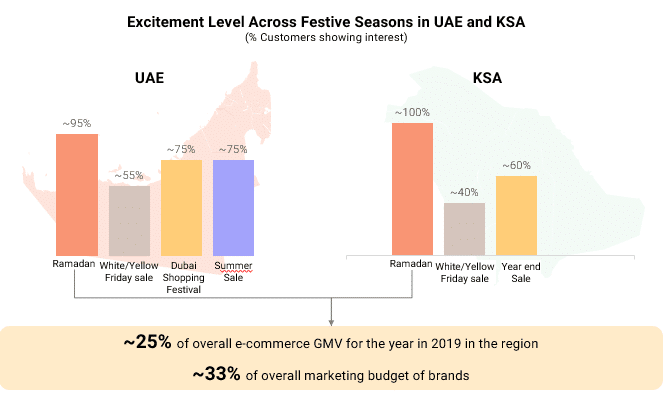 2. With COVID-19 pandemic around, MENA is locked down; Region is observing biggest shift in consumer behaviour
COVID-19 confirmed cases in GCC alone are about to touch 15,000 and are rising. Governments have taken several initiatives which bar public movement to control the spread of virus. Both the countries UAE and KSA are locked down with restriction rules becoming stricter every day.
A study conducted by Google in last week of march estimates that average public movement across the public places such as Grocery stores, Parks, Transit stations and workplaces across the GCC countries was down to ~50% when compared with traffic in the February month.
People are working from home and picking up hobbies which they always aspired for. There is a major shift in consumer behavior which is also common across geographies of the world.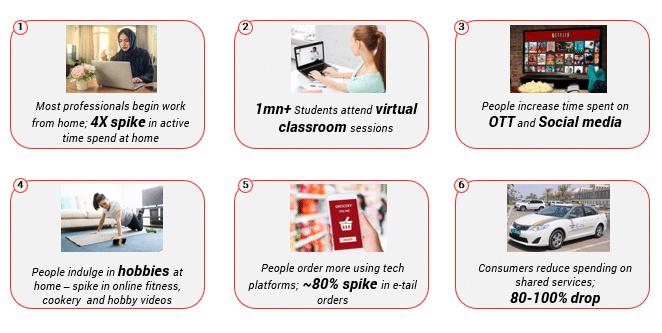 3. E-tail emerges as lifeline for MENA in lockdown; Businesses expected to resume by Eid week
The two big economies UAE and KSA announced locked down in last week of March with rules getting stricter in following days. We plotted the learnings from China and Italy to understand that it took ~60 days post lockdown in China for businesses to reopen; we expect the businesses in MENA to be reopen by Eid.
Currently, governments have placed restrictions on offline retailers who operate in non-essential category. E-tail has emerged as the only option for customers for their non-essential retail needs.
With customers locked down and only engaging in online retail activity, grocery emerged as the most popular category which jumped ~300% during the initial days of lockdown, settling at ~200% in last few days. Personal care products; Electronics such as gaming, laptop and TV screens; Home products such as furniture, toys and kitchen products, medicine delivery are other popular online categories which are observing near 100% spike in recent days. The importance of e-tail in this period can be understood from the fact that NanaDirect ($18 mn) and Sary ($ 6.6mn) both raised large funding rounds in last couple of weeks.
Retailers have already started looking at innovative ways of partnership such as etailers partnering with food delivery and mobility players to make online delivery, many luxury brands who have never been online before partnering with online marketplaces to sell products online.
With lockdown in action, we estimate customers have already started engaging in Ramadan shopping. For example, electronics and lifestyle categories which generally used to peak near Eid week are observing peak now. Since customers have free time, they want to get hold of products earlier to make best use of them.
In this tough situation it become extremely critical for retailers to have online presence by developing own technology or making right partnerships. If they do not, by the time they come out of lockdown, they would not only miss the Ramadan sales period but also lose out to competitors who have made and strengthened online sales capabilities.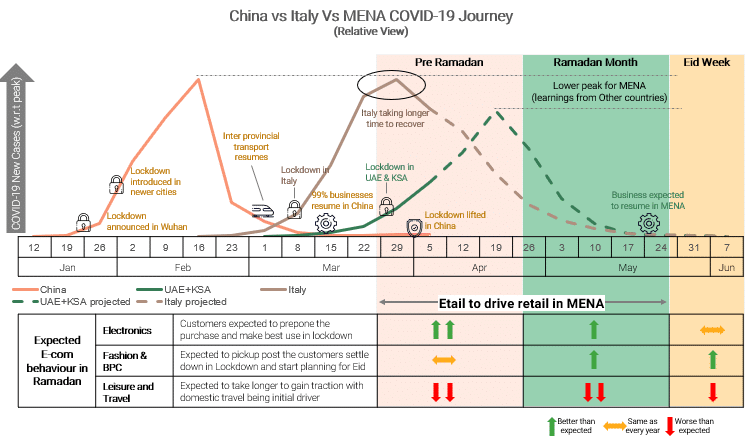 Read More:
1. E-tail – How Will MENA Order Online Post COVID-19?
2. Online Fashion – How Will MENA Order Online Post COVID-19?