In 2023, funding for Vietnamese startups is projected to exceed 2022 levels. Noteworthy entries, such as VINFAST 's debut on NASDAQ and early-stage startup Cross Fund securing its seed round in H2-2023, mark significant milestones. Interestingly, a departure from the trend observed in 2022, a substantial portion of the funds is now directed toward early-stage deals, signalling a shift in investment patterns for the year.
01. Vietnam has experienced significant milestones in 2023, as some notable funding and listing has happened both in private and public market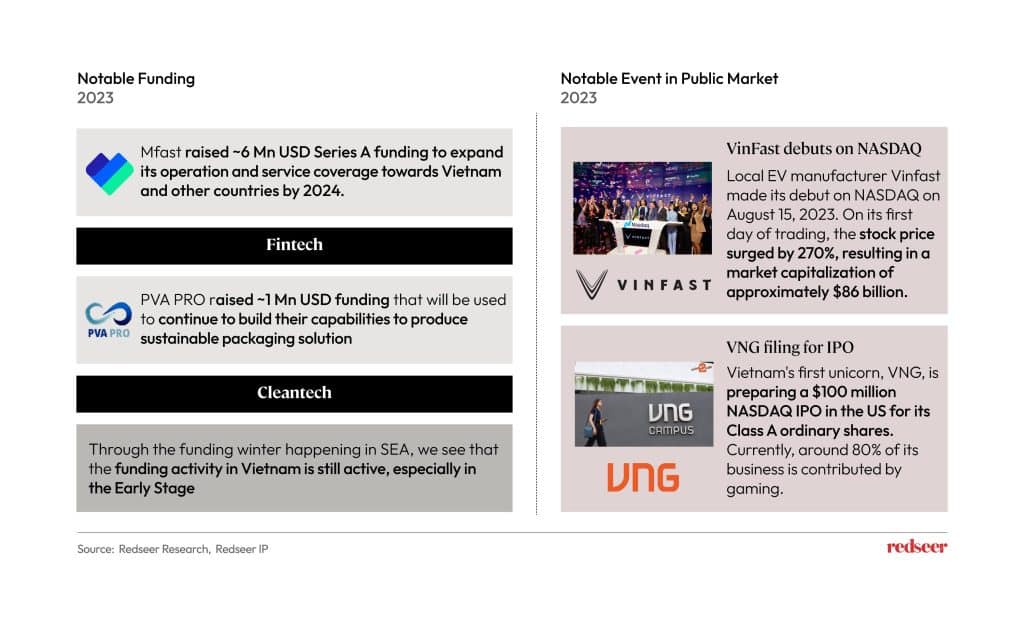 In 2023, Vietnam has witnessed significant developments, with notable funding rounds and listings in both private and public markets. Companies in sectors such as fintech and cleantech have secured new funding, while startup firms are either going public or preparing for IPOs on international stock exchanges like NASDAQ
02.Growing online population, increasing middle income groups and favourable government regulations have boosted the fintech funding for H1-2023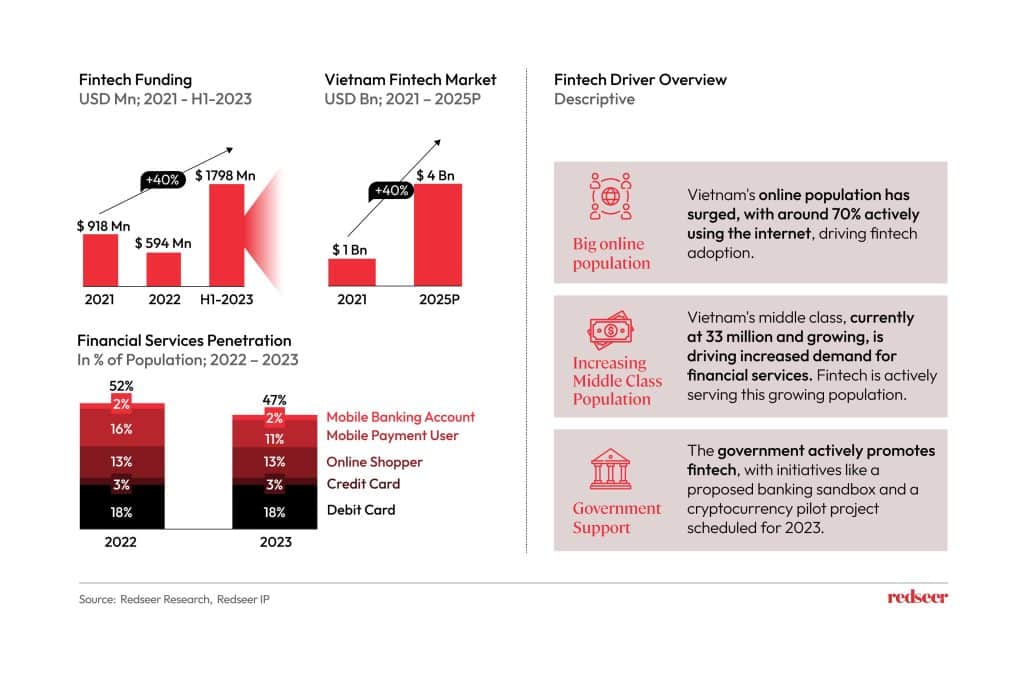 Fintech funding has surged in 2023, surpassing the previous year's levels by a margin already. This growth is attributed to Vietnam's substantial online population and the expanding middle class, which is driving demand for financial services. Government support has also played a crucial role in fostering the growth of fintech with initiatives like a proposed digital banking sandbox.
03. While many players are operating in the Fintech space, there is still opportunity to cater in the SME sector, which makes up 90% of businesses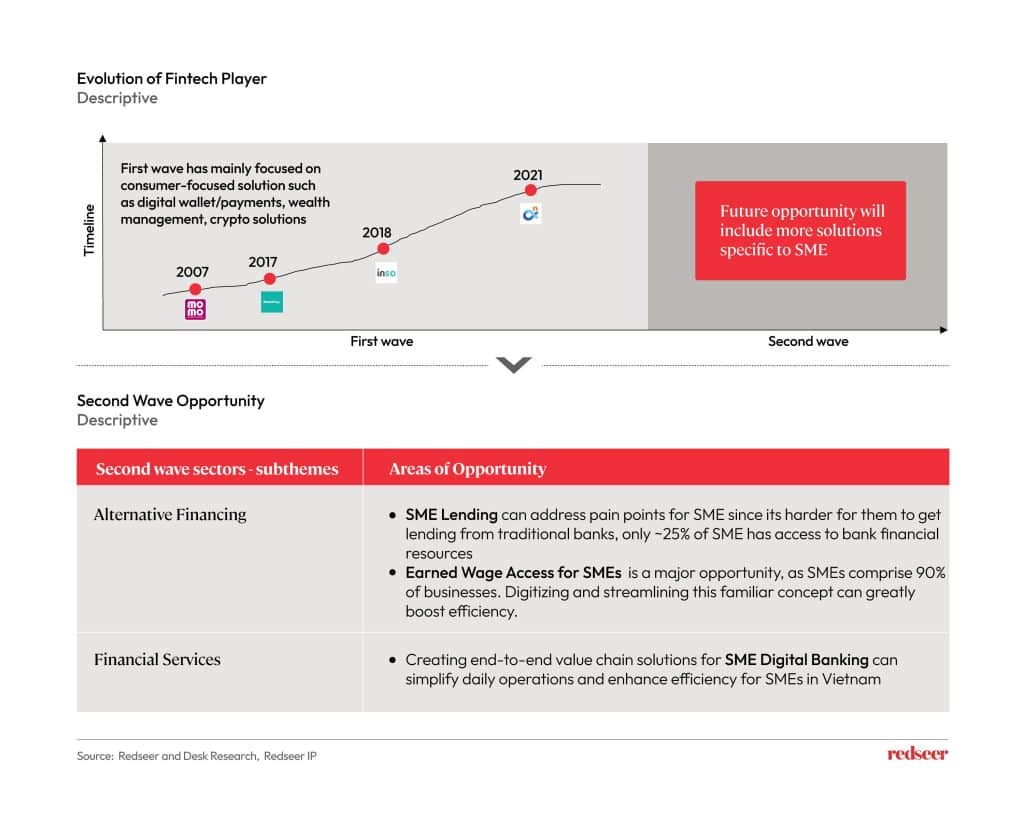 Despite numerous players in the fintech industry, there are still ample opportunities to cater to the SME sector, which serves as the backbone of Vietnam's business and economy. SME Lending addresses challenges for smaller businesses, vital as only 25% currently access traditional bank resources. Earned Wage Access for SMEs, with 90% of businesses being SMEs, presents a significant opportunity, and streamlining SME Digital Banking can greatly enhance operational efficiency in Vietnam.
04. Vietnamese government has been pushing for green initiative which has propelled the cleantech sector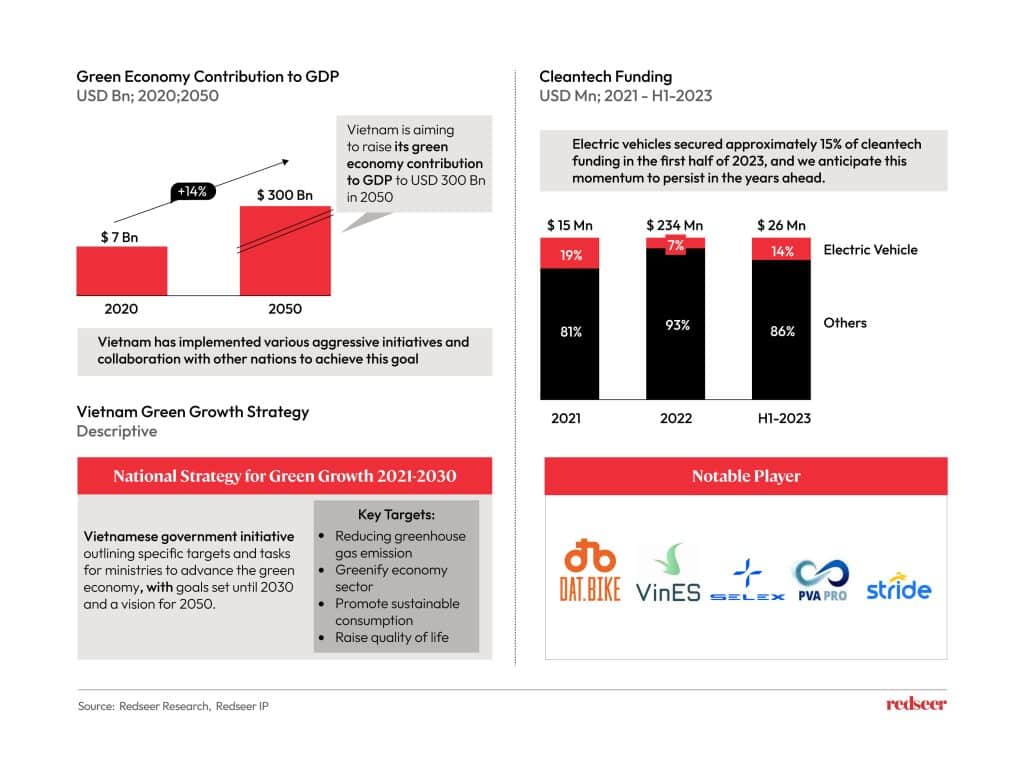 The Vietnamese government's aggressive targets and tasks to boost the green economy have propelled the cleantech sector in recent years, attracting increased investments and new players.
05. Vietnam has also established itself as an EV key player-first country in SEA who has built capabilities for own electric car manufacturing company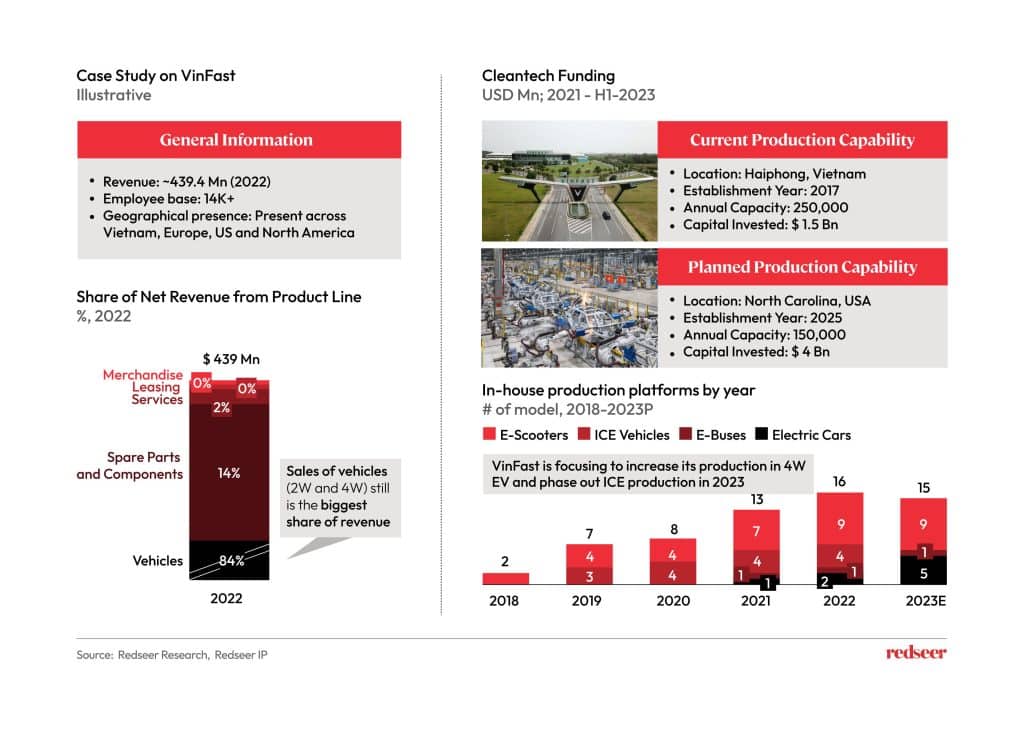 Vietnam has emerged as a significant player in the electric vehicle (EV) industry, notably with Vinfast, the country's own electric car manufacturing company. Vinfast has expanded its presence internationally, including regions like Europe and the US, where it has established itself as a key player. Moreover, Vinfast's plans to build manufacturing facilities in the US highlight the company's commitment to furthering its presence in its main markets