1. The adoption of online channels for day-to-day essentials, will improve the digital maturity of the customers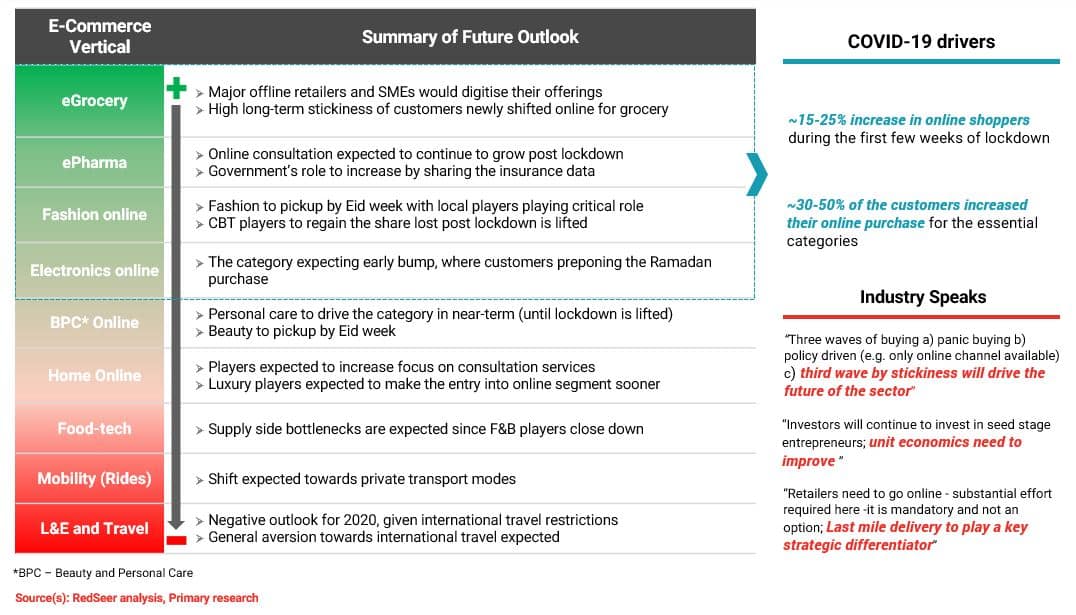 The COVID-19-induced lockdown has pushed a lot of shoppers online and has emerged as a major catalyst for E-tail in the region. This is reflected in the ~15-25% increase in online shoppers in the first few weeks of lockdown. ~30-50% of the customers increased their online purchase for the essential categories. This behavior is not just a one-time trend, a significant portion of these online migrants will stick to the current online behavior.
2. Retailers and customers face multiple problems along the value chain; COVID-19 situation has made a few of them more important than ever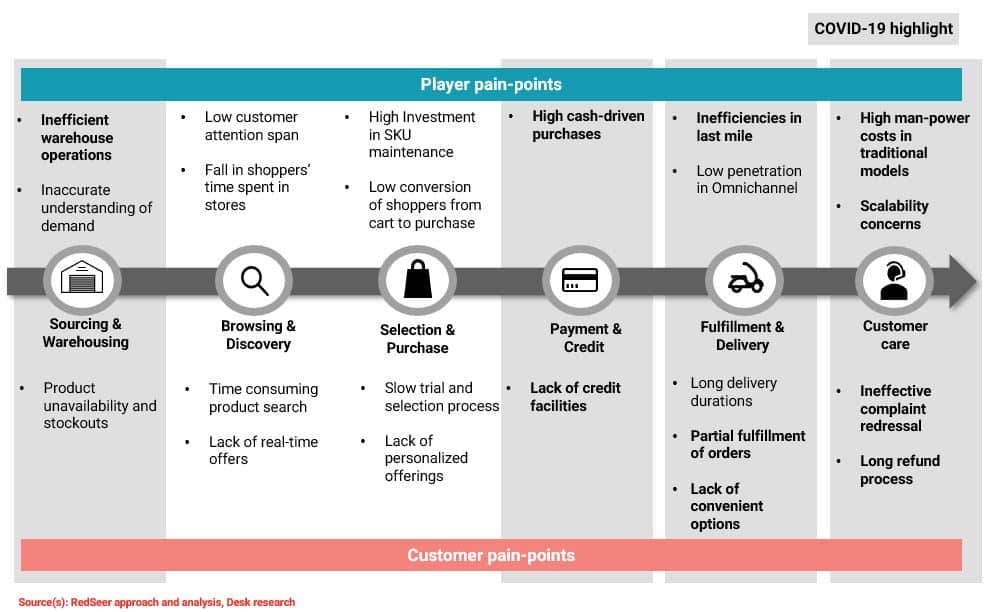 The retail industry is fraught with challenges along the value chain
Sourcing & warehousing inefficiencies
High capital outlay, labor costs and inventory damage costs making warehousing inaccessible for smaller players
High cash on delivery preference leading to operational inefficiencies
Cash handling charges, working capital blockage, failed deliveries are some of the problems COD brings into operations

Lack of credit options also hinders growth of AOV
Unique last mile delivery challenges
From the cost side – high number of returns and fixed costs boosts expenses

From the manpower side – personnel cannot be hired on a demand basis

The last mile network is usually not streamlined with mechanisms such as cluster division
However, the industry reaction so far has been in the form of temporary partnerships. The primary problem of meeting the needs of the new-age digital consumer remains unaddressed.
3. The biggest opportunity is providing enablers as a service to retailers
We have outlined three types of enabler opportunities – those opportunities affecting the functioning of the sector –
Fintech Services
B2B Credit – Real-time fee-based underwriting for vendors of e-tail firms can be a huge opportunity, if risk is managed in the right way

Next-gen insurance – Insurance as a service to help players deal with the increasing value of online goods

Customer credit – Which creates a win-win for both customers and retailers
Logistics Services
Warehouse as a service – Warehouse aggregation, automation, and inventory integration to enable start-up e-tailers who do not have the capabilities in place

Delivery as a service – 3PL logistics, partner aggregation, new-age models to help SMEs streamline their whole last-mile operations
Customer experience services
Developing that human-interface online for customers through use of Conversational Commerce
The cliff of the new normal is far away, and enablers can help retailers reach there.
Read More:
     1. eGrocery – How Will MENA Order Online Post COVID-19?
     2. E-tail – How Will MENA Order Online Post COVID-19?
     3. Online Fashion – How Will MENA Order Online Post COVID-19?