The prospects for climate tech look encouraging. Climate tech refers to technologies and innovations that aim to mitigate or adapt to the impacts of climate change. The various drivers for rise of climate tech include government policies, corporate sustainability, public awareness, and innovation. 
In the article, we will be looking at various opportunities in the wider climate tech space across SEA countries, players operating in these sub segments and how various countries are positioned in this segment.  
1. The climate tech sector in Southeast Asia is still in its early stages, there is significant potential for growth and impact in this space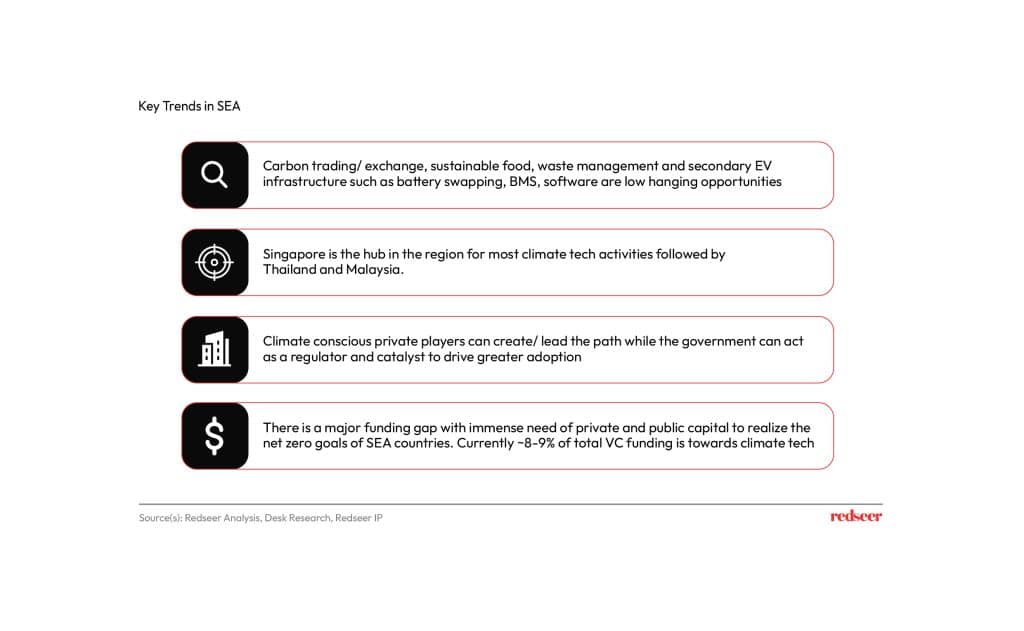 Climate tech story is in its nascency and as awareness towards the urgent need to address climate change continues to grow, we can expect to see more startups, investment, and support for climate tech initiatives in the region. We can expect the following to play out in the coming years:
Rise of collaboration and partnership between private and public sectors
~4-5x rise in funding and investments.
Increased private demand from corporations and consumers alike.
Greater government and policy support driving innovation.
2. ClimateTech has seen an explosion of funding and the same looks robust in 2023 as well; 1Q 2023 funding already at 60% of 2022 full year funding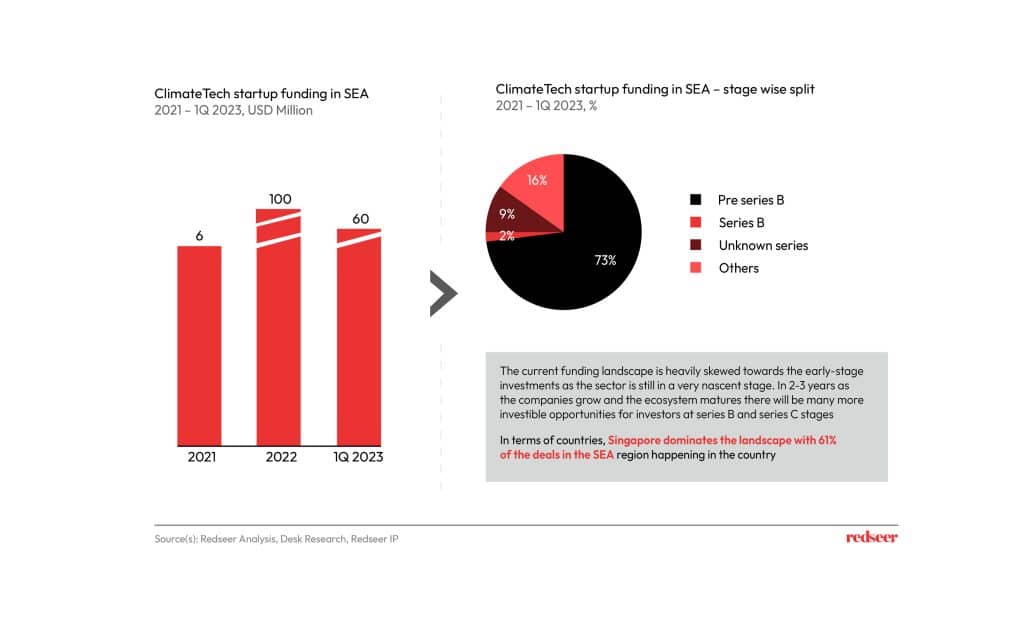 There has been a significant rise in climate tech funding in recent years, as investors and governments recognize the potential for growth and impact in this space. The rise in climate tech funding is a positive sign for the future of this industry which will further drive its innovation and growth. Despite this, SEA is still lagging in funding as majority of the funding in Asia is going towards China and India with SEA only getting ~10% of the total funding flowing in the sector in Asia (as per Asian Development Bank estimates)
3. A significant chunk of investment and activities in the climate tech space is focused on energy with recycling and waste management catching up especially in Indonesia and Singapore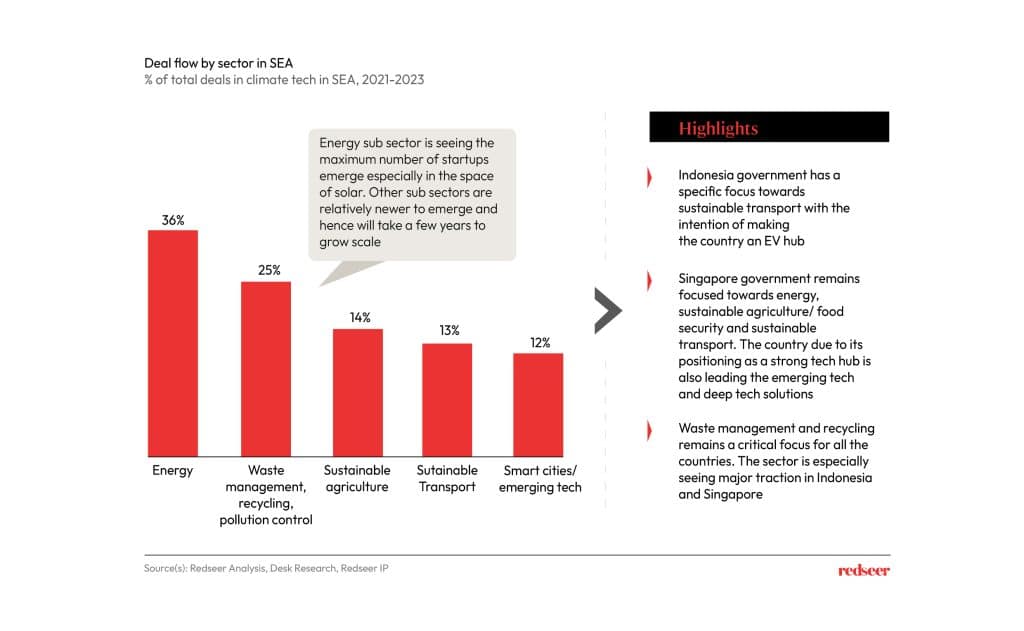 Energy remains the most active sub sector by deal flow in the climate tech space in SEA with major investments happening in solar – energy generation as well as storage. Recycling and solid waste management are other areas that are seeing strong tracking especially in Singapore and Indonesia. In terms of profitability and value, opportunities in circular economy especially those focused on plastic can emerge as major investment areas for private corporations.  
4. ClimateTech ecosystem can be looked at as per the following broad buckets to evaluate areas of opportunities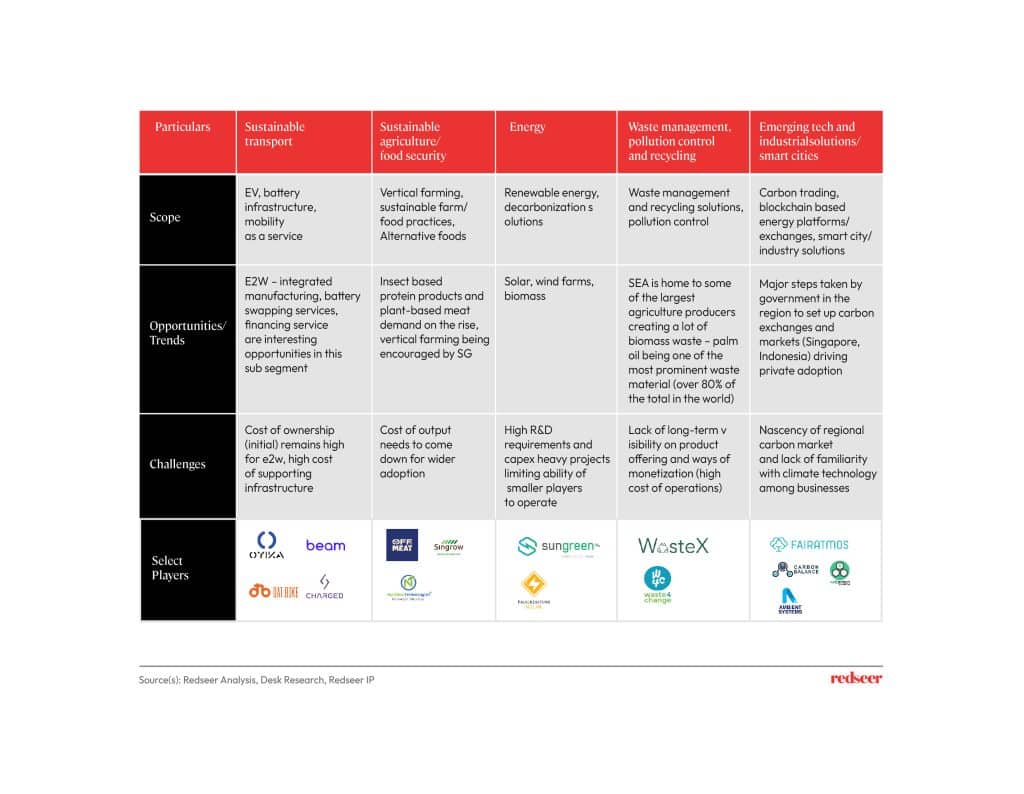 In terms of opportunities, we can identify the following themes to do well in SEA.
Sustainable agritech including vertical farming, alternative foods can emerge as a low hanging opportunity especially in Singapore where government has 30% by 2030 local food sourcing target.
Carbon trading and energy exchanges are another exciting opportunity as governments move towards net zero goals and start imposing carbon taxes/ give out carbon credits.
EV supporting infra in the form of battery swapping, BMS and other vehicle equipment can be another area for players as the opportunity size is huge and the investment needs/ R&D capabilities are low.
5. In terms of geographies, Singapore remains the most advanced market for climate tech initiatives both from public as well as private sector participation followed by Malaysia and Thailand
Singapore's pioneering efforts in the use of technology to improve carbon credit integrity, to Indonesia's new framework towards a regulated carbon market, nations across the region are increasingly focused on the transition to net zero. We can see strong private and public participation, especially in Singapore, Malaysia and Indonesia. Indonesia being one of the largest emitters of greenhouse gases, primarily due to deforestation and its reliance on coal-fired power plants can be the new giant to emerge in the region where government is increasing the focus on climate initiatives by increasing funding allocation towards environment..