1. SEA travel market was ~USD80 Bn in size in FY20 and is expected to grow to 1.3 times by FY27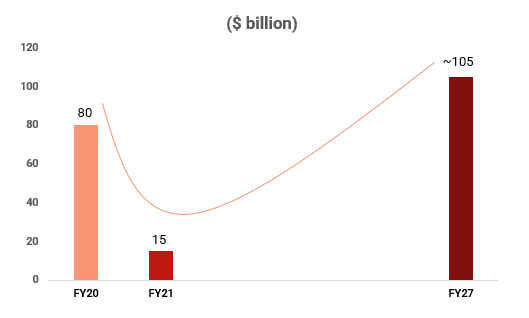 The travel industry has been hard-hit in Southeast Asia due to COVID. The region observes high number of tourists normally, but COVID and post-pandemic travel restrictions have crippled the travel segment. Singapore, Indonesia and Thailand were particularly hard hit due to a higher GDP contribution coming from the travel and hospitality segment.
The rebound will benefit both travel and hospitality segments, with tourist arrivals and hotel occupancy rates expected to go up sharply in 2022.
The region is suitably positioned for ecotourism due to its abundant nature-centric destinations. Further, governments have used the pandemic period to reconstruct several locations into sustainable travel destinations.
2. The sector is seeing signs of strong recovery in the year 2022 on account of high tourist interest acting as tailwinds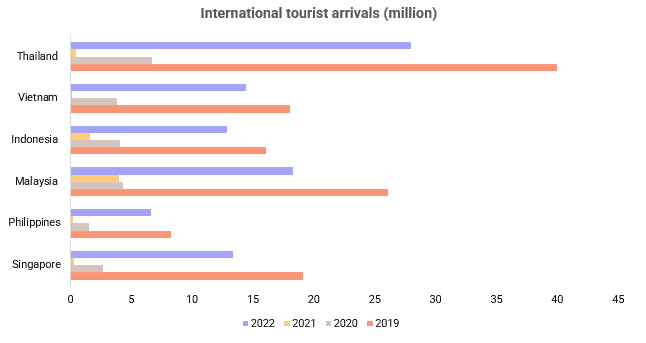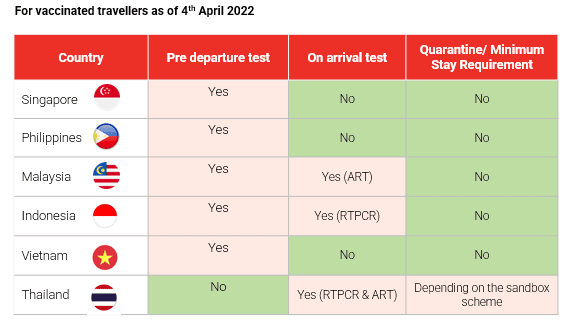 A strong rebound is expected in the region on account of pent-up demand for past 2 years. With easing restrictions, streamlining of travel rules, increased support from the governments, the tourism sector is set for a strong recovery in 2022.
Indonesia and Thailand are poised for robust turnaround with the two countries being most popular among tourists with Bali coming in at number 1 in various travel agency searches across international and domestic travelers.
Singapore, Vietnam and Philippines have eased most of the travel restrictions and this makes travel almost as seamless as the pre pandemic days. With further easing in all the countries in the region, we expect a boost in travel numbers in the coming months.
3. Travelers from within the SEA region and China hold the key for the sector to bounce back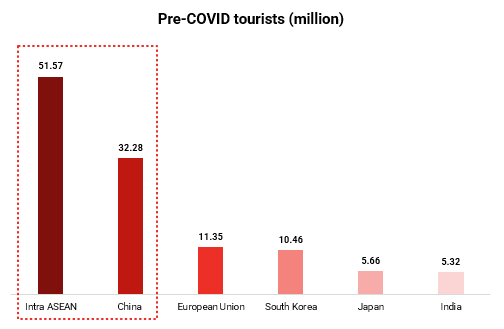 For tourism to rebound in SEA, intra regional travel and travel from China remains critical as these two form the largest chunk of inbound international travelers in the region. International arrivals from China continue to remain muted due to strict quarantine and covid zero policies being followed at home making international travel less appealing for tourists. However, a portion of the demand lost will be compensated for by the incremental travelers from European Union who are looking for eco-tourism especially in destinations like Indonesia.
4. Bounce back in the sector funding and deals indicate rising interest levels of investors in the sector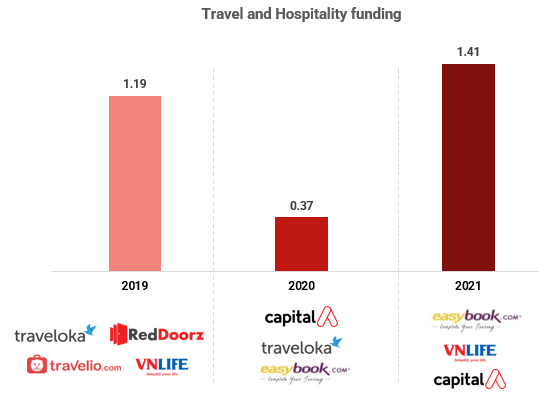 Fund raising is also rising, reaching a higher level than the pre pandemic levels. The strong bounce back in funding activity will have positive impact on the sector in the coming years by improving the experience for tourists as well as making it easier to travel.
Majority of the funding is going towards the hospitality segment with hospitality startups garnering majority of the funding in 2021. Further, several global chains such as Marriott, Banyan Tree and Kimpton expanding their presence in the region further inviting more tourists.