Several sectors, after being hit to the ground because of the COVID-induced pandemic, are rising from the ashes, only to show greater resilience than before. The same story is unfolding in India's shared mobility sector. From displaying immense growth potential, to posing as an income generator for millions, this sector has received a nod of appreciation from all of us. In this week's edition of our newsletter, Siddharth Surana, with his team, shed light on India's shared mobility, in the post-pandemic world.
1. The mobility market in India showed great resilience by surviving a pandemic-induced downturn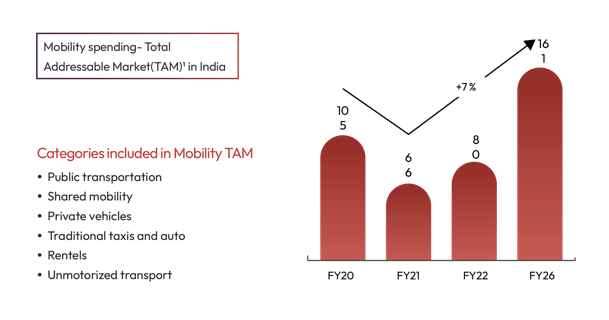 The mobility market in India is poised for an era of immense growth. Since the pandemic-inspired dip witnessed in 2021, the market has been steadily growing. The Total Addressable Market (TAM) in India is expected to witness a steady 7% growth into 2026, in line with the overall trend across Asia as well as overall economic growth.
2. Owing to the inadequacy of the public transport infrastructure, and the demand-supply gap, the shared mobility seems to be on a great ride of its own, poised to experience 5X growth in a few years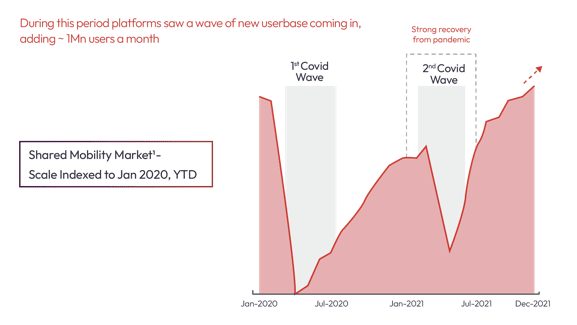 Shared mobility is making a strong comeback after the second wave of the Covid pandemic. In fact, a 5X growth is expected in the shared mobility market over the next few years, fueled by growing disposable incomes. This will be spurred in part by the fact that the public transport infrastructure is woefully inadequate to meet the burgeoning demand of an increasingly mobile population looking for convenience and affordability. Between January 2020 and December 2021, platforms saw a wave of new users adding ~1 million users a month.
3. With localization at its core, there is a rapid traction for two and three wheelers that is contributing to the growth of this market. Further, the sector is geared to become the highest income generator within India's gig economy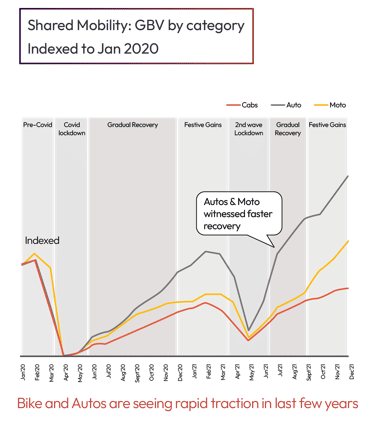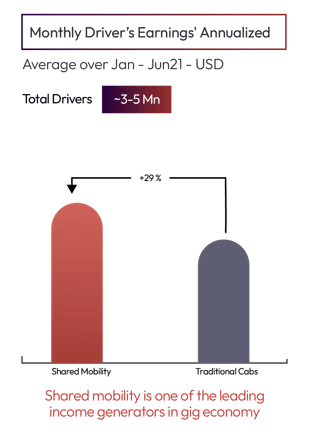 Post Covid, bikes and autos have been seeing rapid traction, gaining share quickly within the wider market. There could be a few possible reasons for the faster recovery of these segments compared to cabs. Lesser risk of contracting infections and affordability quotient could be significant drivers in the post-pandemic world.
4. Shared mobility is making inroads beyond metros! With increased Y-oY growth, the market will evolve to add more categories!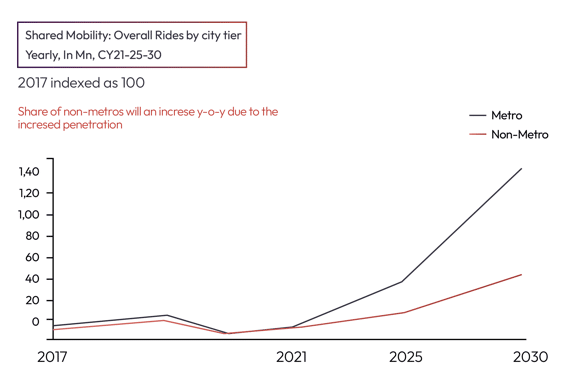 In the years to come, the shared mobility sector will witness greater democratization with the share of moto increasing against the backdrop of low ARV and geographic penetration into smaller cities. And by 2030, we can also expect to see more categories evolving. Penetration in non-metros will also increase, giving a fillip to the economy, and creating a viable revenue-generating opportunity for more than three million drivers across various platforms.
Having said that, the challenges faced by shared mobility to penetrate in smaller cities include pricing, demand supply gap, low smartphone penetration, and a user base that is accustomed to set routes.
5. Some other interesting themes could also shape India's shared mobility space in near future

A decade ago, the idea of flying taxis and complete digitization of public transport was a far fetched dream. But with the infusion of technology within the shared mobility space, the future is bright, and surely tech-driven. From addressing pitfalls within India's public transport infrastructure to creating jobs for millions of gig workers, this space is truly a promising one!