The Middle East and North Africa (MENA) region has seen a surge in IPO activity in recent years, with several high-profile companies going public and raising significant capital. To sustain this momentum, the region will need to continue embracing new technologies and innovative solutions to drive further growth.
Here we deep dive into the thriving MENA digital economy and the strong pipeline of potential IPOs amongst ~350 unicorns/soonicorns over the next 8 years.
1. MENA Digital Economy is expected to cross $500 Bn mark by 2030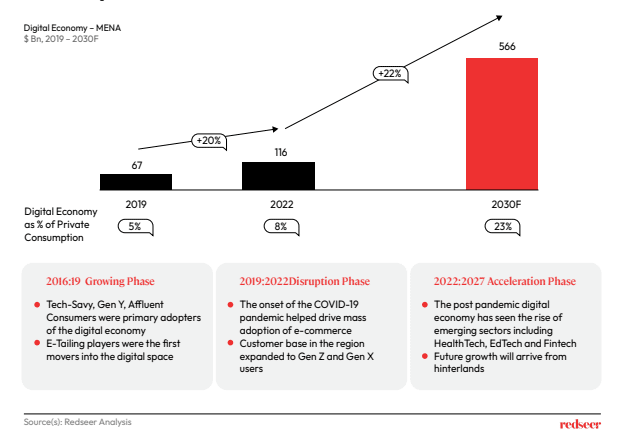 The digital economy's share as a fraction of private consumption in MENA stood at 5% in the pre pandemic era as early adopters in its growth stage were mostly the Tech-Savvy, Gen Y, and affluent consumers. The pandemic period witnessed mass adoption of e-commerce, driven by a rise in demand for online grocery, food delivery, and other quick commerce platforms. Growing at an CAGR of +22% the digital economy will constitute 23% of private consumption in the region by the end of the decade and is expected to cross the $500 Bn mark by 2030.
2. The region has a strong pipeline of potential IPOs amongst ~350 unicorns/soonicorns over the next 8 years

The region is home to a digitally ready population with strong enabling logistics infrastructure, making the landscape a fertile ground for innovative digital solutions. The digital economy boost will spur the growth of more than 300 unicorns and soonicorns, creating a strong pipeline for potential tech IPOs over the coming years.
3. Majority of the IPOs will fall into E-tailing and Fintech sectors…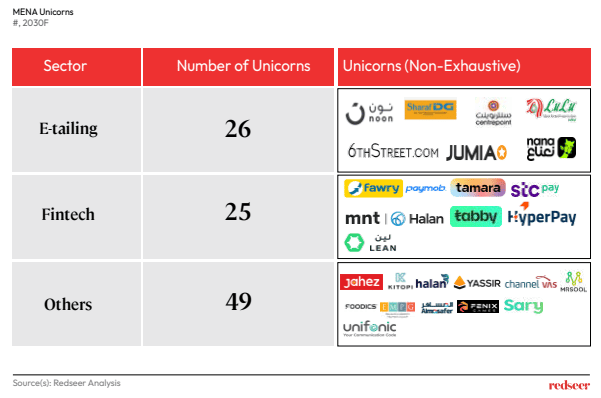 Rising adoption and growing wallet share will increase the demand for online services wherein e-tailing and fintech are set to lead the IPO wave.
4. Also, ~30% of the IPOs will be by conglomerates backed digital asset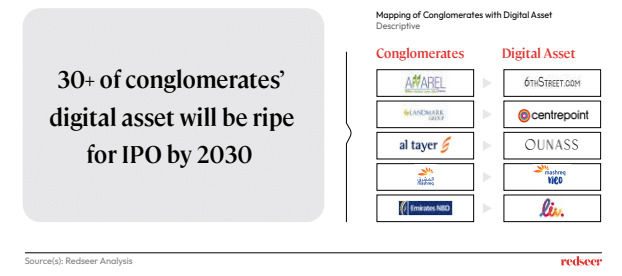 Recent changes in consumer behaviour patterns have accelerated calls for unlocking digital assets that can lead to significant value creation for conglomerates. The region has a distinct digital economy landscape wherein MENA`s biggest conglomerates such as Apparel Group, Landmark Group, Al Tayer Group of Companies, Mashreq, and the Saudi Telecom Company (STC) have created innovative digital assets that would be ripe for IPOs by 2030.
5. …who should be deliberate & have goal-based approach to be IPO ready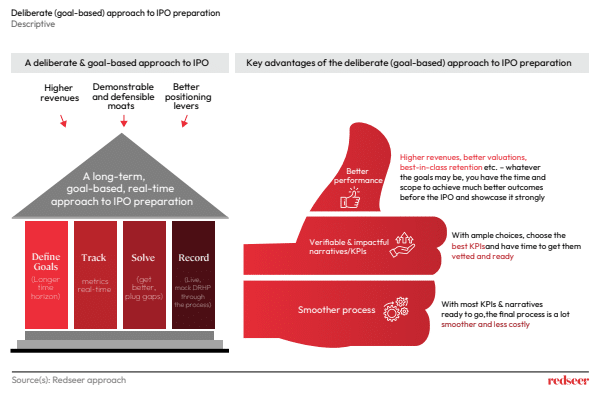 A deliberate and goal-based approach is necessary for companies to be IPO-ready with a focus on the right aspects, such as market leadership, clearly visible TAM, customer love, and a clear path to profitability. Companies also need to build a good investor rapport and bolster corporate governance to work their way to an IPO.