Published on: Nov 2019
Food service market of UAE is ~$ 15 Bn in size. The market took a hit in revenues during early 2018 due to implementation of VAT, but the sector is back on track to provide a stellar performance going forward. We expect the key drivers to be –
1. Increased adoption of online food services,
2. Adoption of innovative business models like grocerant
3. Increased tourist attraction (triggers such as Chinese tourists being provided visa-on-arrival) and Dubai Expo2020 which will attract millions of visitors (a few might end up settling in the country), and other global events such as the Abu Dhabi Grand Prix.
Who will drive this growth? – The three business houses – Alshaya, Americana and Azadea, we call them 3A's with 25+ food brands under its portfolio are shaping this market with ~10% market share. Starbucks, P.F.Chang, Pizza Hut, KFC, Pauls, The Cheesecake Factory, TGIF are some of the portfolio brands which come under these business houses.
New business models such as grocerant which is a combination of grocery and restaurant have started appearing in the region and gaining good traction. Recently MAF Carrefour launched this offering in its selected hypermarket stores where customers can pick the grocery and give it to the chef to make the cuisine of their choice.
Food tech (online food delivery) players have also established themselves in the country with ~8% market penetration, which is expected to double in the coming five years. Delivery Hero is emerging as a hero in this segment with ~70% share. In the past, online food delivery players gained success on higher discounts and convenience to lure customers onto their platforms, however, future growth of this segment is majorly dependent on wider variety of food options, quicker deliveries and better customer experience.
In this edition of the newsletter, we have also performed an analysis of restaurants in different sub-areas in Dubai to identify popular price points and popular cuisines.
---
1. Alshaya, Americana and Azadea shaping the foodservice market of UAE with ~10% market share together
UAE food service market is ~USD 15 Bn in size (2019 mid year run rate). The market is driven by large business houses – Alshaya, Americana and Azadea. These three business houses combined control ~10% of the food service market of UAE. Alshaya with the largest portfolio is led by Starbucks, The Cheesecake Factory and P.F.Chang, while Americana with Pizza Hut, KFC, Costa Coffee and TGIF is capturing significant market share. Azadea with Pauls and Pulp Juice is the third biggest player in the country.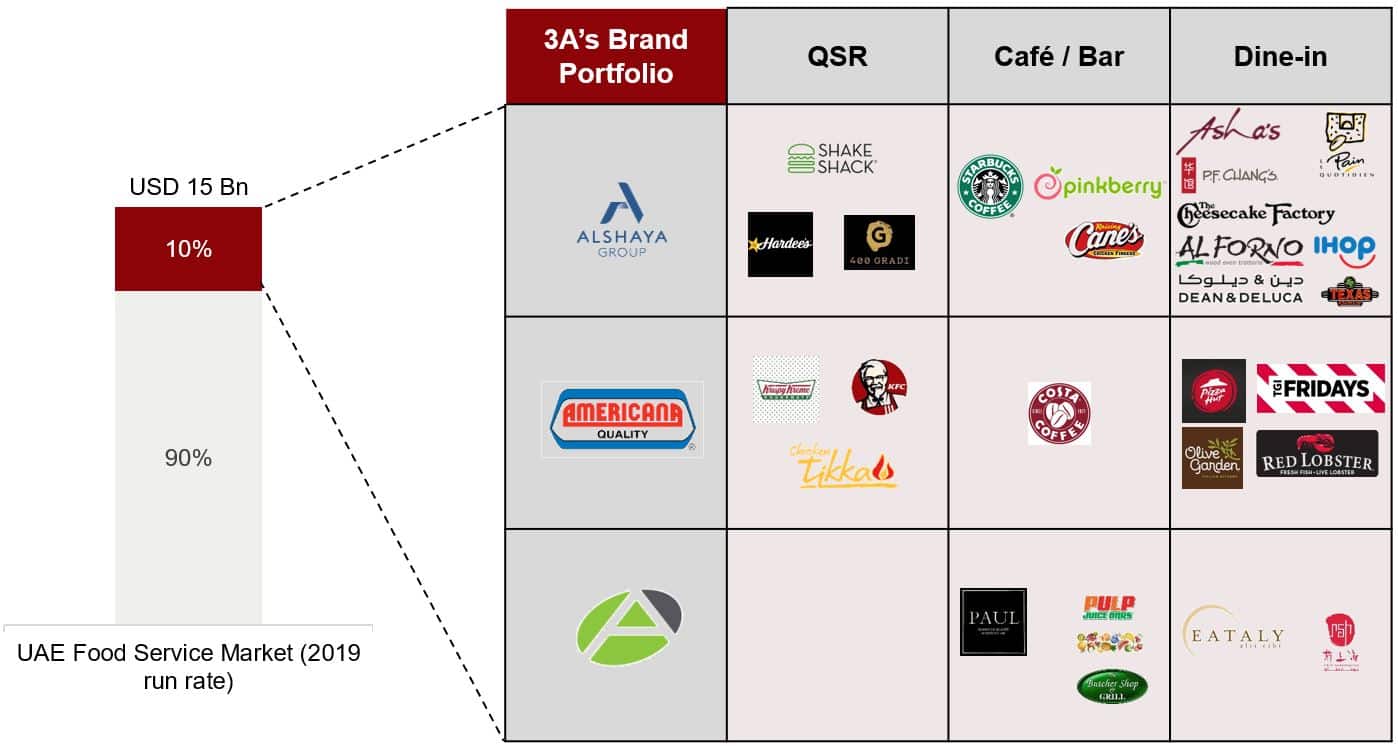 QSR is defined as restaurants and dining places where the bill is given before food is served

Café/Bars is defined as restaurants which are centred around beverages and connected food items

Dine-in is defined as restaurants which offer value for money coupled with experience. Bill is given post eating food
---
2. The online foodservice market is led by delivery hero brands, with ~70% representation of the market
Online food delivery platforms currently represent ~8% of market, expected to double their penetration in the coming five years.
Delivery Hero with its portfolio brands – Talabat, Zomato and Carriage lead the market with ~70% share. Deliveroo, Uber Eats and Careem Now are other big players which represent the rest 30% of the market.
Delivery Hero with its portfolio companies has taken the leadership position in many countries in the MENA region, for example – HungerStation, Talabat and Carriage in KSA; Talabat and Carriage in Kuwait, Bahrain, Qatar; Talabat in Oman and Jordan; Otlob in Egypt and Yemeksepeti in Turkey.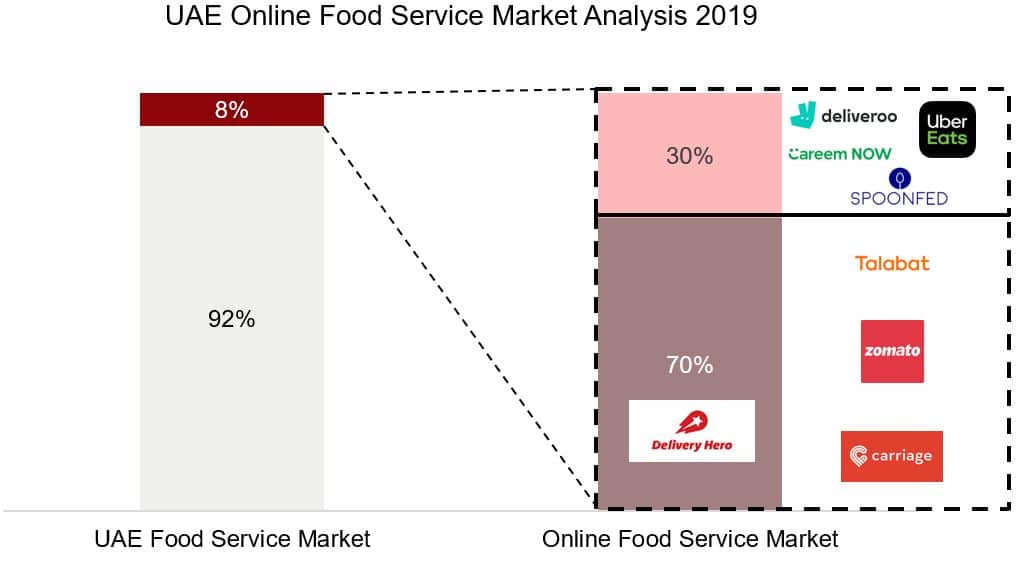 ---
3. Understanding the foodservice supply of Dubai
Dubai is home to 7K+ restaurants. We picked up some of the popular areas in Dubai to understand what is the average bill value and what are the popular cuisines in these areas to understand the foodservice dynamics of the city. The study indicates higher AOV in areas such as JLT, Jumeriah and Business Bay due to larger share of Pubs/Bars. The most popular cuisines identified were Indian, Fast food and Arabian cuisines.