1. Online viewership expected to reach 5 Bn during FIFA World Cup 2022

5 Bn eyes are expected to be glued to FIFA World Cup in Qatar, expecting a growth of over 43% than the viewership witnessed during FIFA World Cup in Russia. Covid fueled digital penetration which has given fans multiple ways for football engagement. The habits of football fans are evolving, and so is the way in which they experience football. Their interest is directed not only to the 90 minutes of the game, but also to behind-the-scenes content; and not just to established tournaments, but also to eSports competitions.
2.TV is the king for viewership, but digital media is driving product search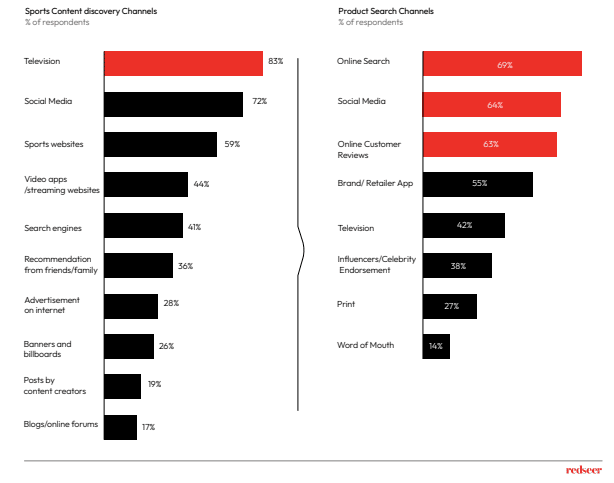 People are always looking for the best viewing experience of live telecast and there's no doubt this is found in the living room on the big screen. ~3Bn viewers watched previous editions of FIFA World Cup and similar trend is expected this year too. Throughout the past few years, digital media channels have embraced their new role as product research channels, devoting certain areas or features of their platforms to showcasing brands and products. The content focus of digital networks is making them a prime destination for researching and buying new products; a behaviour trend that responsive brands can now see as a big opportunity.
3. Consumer expenditure increase is more pronounced in online channel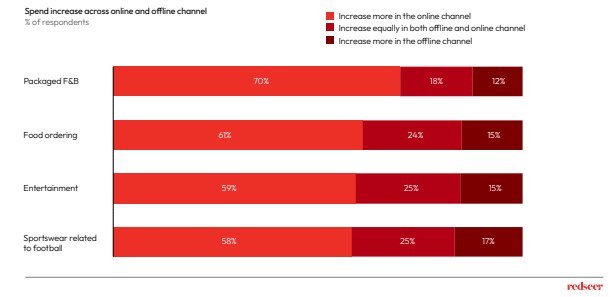 FIFA World Cup 2022, the first World Cup in Middle East, is also the first ever World Cup played during Winter. Historically, consumer spending increases during winter festival months. Mega shopping events like Black Friday drive shopping growth, and this coupled with World Cup will lead to much higher spending. People will be hooked to World Cup, and interesting 83% of football fans use a smartphone while watching match on TV. We estimate higher customer spending in online channels across different sectors.
We hope you found these insights useful. The world cup promises to be a Mega event and will have a long-lasting impact across sectors, creating a legacy for the MENA region.