The disease burden in India is led by chronic conditions (largely diabetes, hypertension and cardio-vascular) that last for at least an year and up to a person's lifetime and account for ~65% of the total deaths in the country, putting 400-450 million chronically ill people at a huge risk. The risk became evident during the pandemic, when the population with existing chronic conditions was considered prone to the COVID-19 infection and the associated complexities. Moreover, India's infrastructural gaps make the chronic treatment journey cumbersome and expensive, establishing a dire need for convenient and affordable solutions to manage the chronic conditions. New-age players are leveraging the power of technology to address this large and pressing need. We've spoken previously on the emergence of Digital PHRS, and how HealthTech is bringing respite to millions of patients in the country. In this newsletter, Kushal Bhatnagar throws light on yet another development: Total Healthcare Integration. Read on for more on this!
1. India has one of the highest population of patients suffering from chronic diseases, within which Hypertension, diabetes, and cardiovascular are the three largest chronic conditions, in terms of prevalence among population
Findings suggest that over 80% of chronic diseases occur in the age groups 30 and above, and a sizable portion of India's population is over this age group. Further, rising urbanization is leading to changes in lifestyle, such as increased stress, a sedentary routine, consumption of junk and processes foods, and excessive alcohol consumption, thereby exposing people to the risks of developing lifestyle diseases which are chronic in nature.
2. Chronic patients undergo a painful journey, involving a cumbersome and expensive treatment process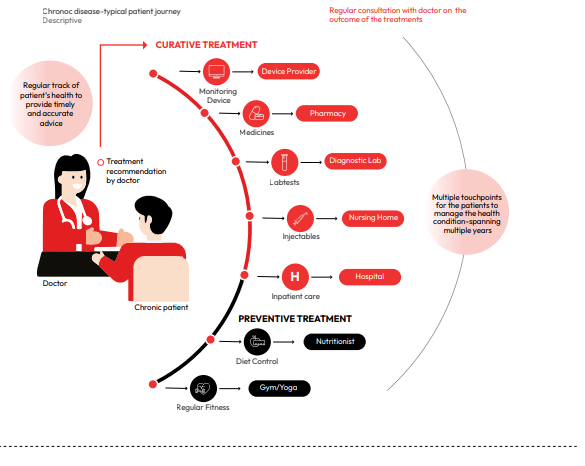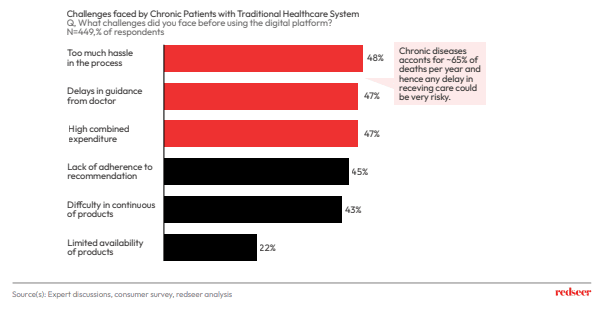 Typically, a chronic patient's healthcare journey includes consultations and follow-ups with doctors, regular vital monitoring, purchasing medicines, undergoing lab tests, making dietary changes (and monitoring these changes) and more. This complex process spans across multiple years (could go on for a lifetime), leading to a painful experience for the patient and his / her family. Moreover, chronically-ill patients complain about the delays in guidance from the doctor and extremely high expenditure on treatments. These challenges are even more pronounced in India, given the below-par doctor to patient ratio and poor insurance coverage (almost zero coverage of out-patient care expenditure).
3. Health-tech models have come to their rescue, by providing a digital ecosystem covering all the interaction touchpoints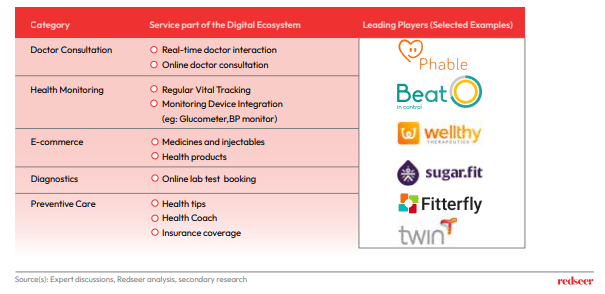 In what seems to be a disruption within India's healthcare system, tech-enabled players are providing a digital ecosystem that can address all these issues: a one stop solution where patients can manage the entire course of their healthcare journey in one platform. This essentially means that patients can access consultation with doctors, constantly monitor and track their progress, get inputs from health coaches, purchase medicines / health products, and book lab tests (and have the tests done at the comfort of their homes) …in other words: Total HealthCare Integration.
4. They also enable doctors to provide timely & accurate advice to chronic patients, helping improve the quality of outcomes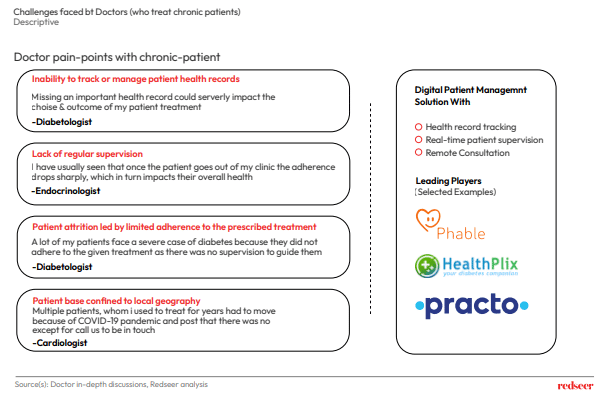 Patients aren't the only ones who will benefit from Total HealthCare Integration; doctors too will enjoy the offerings of these digital players. Often, doctors struggle to keep track of patient information, the inability to provide regular supervision, and an overall lack of communication especially when patients are confined to far strung locations. With the help of a digital ecosystem, that brings everything under one roof, enabling doctors to improve patient adherence to their recommended treatments and the overall quality of outcomes: a win-win for all!
5. Digital chronic management players have a lot of headroom ahead, as they currently penetrate less than 1% of their serviceable addressable market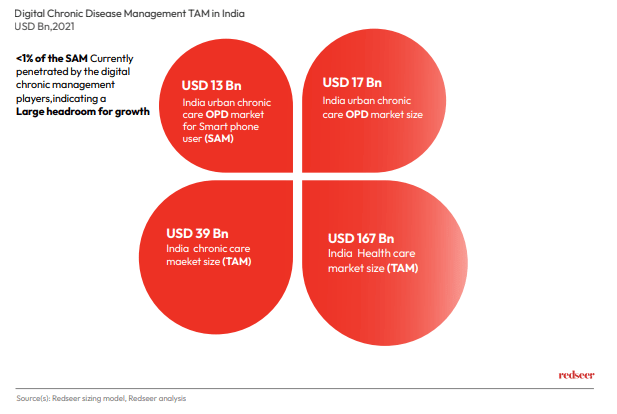 Through Total Healthcare Integration, players are able to reimagine India's healthcare and help patients navigate their healthcare journey with ease. There is no doubt that this is the future of Indian healthcare, and it seems to be starting from the category of chronic diseases. These players have a long way to go, as they are serving a large $13 Bn urban chronic care OPD opportunity among India's smartphone users and currently penetrate less than ~1% of it.