Transition care centres are a relatively new entrant in the physical rehab space India. The facilities bridge the gap between tertiary care hospitals and the home of patients to help ease their transition and recovery. Restorative care is a ~ $5 Bn industry which is currently driven by hospitals that are not designed for recovery. Rehab is often offered as an extension of the surgery package and the quality of care is poor due to a number of systemic constraints. By providing centres specifically designed for recovery, rehab tech players have been able to build a viable business model, with potential to generate attractive returns.
In this article, we share views on the growing excitement in this space and the need & viable proposition of transition care centres, as a follow-up to our previous study on rehab-tech in India.
1. Indian rehab-tech space has been abuzz with funding and acquisition this year.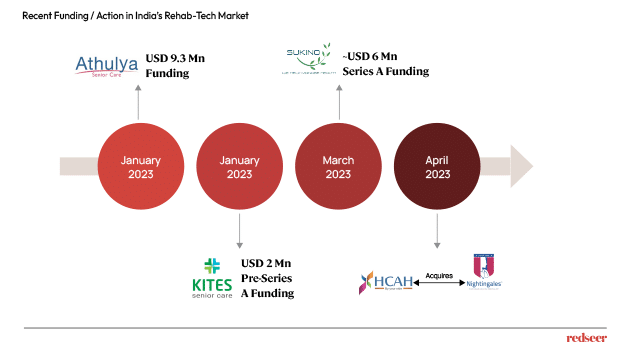 2023 so far has been busy for rehab tech players, with multiple players seeing action in the investment space. This includes both geriatric specialists such as Athulya Senior Care and KITES Senior Care, and restorative care providers such as Sukino, who received funding early this year. Moreover, HCAH recently went ahead with the acquisition of Nightingales, to strengthen its at-home rehab business and gain access to new geographies. The developments are indicative of the coming transformation in the rehab tech sector in the foreseeable future.
2. Restorative care is a major rehab segment with strong need for recovery focused solutions, being fulfilled via transition care centres.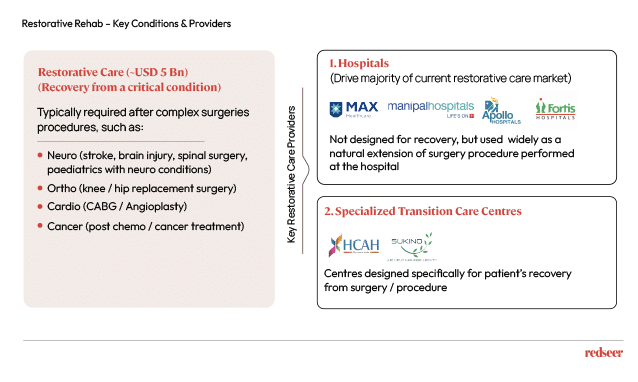 Restorative rehab is focused on driving patient recovery after major surgeries or procedures, especially the in neuro, cardio, ortho and oncology domains. This requires provision of multiple therapies (e.g. speech therapy, occupational therapy, physiotherapy etc.), nursing support and equipment to affected patients, in order to restore an appreciable level of physical & mental independence.
It is majorly provided at hospitals, as a natural extension of the surgery / procedure performed there. However, hospitals are not recovery-focused and at times end up with poor recovery outcomes for the patient, owing to factors such as high chances of cross-infection complications, psychological burden on patients, and overutilized staff.
Addressing these challenges, transition care providers specialize in recovery and maintain a recovery focused environment in their centres with emphasis on mental well being, hygiene and quality of the therapy. This enables them to drive superior quality outcomes for the patients.
3. Transition care centre is a viable business model with potential to generate attractive returns.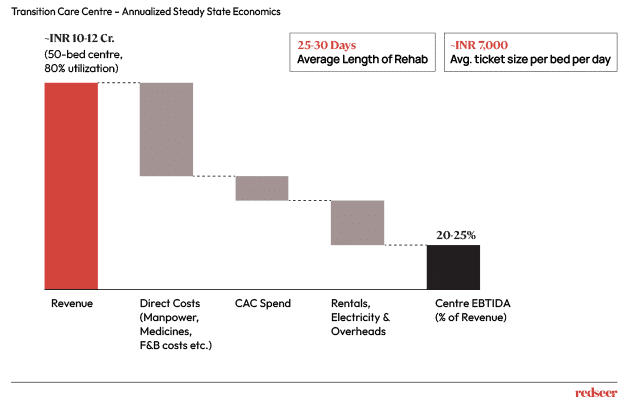 In the steady-state (at ~80% utilization), a typical 50-bed transition care centre is able to generate annual revenue of INR 10-12 Cr. and EBITDA of 20-25%. CAC is an important lever to manage the centre profitability. While majority of centre demand is fulfilled by local doctor referrals, the remaining is led by the digital channel (website led onboarding). Enhancing local brand presence, improving the quality of digital conversion and optimizing the acquisition channel mix, can help in reducing CAC spends and making the most out of the profitability potential.
4. Robust integration with tech can help transition care providers to deliver multi-fold value to patients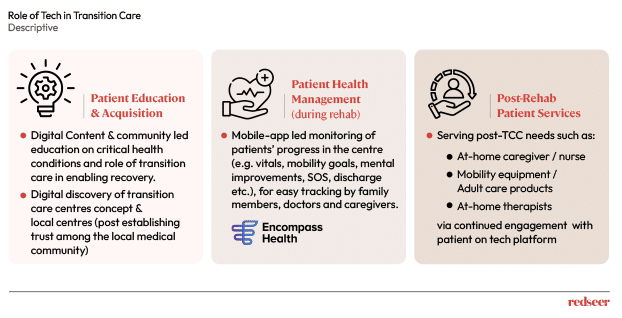 Transition care providers can further amplify their value-proposition by embracing digital technology, which can help in patient community building & education on health conditions, ease of centre discovery, patient health management during rehab and post rehab patient services. Leading global providers such as Encompass Health have created mobile app for patients' caregivers to monitor patient progress in the transition care centres.
All in all, the rise of transition care centres and the use of digital technology in rehab tech is paving the way for a brighter future for the sector in India.