Indonesia, Singapore, and Vietnam tend to dominate digital economy discussions in Southeast Asia. As a neighbor of such countries, Malaysia's potential is often overlooked. In today's newsletter, we highlight some emerging sectors in the country.
Malaysia's digital economy sectors are expected to experience meaningful growth, led by factors such as a high urbanization rate, increasing internet penetration, smartphone adoption, and strong purchasing power. With active government support, these sectors could grow at double-digit rates.
1. Malaysian digital economy is expected to grow significantly in the future, thanks to its urbanized population, matured internet penetration, and strong economy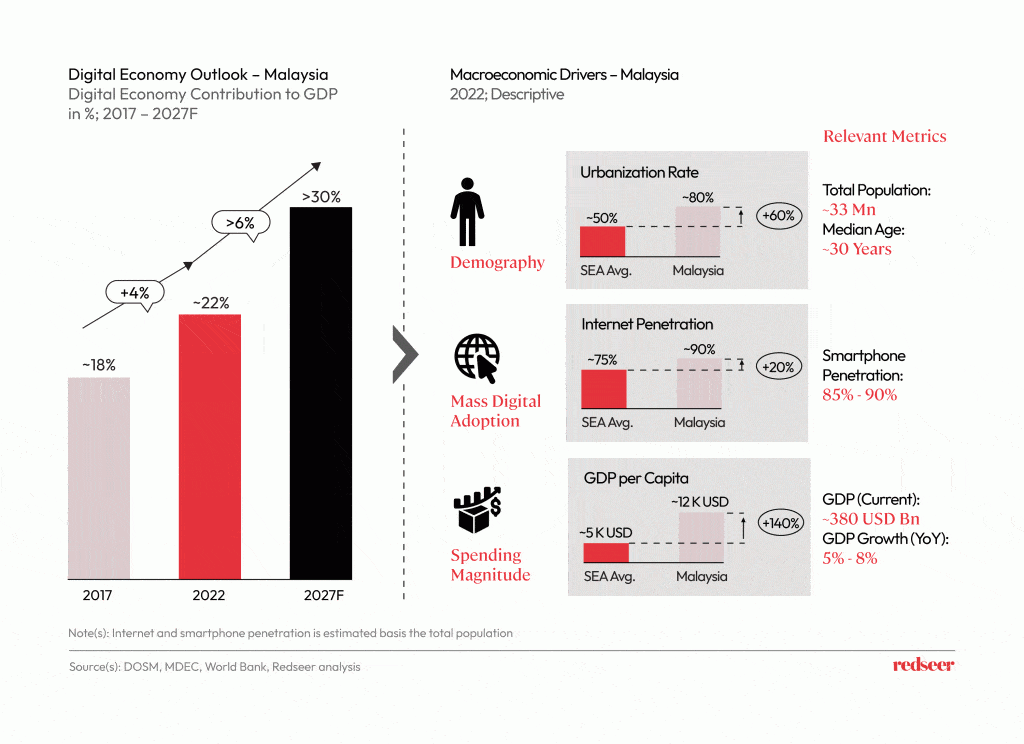 Malaysia's digital economy is estimated to grow faster than in the past five years. With more people living in urban areas, accessibility to better digital infrastructures is more guaranteed. This, coupled with the high tech-savviness of the societies, will enable more massive digital adoptions. Additionally, strong Malaysian purchasing power will contribute to paving the path to profitability for the digital players.
2. Positive government support for Malaysia's digital economy also creates an upward thrust for multiple priority sectors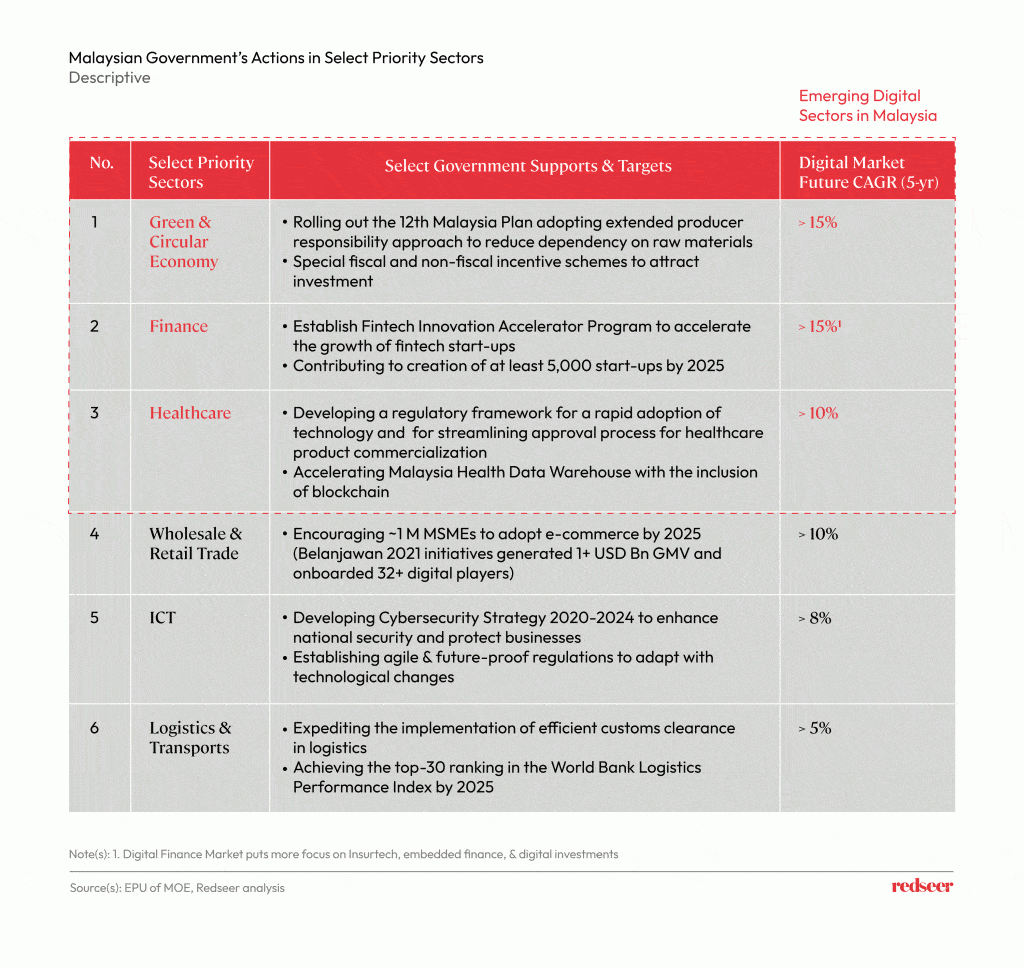 Green & Circular Economy, Fintech, and Health-tech are poised to experience double-digit growth thanks to government supports. Incentive schemes (e.g., fiscal stimulus), supportive regulatory frameworks, and government facilitations (e.g., accelerator programs, data warehouse provision) become the key aspects that deliver a positive and meaningful push.
3. Green & Circular Economy: numerous new-age players have entered the market as the government puts more focus on solid waste management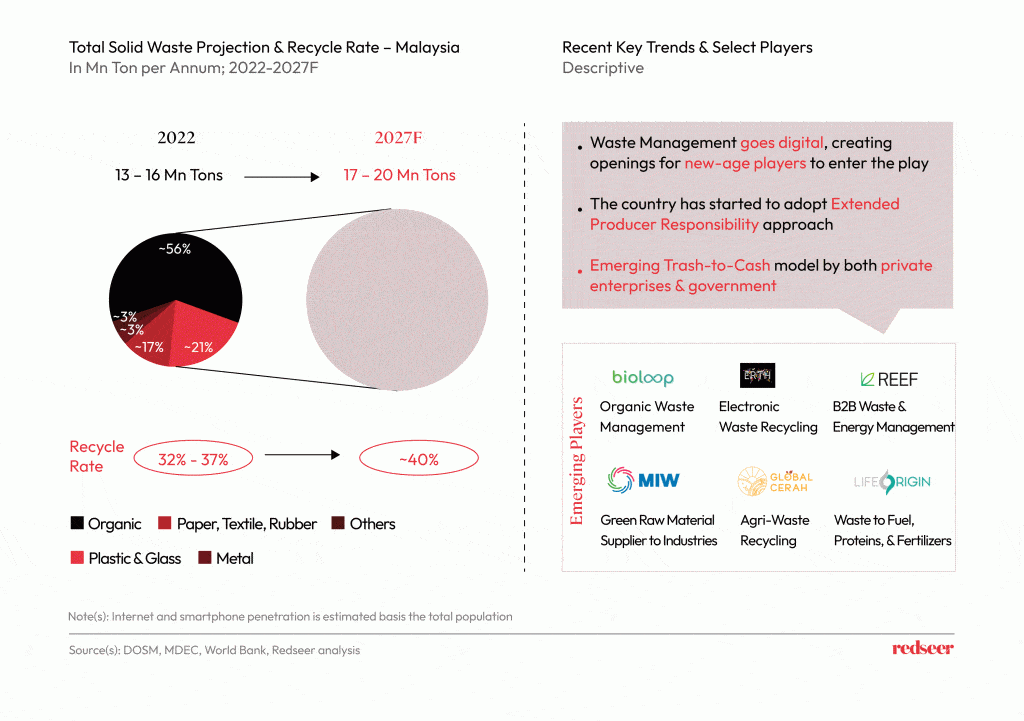 The growing waste volume and mute recycling rate growth encourage the government to allocate more incentives and enact supportive regulations for new entrants. The new players' services mainly cover the 3R principle, reduce, reuse, and recycle, e.g., providing solutions to optimize inputs to reduce waste, supplying reusable materials, and providing capabilities to recycle wastes into inputs for manufacturing, operations, etc.
4. Finance: Malaysia's digital insurance is expected to experience double-digit growth; it is growing faster than the overall insurance market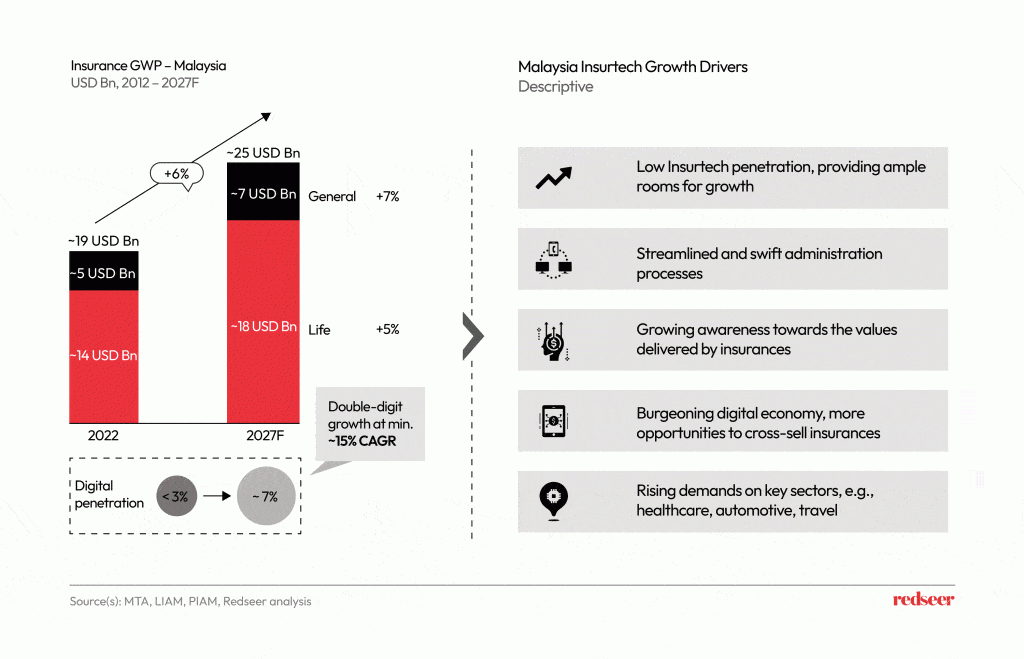 Malaysia's current low digital penetration is estimated to double by the next five years, thanks to digital insurance's significant growth. On the other hand, with Malaysia's lower insurance premium as a percentage of GDP (~5%) compared to the global average (~7%), the Malaysian government sees that Insurtech is a key to more inclusive insurance which can uplift this figure, at least to the global average. Along with the business-related growth drivers, the government has been establishing Fintech Innovation Accelerator Program to accelerate the growth of fintech start-ups, contributing to the creation of at least 5,000 start-ups by 2025.
5. Healthcare: With growing Malaysia's healthcare spends, driven by preventive care and low digital penetration, new-age healthcare thrives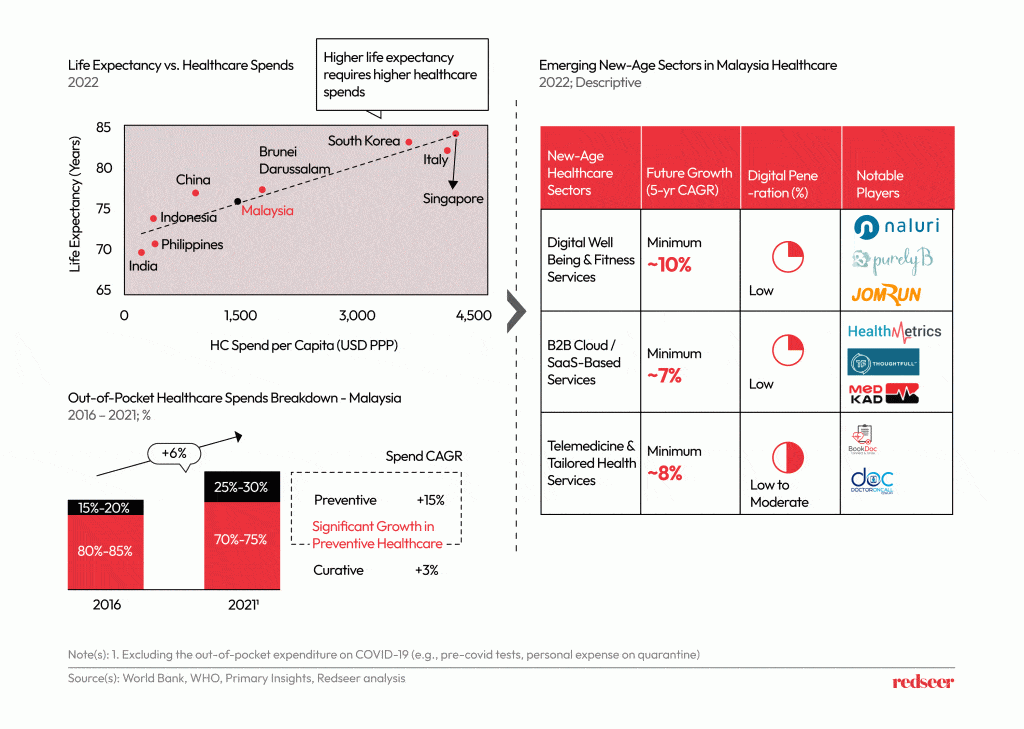 As the nation aims to increase its people's life expectancy and well-being, healthcare spending needs to grow. Malaysia's out-of-pocket healthcare spending is healthily growing, with its Preventive category expanding at ~15% CAGR, ~5x of the growth of its Curative counterpart. Tapping into this trend, new-age players coming from three key sectors have been thriving, enjoying significant growth thanks to digital healthcare's low penetration.