Driven by a consistent expected increase in private consumption, the Indian retail market is expected to grow at ~10% CAGR to reach ~$ 1.6 TN by FY 25
Published on: Nov 2019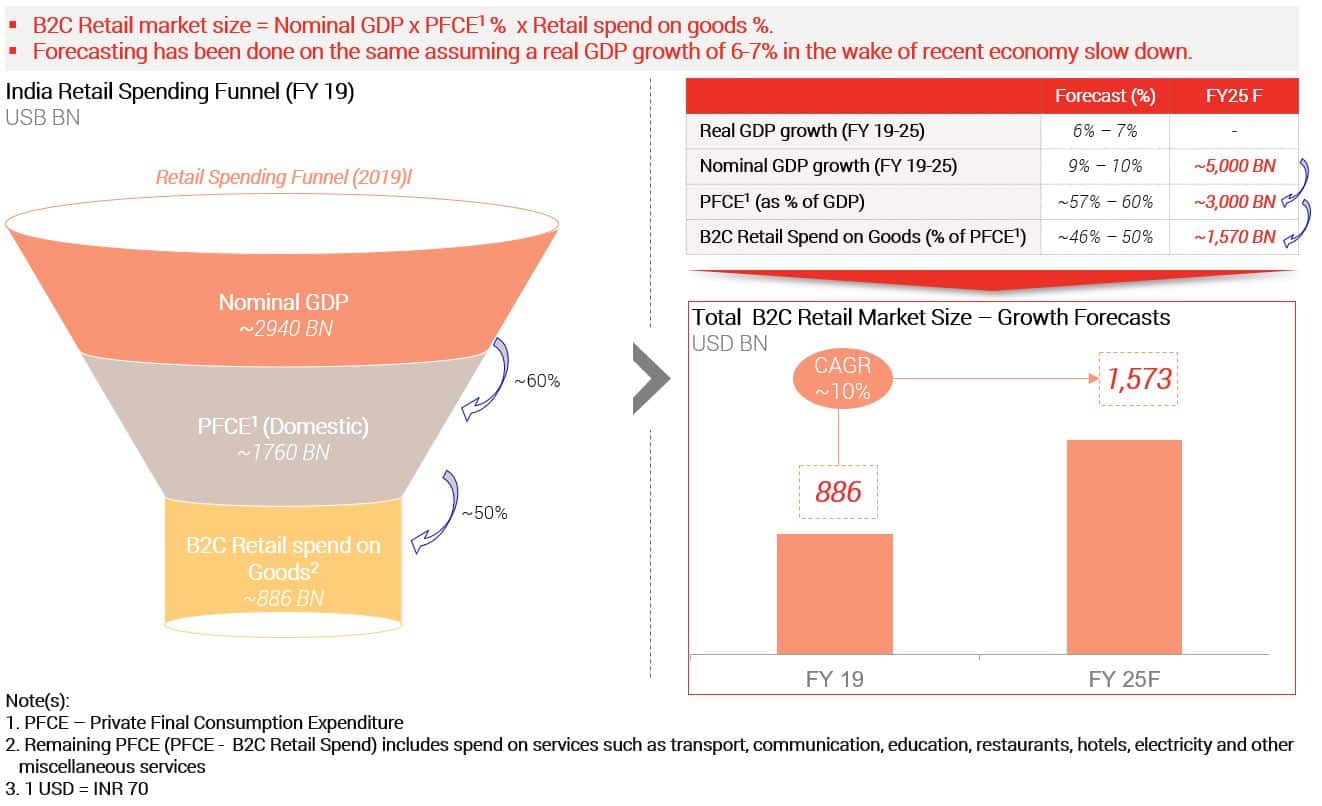 Despite the current economic slowdown and our expected normalized real GDP forecast of 6 to 7%, we expect the private consumption expenditure to continue driving ~60% of the nominal GDP. And, this is predominantly going to be driven by consumer retail consumption of goods, which is expected to continue driving ~50% of the private consumption. Driven by the same, the consumer retail market will grow at 10% YoY to reach $1.6 TN by FY 25.
---
This market is facilitated by a long B2B retail supply chain, which has multiple intermediaries, who engage through multiple models, with 'Unorganized B2B' driving >70% of the market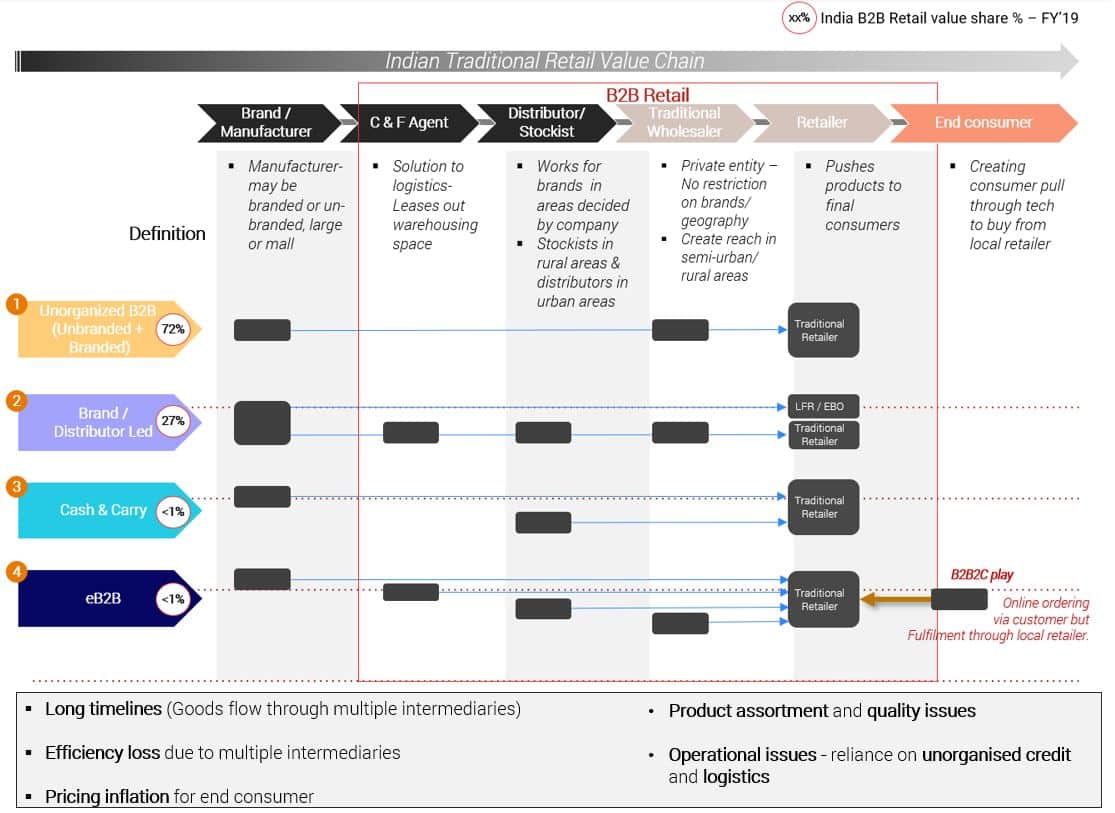 This consumer retail market in India is largely unorganized, except for the brand distribution channel:

90% of total retailers are class B/C/D retailers (turnover of less than USD 40K per month), under- served by brands and distributors.
The retailer gets on average 65-70% fill rates, even from brand distributors.
Estimated 70% of products reach retailers through wholesalers without formal credit, no service and limited selection.
Of the total ~15Mn retail stores, ~45% sell FMCG products and ~15% sell Fashion and accessories.
A high number of retail stores creates a challenge for demand consolidation for brands.
---
This leads to significant challenges for 'Buyers (Retailers, wholesalers)' and 'Sellers' (Defined below) dealing with the 'unorganized' channels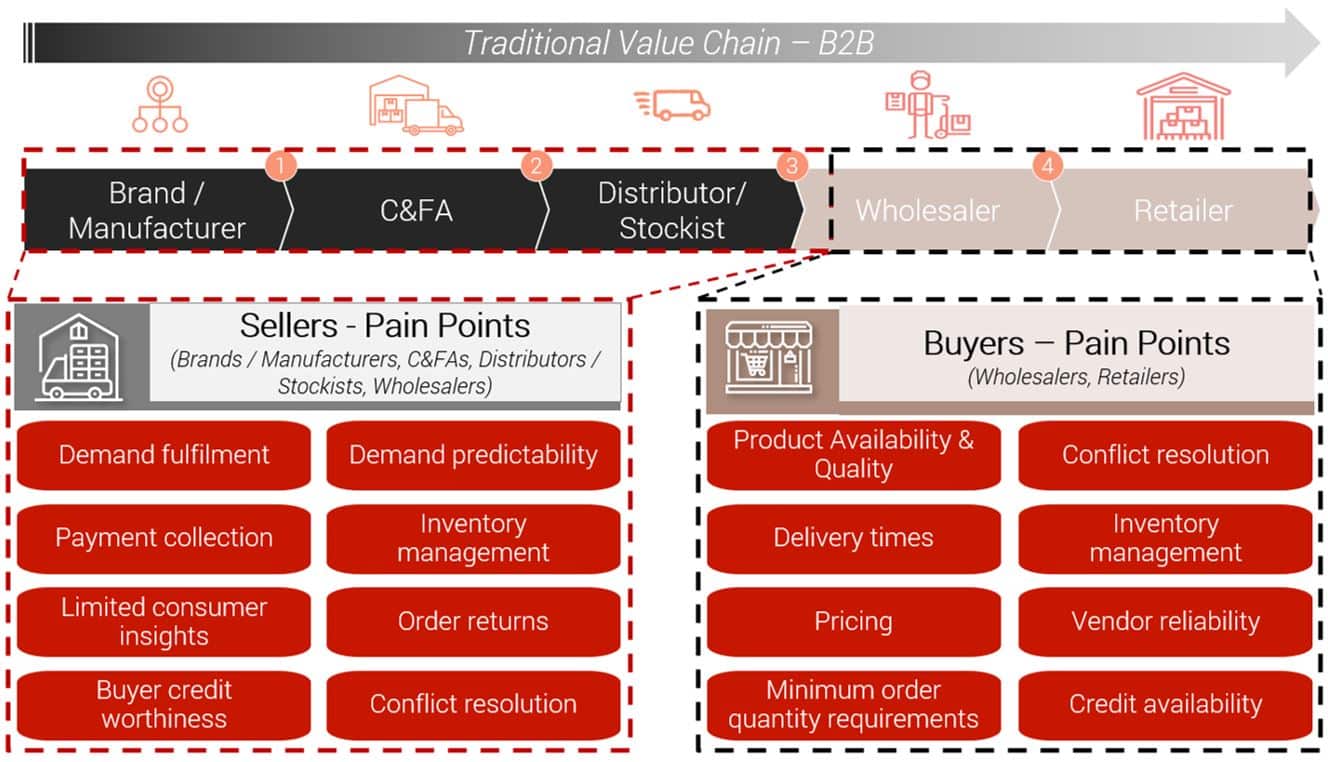 Various supply chain issues bog down everyone starting from brands, distributors, wholesalers, to retailers. During our research, we found several pain points that brands/sellers face. The problems range from understanding the exact demands and thus facing problems fulfilling them, collecting payments, predicting future demand due to unavailability of a reliable inventory management system, buyers creditworthiness to understanding what the end-user, actually needs due to limited or no contact with the consumer.
For retailers too, the problems are plenty. They mostly ranging from finding easily available quality products, right pricing, getting reliable vendors on-board, credit availability, minimum order quantity requirements to getting consistently good pricing on products.
---
Therefore, eB2B scores higher on buyer satisfaction levels as compared to traditional sourcing channels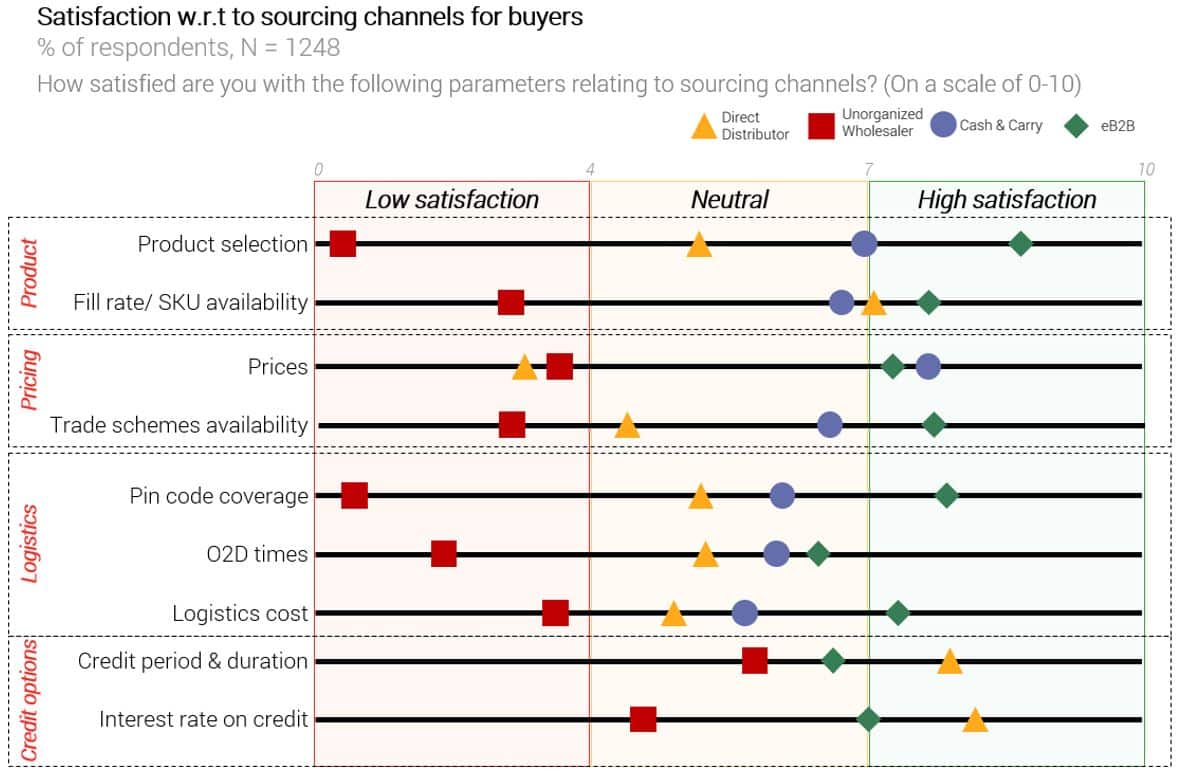 Best practices of eB2B include the provision of higher fill rates, larger geographical coverage (for sellers), demand prediction and inventory management services.
eB2B has the potential to create network effects in sales by collaborating with brands and distributors.
eB2B platforms have also setup credit provision facilities of retailers who need working capital support.
---
Driven by the same, eB2B is going to grow significantly by its capability to address most of the pain points of 'Unorganized' through technology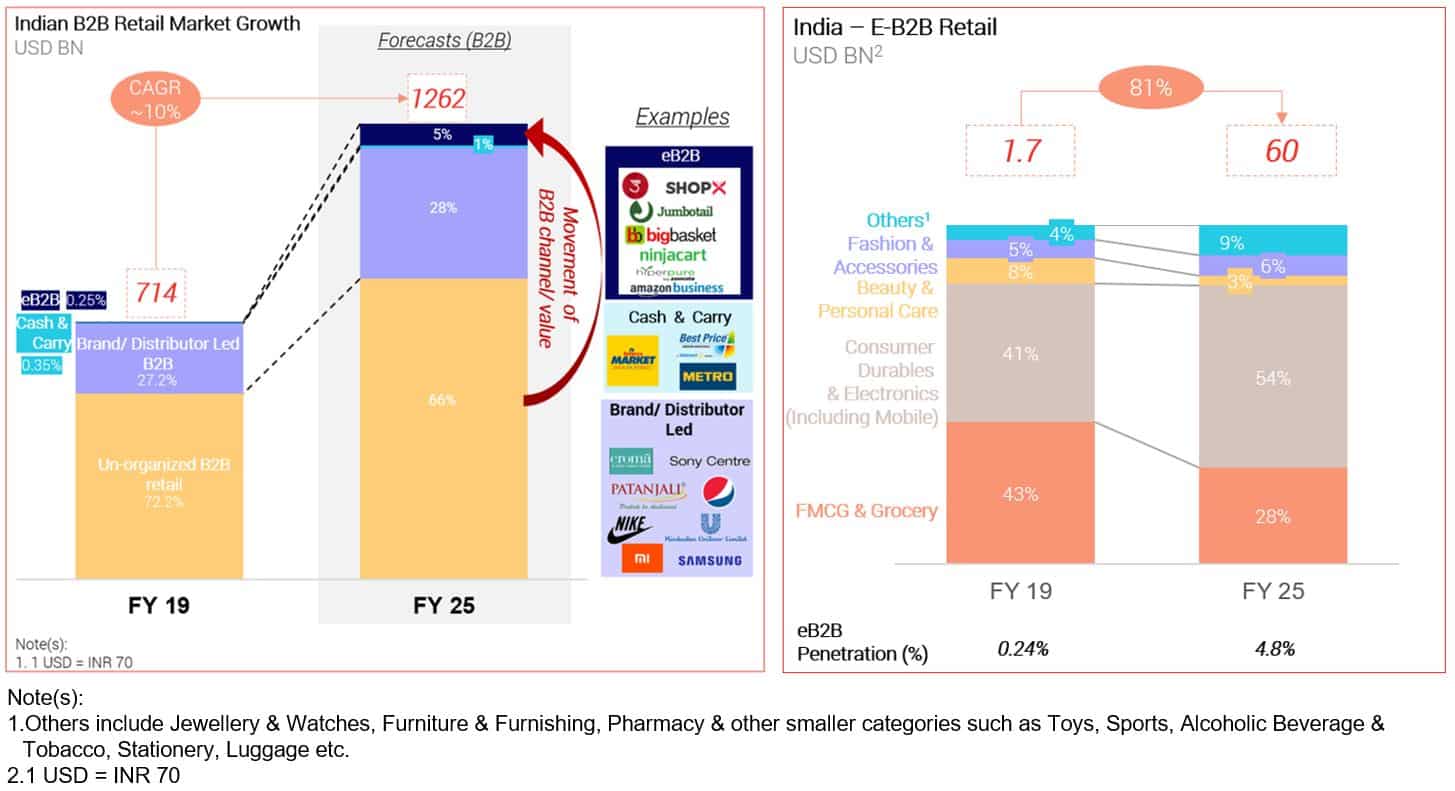 All product categories are expected to see healthy growth:

FMCG & Grocery: Local sourcing and efficient supply chain are expected to drive future growth.
Consumer Durables & Electronics (Including Mobile): High penetration and acceptance of online channel in eB2C are expected to have a domino effect on eB2B.
Beauty and Personal Care: Category is dominated by a few large players (brands). Though the category will grow, it is expected to slightly lag other segments on growth rates due to the lesser number of players operating in the market.
Fashion & Accessories: Increasing penetration in Tier 2+ cities is expected to drive growth.