The Vietnamese economy is undergoing significant changes. While in the short term we have seen headwinds in the form of real estate challenges, stock market underperformance among others however in the longer run the country has set a strong base for manufacturing sector growth on account of China + 1 policies adopted by countries. With respect to the digital economy, the internet ecosystem is experiencing growth and development in select pockets despite an overall muted sentiment for the sector on back of strong digital fundamentals and maturing user base.  
In this article, we provide an update on the consumer internet ecosystem in Vietnam.
1. Strong underlying consumer internet fundamentals supported by improving macros present a robust opportunity for the digital ecosystem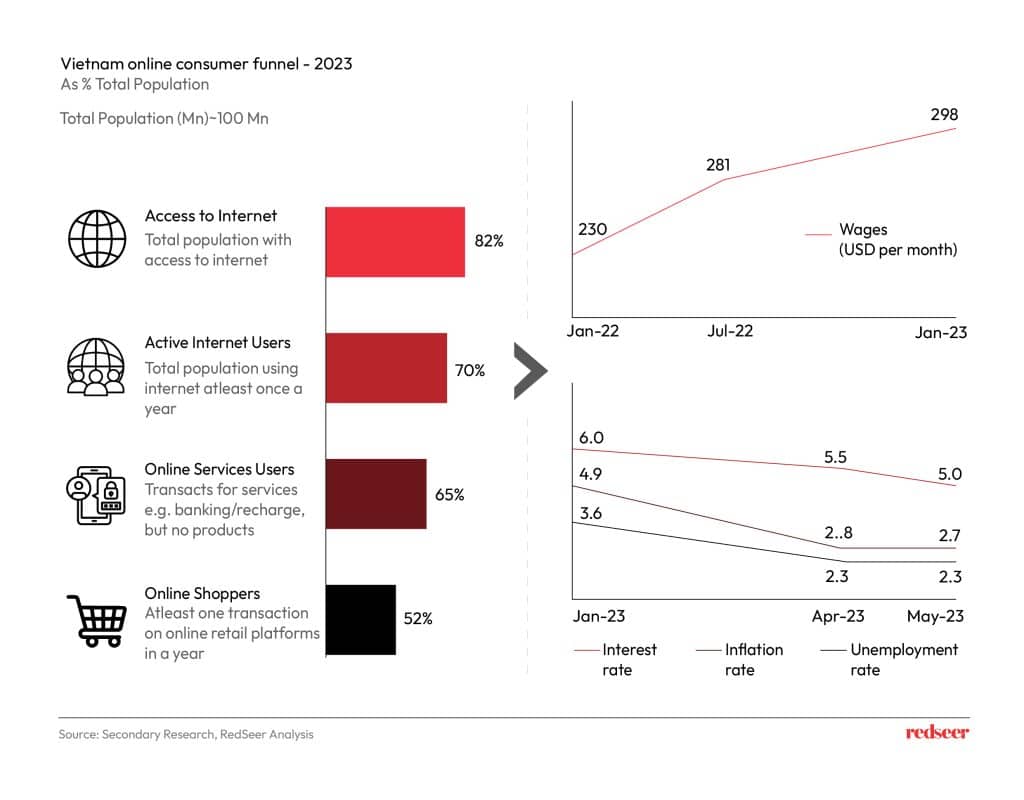 Vietnam has witnessed a sustained rise in internet penetration, smartphone adoption, and digitalization across various sectors. All these factors have led to emergence of newer pockets of growth beyond the traditional first wave sectors of digital economy such as ecommerce, ride hailing. Users are becoming stickier in other areas of digital economy such as Healthtech, payments, lending, edtech among others. These sectors continue to see funding activity as well and will be covered in the newsletter.
2. Ecommerce, EdTech, Fintech are some of the leading sectors that have attracted maximum funding in the country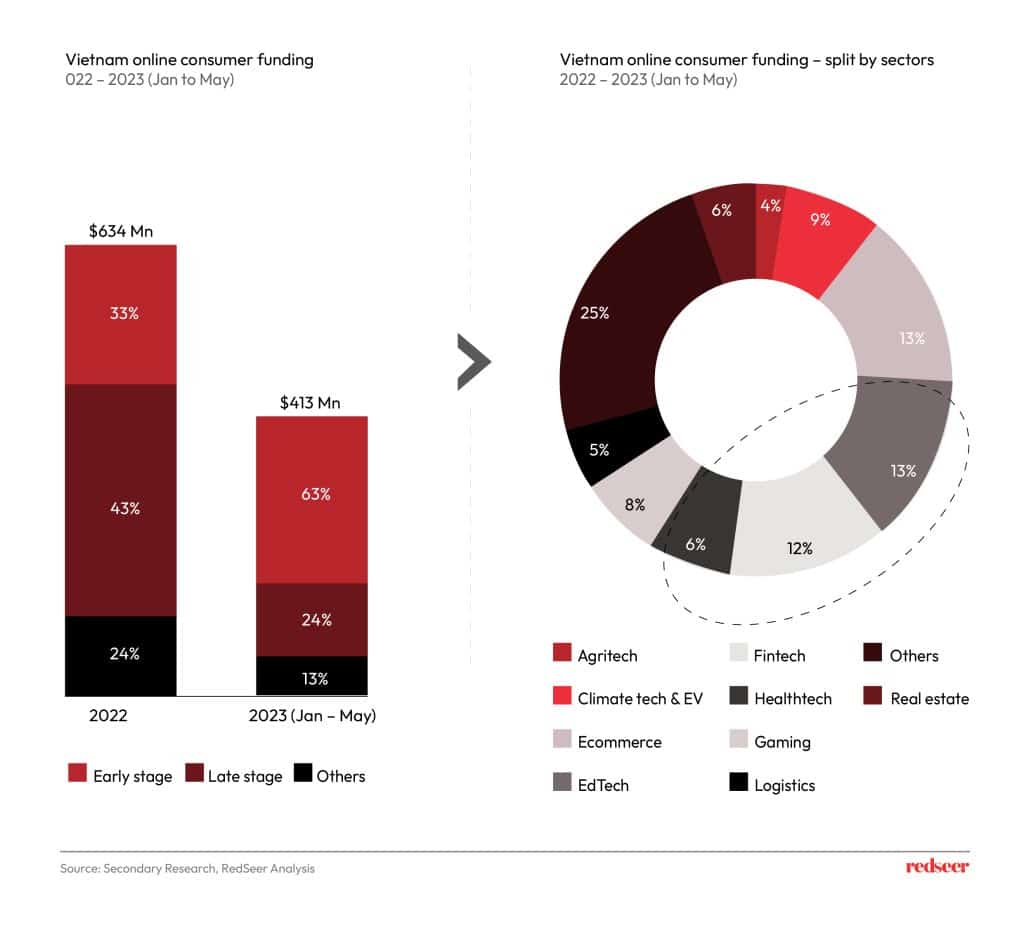 Despite the funding winter and recent slowdown in deal activities, 2023 YTD has shown positive results for the startup ecosystem in Vietnam. As per the current trend in deal making, the funding for 2023 is expected to surpass 2022 levels. Unlike previous years, a major chunk of the funds is flowing in early-stage deals in 2023 and not late stage.
3. Healthcare continues to see traction in Vietnam owing to greater focus towards public health digitization, preventive healthcare and use of emerging technologies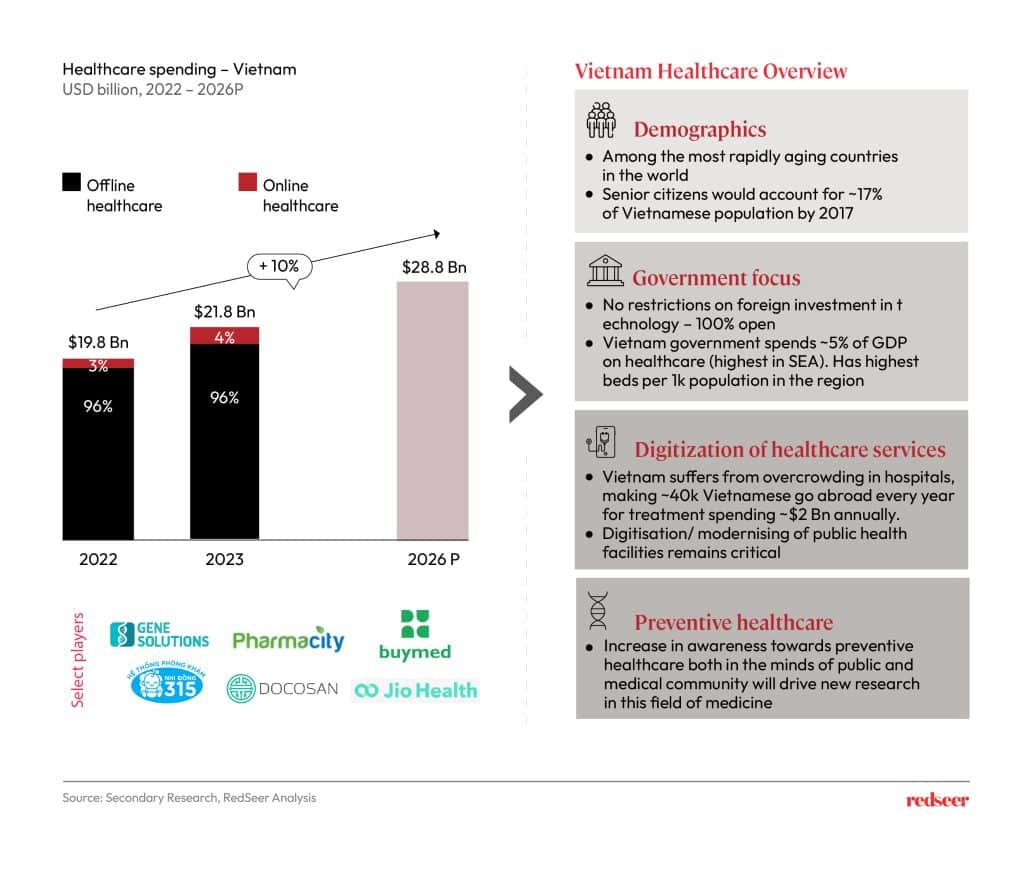 The healthtech landscape in Vietnam is poised for further growth, driven by increasing digital adoption, healthcare needs, and supportive government initiatives. Healthtech solutions have the potential to enhance healthcare accessibility, efficiency, and outcomes, addressing challenges and transforming the healthcare ecosystem in Vietnam. The first wave of innovation was focused on telemedicine, online pharmacy, mental healthcare, health monitoring and wearables while the next leg would be more focused on omnichannel offerings, digitization of public health infra and preventive healthcare.
4. While there are many players operating in the first wave Healthtech sectors, going forward opportunities will arise across newer themes where there remains a major white space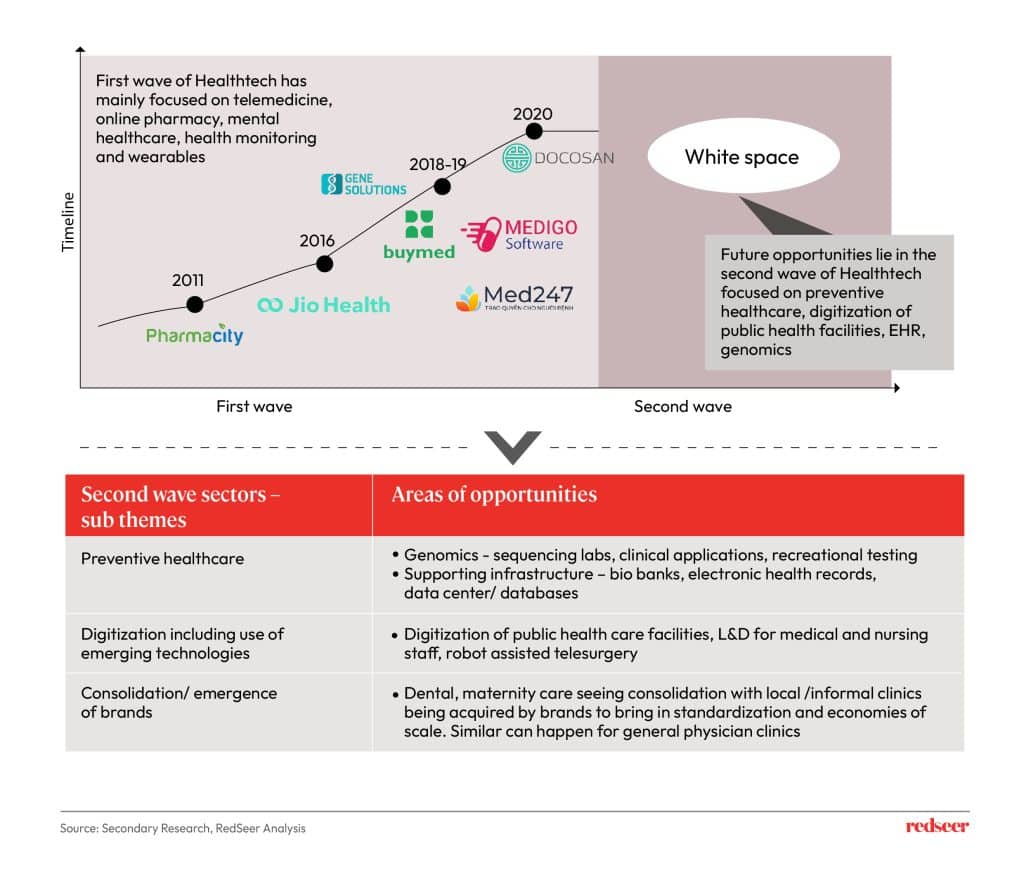 First wave segments of Healthtech have seen strong competition owing to the presence of many players. Unit economics for these segments are under pressure currently due to the high initial cost of customer acquisition and lower widescale adoption. The players in wave 1 can focus on consolidation their operations, looking at vertical integration and going for inorganic growth opportunities. Second wave sectors are a major white space in Vietnam where new players can enter.
5. With recent consolidation activities and value correction in the EdTech space, going forward growth would be seen in select pockets within the sub sector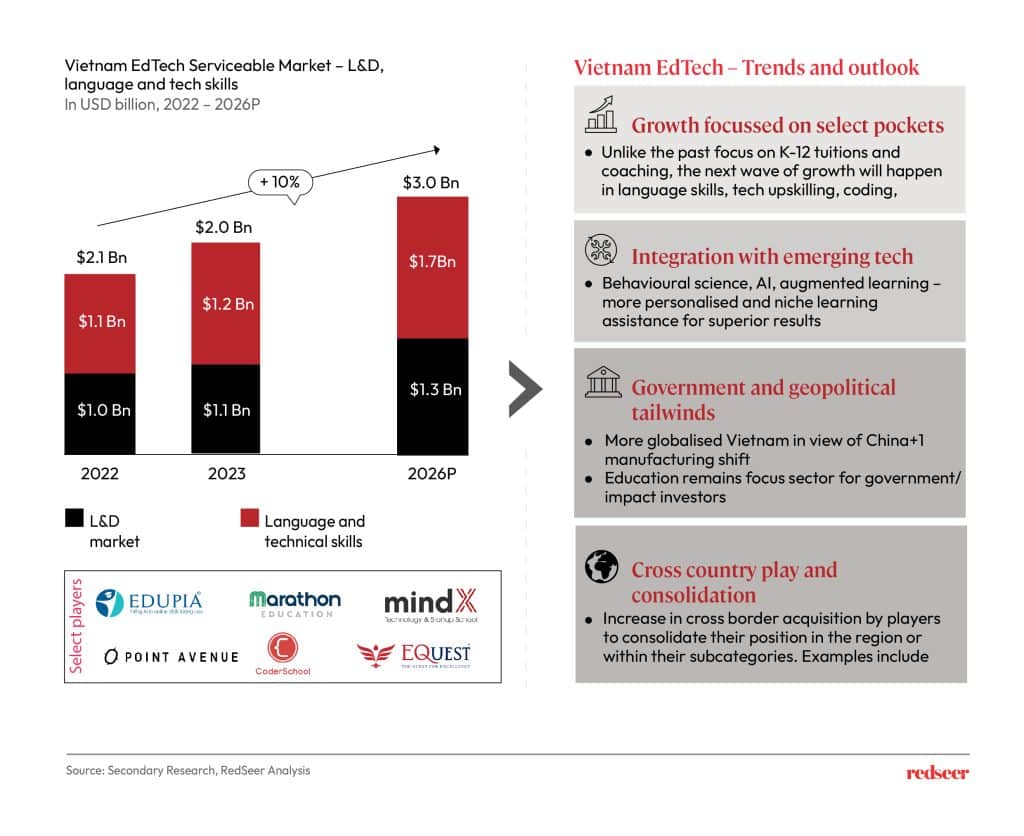 Unlike the broad-based growth that was seen in the entire EdTech space, going forward in Vietnam we expect growth to be limited to select pockets within the sector. These sub sectors will be more aligned with the economic sectors/areas seeing maximum traction in the country which includes technology, language learning and export focused themes.  
5. Digital lending can play a transformative role in providing efficient and accessible financing solutions for SMEs in Vietnam, helping fuel their growth and scaling up