Reasons for shopping online vary significantly in Greater Jakarta vs Rest of Indonesia- indicating differing consumer maturities
Published on: Jul 2019
RedSeer consumer research on 1500 online shoppers in Indonesia indicates that while Greater Jakarta shoppers cite 'convenience' as major most important reason for shopping online. While the top reason is 'low price' for Rest of Indonesia online shoppers.
Interestingly, 'wide assortment' ranks as a significantly important reason for shopping online for shoppers in both regions, indicating that the e-tailers strategy of building wide assortment backed by a large seller base is paying off.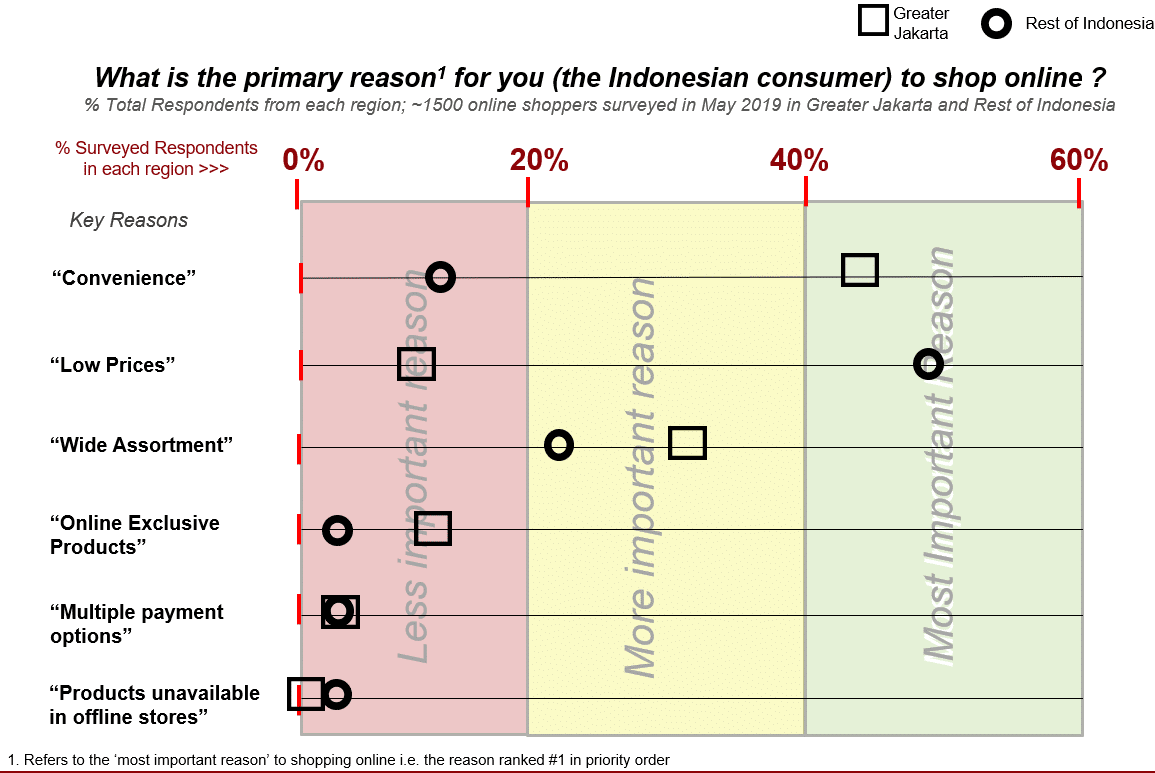 Biggest challenges when shopping online are around delivery issues and product selection
Given the geography of Indonesia and the well-known infrastructural challenges in the archipelago, it is hardly surprising that delivery related challenges (both delivery fees and speeds) dominate the list of issues reported by online shoppers. With delivery time being biggest pain area for non-Jakarta shoppers especially.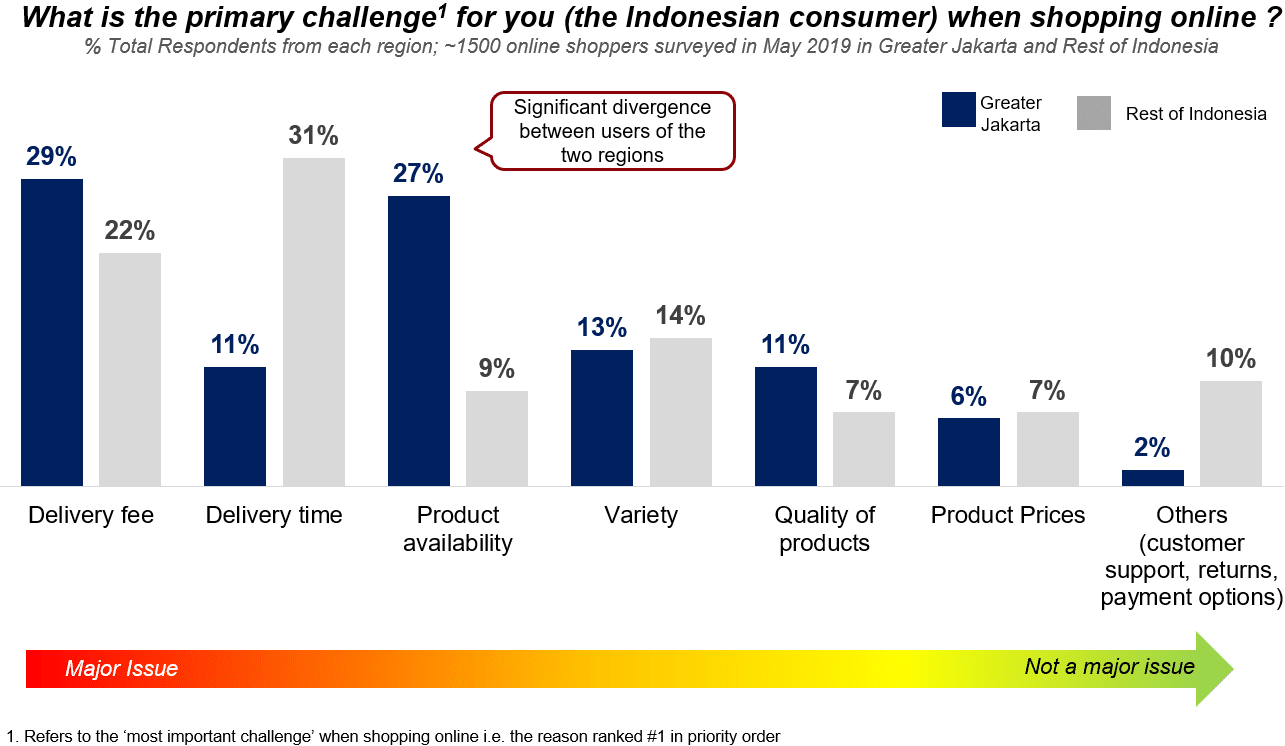 Additionally, while shoppers come online for 'wide assortment', often the product availability or variety (and even quality) present is not upto expectations- possibly leading to lower chances of repeat purchases. This is more so true for Jakarta shoppers, which also indicates their higher expectations on the selection front. This also implies that while total seller count has become large for e-tailers, there is a case for ensuring higher seller quality down the line, including by adopting more of B2C models in future.
Faster/express shipping will be a key lever for e-tailers as they seek to bring onboard the next wave of online shoppers in Indonesia
Despite having a large online shopper base (45 Mn annual shoppers in 2018), 75% of Indonesian internet users are not shopping online. So we digged deeper to probe into the key reasons for this trend via research with offline shoppers.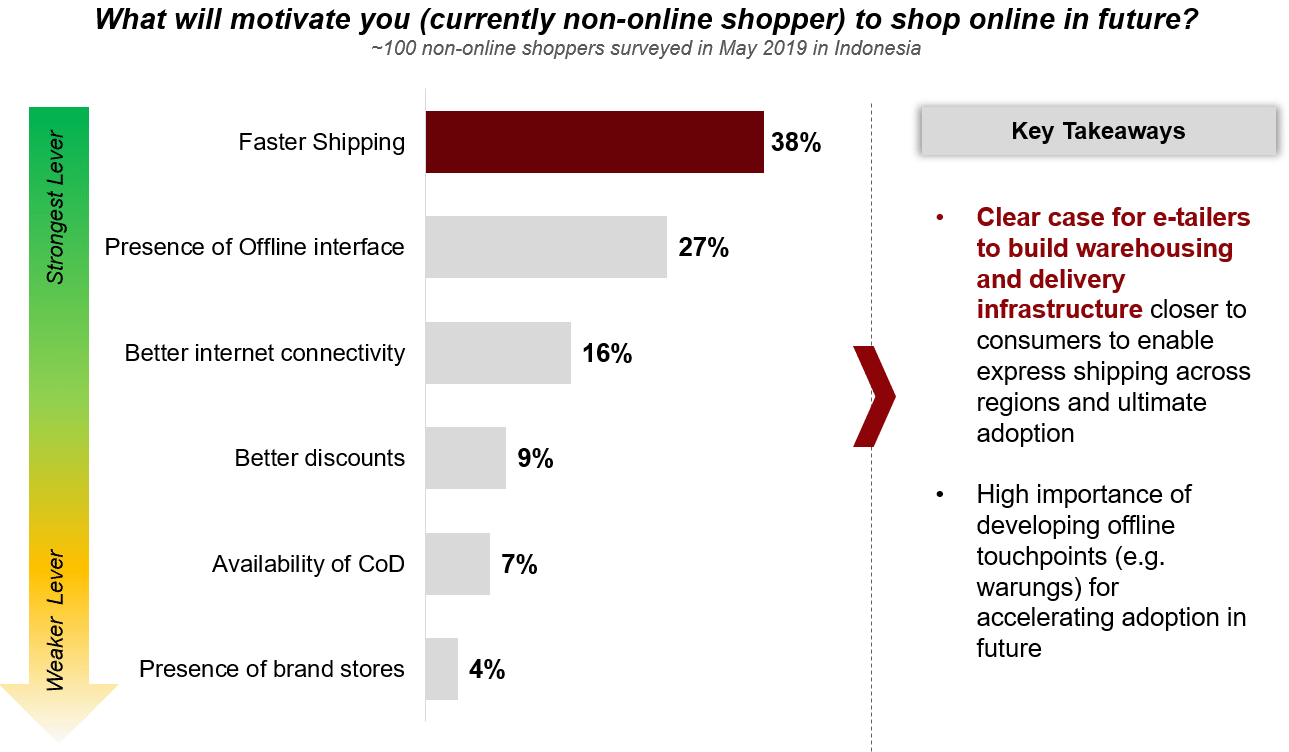 The research clearly brings out the point the 'fast delivery' will be the single biggest lever motivating currently offline shoppers to try buying online in the future. Players who focus on enabling this via supporting warehousing and delivery infrastructure are likely to drive fast adoption in future.
Recap- Indonesia's online shopper base is ~45 Mn strong (2018) with a significant untapped potential