Everyone in India is gearing up for the coming festivities. And in that spirit, Redseer is watching all aspects of the ecommerce Industry's biggest GMV churner, the festive season sales. Our latest analysis takes into account the MSME seller's perspective and how online sellers are expecting to buck the trend in a tough year. In this newsletter, Mrigank Gutgutia, Partner at Redseer explores seller sentiment, highlighting optimism and resilience.
It is to be noted that despite recent modest e-commerce sales growth, where only 40% of sellers reported over a 10% increase in sales this quarter compared to JFM 23, the anticipation of a festive sales surge among sellers, including smaller ones, remains high across various product categories.
eCommerce empowering MSMEs in Retail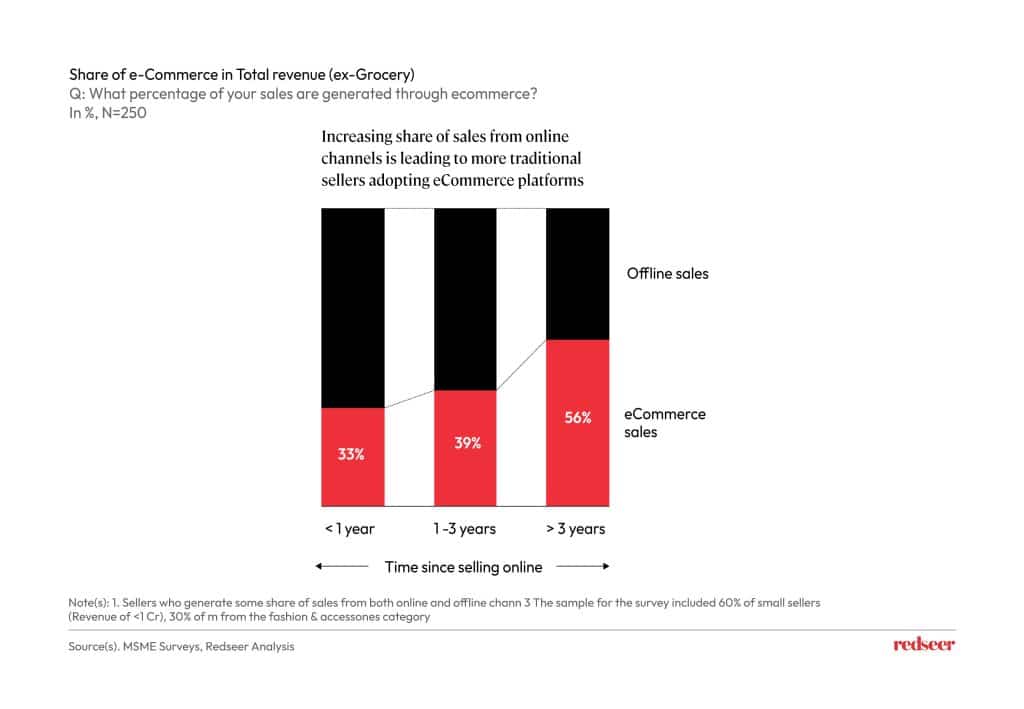 eCommerce has become a vital lifeline for MSMEs in the retail sector. With every year, the contribution of eCommerce in sales channel mix of MSMEs keeps on increasing. It offers them global reach, cost-effectiveness, valuable customer insights, and 24/7 availability. With the rise of online shopping, the adaptability to the pandemic, and the competitive advantage it provides, eCommerce empowers MSMEs to compete effectively and expand their businesses in an ever-evolving retail landscape.
MSME Sellers Anticipate at least 15% Surge in Festive Sales for CY23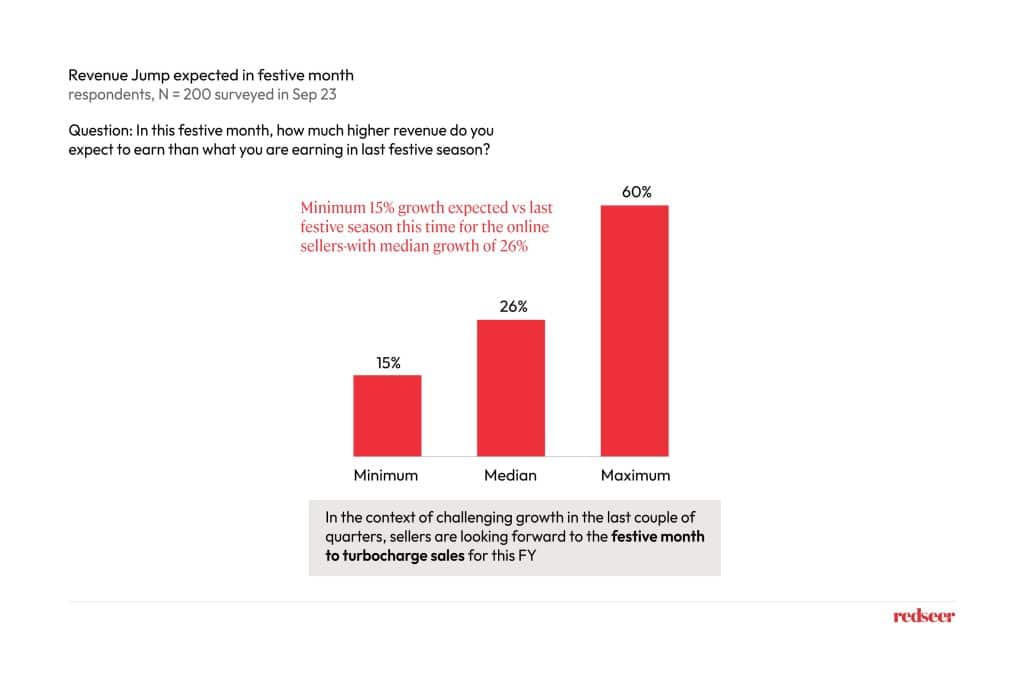 MSME sellers are anticipating a minimum of 15% growth in online sales compared to last year's festive event, with a median projected increase of 26% in sales. Sellers across various categories, including those in the lower average selling price (ASP) segments like fashion and BPC, are optimistic about this growth trend. This festive season is a welcome opportunity for MSMEs after a couple of muted quarters.
e-Commerce Platforms Elevate Seller Support and Optimism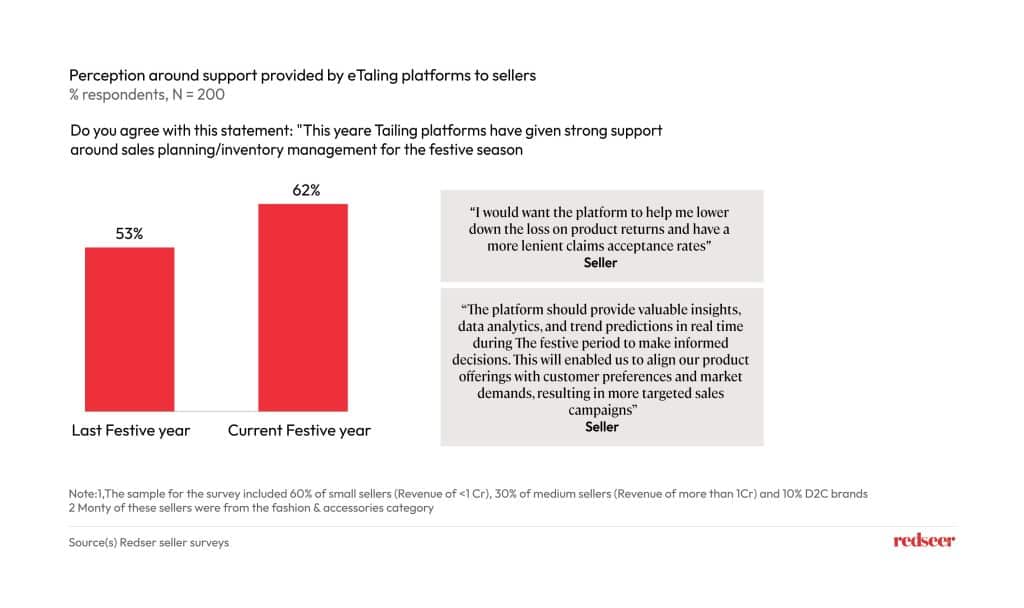 e-Commerce platforms are customizing their offerings to align with sellers' requirements. As a result, seller perceptions regarding the support provided by eTailing platforms have improved. Currently, 62% of sellers agree that these platforms have been helpful in their festive planning, compared to the 53% who felt the same way during the previous year's festive season. Our surveys have revealed that sellers particularly appreciate support on aspects like data analytics, trend forecasting, and enhancing consumer visibility, among other factors.
To propel this growth, MSMEs are willing to spend higher on marketing during this online festive season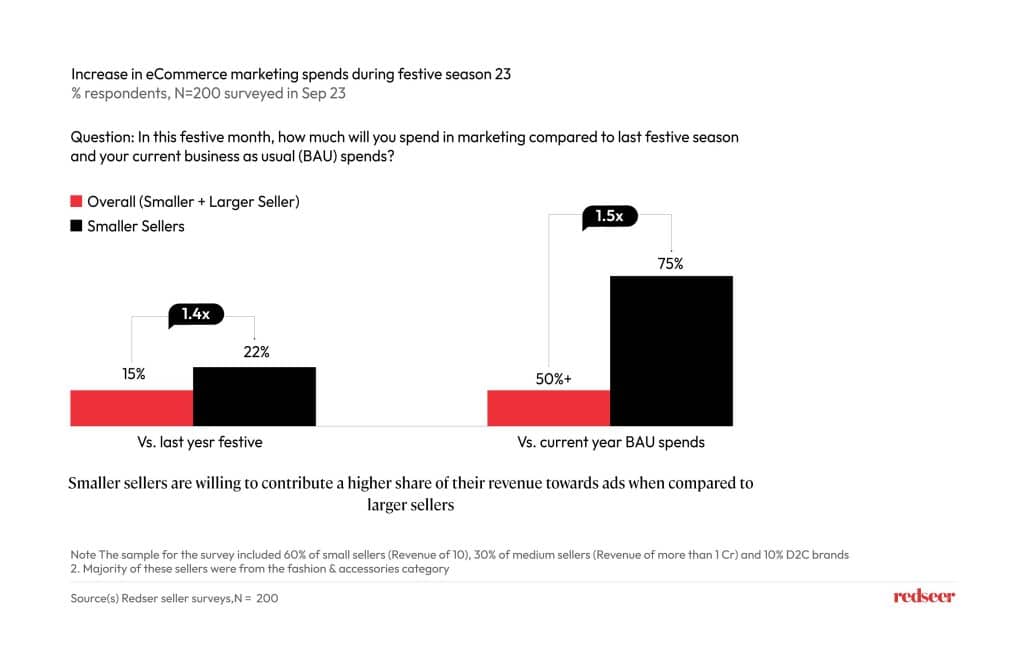 Our survey findings reveal that sellers are eager to invest more in marketing and advertising efforts during the festive season, aiming to drive sales expansion.
Among all the sellers surveyed, there is an expected 15% increase in marketing spending compared to the previous year's festive season and a remarkable 50% boost in the marketing spend compared to regular business periods this year. Notably, smaller sellers display a high willingness to increase the allocation of funds towards advertising and are notably bullish about overall sales growth.
The eCommerce Advantage for MSME Sellers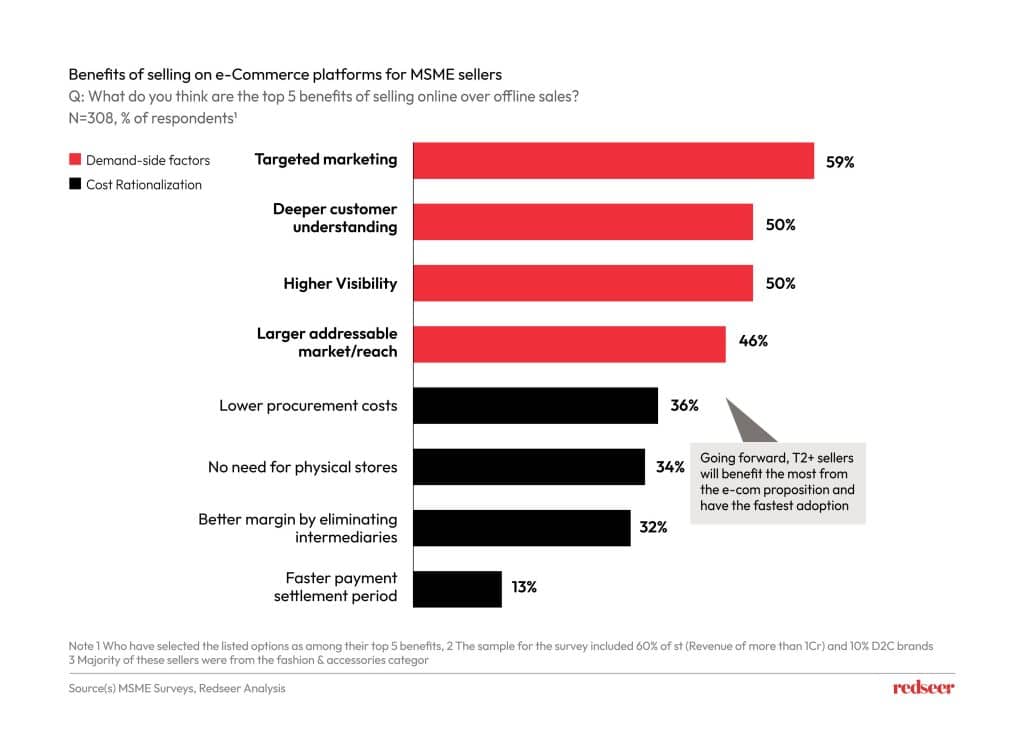 Selling on e-commerce platforms presents a multitude of benefits for MSME sellers. Firstly, it enables them to expand their reach and tap into a broader sales potential, effectively leveling the playing field with larger competitors. These platforms offer advanced marketing tools and data analytics, empowering MSMEs to efficiently target and understand their audience, thus optimizing their sales strategies. Moreover, e-commerce eliminates the need for intermediaries and physical storefronts, resulting in significant cost savings. Additionally, by leveraging economies of scale, MSMEs can rationalize their selling costs, enjoy better profit margins, and benefit from faster payment settlement periods, making it a lucrative avenue for business growth.