Indonesia is fast emerging as a destination for Electric Vehicle (EV) development and deployment. It could be an essential player in the global EV supply chain. The government is playing a supportive role, and the local market conditions are suitable for building solid domestic capabilities. Further, EV batteries present an exciting opportunity to invest in and support the circular economy.
1. Snapshot of long-term opportunities in the EV manufacturing and recycling space – segments with major whitespaces in Indonesia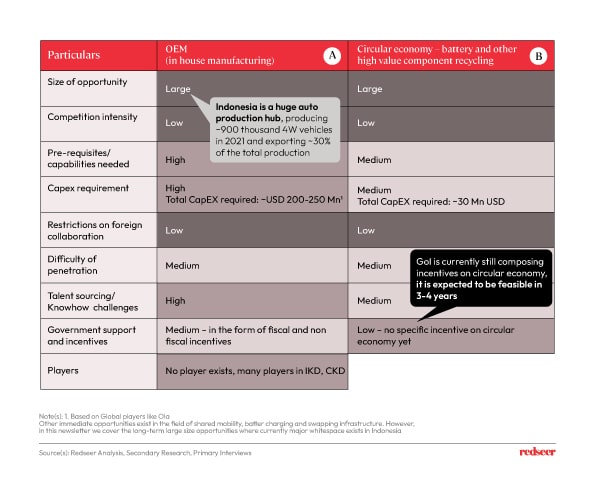 Indonesia's status as an auto production hub provides a robust foundation for EV manufacturing and recycling sectors. As the second biggest motor vehicle producer in SEA after Thailand, there is large untapped potential of EV manufacturing in Indonesia, where currently most players import and assemble EVs. As the EV sector matures, it can support the circular economy, centered around recycling batteries and other high value components.
2. New players can be expected to emerge in in-house manufacturing and circular economy such as battery recycling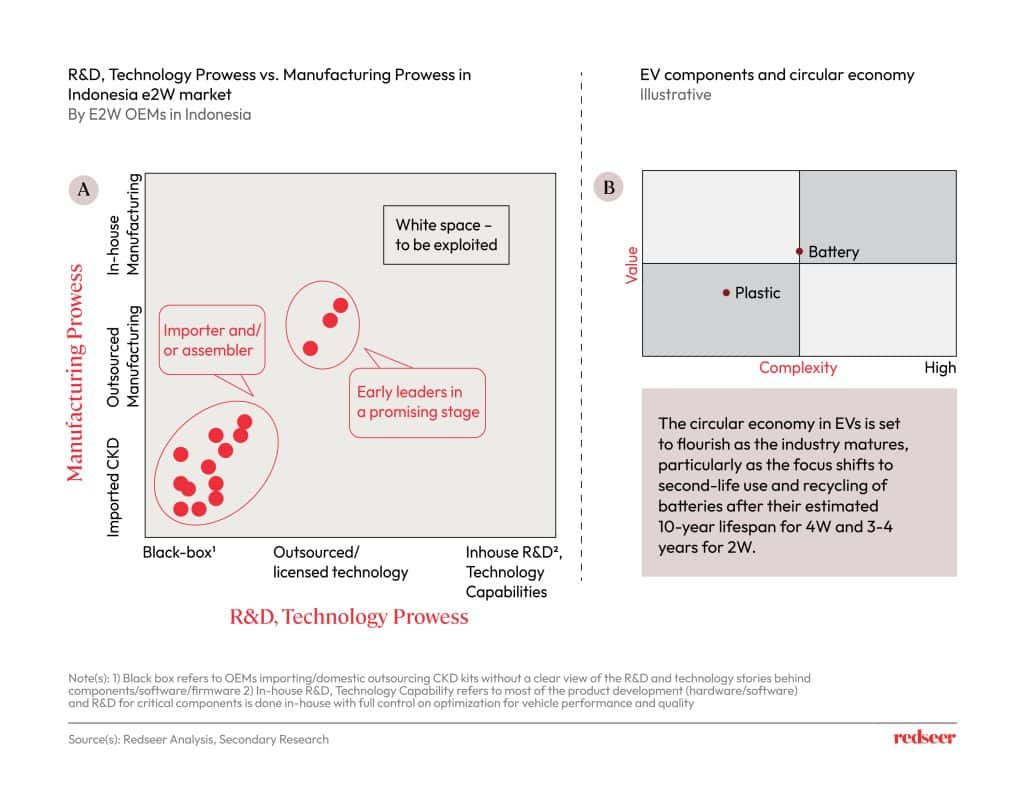 Currently, in-house manufacturing capabilities are still nascent due to high capital costs and the need for specific expertise. Looking at China and US, in-house manufacturing can achieve profitability within 4-5 years, assuming favorable unit economics and substantial EV sales volumes. As the EV sector evolves and battery replacements become essential, it will likely give rise to a sizeable recycling industry.
3. Manufacturing is an attractive opportunity to explore as adoption rates continue to increase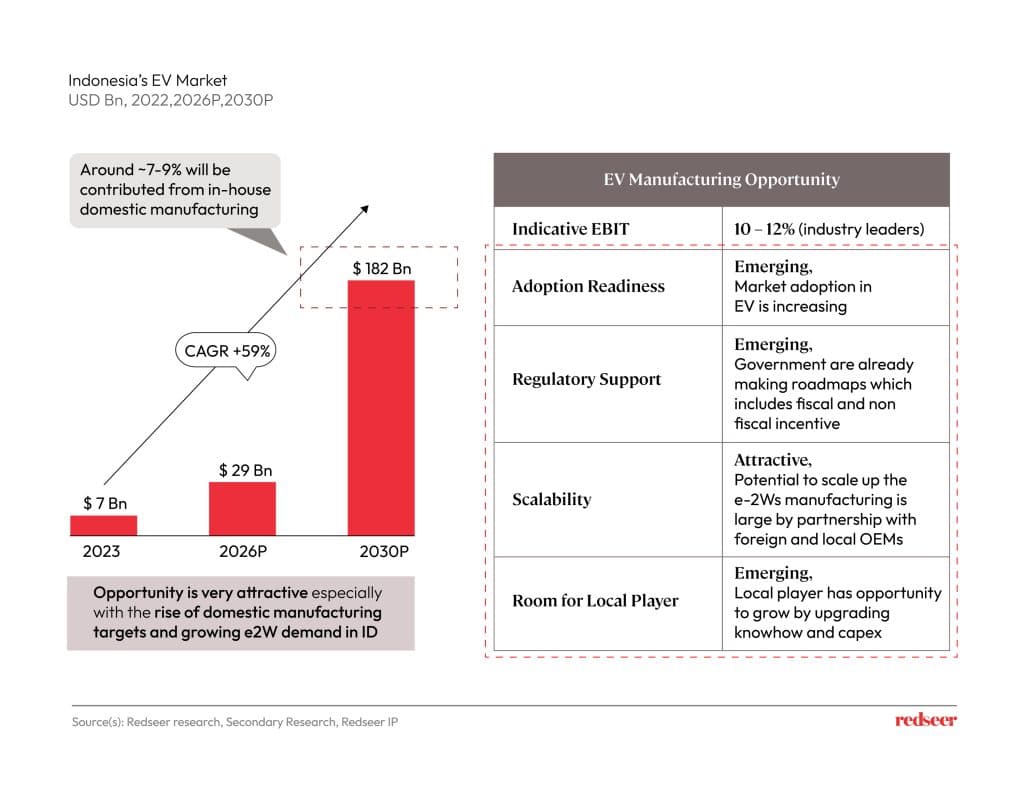 The local EV manufacturing opportunity is becoming increasingly attractive, led by rising adoption and numerous Chinese and Southeast Asian players recognizing Indonesia as a lucrative market. Increased domestic manufacturing and electric two-wheeler demand bolster this potential. E2W can be manufactured in partnerships with foreign and local OEMs.
4. China and Southeast Asia based players are eyeing Indonesia for expansion, utilising government incentives for EV player0073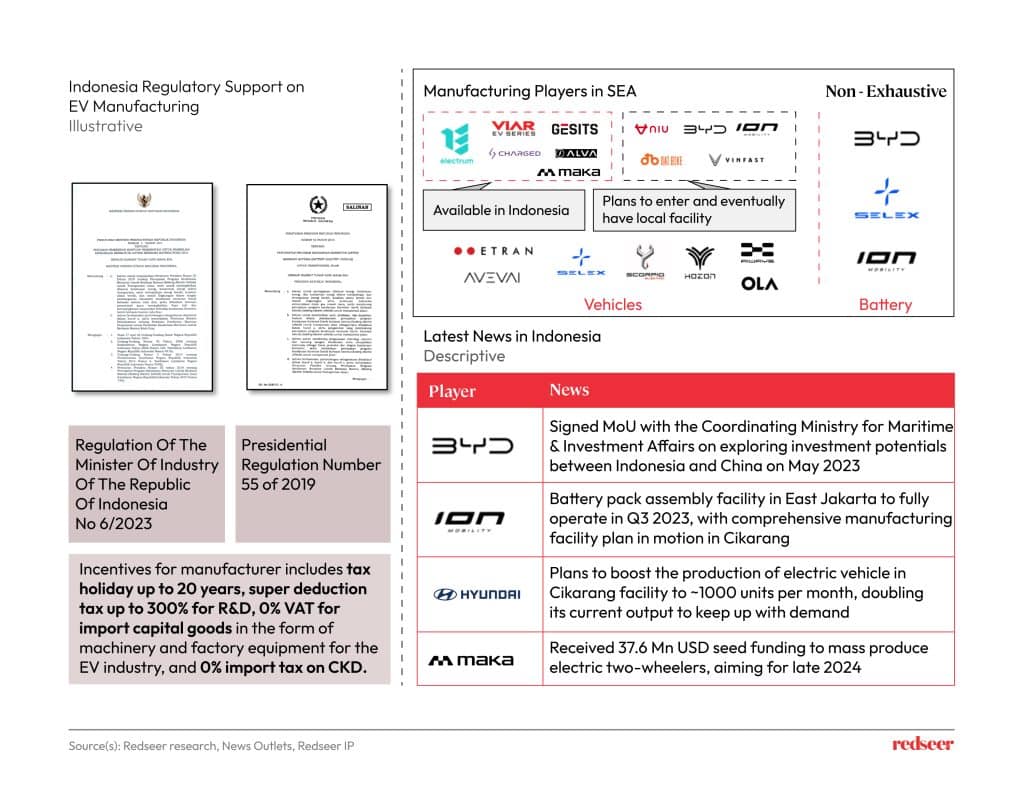 Several companies from China and Southeast Asia plan to set up local manufacturing facilities in Indonesia, aiming to leverage government support, incentives, and additional benefits for vehicles meeting the minimum domestic component level requirements. The Indonesian government is actively engaging with key players like BYD and signing Memorandums of Understanding. Discussions with other global entities are currently underway.
5. Battery recycling is currently still nascent, and expected to be sizable after higher levels of EV adoption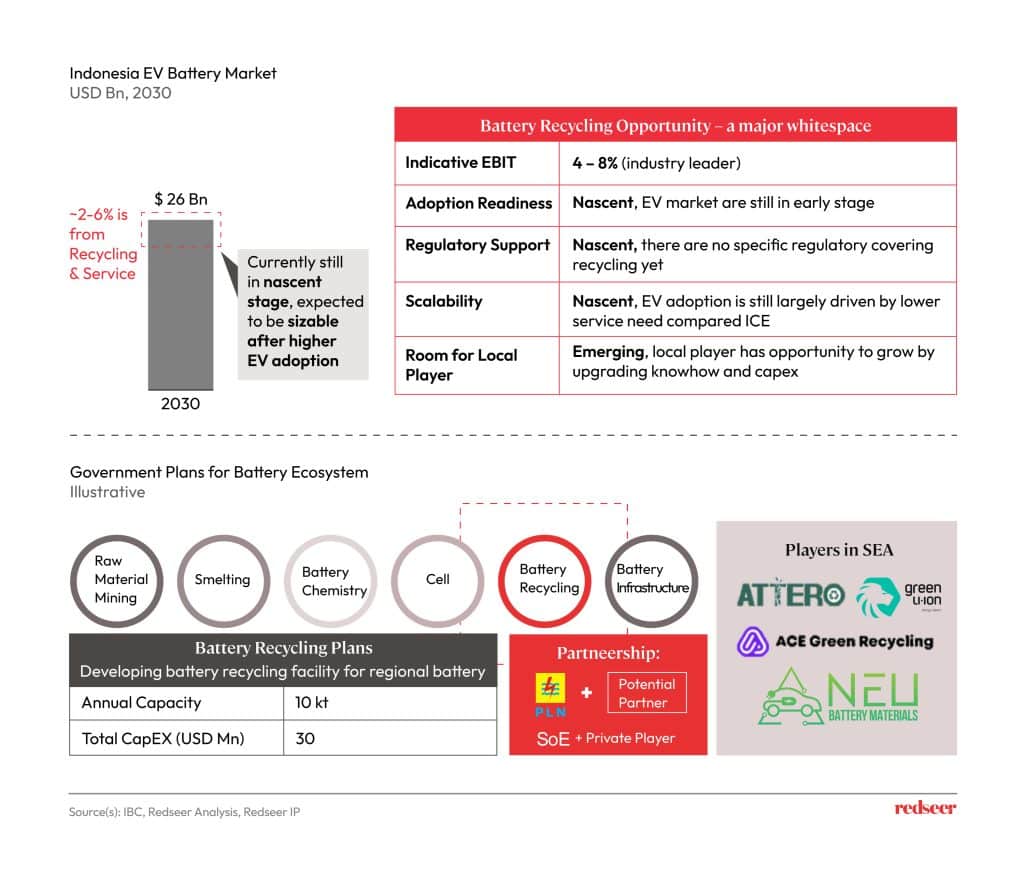 Indonesia's battery recycling sector, currently in its early stages, possesses substantial growth potential as EV adoption improves. As part of an extensive battery ecosystem plan, the government targets an annual recycling capacity of 10 kt, with strategies for private-public collaborations involving State-Owned Enterprise (SoE) PLN through the Indonesia Battery Corporation. Despite the nascent state of the industry, several entities are placing their bets on Indonesia as a future battery hub. For instance, Attero is establishing a waste-processing facility in the country, with operations set to begin in Q1 2024.