Indonesia's regulatory curveball, mandating the separation of e-commerce and live-streaming functions, will take the steam out of the live-commerce juggernaut. GMV growth rates will moderate in the short term. However, the sector's structural growth trajectory will remain intact. We think TikTok will make a comeback via a live-commerce-free e-commerce route. Assuming no further regulatory changes, the older e-commerce playbook will come in handy. The following sections cover our views on the possible way forward for TikTok, as it realigns from social commerce to e-commerce. Meesho has done a somewhat comparable pivot in India. The sections also provide colour on sector's evolution trajectory, the likely response from incumbents, and perspectives from typical buyers and sellers on TikTok. Our earlier publication on ecommerce can be accessed via – Indonesia ecommerce: The metamorphosis continues…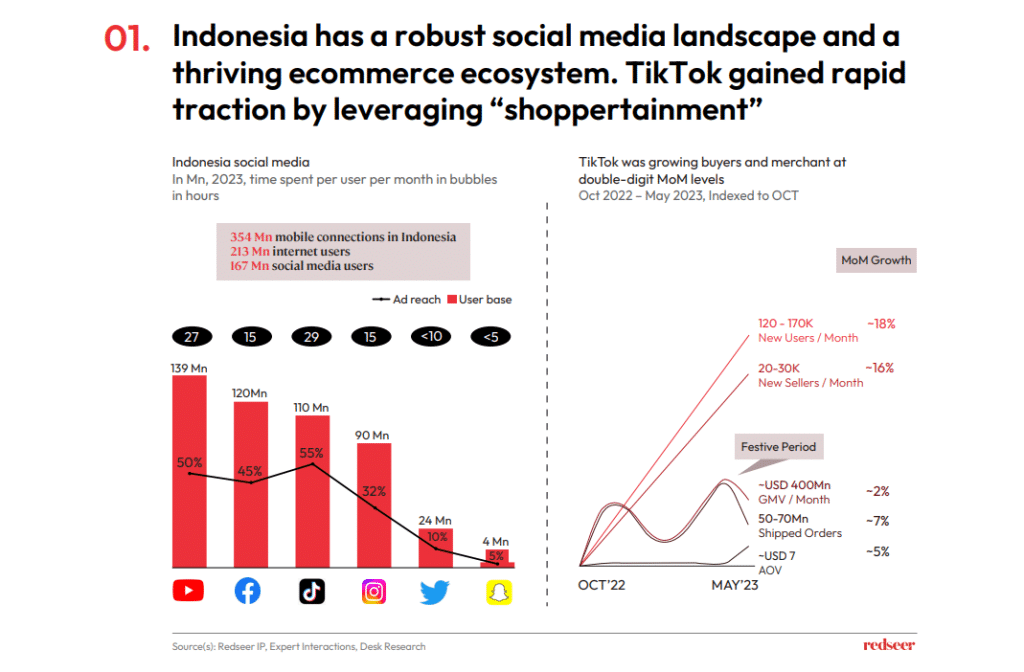 Indonesia has a large and highly engaged social media user base, highlighting the strong preference and affinity towards these platforms – a major positive for digital advertisers.
About 72% of these social media users are active e-commerce users. TikTok's live-commerce format fused the entertainment element of short-form videos with shopping and drove accelerated GMV growth.
TikTok witnessed a jump of ~26% in average time spent per user and is soon expected to take over WhatsApp due to the high demand for short content videos among Indonesians. This affinity for short-form content along with a seamless user journey, allowed it to capture a wide ecommerce customer base as it pursued an aggressive discount-led growth strategy.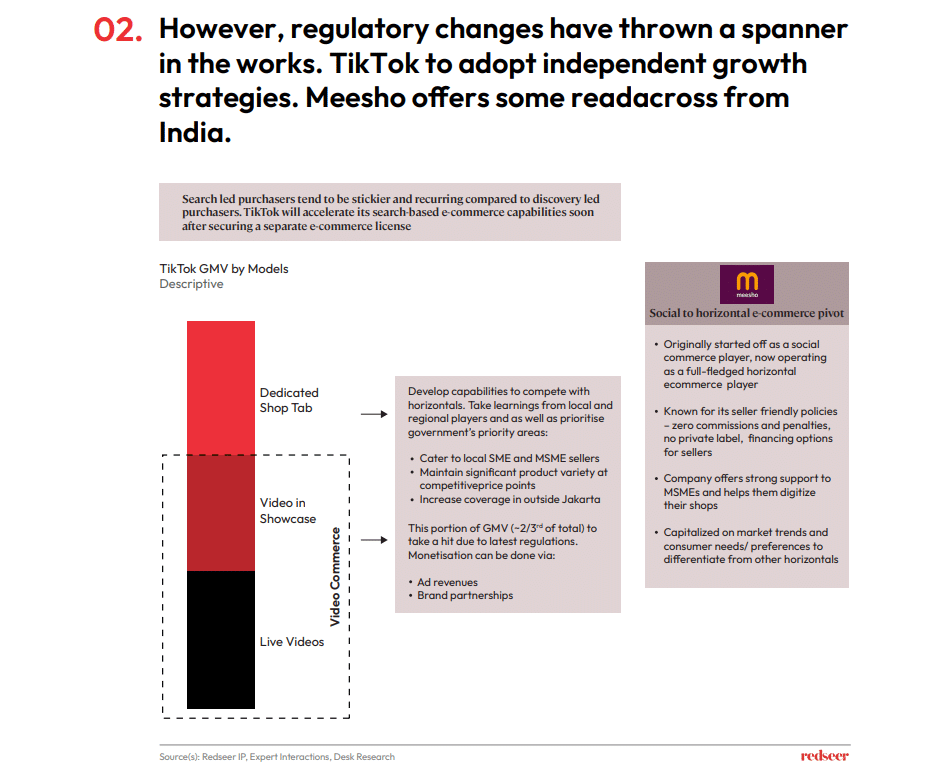 The recent regulatory change bans e-commerce on social media platforms. Further, it requires e-commerce platforms to set a minimum price of $100 for specific items directly purchased from abroad. These changes are aimed at protecting local retailers. These regulatory changes have forced TikTok to stop its live commerce. TikTok's dedicated shop tab and video commerce used to work in tandem. Video used to feed customers to the shop tab. Now it will have to run the shop tab independently, like other horizontal e-commerce players.
However, to differentiate itself from its incumbent peers, TikTok will have to sustain the appeal of its unique product portfolio at attractive price points.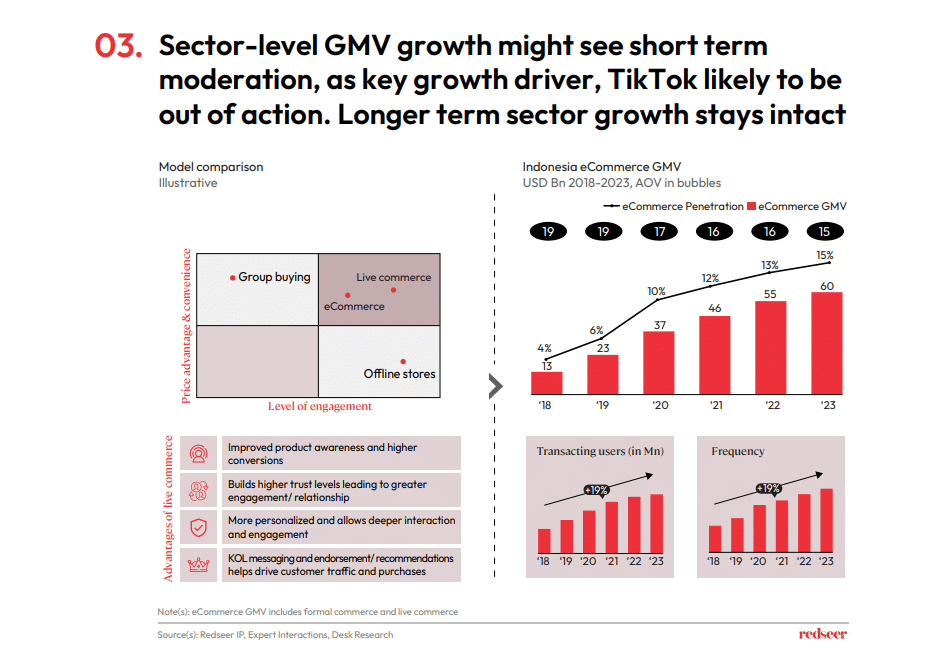 The sector-level short-term GMV growth could be slower than in recent quarters. However, the structural uptrend remains unchanged.
While horizontal incumbents are less pressed to respond to TikTok's aggressive GMV share gains, they are unlikely to miss the opportunity to prepare for TikTok's likely re-entry, after securing a license.
We expect 2023 GMV to be slightly lower than our current estimates reflecting a low live-commerce contribution in 4QCY2023.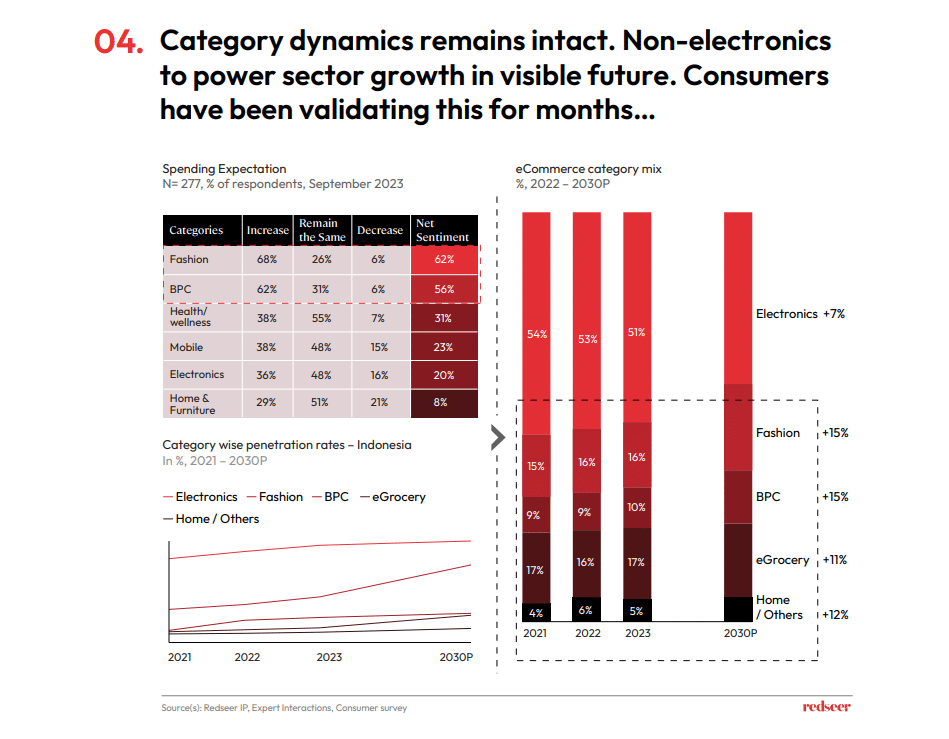 Consumers category preferences are evolving, and we see high willingness to spend online on fashion and BPC categories. Further, product quality is the prime reason, when shopping for BPC, health and wellness and home categories.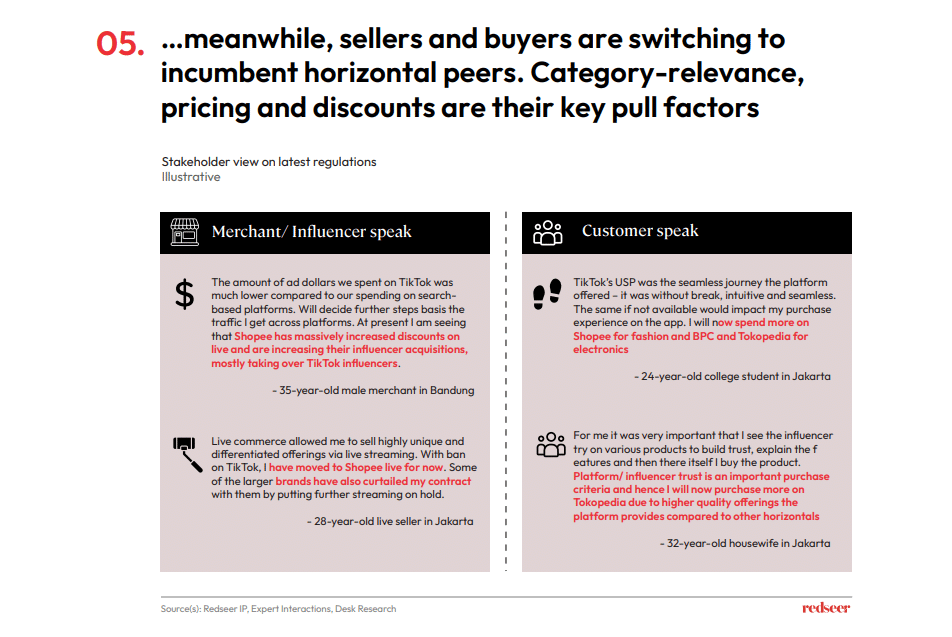 In general, the sentiment of merchants and customers was positive towards TikTok because of the lower take rates and the high discounts the platform had to offer. It enabled TikTok to create a strong brand equity for the platform within a short span of time. Going forward, discounts, reach and other offerings from incumbents will determine customer as well as merchant loyalty towards the platform.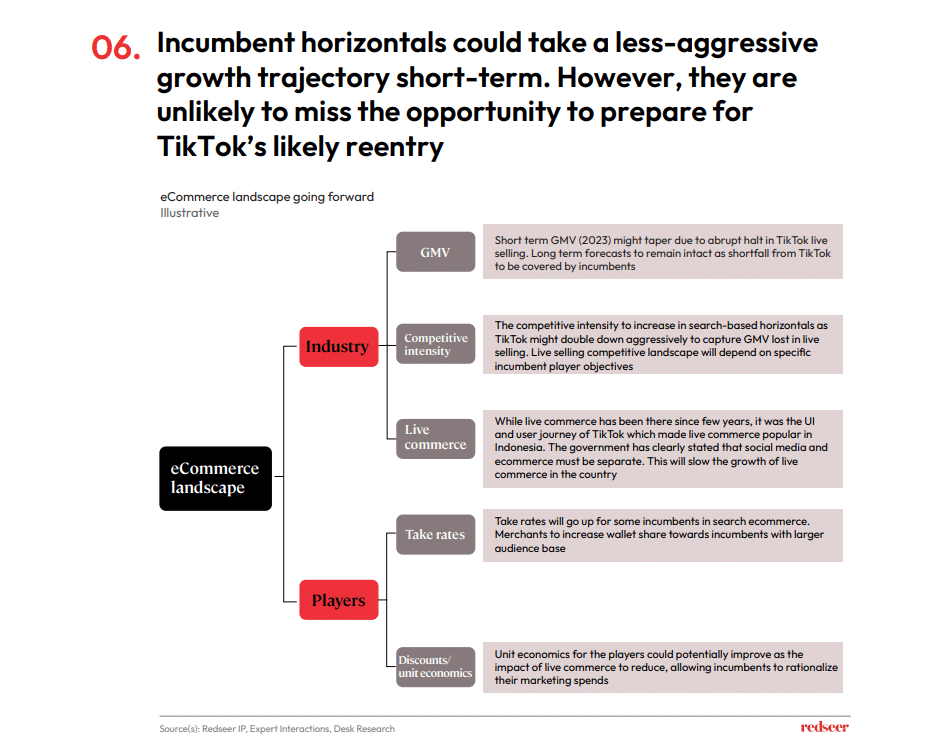 The regulatory changes benefit incumbents in the short term due to a higher wallet share from merchants and consumers. Further, lower competitive intensity could help their unit economics
Taking a wider view, we believe Indonesia's regulatory intervention could be of interest to its neighbouring Southeast Asian countries. The core aim of the regulation, to protect millions of domestic offline merchants, mostly SMEs and MSMEs, could resonate with other governments and regulators too. Hence, there is a possibility of other Southeast Asian countries exploring similar options.