Logistics is driving eCommerce in GCC; the two key sectors of Etail and online food deliveries stand at ~$11 Bn, expected to grow ~3X in next five years
Published on: Sep 2019
Etail and online food are the two biggest sectors where deliveries are playing a critical role.
E-tail is currently observing a run rate of $8 Bn per annum in GCC, driven by the two key players Amazon and Noon. Electronics is the biggest category with ~65% share, however, its share is dropping. Fashion and Grocery are the biggest gainers and together represent 27-30% share currently.
Online food deliveries in UAE and KSA has touched ~$1 Bn each. Talabat and Zomato (part of Delivery Hero) are driving the market in UAE, together representing ~70% share; while in KSA, HungerStation (part of Delivery Hero) is the leader with 70%+ share of the market. Kuwait, with market size of $500 Mn+, is the third biggest country in the region, which in combination with Oman and Bahrain stands at ~$1 Bn in size.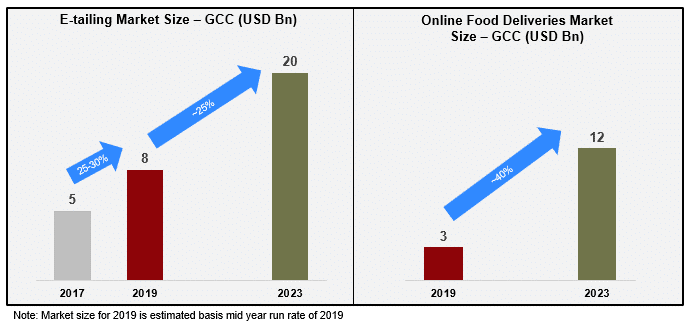 ---
Logistics sector supporting the online deliveries in GCC is ~$1.4 Bn in size, expected to grow ~2.5X in next five years
Deliveries globally represent 7-10% of the etail value chain, however, in GCC this share is higher at ~10% as the market is fragmented and volume level efficiencies are yet to be achieved. Large e-tail players Amazon and Noon are investing heavily in building the logistics supply chain network and thereby save costs. Together the two players are currently capturing ~35% of the market.
Online food deliveries, which are dependent on hyperlocal deliveries, share ~20% of its GMV with logistics players. This share in comparison to India is 22-25%, primarily because the average order value in India is ~1/4th compared to GCC.
Together with online deliveries represent a market of ~$1.4 Bn in GCC, expected to grow ~2.5X to ~$3.5 Bn in next 5 years.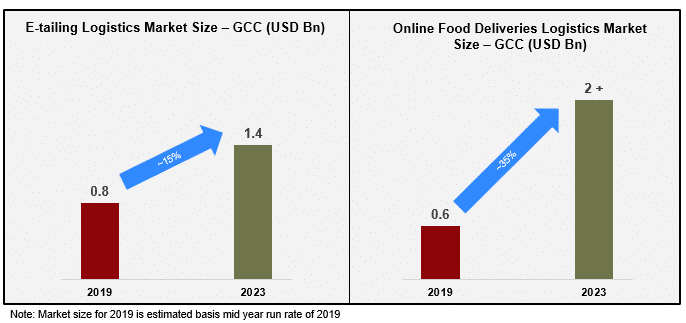 ---
Sector neutral players are helping improve unit economics of online deliveries in the region
On average, a delivery executive can make 15-18 deliveries in a day. However, the performance observed in the region is only 10-12 deliveries per day. E-tail delivery executives generally cover longer distances. This coupled with a high number of cash transactions result in lower capacity utilization. Online food deliveries, on the other hand, observe its ~70% of daily demand coming during ~6 hrs of peak time (lunch and dinner), resulting in under utilization of its delivery executives.
The emergence of sector-neutral delivery players, such as Quiqup, One Click, Transcorp and Jeebly, in the region have helped in solving this problem by handling food orders during peak time and e-tail last-mile deliveries during the remaining time of the day. There are examples of players achieving 25-30 deliveries per executive per day when delivery radius was reduced to 2Km, observed constant demand and reduced cash handling.