1. The Fashion market is growing at a CAGR of 11% with online fashion growing the fastest, at a CAGR of ~32%
Published on: Nov 2019
Consumers across India have been gradually veering towards organized and online retail. Organized retail has been driven by the wide network of stores of brands across the country. This consumer preference will be triggered furthermore in the coming years by the increasing presence of brand stores in malls across quality real estate. Some of the preferred retail outlets are Large Format Stores such as Lifestyle, Shoppers Stop, Central, Reliance Trends across the country whose merchandise, and store experience drive numerous customers to adopt the organized retail experience.
Interestingly customers in tier 2 cities have also been a part of this movement with investor funded value formats like V-Mart, V2 Retail, 1 India Mart bringing high-end fashion to the hinterlands of India.
A sizeable niche of customers has also adopted online channels, and this is driven by access to numerous big Indian and international brands. Some international brands are exclusively available online, owing to their tie-ups with online channels, giving customers an added reason for moving to E-commerce channels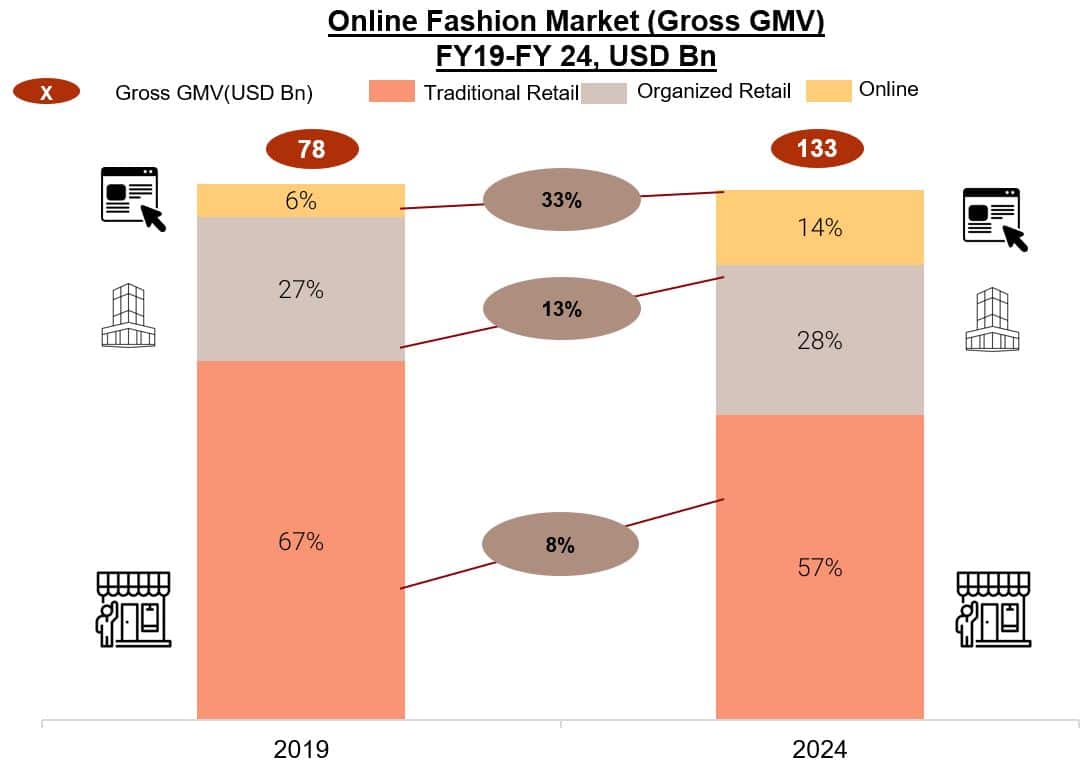 ---
2. Consumers tend to buy apparel the most from online channels, in the case of fashion categories, followed by footwear and accessories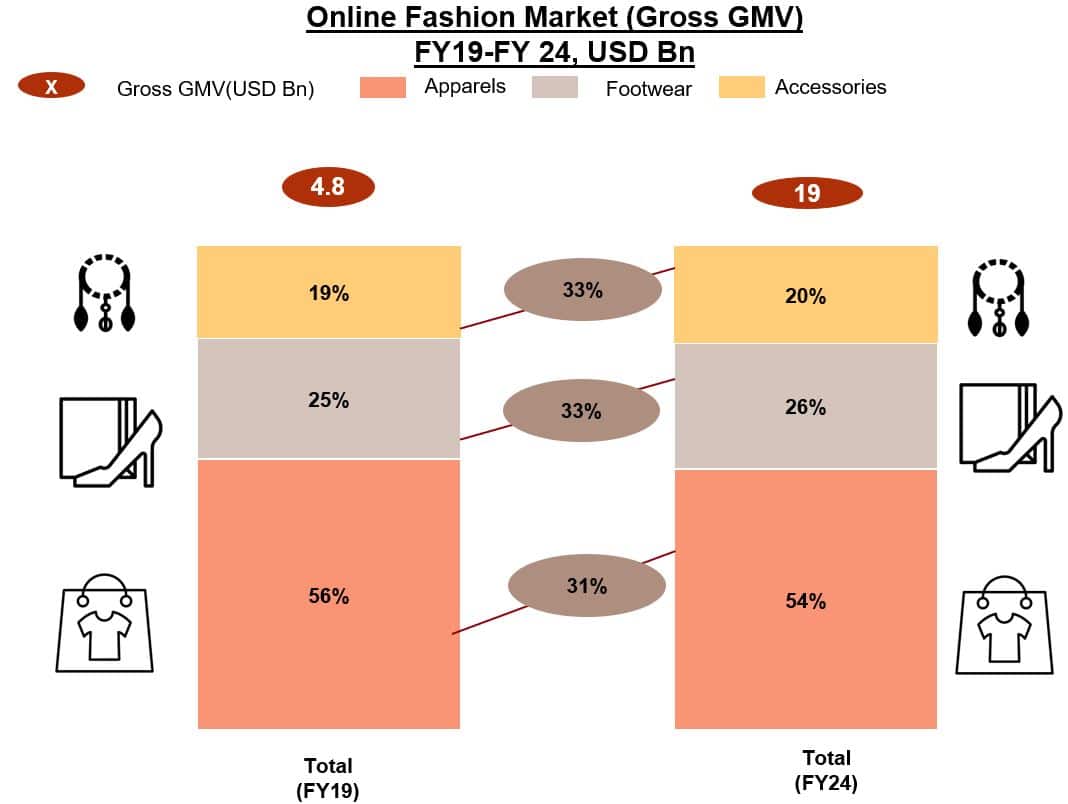 Customers are largely attracted towards apparel in online channels buying from both well-known brands and private labels of marketplaces. The private label brands have been providing an opportunity to make fashion more affordable to the masses and these changes in pricing are driving more customers to these platforms like Myntra, Jabong, Ajio and Limeroad. Convenience and variety are other main factors driving customers to these channels. Another big luring factor has been the event marketing initiatives of online retailers, providing attractive offers to customers around festivals and other major occasions.
---
3. Western wear is the most favoured category in apparel with men buyers driving more than 60% of the purchases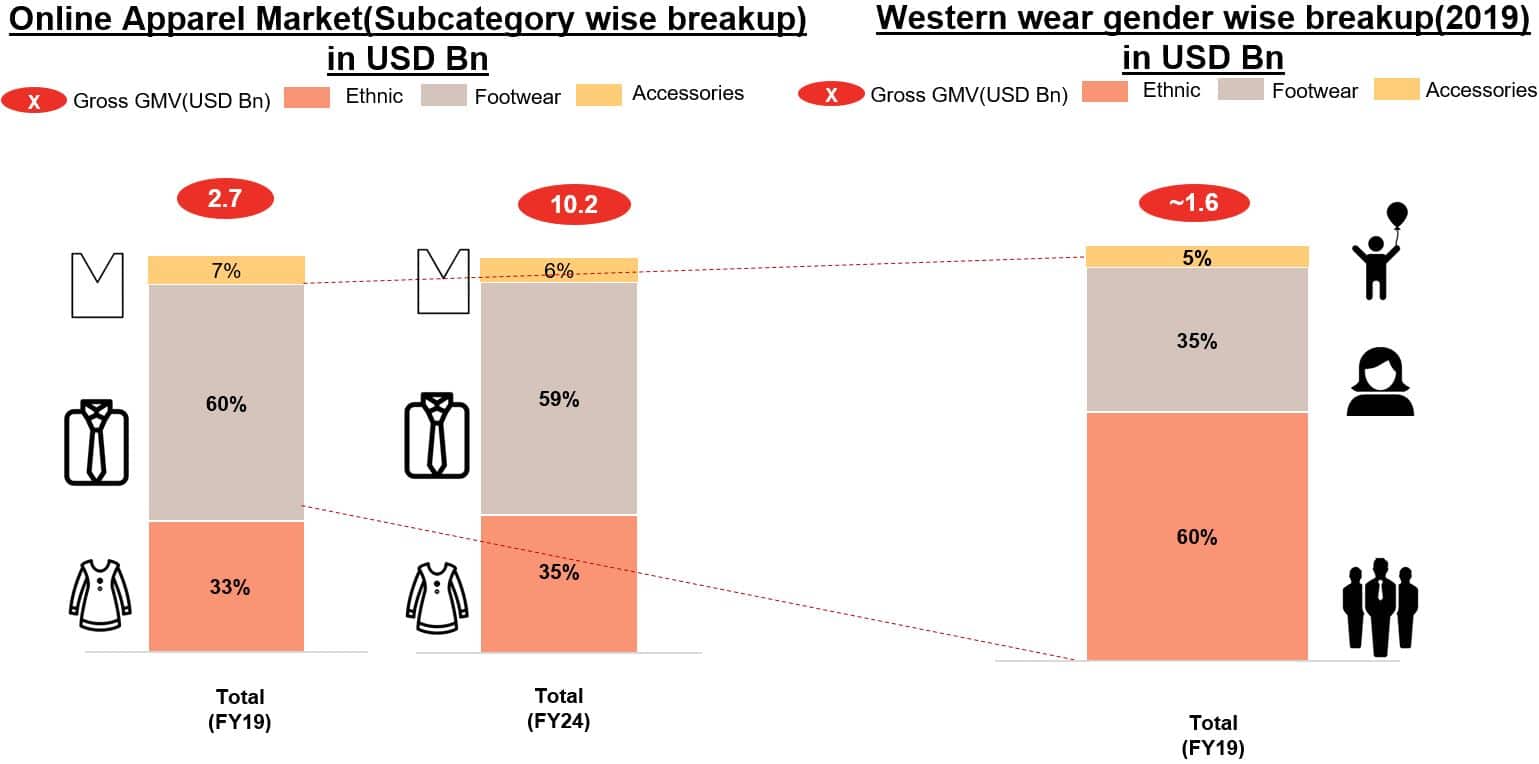 Western wear sales are largely attributed to the increase in knowledge of customers through social media and an increasing shift towards global trends. Additionally, aspirational customers across city tiers can access well-known brands, which is a large growth factor in tier 2 cities. The purchasing power of customers and access to the right demographic have also been influencing this change. The increasing interest of global brands like H&M to proliferate operations across various Indian cities reflects this changing consumer trend that is likewise mirrored in online transactions
---
4. Footwear and Accessories are expected to grow in online channels at a CAGR of 33% which is largely attributed to consumer aspirations and access to a larger variety of choices
The online penetration of footwear is highest amongst the lifestyle category, which is driven by increasing adoption of the online platform by footwear brands particularly sports brands. Some of the sports brands have also launched a separate line of product for the online channel. Additionally, the online platform is also gaining prominence with increasing adoption of private labels and exclusive partnership with international brands by leading online retailers in the country.
Accessories, on the other hand, was earlier considered a complimentary category to apparel but has emerged as a mainstream category on its own and thus is showing significant growth. Moreover, there is increasing focus on accessories from apparel brands to cater to need-based demand of diverse consumer base. In this regard, handbags market has witnessed major movements with an expansion of both domestic-based brands such as Hidesign, Da Milano, Lavie etc. and international brands like Michael Kors, Burberry etc.