Shark Tank has been a successful business reality series and has managed to capture the imagination of followers across class and ages. While the show is entertainment for most of the viewers, for budding entrepreneurs, it's a master class in pitching and business negotiation. For the investors and startup owners on the show, it's an opportunity for mutual growth. Although many entrepreneurs walk away without a deal, most businesses that get their fifteen minutes of fame still stand a chance at securing great deals elsewhere.
In this article, we break down the numbers from the first 2 seasons of Shark Tank India to reveal how the startups and investors fared during and after the show.
1. Just like the larger world, the Shark Tank microcosm included pitchers graduated from top-tier colleges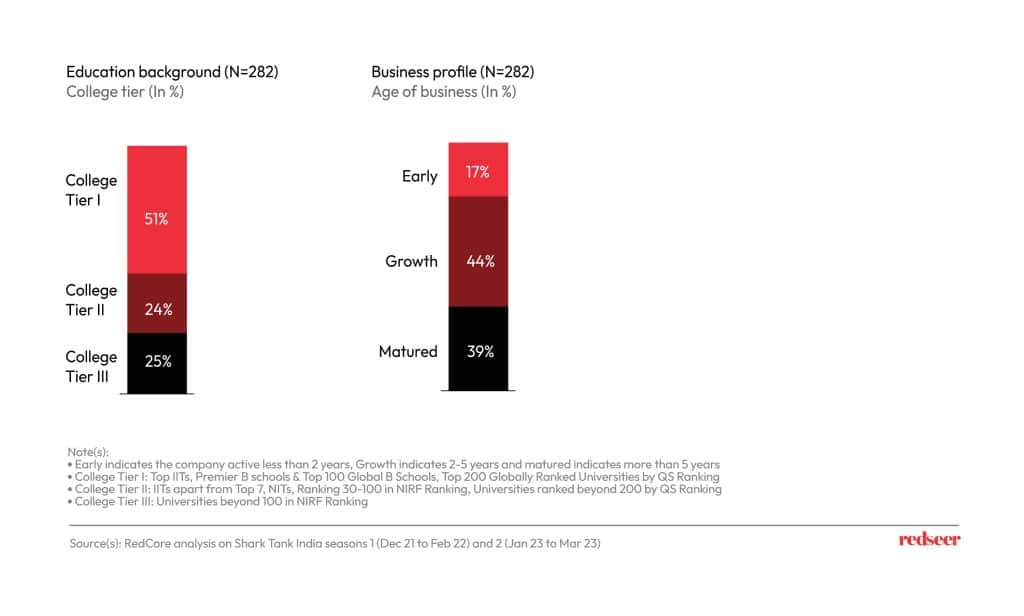 More than half of the entrepreneurs are graduates from Tier 1 colleges. This reflects some survival bias, and the applicant pool itself is much more diverse. The majority of these businessnes are based out of metro cities. Surprisingly, >80% of these startups have been operational for 2+ years, with almost half of these having been around for more than 5 years.
2. >90% of the pitched ideas centred around consumer-facing concepts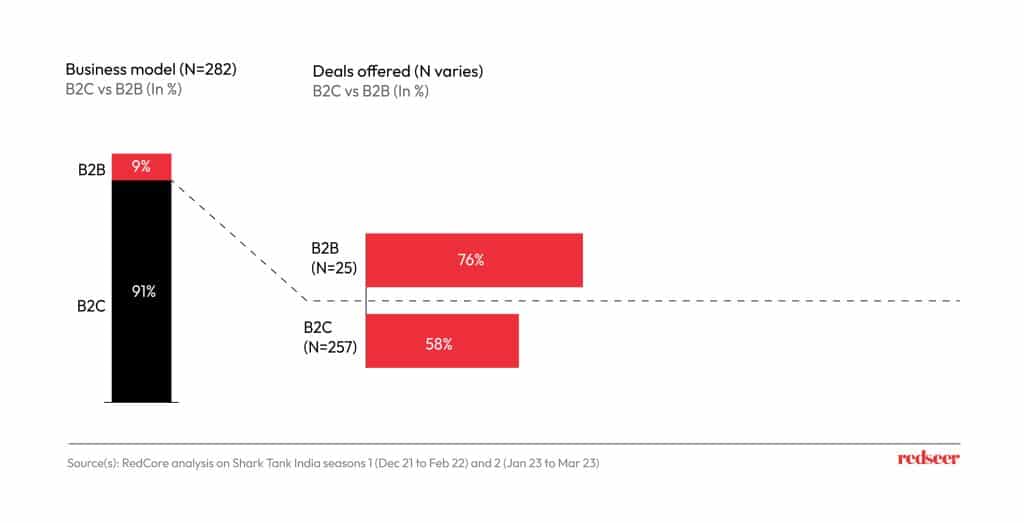 Approximately 90% of the businesses pitched on the show were D2C brands, mostly fashion and F&B categories. Out of the rest that were B2B, 10 brands came from healthcare and manufacturing. With the sharks' background in B2C, and a crowded D2C space, the evaluation was tougher with a 60% success rate. There were multiple similar-looking pitches, with the majorty of them in F&B and fashion.
Majority of the B2B deals were made by Namita & Peyush, having expertise in the healthcare & manufacturing sectors, respectively.
3. The Sharks negotiated well to land better deals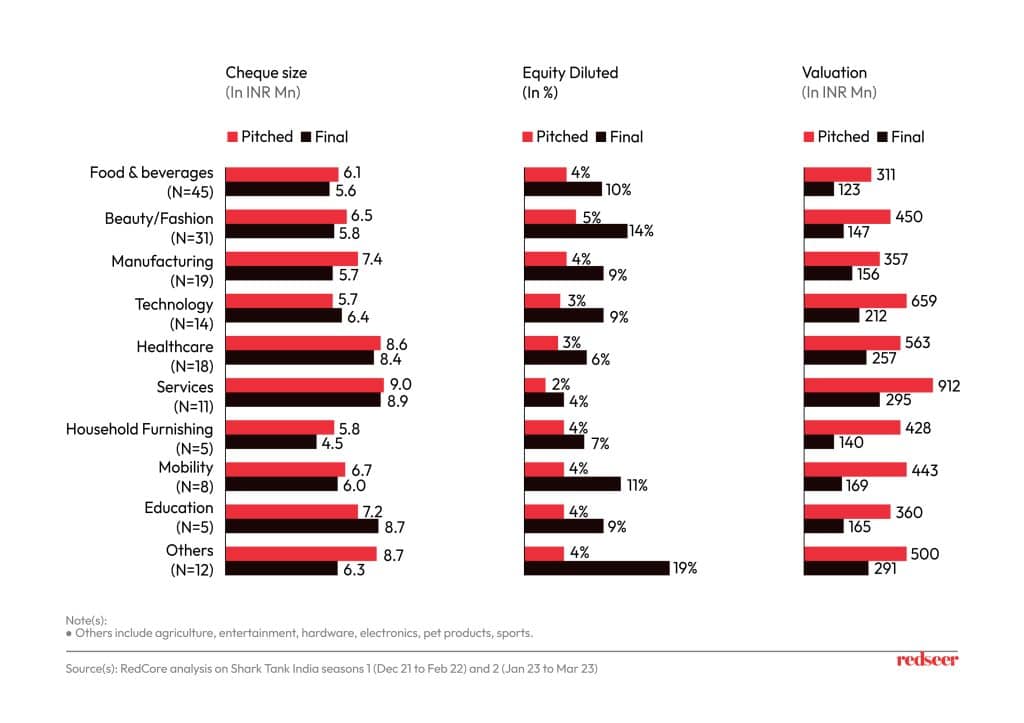 All the sharks put up a tough negotiation on the show and got much better deals than the original ask. Sharks were able to get at least 2X more equity at typically half the valuation. The cheque sizes stayed similar to the original ask (cash is king), averaging around Rs 60 Lakhs. Aman Gupta was the most active shark, with a total of INR 24.6 Cr invested in 70 deals, followed by Peyush Bansal, who had INR 21.5 Cr in 67 deals and Namita Thapar with INR 20.7 Cr in 62 deals.
The sharks went in solo on deals 43% of the time and teamed up with others for the rest. A total of 8 companies across 4 sectors were funded by 5 sharks teaming up on the deals. The overall investment from all 8 sharks that appeared in season 1 & 2 was INR ~106 Cr, and it never happened in the series that all sharks invested in a single business.
4. Success on Shark Tank usually translates into success outside as well as most of Season 1 cohort graduates secured deals from outside investors, typically within a year
After the first season, a total of 27 startups successfully secured funding from external investors. Out of these, 16 startups had already secured a deal on Shark Tank, 6 startups came from the pool that was not offered a deal, and 5 came from a pool whose deal was rejected.
Many startups that bagged an offer on the show went on to secure outside investor deals. Most of these deals were made within a span of 1.5 years, and had a value greater than 6 times their Shark Tank deal. The current valuation of these companies is also ~2.5X greater than their original Shark Tank valuation.