Digitalization in schools and educational institutions has been neglected. But the COVID pandemic the and the home schooling that accompanied it, classes had to go digital. Assignments were emailed, discussions were held via videoconferencing, and completed homework had to be uploaded to a school server. So, digitalization in the classroom had to be done in a rush, which left its mark.
And so, India has come a long way, from the poor economic state post-independence, to becoming an attractive destination for investors today. Through the last several years, there have been numerous structural changes in the economy. Over time, India has emerged to be among the fastest-growing major economies in the world.
1. EdTech players target private schools to digitize the educational infrastructure
Private schools in India make up a third of the total schools and are set to educate more than half of India's children by 2027. Over the years, the more affluent private schools, with higher capacity to pay, have been the first target of EdTech players looking to convert schools to paying customers. However, a clear trend being seen is of players going after the Affordable Private Schools (APSs) – typically, schools with less than ₹2,500 monthly fees.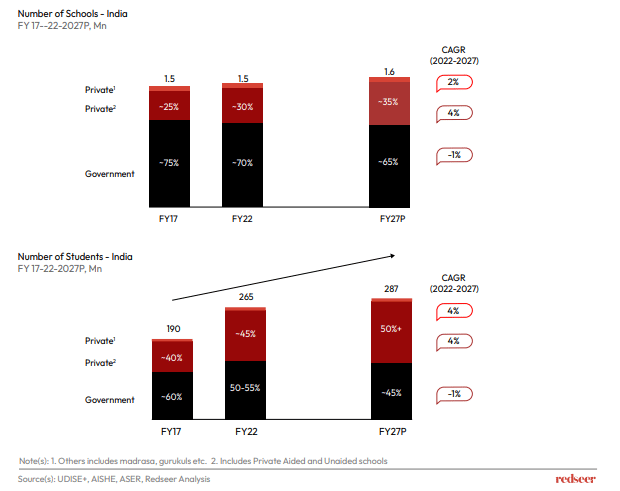 2. Learning Management is a high priority for Affordable Private Schools
As part of a study, over 50 Affordable Private Schools (APS) were interviewed to understand the importance and need for digitization. Learning Management activities' like digital content, live class delivery, and class management came out to be both important as well as in high need of digitization. Communication was identified as the most important need, followed by content and student learning data such as report cards.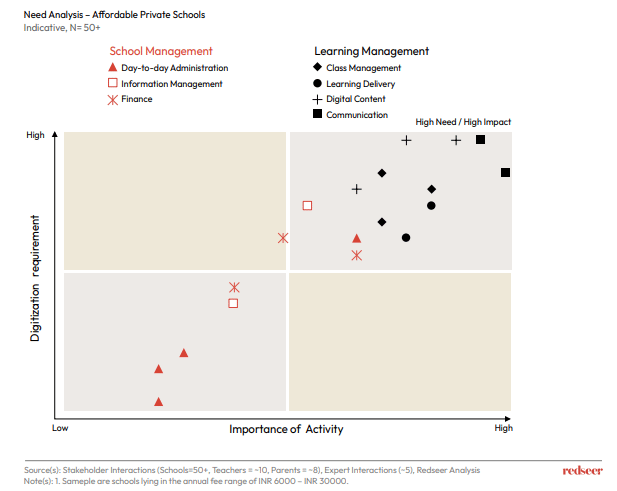 3. Despite lower affordability, players are exploring the less competitive end of the market
High fees schools are more open and willing to pay higher for digital solutions making them an obvious first choice for most EdTech players. Catering to the APSs is a difficult proposition though, and EdTech players are exploring Freemium models that try to monetize their customer base through customization, additional modules, or content.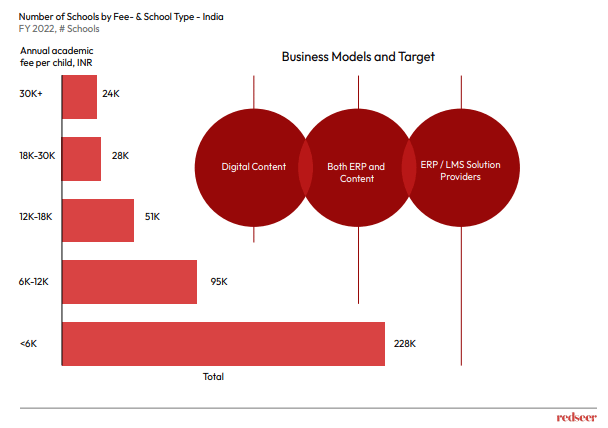 4. School digitization market is growing rapidly and is estimated to grow 20x by FY27
With more schools digitizing over the next five years, the School Digitization market, which is both ERP and content (sold directly to the school or through the school to the parents), is expected to grow around 20x to well over half a Billion USD. This push will take a larger population of children and schools to the next phase of modern education than EdTech has done so far.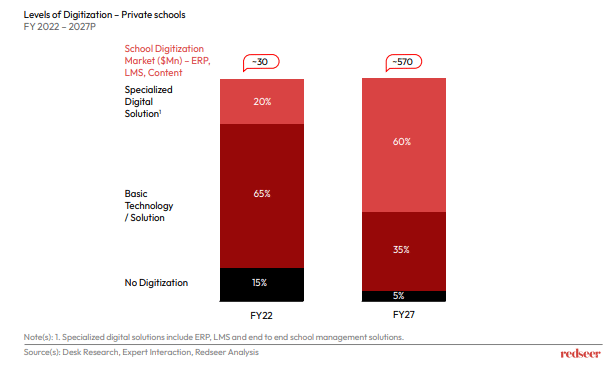 With tailwinds from the National Education Policy, which exhorts the schools to modernize, we will be seeing many more beneficiaries of India's march towards digitization of its education infrastructure. The government has been following up on its vision for digitization with initiatives such as DIKSHA and Samarth. The two-pronged solution of Govt. mandates and Private Innovation will make this growing space one to watch.
India has surpassed the UK and has now become the fifth-largest economy in the world. With the increasing working population and emerging job opportunities, it is rapidly becoming be the world's talent factory with limitless potential across manufacturing and services. This not only positively impacts the economy's overall output but also leads to increasing opportunity, living standards and consumption trends. This is especially significant as India's economy is largely domestic consumption driven. This is why, even as opportunity costs of investing/parking money outside India are distorted in the short-term, India's medium to long-term potential remains extremely attractive for businesses as well as investors.