Created and scaled online, Digital Native Brands (DNBs) have been trending over the last few years. Brands such as Xiaomi, Boat and Mamaearth, well-adapted to the online ecosystem, have ridden the explosive growth in eCommerce to become household names. As online sales increase across categories, so will the power and share of digital brands. How are traditional brands meeting this challenge and leveraging the opportunity that comes with it?
Here's a breakdown on the subject to examine how the online retail market is expected to grow over the coming years and the strategies traditional brands can employ to stay competitive and relevant. 
1. Online market to witness 3X growth as the overall retail market
The Indian online retail market has continued to grow with a spurt during the COVID-19 pandemic. eCommerce surge accelerated the digital transformation of existing brands and solidified the dominance of pioneers in the online space. With a continued increase in online shoppers and sellers, our estimates show online retail marketplace is set to grow at 27% over the next 4 years, 3X the growth in overall retail market growth.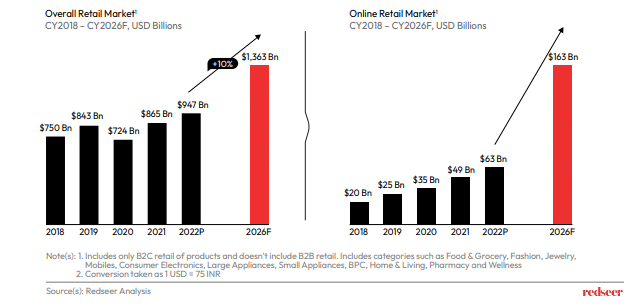 2. Digital Leadership is becoming critical for brands
We expect that by 2026, online sales will account for over 25% of sales across all major categories, except for food & groceries. This means that online share will have a substantial impact on overall market share in categories such as mobiles, electronics, appliances, fashion, and home & living. However, online is a different ballgame played by different rules and DNBs today account for 40% of total online sales. Additionally, DNBs have continued to increase their share in eCommerce over the last few years. This will put pressure on traditional brands.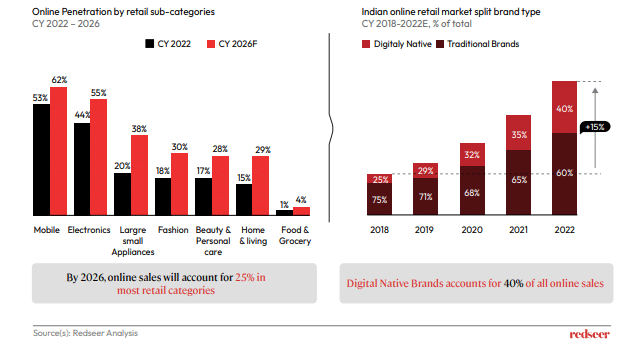 3. DNBs are market leaders in consumer electronics
About 50% of consumer electronics are currently sold online. Our research shows that digital native brands have a very high share of sales in this category, and they are not just digital leaders but are also leading the overall market. Xiaomi is the leading smart TV brand in the country, while all three top brands in the wearable category are DNBs. Clearly, as the share of online sales for a category grows, digital brands start gaining a higher share of the market. It is likely that categories such as Fashion and FMCG will see a similar trend as more consumers shift to online shopping. This puts pressure on traditional companies to up their game in ecommerce in a limited window of opportunity over the next 2 years.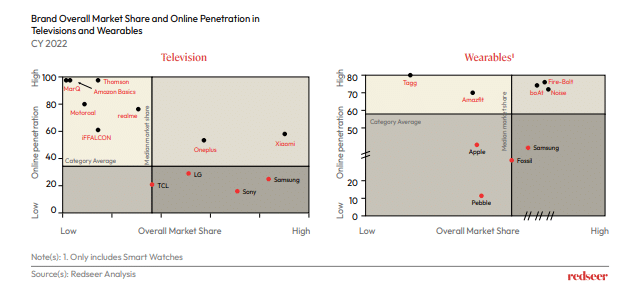 4. Traditional brands are preparing to take the battle online with DNBs, particularly in FMCG and fashion
We evaluated various traditional players on our eCommerce excellence framework and found that it is harder for them to use the same brand for offline and online sales. A widely used strategy has been to acquire or launch their digital brands. Many retail market incumbents have continued to push their existing brands, strengthened their D2C capabilities, and optimized their operations to step up their online strategy.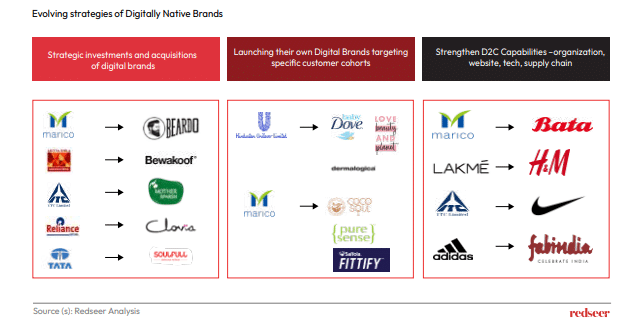 5. Structural challenges often keep traditional brands trailing DNBs
The key differentiator between DNBs and traditional brands is that DNBs are lean marketing organizations that have evolved to adapt their entire marketing mix to the online ecosystem. Large retail brands have lesser agility in comparison, and online sales are only a small aspect of their entire business.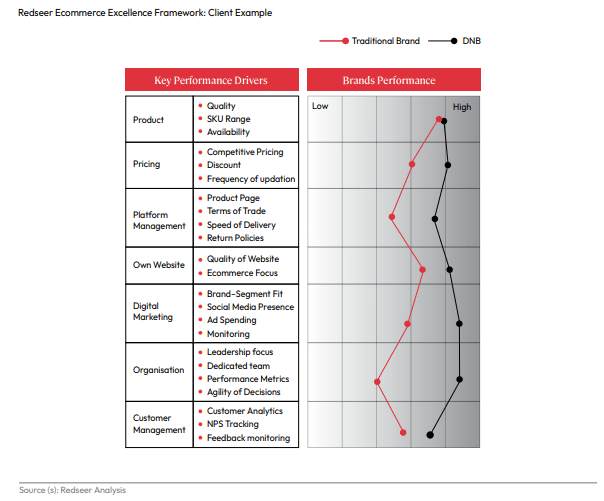 Traditional players need to substantially enhance their eCommerce play. They have a broad customer base and high brand recall. This needs to be leveraged and realigned to cater to specific audience niches, such as Gen-Z and Millennials, who constitute the majority of online consumers. By working on key performance drivers, traditional brands can close the gap with their digital counterparts.