In Vietnam, Micro, Small, and Medium Enterprises (MSMEs) underpin the retail economy, catering to 80% of all consumer purchases. With the government's active support in digitizing the market, this newsletter explores the opportunities within Vietnam's MSME digital transformation.
1. Adoption of digital economy has been rising rapidly across Vietnam, especially in e-commerce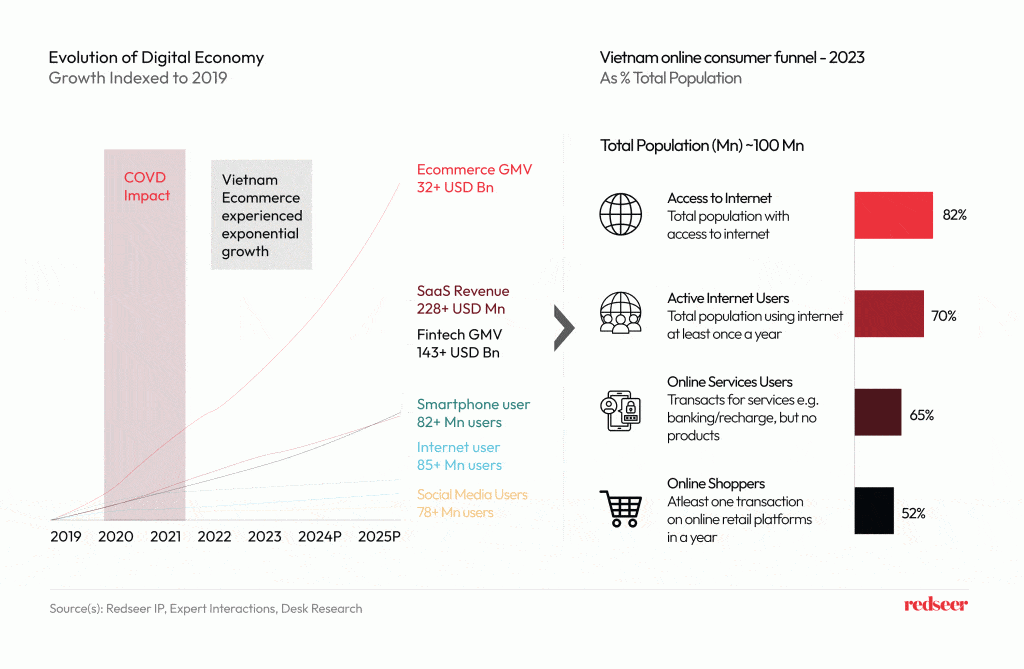 The country is experiencing robust growth in the digital economy, especially in the e-Commerce sector which with an impressive 36% CAGR—outpaced the Southeast Asia average. The overall growth in the digital funnel also boosted prospects for sectors such as Fintech and SaaS, both showcasing double-digit growth.
2. The Vietnamese market remains dominated by MSMEs while industry, retail & manufacturing contribute to a bulk of enterprises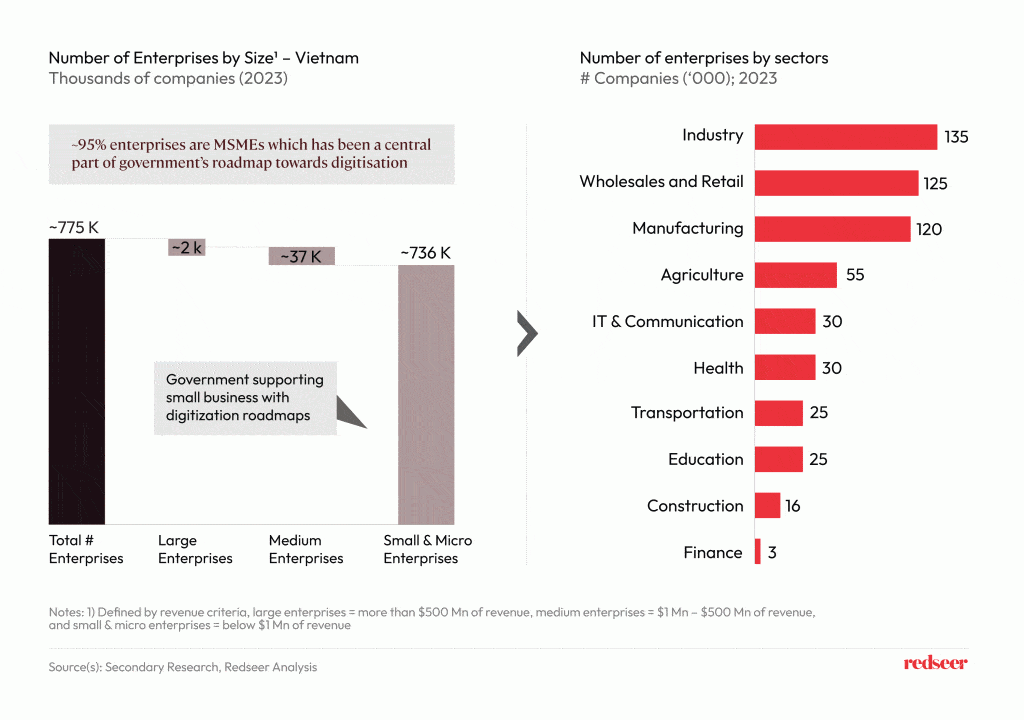 Approximately 95% of Vietnamese businesses are MSMEs. The government is offering these entities support in their digital transformation by providing specialized roadmaps within the national transformation plan, all to bolster the digital economy.
3. Vietnam government plans to further accelerate digital economy by targeting 30% GDP contribution from it by deploying a digital transformation plan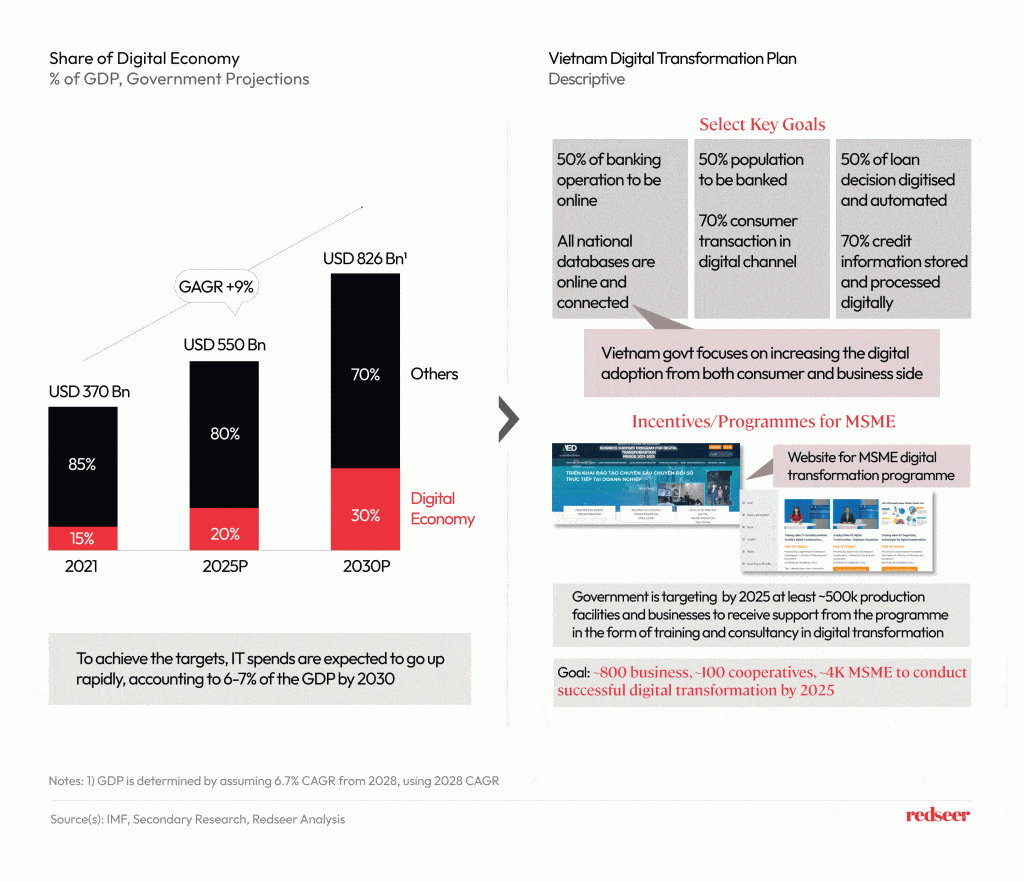 The government is furthering efforts to amplify the digital economy's share, targeting a 30% GDP contribution by 2030. This goal is being pursued through the 2021-2025 digital transformation plan, which aims to enhance digital adoption in banking, online transactions, and information accessibility for consumers. On the business side, specific incentives and programs are being designed to aid MSMEs in their digital transition, providing training and consultancy services.
4. Vietnam digitalisation efforts has fuelled the startup scene; many players are operating in MSME space helping the digitization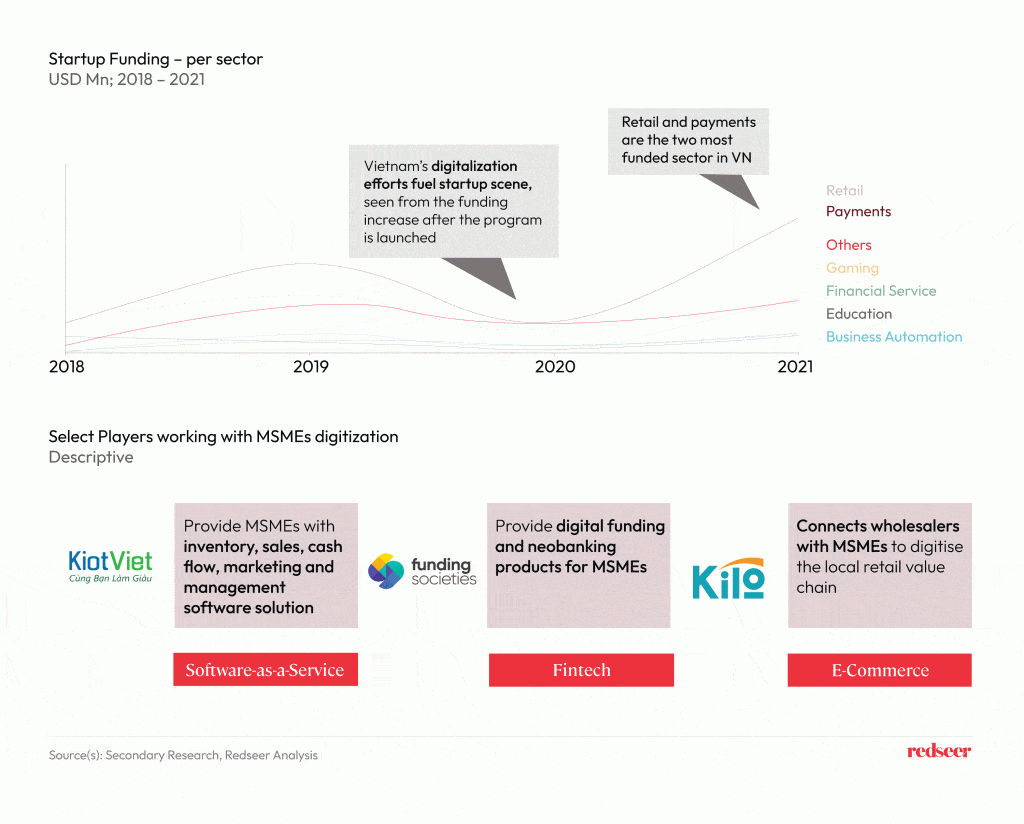 Vietnam's tech startups are capitalizing on the country's objective to become a fully digital society by 2030. Notably, the funding landscape has experienced substantial growth following the 2020 announcement of the national transformation plan, with the retail and payments sectors receiving the highest funding. To tap into the vast MSME market in Vietnam, numerous startups are providing solutions to expedite digitalization.