Blockchain's hype led to several innovations in this space as designers and developers flock to make an impact. Nine of the ten investors we met last quarter are closely tracking the Web3/Metaverse-related developments. However, a consensus on what the eventual winners could look like is yet to emerge. While the gates are wide open for unpredictable use cases, we'll try to predict some. 
Here's a deeper insight into the Web3 and Metaverse opportunity.
1. The thought and application of Web3 is still being explored with the industry currently facing a trough phase before stabilization occurs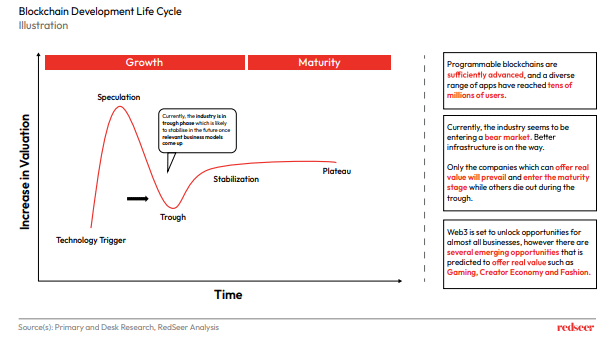 Programmable blockchains are sufficiently advanced, and a diverse range of apps have reached tens of millions of users.
The industry is currently going through a trough phase, and likely to stabilise once relevant business models come up.
While Web3 is still conceptual, the applications and thoughts of its technology are being explored heavily. Some emerging opportunities in this space offer real value and profitability, such as Gaming, Creator Economy and Fashion.
2. There has been more diversified investments in the metaverse segment with focus shifting from purely gaming to other use cases…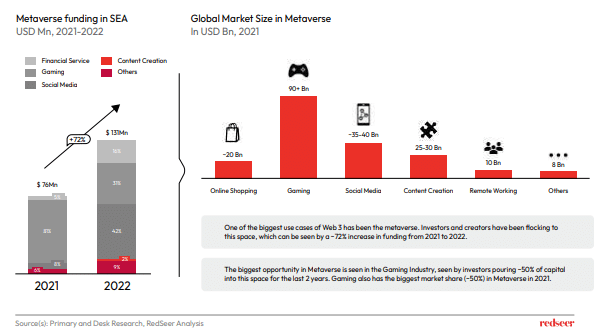 These emerging opportunities are evident by the increasing amount of investor putting in capital into the space.
One of the biggest use cases of Web 3 has been the metaverse. Investors and creators have been flocking to this space, which can be seen by a ~72% increase in funding from 2021 to 2022. For the last two years we see major capital in SEA poured into Gaming, however other sectors such as Social Media, Retail or Financial Service has recently captured the interest of investors as well. We can also see that the Global Market for Metaverse is quite big following the rapid adoption of the platform with Gaming, Online Shopping and Social Media as its highest use case.
3. …such as Metaverse in retail; a growing segment within the overall metaverse segment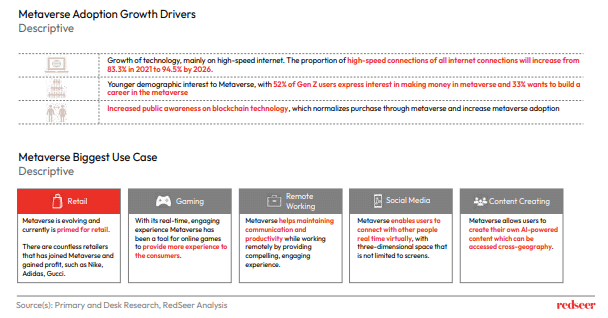 The rapid adoption of Metaverse is driven by multiple reason:
a) Growth of Technology, especially on high-speed internet.
b) Increased interest from younger demographic
c) Increased public awareness on blockchain technology which normalizes the purchasing behaviour in Metaverse
Because of these reasons, retail has emerged as a high potential segment within the metaverse as it serves a direct way to engage with consumers without limiting to a single category.
4. Retailing in Metaverse has started to develop new consumer experiences garnering broader audience (1/2)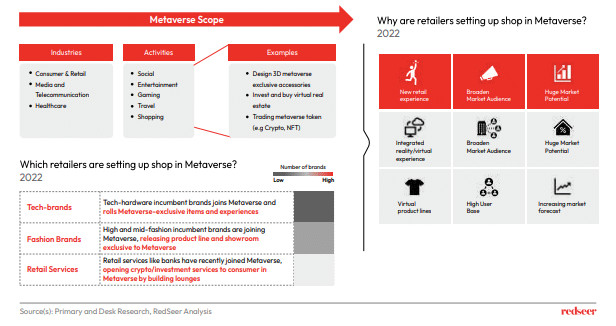 In the retail sector, industries most likely to be impacted in the long run are: consumer and retail, media and telecommunications, and healthcare.
5. Retailing in Metaverse has started to develop new consumer experiences garnering broader audience (2/2)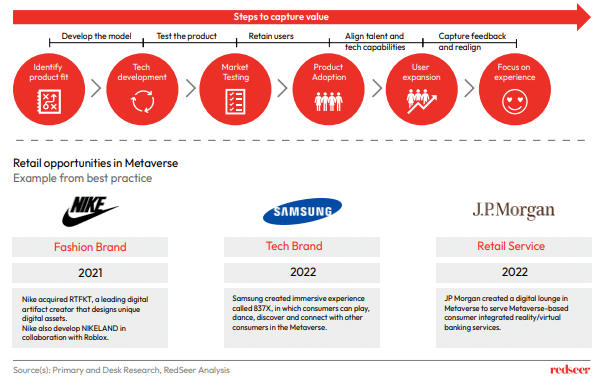 There are five steps to capture the value:
a) Develop and strategise the model of the product
b) Test and ensure product fit to the market
c) Retain regular users
d) Align the needed talents and tech capabilities for expansion
e) Capture feedback from users and realign
There are major opportunities in the metaverse segment. Large brands like Nike, Samsung and JP and retailers to this space.