As Covid restrictions are being lifted, the Indian overseas education market is experiencing a rapid revival and is forecasted to surpass its 2019 high. A student-friendly visa regime in Anglophile countries, along with an increased awareness of studying abroad even among students of tier two cities, are likely to drive the market forward. In this week's newsletter, Abhishek Gupta and his team present a post-pandemic view of India's overseas education sector.
1. Nearly ~10Mn addressable students make a decision about higher education each year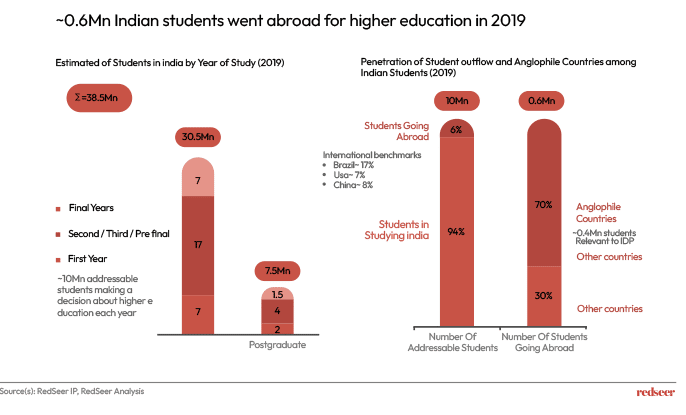 Players in the overseas education sector can expect to see steady growth as macro conditions in India inch back to normalcy. With most countries opening up their borders with favorable immigration policies, the number of Indian students going abroad for higher education is expected to surpass the 2019 high of 6% or ~0.6 Mn.
2. While the majority of students are undergraduates, outgoing international students largely choose postgraduate courses
Postgraduate students make up 20% of the 10Mn addressable market, while undergraduates constitute 80%. However, undergraduates do not for the most part choose overseas education. This trend could be largely driven by parental discomfort to allowing children away from home "too young". On the other hand, postgraduate decisions are frequently self-motivated and include limited decision-making by family members.
3. As the sector continues to grow, English tests and student counseling will be the main revenue source for market leaders…70% of the students going abroad opt for anglophile countries, making the English test market a high-volume business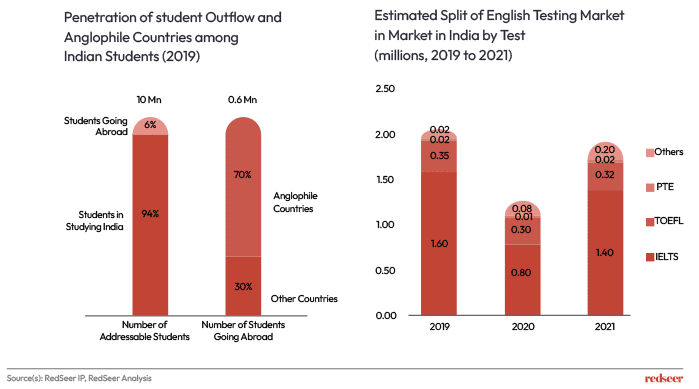 Even in a Covid-year, the English testing market proved to be largely "price-inelastic", witnessing a mere ~14% dip in volume. IELTS continues to hold sway and will do so over the next 3-5 years, while TOEFL is a close contender. The counselor's role is also evolving as students have plenty of access to information and seek counselors to provide them with a personalized experience.
4. Another sub-segment of the overseas education market that has a lot of potential is the student placement market, which has been reinventing itself to ride the digitization wave
The student placement sector has been holding fort even under pessimistic scenarios and fluctuating market trends. The popularity of digital channels has increased as a result of Covid lockdowns, which furthered the cause of all things digital. Today, digitally native students – even in Tier 2+ towns – are increasingly finding their information online. Far from considering tech-based disruption a threat, placement agencies would stand to gain by grabbing the opportunity to digitize the counseling experience.
5. There will be greater interest in virtual counseling and the counselor's role will evolve in keeping with the increased digitization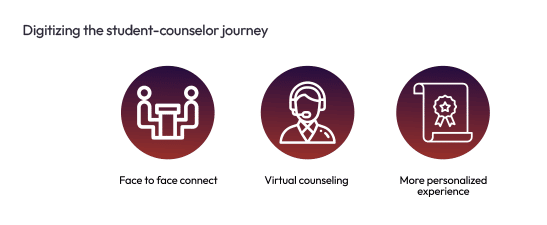 The counselor-student journey lasts 3-9 months, and it is important to provide students with consistent, high-quality engagement to remain relevant. With students having plenty of access to information online, they will look to counselors for personalized experiences rather than just information. Increasingly, as students begin to find themselves comfortable with the virtual mode after the first f2f (face to face) connect, the potential for virtual counseling will increase.
The quality of education plays a key role in determining the life that one will build for themselves. For many Indians, studying abroad is an aspiration as it provides better scope, opportunities leading to a better quality of life. Today, we can see that the Overseas Education Market is thriving and ripe for the picking!