Mar, 2020
| By Abhishek Chauhan, Anand Vardhan Verma, and Abhinav Sharma
Indian Fintech – Still A Cub But Roaring Like A Tiger!
Indian Fintech industry is on an exciting trajectory with Indian consumers adopting the various fintech offerings like never before. However, it will be interesting to see which fintech models sustain in the long run. Integrated fintech business models will certainly have an edge, as also proven globally..
---
Indian Fintech – Still A Cub but Roaring Like A Tiger!
Banking and financial services are the backbone of any economy. Merging it with technology led to the genesis of Fintech with the aim of creating a intuitive, seamless and user friendly experience in the BFSI space.
Over last few years, Fintech has led to a paradigm shift in how we pay, how we borrow, how we invest and how we insure. With the bedrock of advanced technologies such as AI/ML & blockchain, Fintech has emerged as one of the key drivers of India's digital growth story. It is changing the financial demographics of India by bringing banking & financial services to each and every home. As it grows at an electric pace, it promises to transform the lives of common people by serving the underserved as well as underprivileged and bringing them into the mainstream economy.
Last few decades saw the metamorphosis of money from cash to plastic. Going forward, Fintech is recasting plastic to mobile, and wallets to digital wallets and far more.
While digital payments have made lives easy through cashless transactions, digital lending has made it possible to finance credit seekers within hours, who otherwise, couldn't find avenues for loan. Similarly, Insurtech is changing the insurance landscape by offering digital policies over mobile, while neo-banks have taken banks to places where traditional banks have no reach. Below is the illustration of some of the major Fintech segments influencing our day to day activities.
Figure1: Indian Fintech Market Structure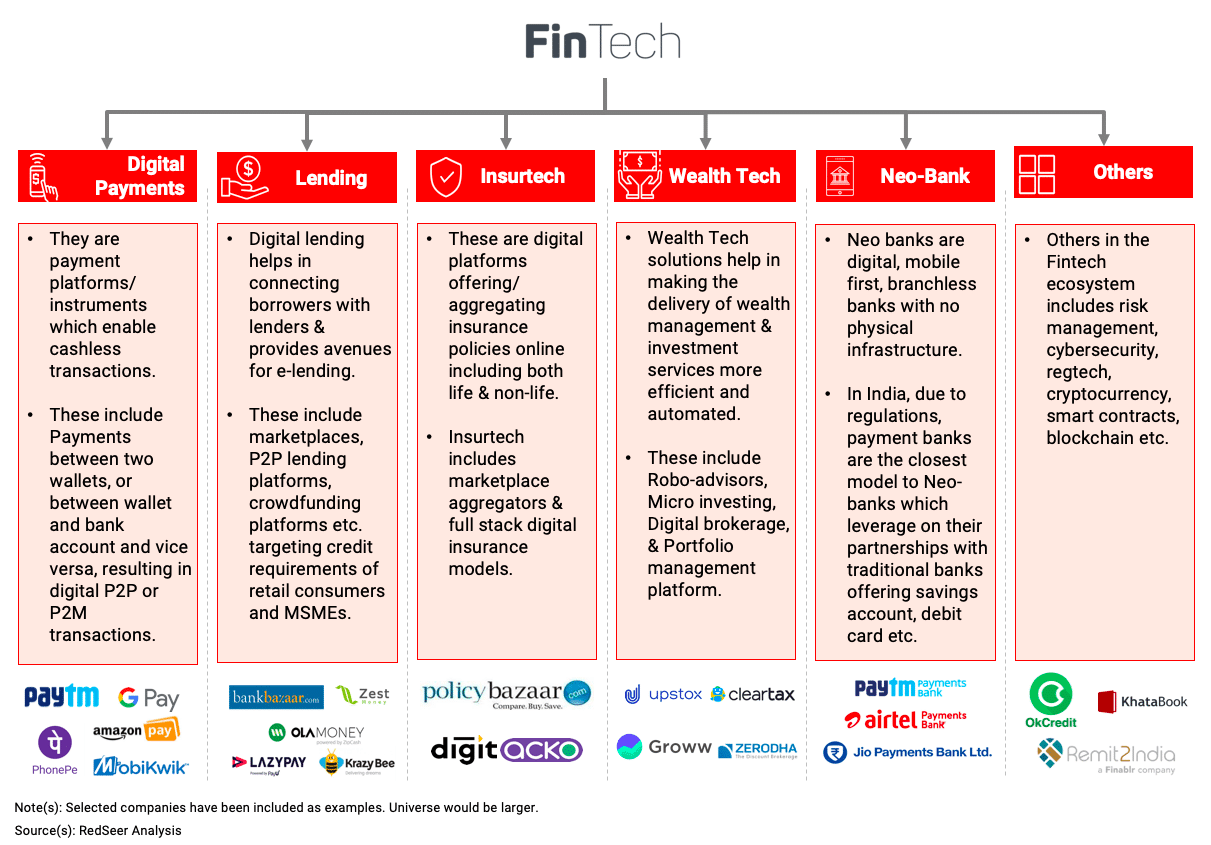 The Indian Fintech journey has lasted for more than 7 years with insurance aggregators such as Policybaazar and digital payments such as Paytm taking the initial lead. Thereafter, multiple other business models unfolded such as digital lending, neo-banking etc.
Figure2: Fintech Journey in India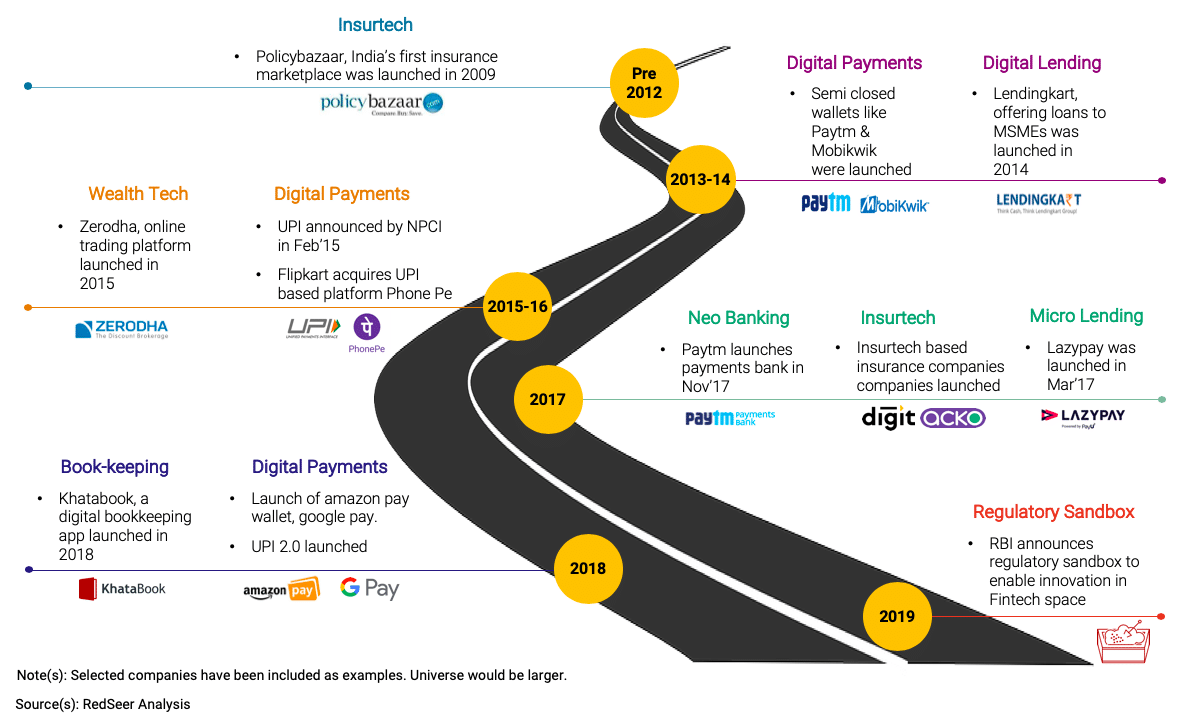 Fintech was initially slow in catching up in India as entrepreneurs were grappling with new tech. They were trying to innovate, build & tailor financial services to the needs of the Indian people. Ambiguous Govt. policies, costly internet and smartphones, and dearth of funding didn't help the industry either.
But, slowly, the landscape started changing as entrepreneurs burnt their fingers and became more battle-ready, Govt. came around to support the Fintech industry with favorable policies to address the low penetration of banking and financial services in India, internet became cheaper, low-cost smartphones flooded the market while foreign investors started believing and investing in the Indian Fintech space.
Figure3: Demand & Supply side drivers – Indian Fintech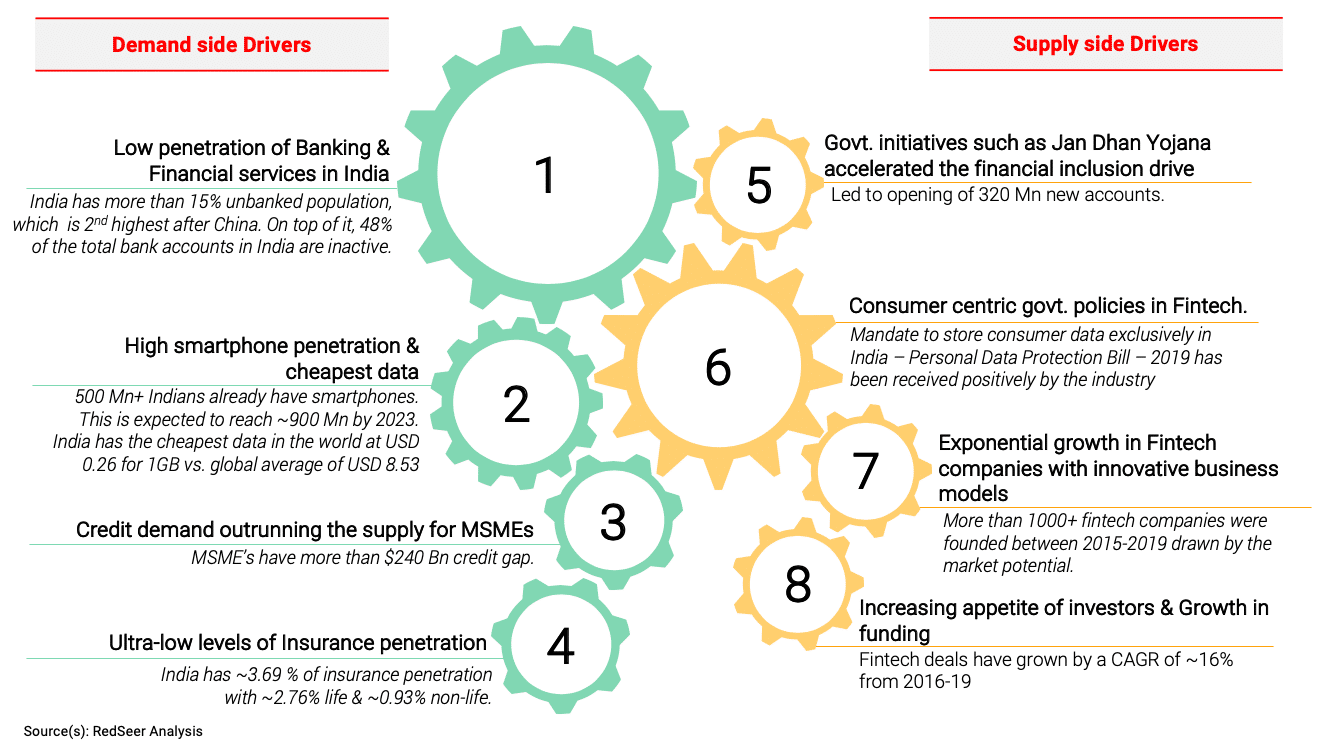 This led to a strong growth trajectory of the Fintech market as 'fintech adoption rate' more than doubled, rising from 10% of the total population in 2017 to 22% in 2019. As funding grew by 3 times between 2016 and 2019 due to higher investor confidence and larger appetite for fintech companies, the deals in Fintech space grew by ~55% during this period. All the above, created the right ecosystem for Fintech to flourish and led to the germination of around 1000 Fintech companies in last 4 years.
Figure 4: Strong growth trajectory of Fintech in India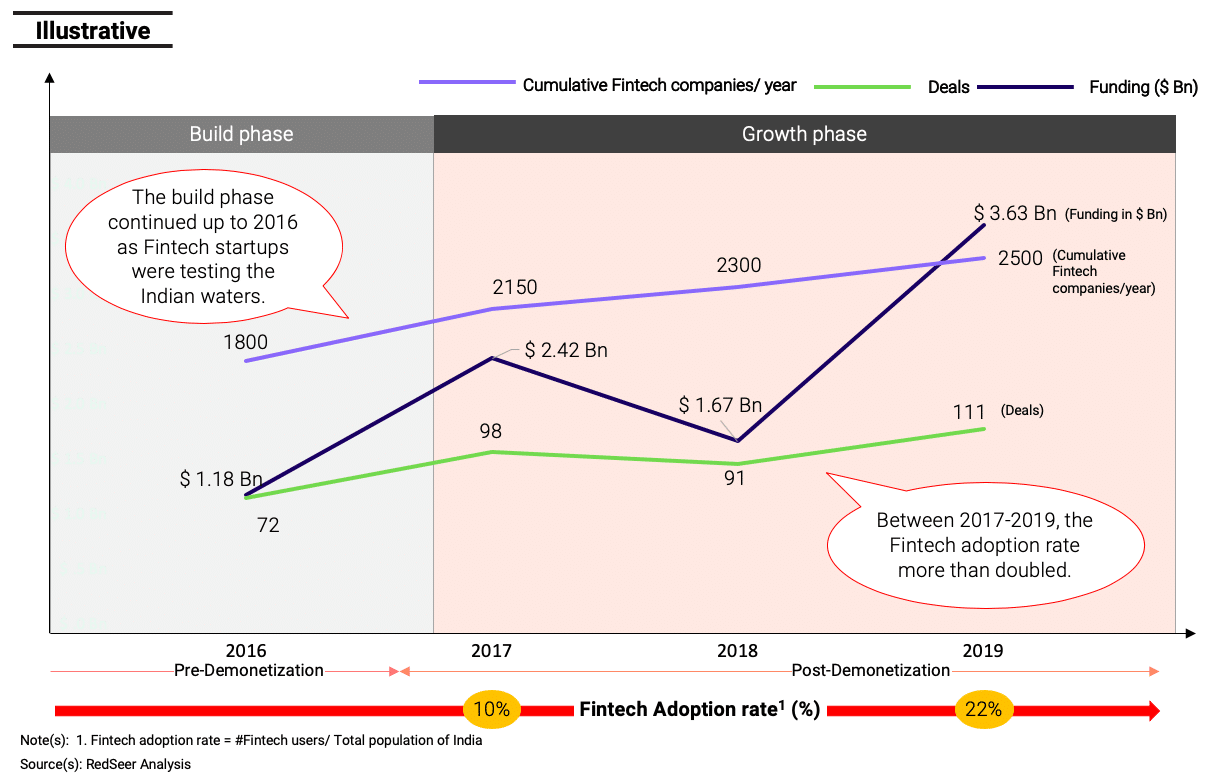 Fintech is no more a privilege for a few but has become a dire need for many – Understanding the Indian consumers and their need for Fintech
Although under PM Jan Dhan Yojana, an additional 310 Mn Indians were brought under formal banking system by the end of 2019, around 48% of the total bank accounts in India are still inactive. This makes around 65% of the Indian population either unbanked or underbanked.
Majority of them have waited all their lives for banks to reach out to them. On the other hand, those with access to banks don't have enough documents to get into the formal financial system. Moreover, financial illiteracy has kept a big chunk of the population out of the system. At the same time, there are many who are still plagued with the traditional culture of keeping cash under their bed or in their lockers and have intentionally not taken the effort to join the system or are scared of it. And of course, there are those who still borrow from sahukars (local moneylenders) or neighbors and don't believe in the banking system and in its benefits.
However, with literacy rate improving in India and people becoming more financially educated, the scenario is changing gradually, as more and more people are looking forward to being a part of the financial ecosystem and take benefit of its multifarious services.
We reached out to Indian consumers to find out their perspective on Fintech and their inclination towards it and realized that the Indian consumer is getting far more demanding and looking for access, convenience, speed & security. He/she is no more a pushover who would wait for days to open a bank account or to get a loan for sister's marriage or to get insurance for parents. He/she is looking for quick financial solutions. Discussing with them, we found out that Fintech has the potential to address the 'ever-evolving needs of the financially-oppressed Indian consumer'. Based on our interaction with them we came up with 4 key consumer personas in the Fintech space. 
Figure 5: Indian consumer personas in Fintech space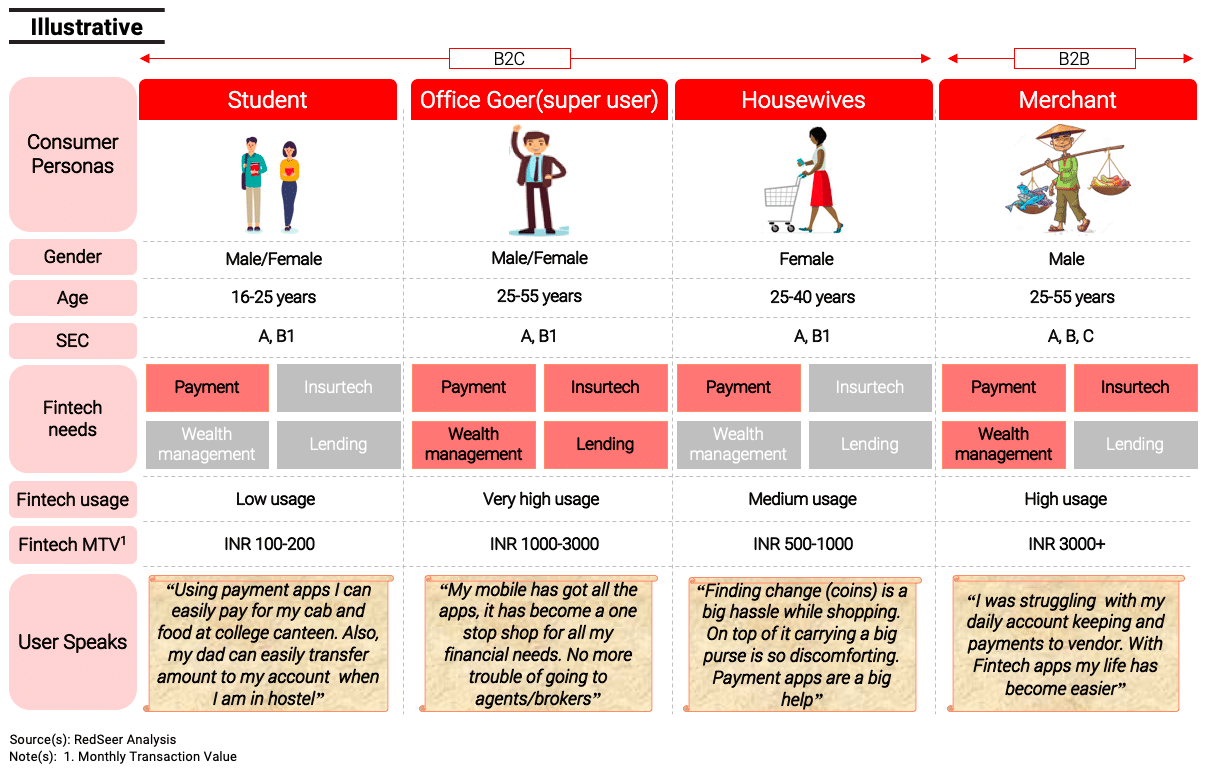 We also realized that the Indian consumers are happy with the Fintech experience in terms of ease of transaction, user interface, app features etc. but customer support, service and trust emerged as the major concern areas.
Figure 6: Indian Fintech consumer's experience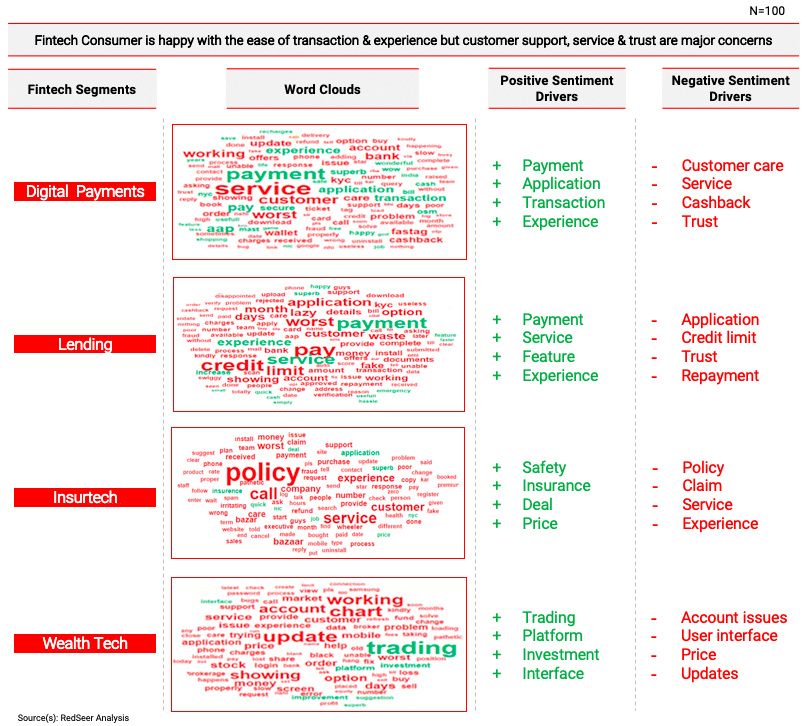 At the same time, the survey revealed that the NPS of some of the Fintech players are considerably low when compared to other consumer internet verticals and have significant room for improvement to gratify its core customers.
Figure 7: NPS of Fintech segments vs. other Consumer Internet Apps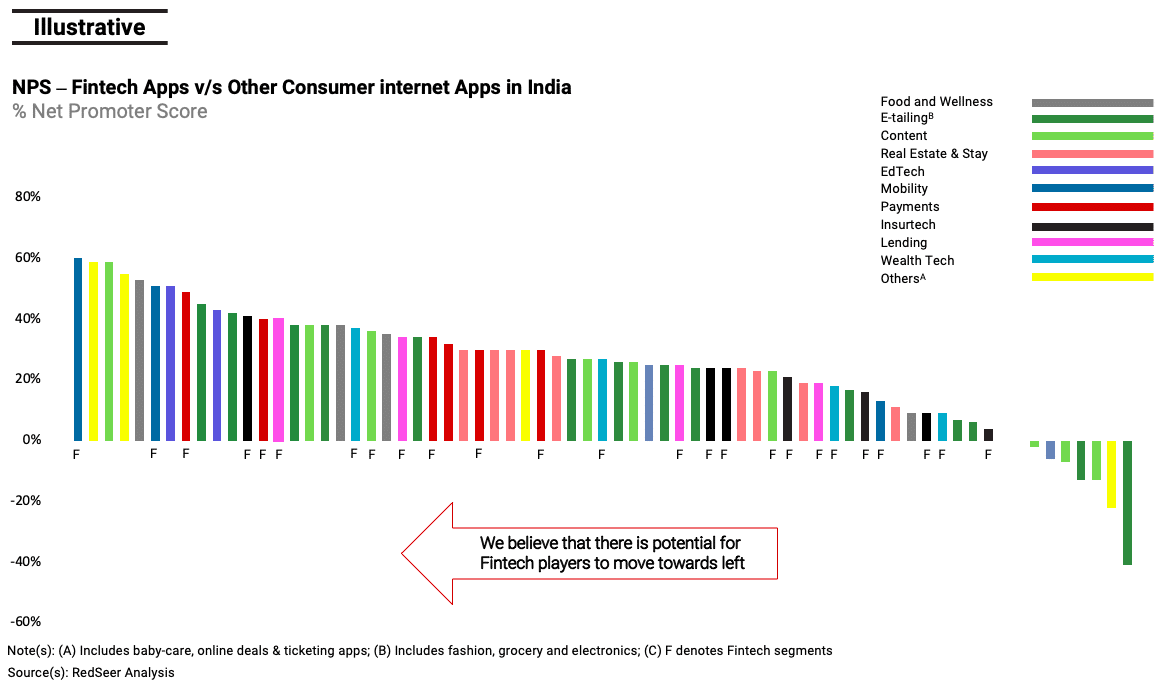 Path to profitability – The burning issue of the new decade
Last decade, startups focused on innovation, build-up of advanced tech platforms and customer acquisition. Narratives were mostly built up around rising valuations, and frenetic deal making while investors ably supported and actively participated in this endeavor.
However, this decade the story won't repeat itself. The narrative in the tech space is slowly altering as investors lose patience and look for faster returns and quicker exits.
Although Fintech & its branches shows huge potential going forward alike other consumer internet verticals, but when we observed closely with a wider consumer internet lens and mapped all the Fintech segments on 'user base vs. usage frequency vs. revenue realization', we found that there is a significant contrast between the Fintech segments.
Figure 8: Mapping Fintech verticals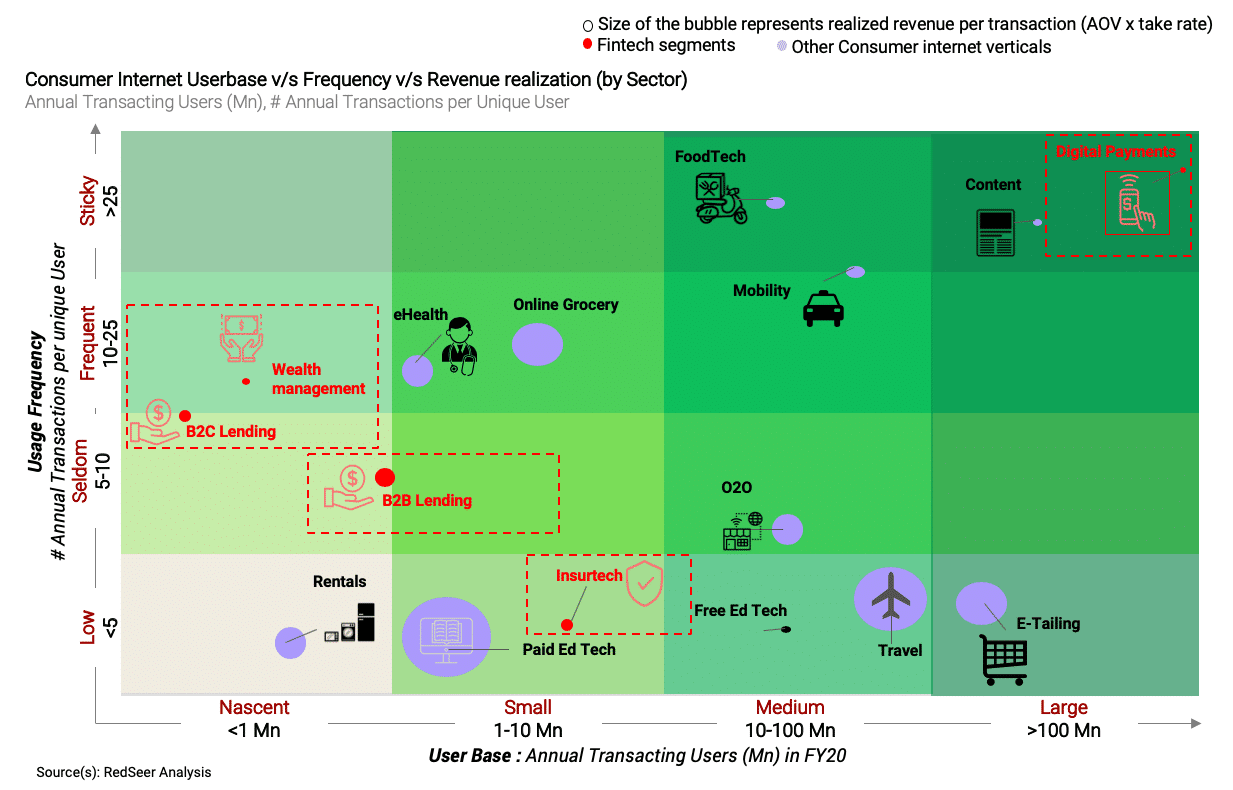 While digital payment is placed most favorably & by far the leader in terms of user base and boasts of high customer stickiness, it falls short when monetization comes into the picture (especially, in the wake of recent Govt. policy change which removed MDR for businesses with turnover of INR 50cr+). On the other hand, some of the lending players have been able to monetize and make profits, but the model is not able to gain traction in terms of gaining higher user base or usage frequency. Going forward, the key would be to find the right model with optimum balance between customer acquisition and revenue realization.
Globally, the leading players in Fintech have taken the cross-selling route to develop a profitable and sustainable business model. Players like Alipay, WeChat have developed super apps offering multiple services such as payments, lending, e-commerce, insurance and others.
Figure 9: Cross selling – the key path to profitability for Global Fintech players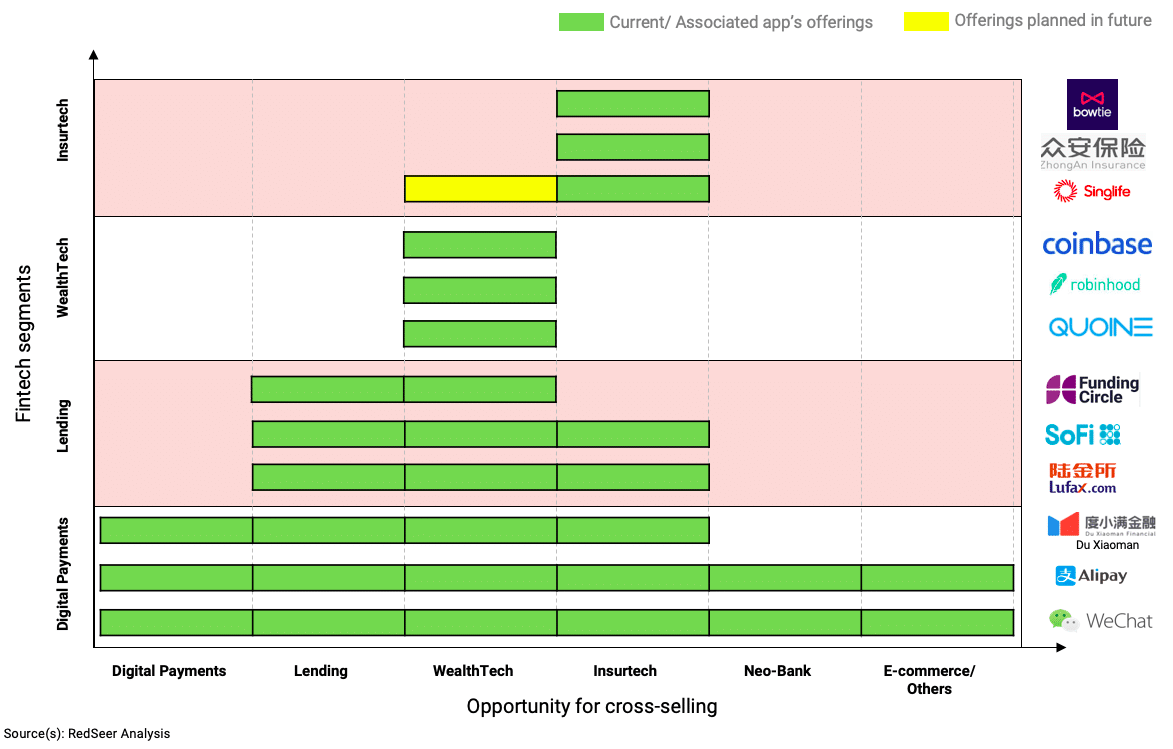 Alipay, in particular has become the modern gateway to financial ecosystem of Ant Financials, the parent company, reinforcing the cross-selling strategy.
Figure 10: Alipay's Financial Ecosystem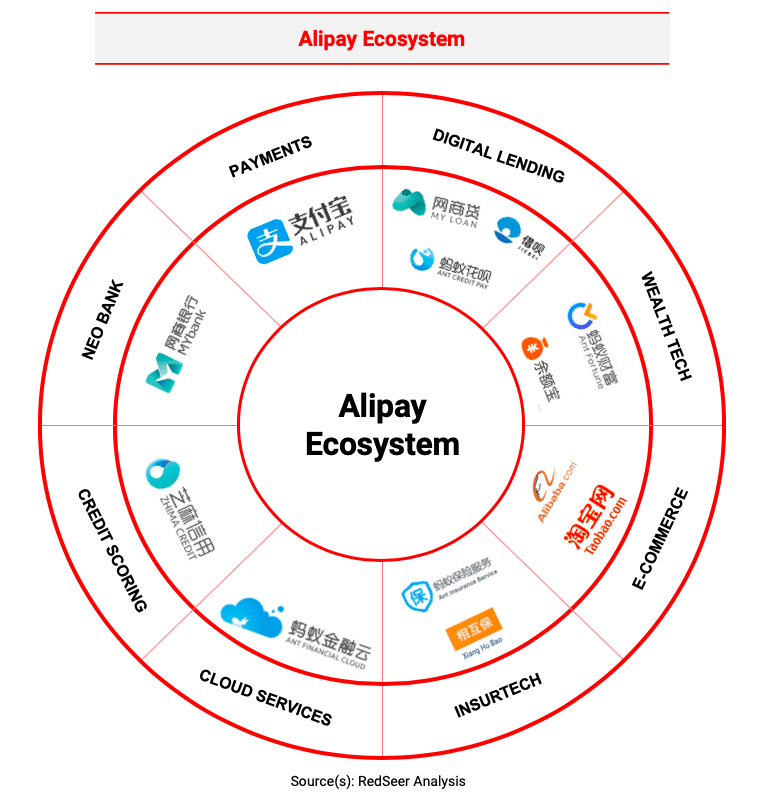 Learning from the global players, some of the Indian fintech players are charting the same route, leveraging on their current platform & user base to expand their offerings in their pursuit to profitability. Players like Paytm have already started offering insurance, mutual funds, e-com, banking along with payments. Some of the other well-known brands such as Airtel, Amazon & Mobikwik are not left behind either.
Figure 11: Offerings of Indian players across Fintech segments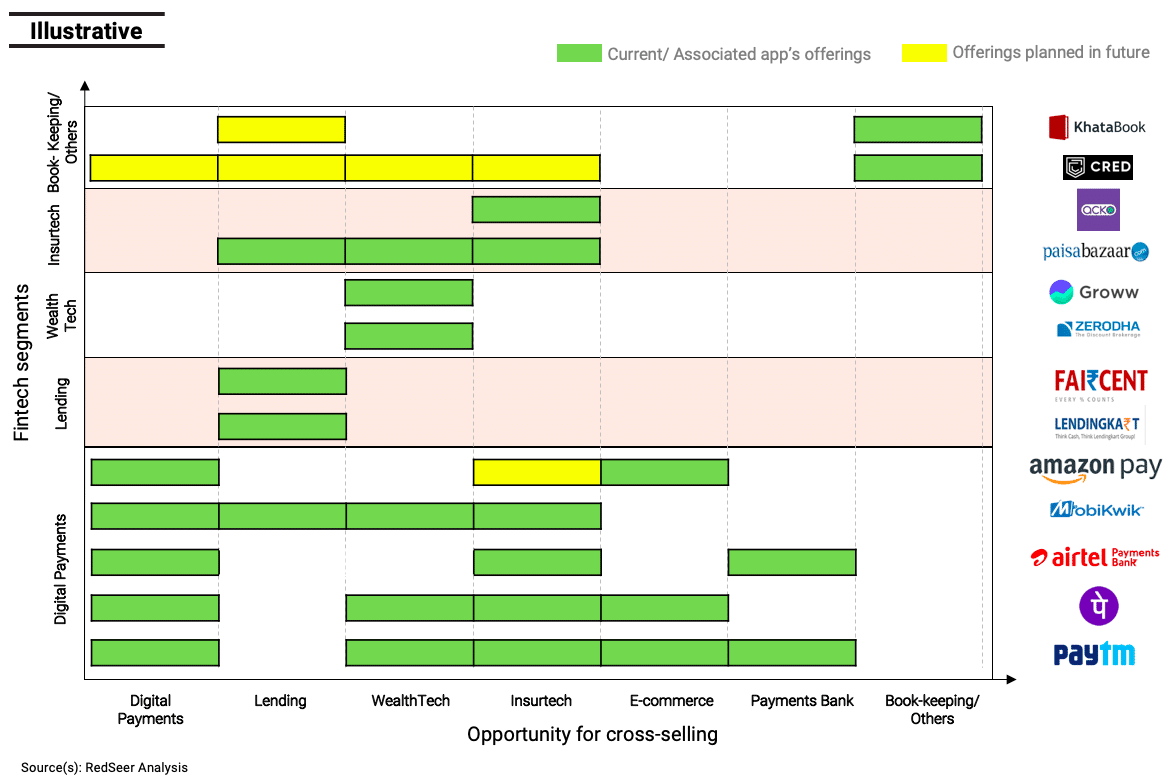 At Redseer, we believe in 'CCC Framework' that would help Indian Fintech players to mitigate unsystematic risk, and lead to a path of quicker monetization and sustainable cum profitable future.
Figure 12: Redseer's Framework for Path to Profitability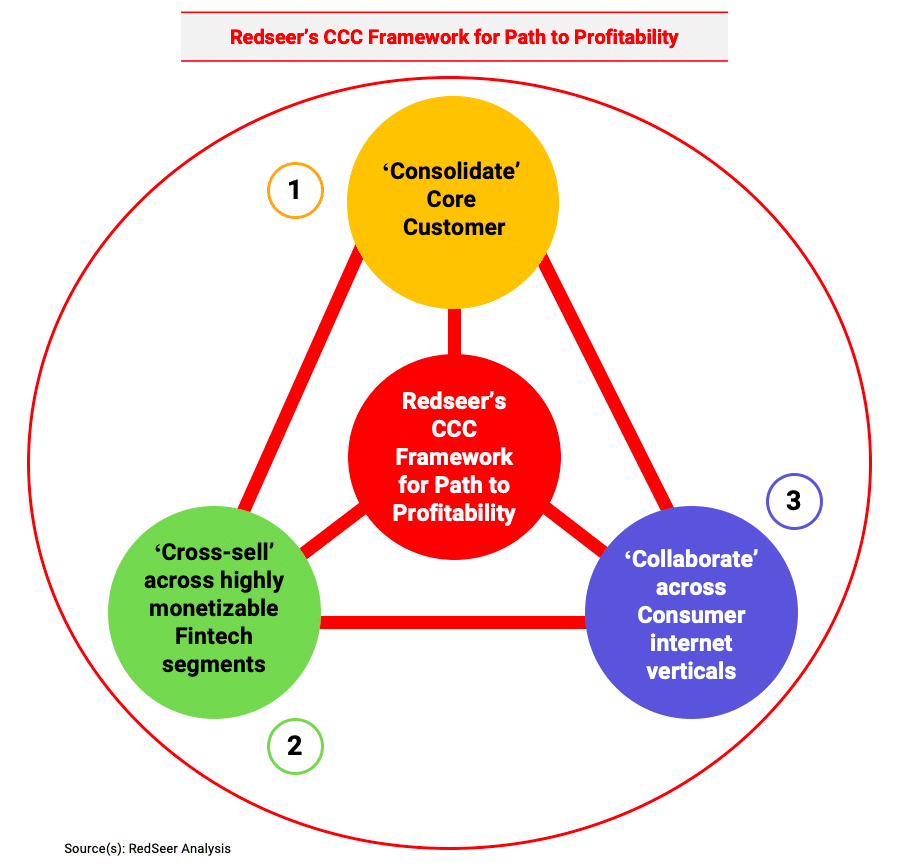 1. Consolidate Core Customer – The First 'C':
Understanding the needs and pain points of customer and addressing them steadfastly will gradually build customer loyalty. At the same time, leveraging on advanced tech, Fintech players will have to continuously innovate and improve to provide an unparalleled consumer experience which would help in achieving customer delight as well as consolidate the core customer base.
2. Cross-sell across highly monetizable Fintech segments – The Second 'C':
It is observed that lending will be the natural progression for Fintech players looking for monetization, moving from fee-based to interest-based incomes. Players like Lendingkart & Aye Finance have turned profitable in the last fiscal year which makes a strong case for lending to be the quickest route to monetization and profitability. Concurrently, Insurance & Wealth Tech present another path for monetization as players like Zerodha are not only growing at a phenomenal pace but have also turned profitable.
At the same time, according to latest ruling of RBI, payments bank can apply for licenses for SFB (Small finance banks) after 5 years of operations. This opens new doors for players like Paytm, Airtel, Jio, Fino and others who have payment bank licenses. Going forward such SFBs can plan for IPO in the lines of SFBs such as Ujjivan SFB, AU SFB etc. which would result in a scalable business model.
3. Collaborate across consumer internet verticals – The Third 'C':
Collaborate and Conquer should be the mantra for Fintech players looking to enter the green profitable territory. Globally, players like Ant Financial are collaborating with other businesses such as local banks to provide tech services like transaction, security, financial intelligence & customer engagement tools. At the same time, they are actively partnering with players across the world by investing in startups like Paytm, Zomato, Openpay & others.
Local players are also exploring similar models and we find numerous such cases. Insurtech startup Acko has collaborated with Amazon, Redbus, Zomato, Ola, Oyo and others to find newer channels to sell insurance. Payments bank such as Paytm, Airtel, Fino and others are collaborating with traditional banks to leverage on their sales team and massive infrastructure. Fintech startup NiYO recently partnered with Yes Bank to launch 'Yes Bank NiYO Benefits card' which will help organizations in handling employee benefits and enable employees to claim their benefits smoothly.
These examples again prove the age-old cliche' true – 'Alone we can do so little, together we can do so much'.
Figure 13: Path to profitability – Standalone vs Integrated model with a 5-year horizon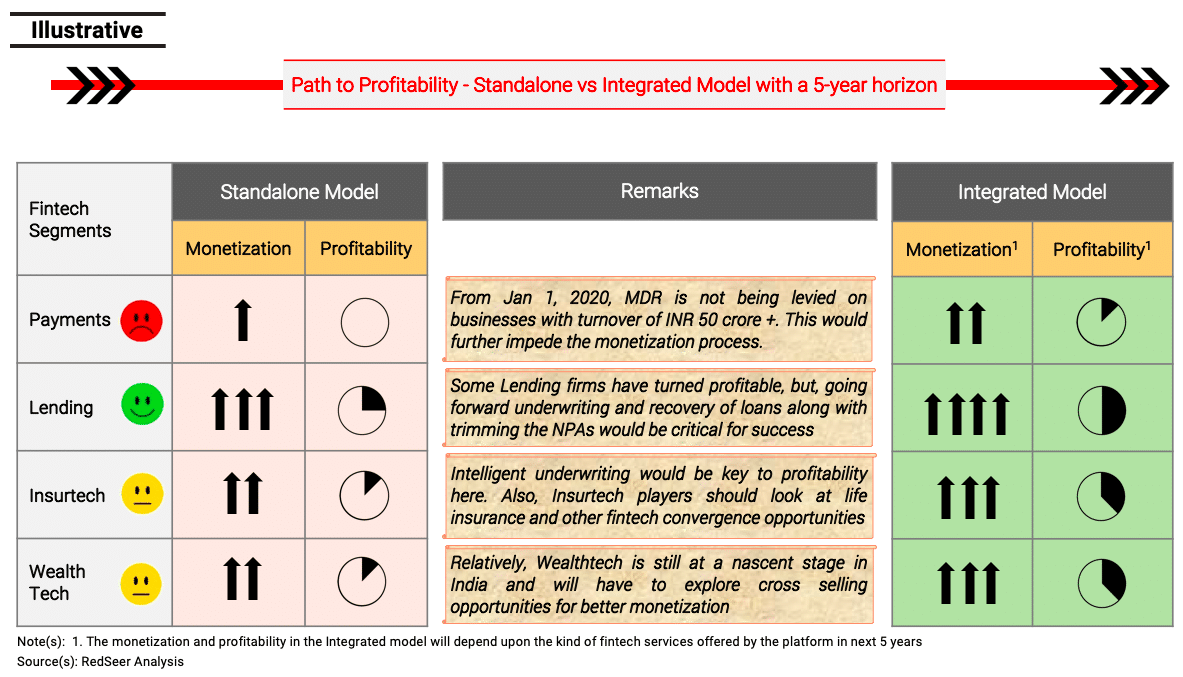 Our observations on path to profitability were equally echoed by several Fintech experts whom we spoke to. They also believed that for a healthy and long-term growth, cross-selling, customer stickiness and collaboration is the way to go forward for Fintech startups.
Figure 14: Expert views on Fintech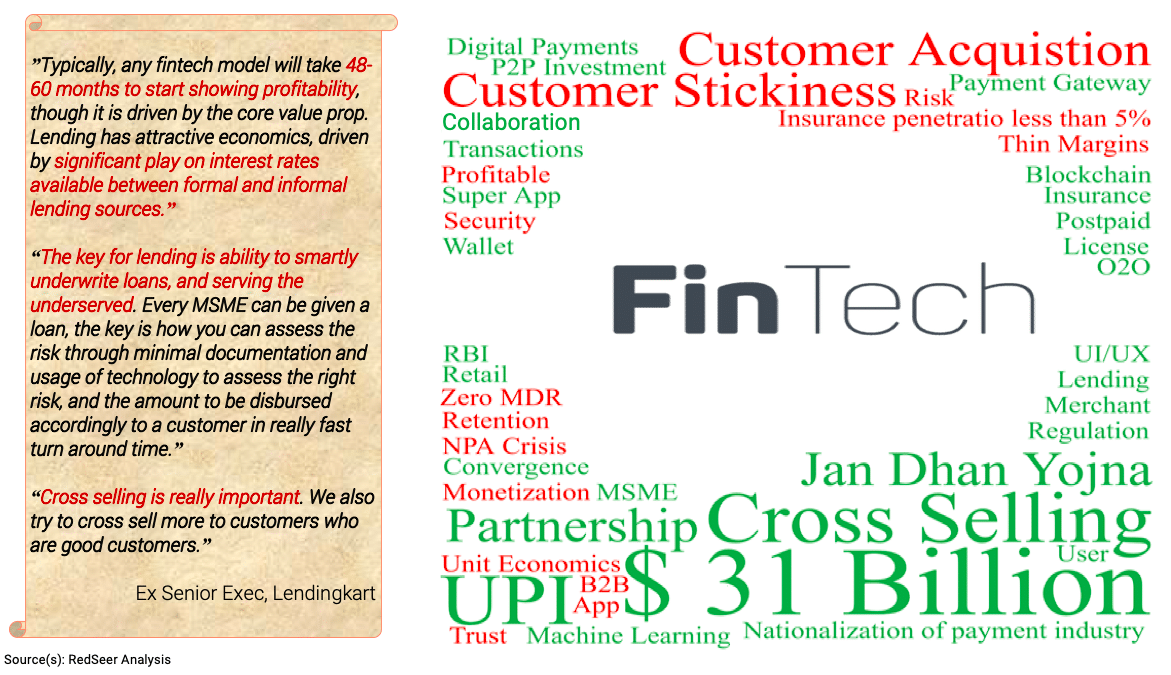 INSIGHTS
Talk To Our Expert