Apr, 2015
Growth of Indian e-logistics
The Indian Story for Logistics Industry Insights The Indian E-retail industry is expected to grow at a CAGR of ~47% to over $100 billion by 2022, 10X growth from the current valuation The logistic industry is witnessing a CAGR of 12% where as for e-commerce it is growing at a rate of ~16-18% annually This … more
---
The Indian Story for Logistics Industry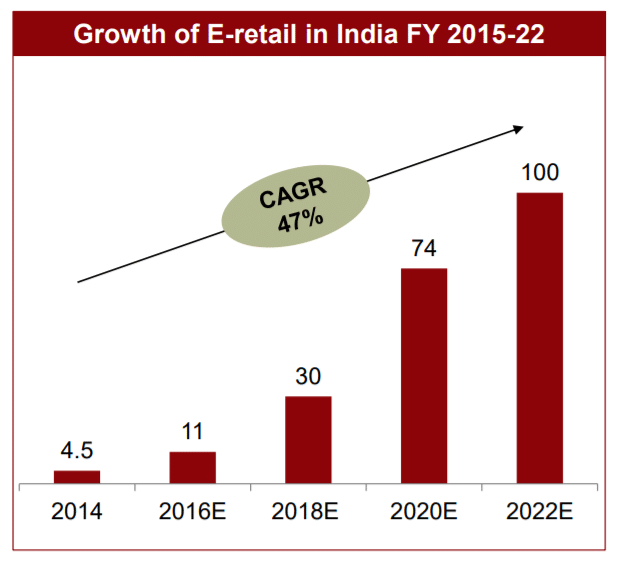 Insights
The Indian E-retail industry is expected to grow at a CAGR of ~47% to over $100 billion by 2022, 10X growth from the current valuation
The logistic industry is witnessing a CAGR of 12% where as for e-commerce it is growing at a rate of ~16-18% annually
This creates logistics as a biggest challenge in e-tailing – A key differentiator for 'e-tailers'
3PL companies to capture ~40-45% of the market share few years down the line needs to scale up by 10X
Heavy Investment is required to ensure last mile connectivity
Tier 2 and Tier 3 cities are expected to contribute to more than 350 million shipments by 2018. infrastructure to cover more than 15000+ pin codes by 2020
Scale up by 10X to develop a network of branches and delivery points that will be able to service high-growth cities
Given the amount of capital raised by e-commerce companies, logistics firms would need at least $500 million to $750 million to match their scale of growth in the next few years
The sheer volume of CoD orders will require enhanced cash handling capabilities
Dominance of Cash on delivery (COD) orders suggesting that logistic providers need to handle a $8 billion cash by 2018
This would require effectively manage cash flow and address challenges such as theft, the use of cash for working capital and reconciliation issues
Man Power Management and Adaption to Technology will bolster growth
High stress on Man power management as delivery staff team expected to increase from 2X to 5X level
Increased focus on robotic technology would increase daily shipments by 2X and reduce processing time
Out of Box solutions required to go to a higher level in the value-chain – managing inventory, handling invoicing, providing consumer insights and other value-added services
~52% of the shipments consist of electronic items
% share of 3P logistic player by volume of forward shipments done for e-commerce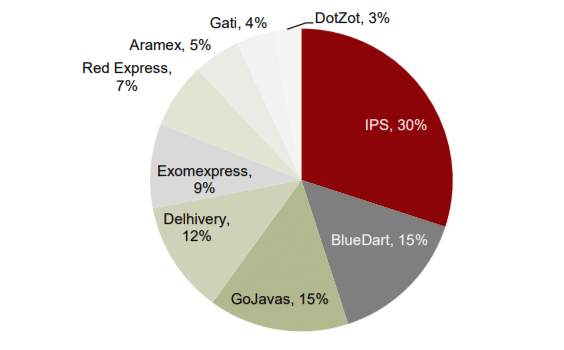 Indian Postal Services have a major share of volume due to its vast distribution network in Tier 2 and Tier 3 cities
ekart's daily shipments amounts to ~30% of the total daily shipments from third party logistics
GoJavas form a significant of 15% share as it handles major of the Snapdeal's business
This document covers a view on the Indian e-logistics market covering the performance of the various players in it. It also covers how the e-logistics ecosystem is going to evolve.
COD revenues per shipment exceed Non COD revenues per shipment by ~ 50% constituting 75% + of the total revenues for logistic companies
Insights
Even though BlueDartcharges more, it still generates more revenue than its peer companies due to high quality in service provided, better accessibility and on time delivery of products.
Indian Postal services(IPS) have their revenues more than 10-15% than private players as the majority of the shipments are in remote locations.
Most of the logistics companies are not significantly affected by the scale of Non-COD shipments.
BlueDarthas higher profit percentage because of the premium price charged by it whereas Gati has been able to minimize its cost by using Rail transport extensively for bulk commodities.
Addition of last mile centers in one year has reduced the cost drastically for logistic companies.
Distribution of Cost for 3P logistic player for Non COD shipment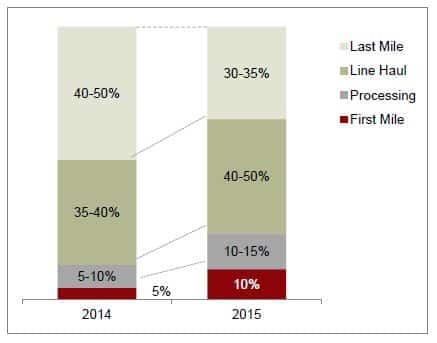 The average cost for the 3P logistic players for Non-COD shipments amounts to Rs 49.00
Line Haul shares the majority of the cost for the logistic companies and is increasing on a yearly basis. The reverse trend is seen for the last mile as many logistic companies are spreading its distribution network.
Provide last mile logistic solution –mantra of fastest growing logistic company Delivery.
Indian Postal service (IPS) has a high number of processing centres given their vast distribution network pan India. E-commerce companies can look forward to IPS as a major logistic partner.
IPS uses its post offices as the last mile centres for shipments. However, they are not exclusively categorized for E-commerce.
INSIGHTS
Talk To Our Expert