SEA's economy has a high dependency on agriculture (~17% contribution by GDP) and is strongly in need of modernization. In the wake, several innovative business models have come up in the region, and we go into detail to discuss a few.
Here's a broader look at the SEA market and how agri-tech players are growing.
1. AgriTech players are addressing one or more challenges faced by the farmers both on the input side and output side
There are a few key challenges in the agri-tech supply chain, both on the input and output side. Input challenges such as low quality of inputs, and credit availability create further problems – reduced yield and low price realization. Given the offline nature of the agricultural practice, in order to maximise efficiency with wider adoption having a strong and integrated online as well as offline presence is critical.
2. There are two major kinds of models in input agri-tech; marketplace model enables a deep wallet share, while manufacturing build a high gross margin business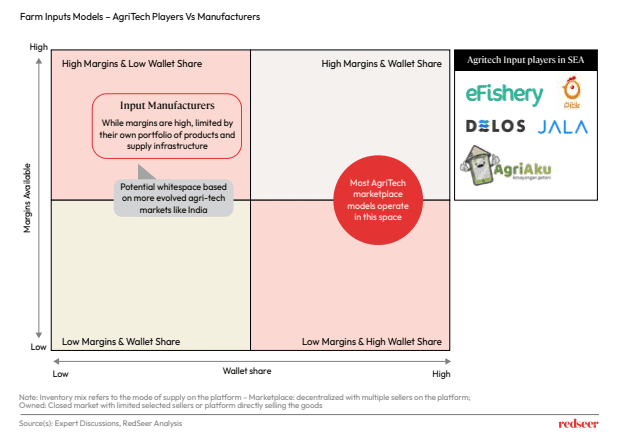 On the input side of things, marketplaces are the models to have come up recently to grow fast and gain a deep wallet share. Marketplaces solve several logistics, quality and price related issues, however, the margins tend to be mid to low. Input manufacturer businesses, although nascent in the region, have shown potential to have high margin business in other geographies such as India and hold a huge potential for SEA.
3. On the output front, AgriTech players are addressing the quality / price realization needs differently – using various combination of sourcing and channel of sale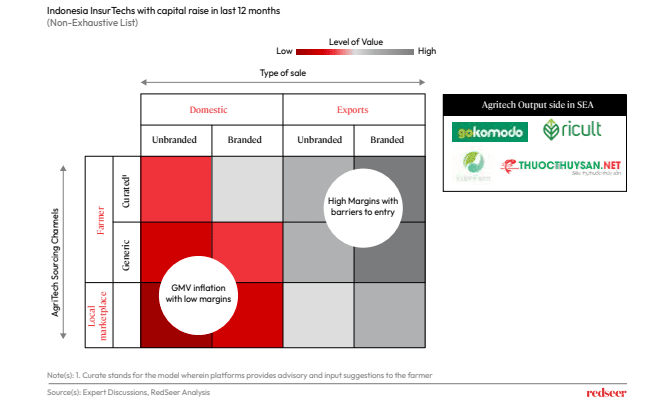 On the output side, marketplaces are coming up with different use cases and sourcing channels. Working directly with farmers allows forward-looking inventory planning as well as the opportunity to upsell input services. Exports unlock the highest margins, meanwhile creating high barriers to entry for a new competitor
4. Robust advisory, omni channel presence with private label offerings, and farmer trust are the key winning levers for AgriTech
With the above things in mind, there several key factors that will determine which agritech players arise as the leaders in a rapidly growing space.