I had an Aha! moment recently, when my car broke down in the middle of a busy Bengaluru road!
Luckily, some good Samaritans came to the rescue and with their help, my driver pushed the car to
a safe place. Meanwhile, I called for roadside assistance and then hopped into a cab. But this got
me thinking. How and why did I forget to get my car serviced on time? And, while I was lucky to have
a driver by my side, what about those who drive on their own and just like me have no time to get
these mundane tasks done in between official meetings and social commitments?
My colleague Mukesh Kumar has now introduced me to a leading online car service company which
has made my life easy. Here he is, sharing some insights with you all on the sector.
1. India holds one of the largest vehicles parc globally at 300 Mn vehicles, the majority of which are serviced at non-OEM centres
India's massive automotive industry is dominated by unorganized workshops. Additionally, 95% of personal vehicles in India are out-of-warranty; which get serviced at non-OEM workshops. Online-to offline (O2O) workshops are well-placed to capitalise on and service this untapped market.
Some of the key O2O platforms in the market are GoMechanic, VehicleCare, Automovilla and myTVS. Consumers can use these platforms to discover workshop service online and get their vehicle serviced at offline partner workshops, with scheduled and doorstep service as required.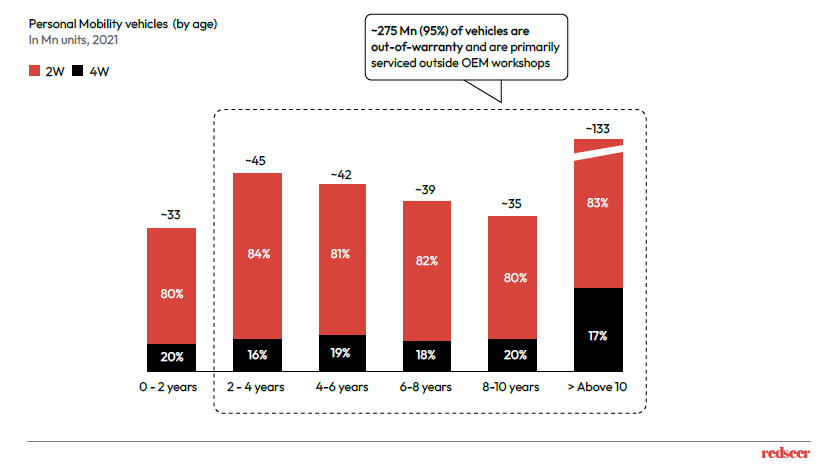 2.Online-to-offline (O2O) workshops fill the gaps by offering OEM-level standardised services at lower prices
The penetration of O2O workshops in India was less than 2% in 2021. But they are gaining share rapidly, To the workshop partners, they offer better lead generation, easier spare sourcing and an overall increase in business. The customers get the convenience of the online process and organised workshop quality service at lower costs, a critical element for the value-conscious Indian consumer.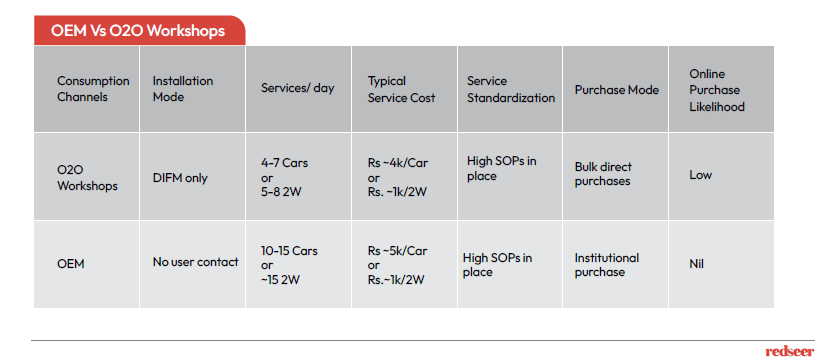 3. Using digitisation to their advantage, the O2O platforms are enjoying high customer satisfaction, with Consumer NPS of 60-70%
Customers who use these O2O platforms and their workshops have been very satisfied with the service. By making vehicle maintenance a seamless and reliable process with lower costs, the O2O platforms have been able to grab a high Consumer NPS of 60-70%. If these platforms can maintain their proposition at scale, they can capture significant market share.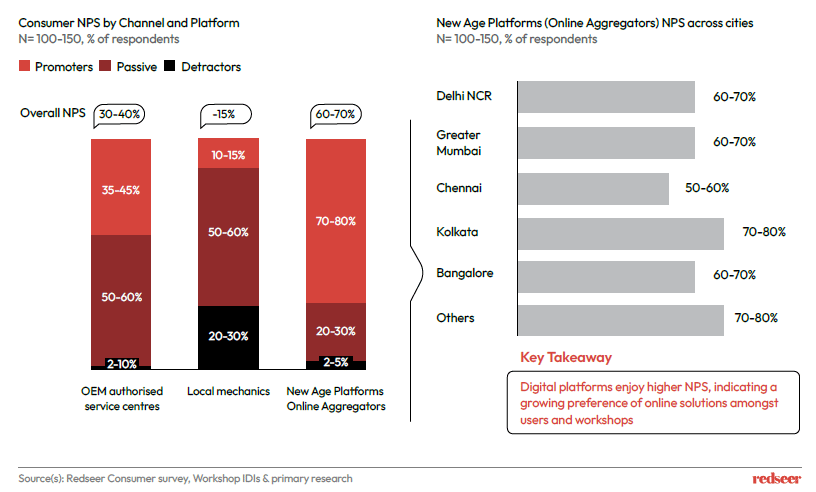 4. With high value add, satisfied and recurring customers, the O2O workshops are going to see massive adoption, moving the current market share from 1% to 5-6% by 2030
O2O workshops currently constitute 1% of the total workshops in India. With the increasing demand for more standardised vehicle servicing, affordable quality of spare parts, and convenience, the total penetration of O2O workshops in India is expected to become 5-6% of overall workshops. As the market evolves in the mid-term (3-5 years), O2O platforms will also scale beyond Metro and Tier-1 cities.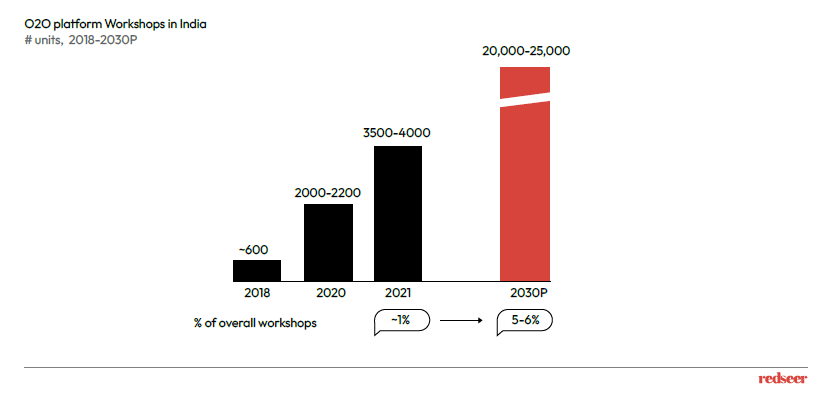 5. What makes this niche sector interesting is that it's increasingly becoming a one-stop destination for aftermarket auto sales, further pushing the automotive industry as a whole
O2O platforms have the ability to source spares, accessories and consumables centrally and as they scale, they will become a crucial channel for aftermarket auto-related product sales. For instance, O2O workshops are expected to increase their consumption of Lubricant & grease from 10KT in 2021 to 80-85 KT by 2030. With an effective O2O solution, companies offering core and allied services at the workshops can also cash in on this massive opportunity.