The Southeast Asia region's growing middle class and urbanization are driving demand for sustainable transportation. Government policies such as tax breaks and reduced registration fees are promoting adoption as well. The entry of new Electric Vehicle manufacturers and development of charging infrastructure are offering favorable tailwinds too. These factors present opportunities for investment in EV manufacturing, charging infrastructure, and related technologies, making the Southeast Asian EV market a promising investment option.
Here we build on our earlier note, Charging Up which showcased the electric vehicle (EV) market landscape in Indonesia. In this update, we highlight the broader trends in Southeast Asia, where demand is increasing due to higher consumer awareness and active government support.
1. Global sales of EV have been increasing and are projected to continue growing at a CAGR of 35%. As the leading region for automotive sales, the SEA market is well positioned to become a strong market for EVs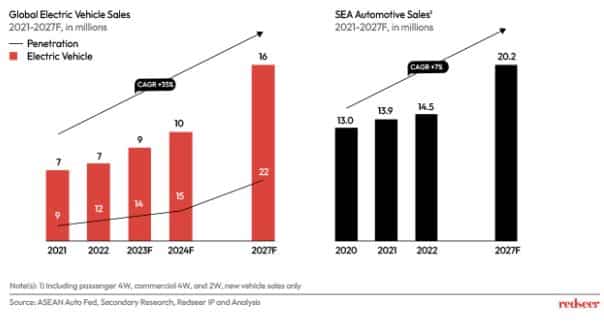 In recent years, electric vehicle (EV) sales have seen a significant increase globally, and this trend is expected to continue with a projected CAGR of 35%. The Southeast Asian (SEA) region, which is currently the leading market for passenger car sales, is poised to become a strong market for EVs. The increasing concerns over climate change and air pollution, coupled with the advancements in technology and infrastructure, have been major driving forces behind the growth of EVs. As the demand for environmentally friendly transportation options continues to rise, the SEA market presents an attractive opportunity for automakers to tap into the growing EV market and cater to the evolving needs of consumers.
2. EV Sales Growth: 2W Presents Greater Opportunity in SEA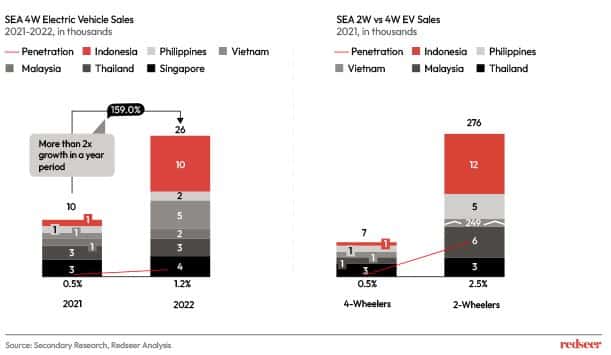 Undoubtedly, the sales of electric vehicles (EVs) have been increasing significantly in the Southeast Asian (SEA) region. However, when we differentiate between four-wheelers (4W) and two-wheelers (2W), the latter presents greater opportunity due to its wider adoption and comparatively cheaper price.
The e2W market in SEA is growing rapidly, with Vietnam being the largest market currently. However, new opportunities are emerging in Thailand and Indonesia, as their government just launched incentives for EV purchasing. The increasing demand for sustainable transportation options and environmental concerns are driving the growth of e2Ws in these markets, making them attractive targets for automakers and EV manufacturers.
3. Factors Driving 2W Sales: Low Ownership Cost, 4W Cost Expected to Decrease with New Models. Growing EV Sales in ID and TH due to Government Subsidies in EV purchase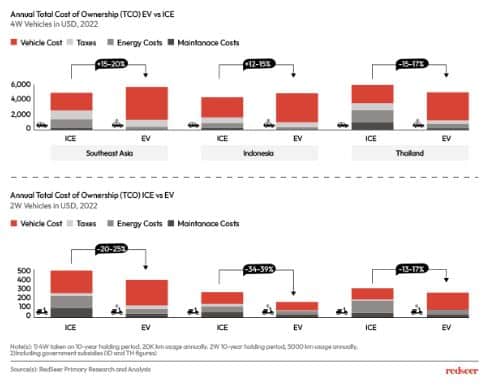 Despite the higher total cost of ownership for 4-wheelers EVs in SEA and ID, new innovations and models in the market are expected to make EVs more affordable in the future. However, for 2-wheelers, EVs have already proven to be cheaper in terms of total cost of ownership across all regions, as compared to ICE vehicles. This, along with the government's subsidies and incentives, is fueling the rapid adoption of EVs in SEA. Notably, the EV sales in Thailand and Indonesia are witnessing significant growth, thanks to the government's support in the form of subsidies.
4. All SEA countries have created roadmaps and goal to further drive EV adoption, TH and ID presents more opportunity in terms of progress and subsidies while others are catching up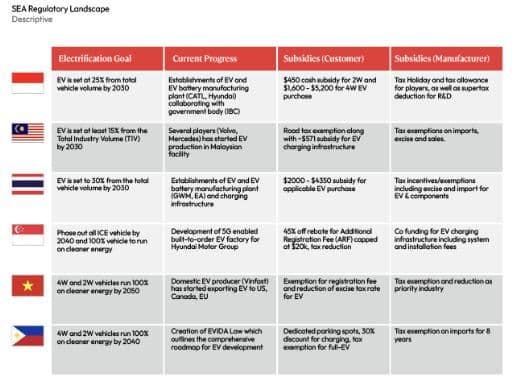 As Southeast Asian nations endeavor to achieve energy independence, reduce greenhouse gas emissions, and develop sustainable transportation systems, national roadmaps are being developed to facilitate this transition. Electric vehicles are expected to play a significant role in this transformation, and their adoption is expected to accelerate significantly in the region in the coming years. While all countries in the region are catching up with the progress made by early adopters like Thailand (TH) and Indonesia (ID), these two nations present greater opportunities at present.
5. SEA is well positioned to emerge as key EV production hub, as many players are entering the space leveraging on policy, incentives and ease of finding raw materials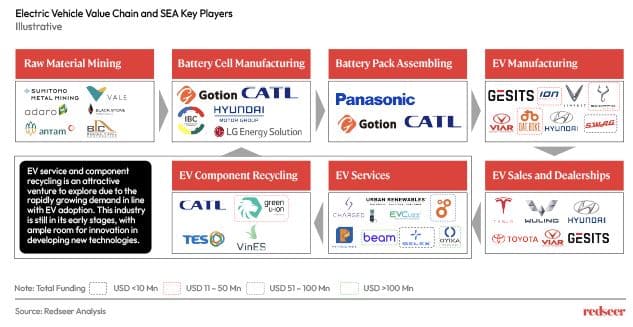 There are numerous investment opportunities available in the electric vehicle industry across the entire value chain. One of the most promising areas for investment is EV service and component recycling, as demand is growing and currently players are limited in that space. The space is ample with room for innovation and new player to come and develop cutting-edge disruptive technology.  Furthermore, Southeast Asia (SEA) is an attractive destination for investment due to its substantial government support, incentives, and abundant natural resources as feedstock. With a supportive regulatory environment and a growing market for EVs, SEA presents a robust investment opportunity for those looking to enter the EV space.