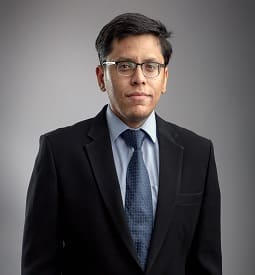 Mrigank Gutgutia
Mrigank Gutgutia is a Partner at RedSeer. He heads the Consumer Internet division and has led over 100+ engagements in the space, advising leading Indian and international corporates and funds on business strategy, market entry, growth strategy and M&A.
"Just by virtue of working with super-smart colleagues and clients at RedSeer, my learning process has been highly accelerated- something which I cherish about my time here"
Get to know Mrigank
At RedSeer, Mrigank leads business research and strategy engagements for leading internet sector corporates, helping them craft their expansion, competitive benchmarking and sales strategy. He also supports leading global funds on their due diligence and portfolio management assignments focused on new-age internet companies.
Mrigank's past experience also includes working with clients across sectors as diverse as construction equipment, telecom, building materials and financial services- across a wide variety of geographies including MENA, Sub-Saharan Africa and Asia. Driven by his passion for business research and advisory, he has also developed multiple thought papers and is regularly quoted in media and industry circles as a thought leader.
Mrigank is an avid solo backpacker and has a deep interest in exploring foreign languages and cultures- something which has helped immensely in broadening his perspective. He also enjoys reading on a wide variety of topics including history, psychology and philosophy and is a passionate tennis fan. To keep fit, he regularly engages in racquet sports and enjoy biking and running.
Education:
PGDM, General Management: Indian Institute of Management, Indore
B-Tech, Mechanical Engineering: Indian Institute of Technology, Roorkee
Mrigank in Media: